Cryptocurrency is becoming far more widespread with each passing day. Just a few years ago, an investment with crypto was thought to be a quick way to lose your money. Today, it is a hot topic on Wall Street, despite its high volatility and substantial risk features.
Companies such as Microsoft, Restaurant Brands International, and PayPal are just a few companies that actually accept cryptocurrency as payment. As more and more companies accept these digital tokens, their application will increase exponentially.
Imagine purchasing a home with Bitcoin. Well, you don't have to imagine, because you actually can. A real estate investment company called ECI Development has recently offered the ability to buy a house with Bitcoin and a few other cryptocurrencies.
So, how can you actually buy a house with Bitcoin? And what is ECI Development? Keep reading to learn more!


Who is ECI Development?
ECI Development is a real estate development company that focuses on Central and Latin America. The company has been around for over 24 years and has followed in the footsteps of the Sun City model.
Sun City developed communities throughout the United States in Florida, Arizona, and California. The communities are filled with incredible amenities and services that members enjoy as part of their home ownership.
ECI Development took that concept and expanded it to Latin and Central America, capturing a financial advantage by expanding into emerging markets. Individuals who migrate to a growing market like Costa Rica or Nicaragua can maintain or increase their standard of living for a reduced price.
With developments currently in Argentina, Belize, Costa Rica, Nicaragua, and Panama, ranging from tiny homes to beachfront communities, ECI Development is striving to create an amazing living experience for anyone interested.
Apart from developing in newer markets, ECI Development is also committed to sustainable building and improving the lives of those living near development. This improvement comes through socially responsible projects such as a new medical clinic in Nicaragua or beach cleanups in Belize.
ECI Development currently has opportunities to purchase, rent, or vacation, with the ability to finance through Caye Bank or purchase using Crytpo.
How to Buy a House with Bitcoin?
Buying a house with Bitcoin, or any cryptocurrency, can be done one of two ways.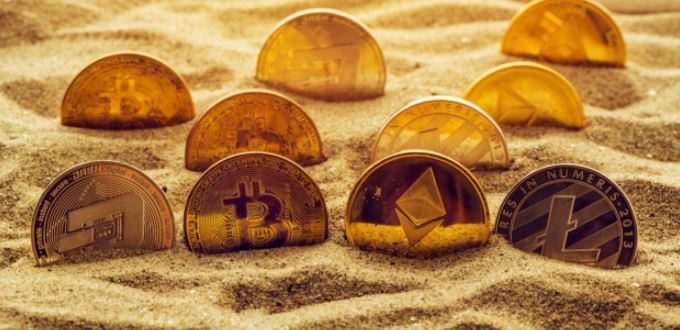 Sell Cryptocurrency
The first method is quite simple. The basic idea is to sell your cryptocurrency holdings and use the earnings to purchase a house. There are a few tax implications that you ought to be aware of, however. When you sell cryptocurrency, it is treated as a capital asset. When cryptocurrency is sold, any realized capital gains will be subject to taxes.
Suppose you purchase $5,000 worth of a digital token. After holding the crypto for 6 months, the value has increased to $8,000. If you decide to sell, the $3,000 increase will be subject to taxes. 
There are a number of ways to reduce the tax you will owe, including, but not limited to, the following:
Holding crypto for over a year (Short term gains or gains from an investment held for less than a year are subject to higher taxes than long term gains or gains from an investment held for more than a year.

Offset the gains with capital losses

Reduce your taxable income
When you sell cryptocurrency and then use it to make a purchase, you will want to determine the amount of taxes you will owe before spending the full amount. This way, you can set aside some of the gains for tax season.
Purchase Using Cryptocurrency
You can also buy a house by making a direct purchase with Bitcoin or another cryptocurrency. By finding a seller that is interested in a certain crypto, you may be able to transfer your cryptocurrency to their wallet in order to fund a deal.
ECI Development currently accepts Bitcoin, Litecoin, Ethereum, and Monero as payment, so you can buy a home or second property using cryptocurrency. Choose from a number of communities that can be found in Central and South America. 
Many of their communities are not yet completed. Some have a start date of 3-4 years out, while others are currently full. Depending on the community, some properties are starting at $100,000, which includes the vast number of amenities offered. (To see the amenities offered, you will need to browse a specific community.)
For all of their communities, ECI Development requires you fill out a signup form. The form asks a number of questions such as whether or not you are an accredited investor and your estimated time frame to make a purchase. To learn more about ECI Development, be sure to browse their communities. They also have a customer support phone number and email for those interested.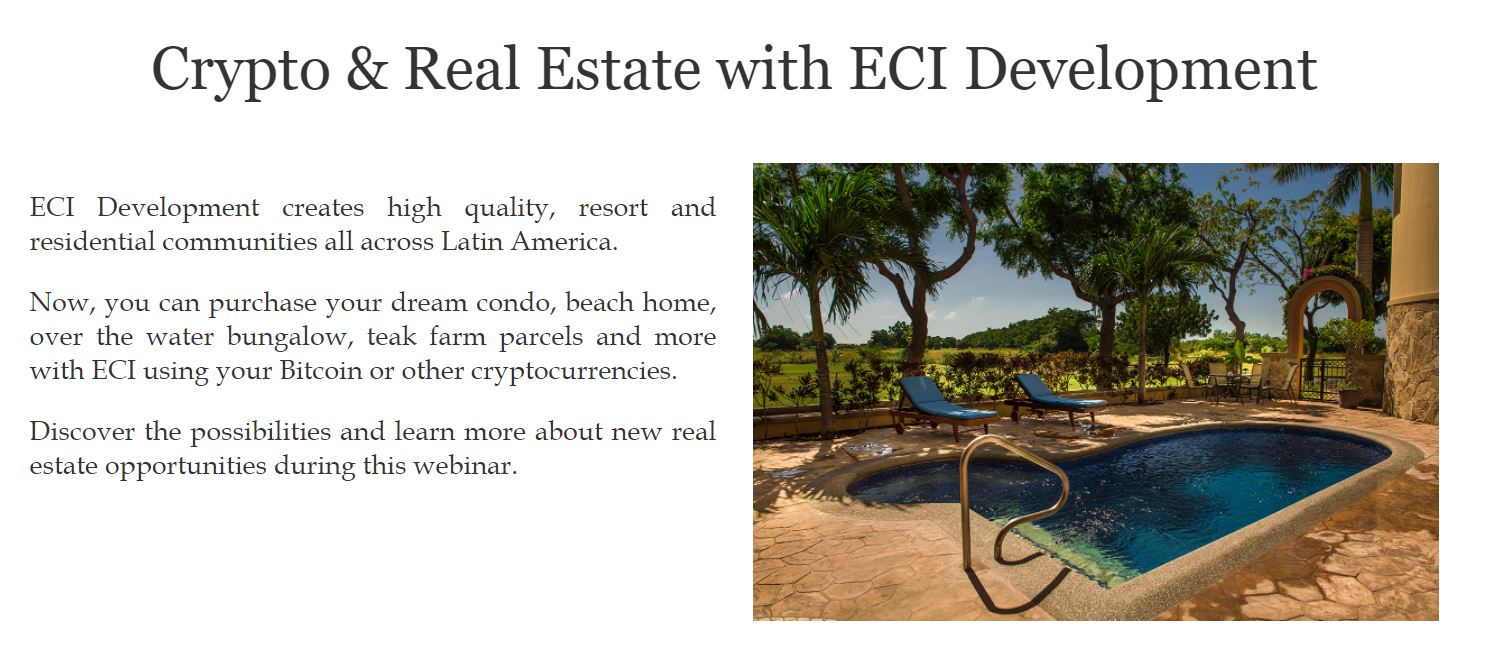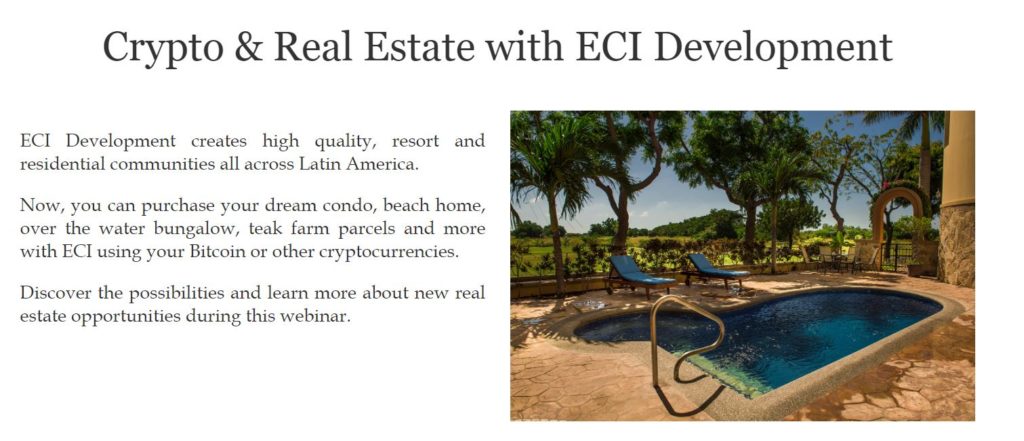 Buying a House with Bitcoin: Final Thoughts
Buying a house with cryptocurrency is still a highly new concept. As more companies continue accepting cryptocurrency as a form of payment, it is likely that buying a house with crypto will become more common than it is today.
ECI Development is one of the first real estate companies to accept cryptocurrencies such as Bitcoin and Ethereum. Their offerings are currently based in Central and Latin America, ranging from lavish beach homes to stylish and modern eco-friendly and sustainable tiny homes.