Dogecoin has quickly risen in popularity. In fact, this crypto has exploded over 14,000% since November of 2020. It is now the 5th largest cryptocurrency by market cap.
With such unbelievable returns, many are asking themselves what Dogecoin even is, or where they can buy the hot cryptocurrency.
In this article, we will review what Dogecoin is and how to buy it on Webull.
Buying Crypto on Webull?
Webull is an advanced trading platform that offers investors free trades on stocks, ETFs, and retirement accounts. Launched in 2018, the trading platform has captured the interest of many with its numerous research tools and advanced charting.
More recently in November of 2020, Webull announced that it would begin offering cryptocurrencies on the platform. At the time, the platform featured 4 cryptocurrencies: Bitcoin (BTC), Bitcoin Cash (BCH), Ethereum (ETH), and Litecoin (LTC). As of today, Webull now also offers Dogecoin.
Though Coinbase is primarily thought of as the top platform for cryptocurrency trading and storage, it does not currently offer Dogecoin. This makes Webull a top platform for those searching to buy Doge.
Buying cryptocurrency on Webull is fairly simple. Users familiar with the platform will notice the process is largely the same. We will provide more details further on.
Learn more about trading crypto on Webull with our full Webull Crypto Review.
What Is Cryptocurrency?
Cryptocurrency, or crypto, is a type of currency. Like the US dollar or Chinese Yuan, crypto is a currency that can be used to buy goods and services. However, there is one key difference. Crypto is not held by a central bank, but rather by cryptography, which is made possible through blockchain technology.
Cryptocurrency is managed across many computers in an online ledger. This appeals to many as it makes it nearly impossible to counterfeit.
Some think of crypto like an arcade token. You can exchange other money for coins or tokens and use them for a variety of games. Today, companies are starting to accept various forms of cryptocurrency as payment for their goods and services.
The value of a crypto moves up and down due to spectator beliefs and scarcity of the currency. Unlike a company that produces a product or offers a service, there is no inherent value of a cryptocurrency, which adheres to the Greater Fool Theory.
The Greater Fool Theory is an economic principle that states money can be made when buying overpriced assets. This is possible as there is typically someone else who would be willing to pay more for that same asset.
Best Stock Promotions
What is Dogecoin?
Dogecoin was created in 2013 as a joke. It was named after an internet meme which featured a Shiba Inu dog. The popular dog also serves as the mascot and can be seen on Dogecoin's symbol, which is a gold coin.
Dogecoin has garnered attention due to consistent mentions in the media. Earlier this year, Elon Musk began highlighting Dogecoin in various Tweets, which caused many to take notice of the crypto. Musk's most recent Tweet about Dogecoin read, "Doge barking at the moon." Other high profile individuals such as Mark Cuban and Snoop Dog have also commented on Dogecoin.
As proven by other stocks such as Gamestop and AMC, extreme hype on the internet can be highly influential among retail investors. This is certainly the case with Dogecoin recently.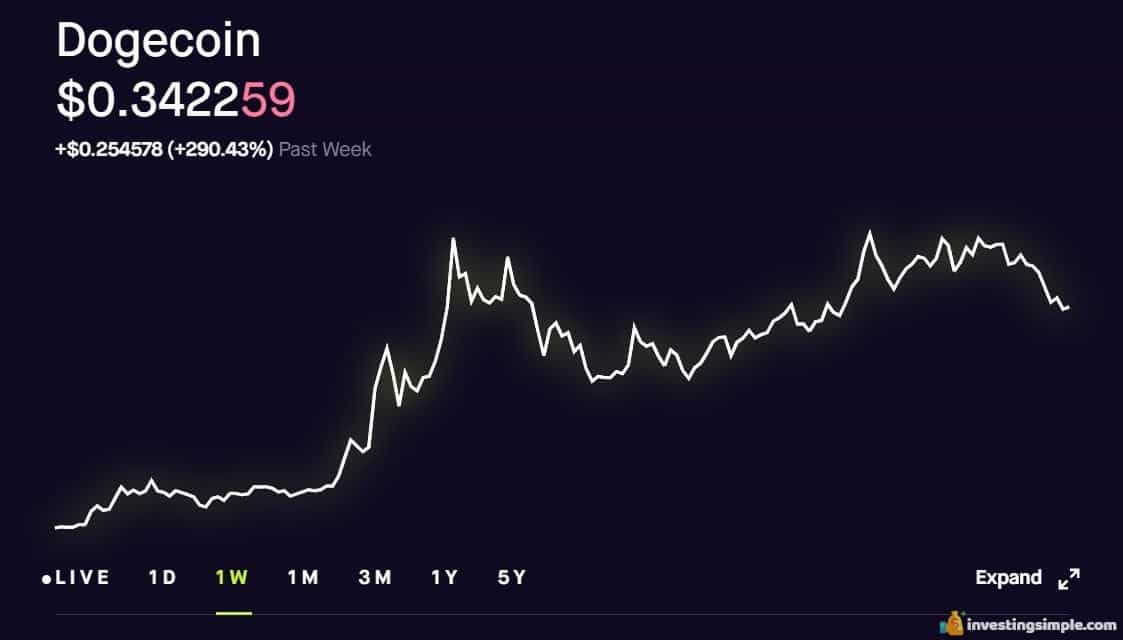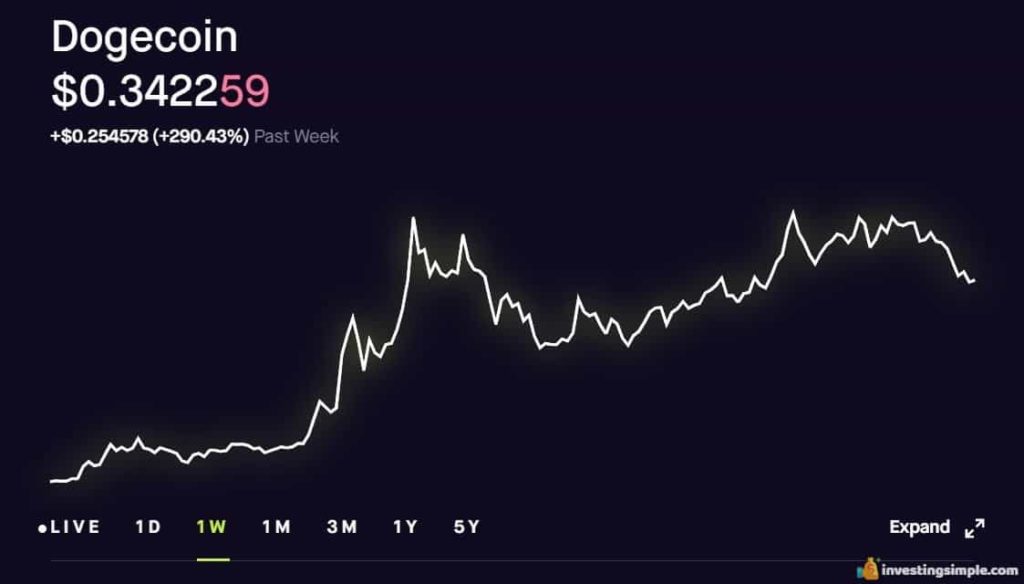 How to Buy Dogecoin on Webull
Buying Dogecoin on Webull follows a simple process. Within the platform, you will first tap on the Webull symbol in the bottom menu. After entering your trading password, you will click on "More." From there, you will find the section titled "Account" and click on "Crypto Trading."
When you first click on Crypto Trading, you will have to agree to a new set of terms and conditions by signing an e-signature. After submitting your signature, your Webull crypto account will be reviewed. It will typically be approved within the same business day.
Once your account is approved for crypto trading, you will simply type in the ticker symbol as you normally would and click "Trade." Finally, you will  select your order type (Market or Limit) and the dollar amount you would like to invest and click "Buy."
Webull and Webull Crypto are Different?
When you click "Trade" on a cryptocurrency in Webull's platform, you will receive the following message: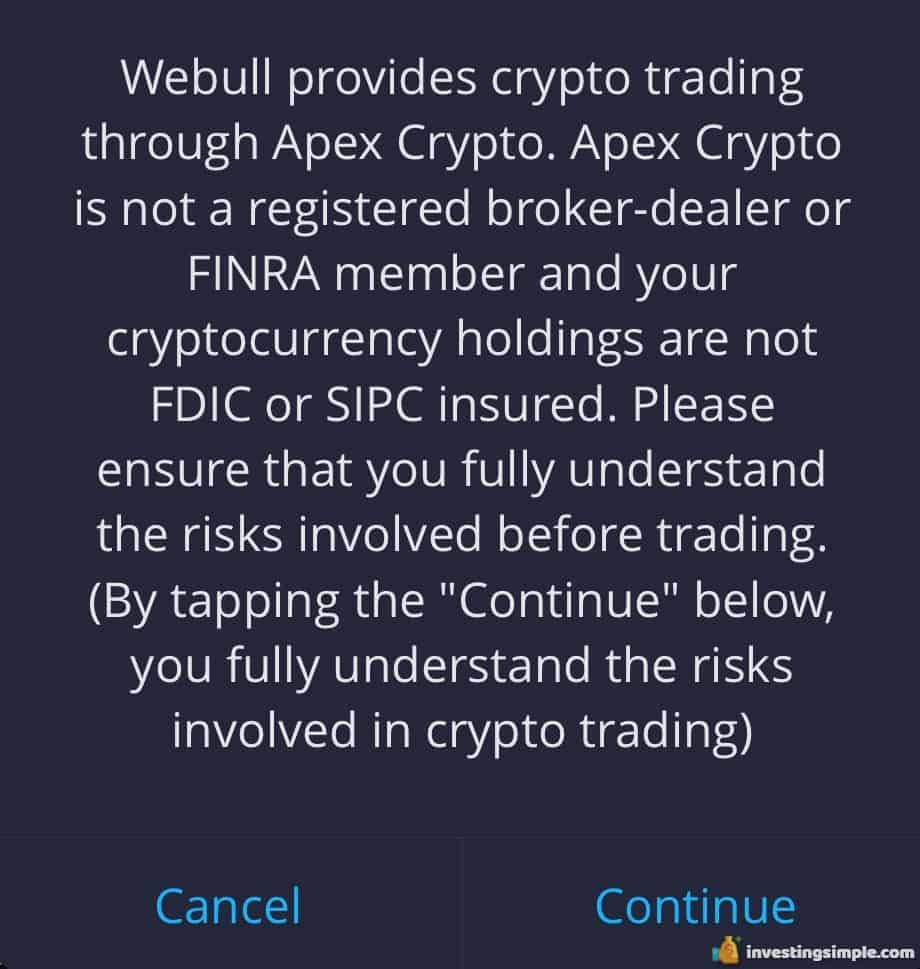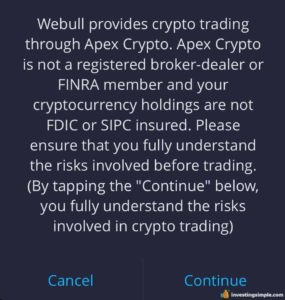 So what does this mean? Webull Crypto and Webull Financial LLC are two separate entities. Though investors can trade both crypto and stocks within the same platform, it is important to note that the assets are not held in the same place.
Because cryptocurrency is not regulated by an exchange, the assets are not protected the same way stocks and ETFs are. Stocks and other investments are FDIC and SIPC insured, while cryptocurrencies are not. Before trading crypto on Webull, you will have to accept this understanding by clicking "Continue."
Purchasing Fractional Coins
While Webull does not offer fractional shares on stocks, they do offer fractional coins. Just like fractional shares with stocks, this allows investors to enter in a dollar amount rather than a set number of coins.
For example, when buying Dogecoin on Webull, if you had $74 and the price per Dogecoin was $0.30, you could get 54 Dogecoins.
This is a great feature for investors looking to get started with cryptocurrency. It does not mean that the money invested is less at risk, but it does allow greater flexibility for investors. With Dogecoin currently trading around $0.30, fractional coins may not be as notable. But with Bitcoin currently trading around $57,000, you could get started with as little as you felt comfortable with rather than purchasing one $57,000 coin.
How to Sell Dogecoin on Webull
Selling Dogecoin on Webull is done just like buying. When in the app, and after selecting Dogecoin from your portfolio, you will simply select "Sell." Once again, you will select your market type and enter in the dollar amount you wish to sell.
Instant Settlement
Buying and selling cryptocurrency is much faster than typical trades. With crypto trading, there are no physical processes, which means your funds with settle instantly. Unlike selling stocks or other assets, when you sell crypto, your money will appear in your account immediately.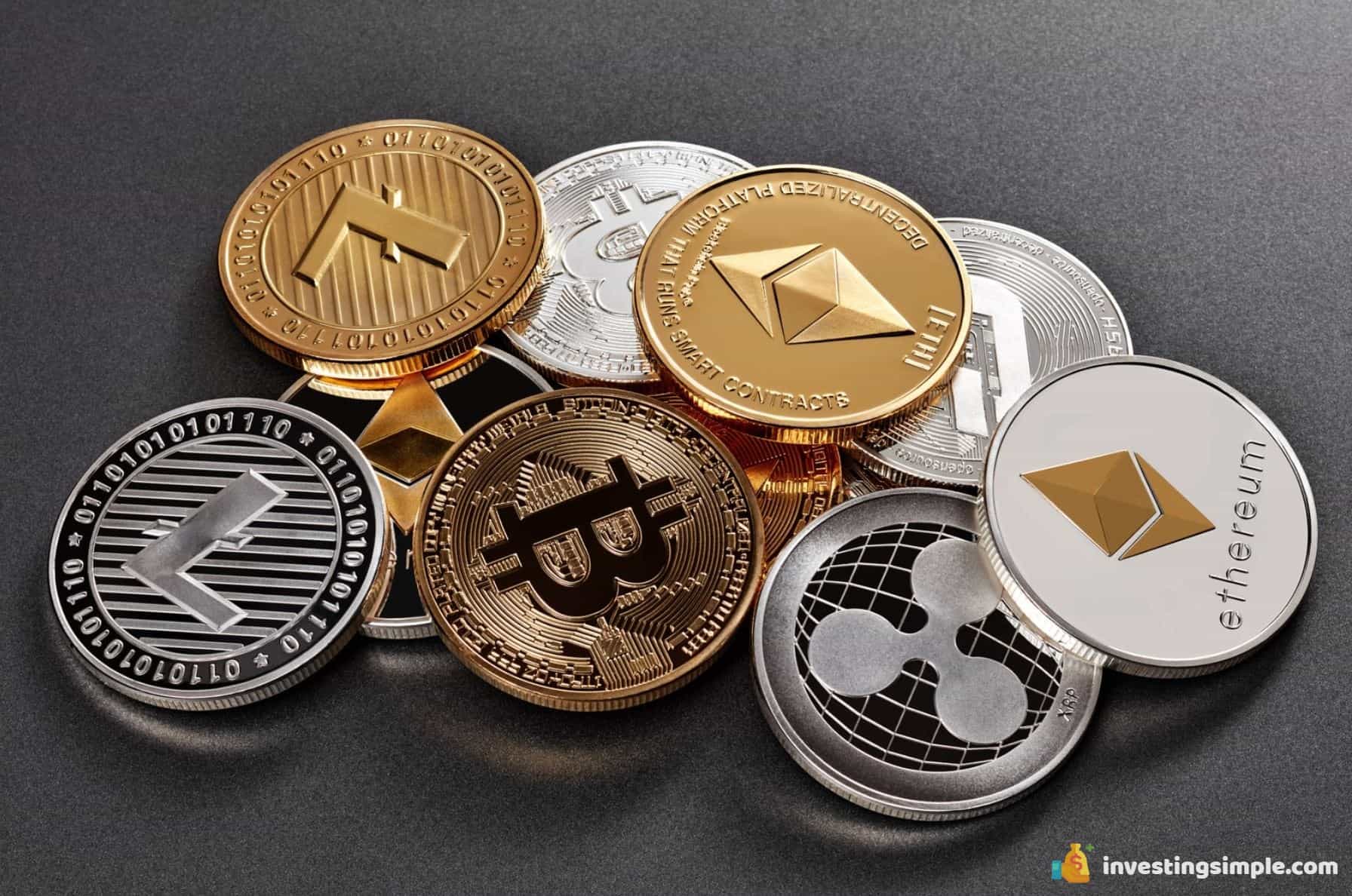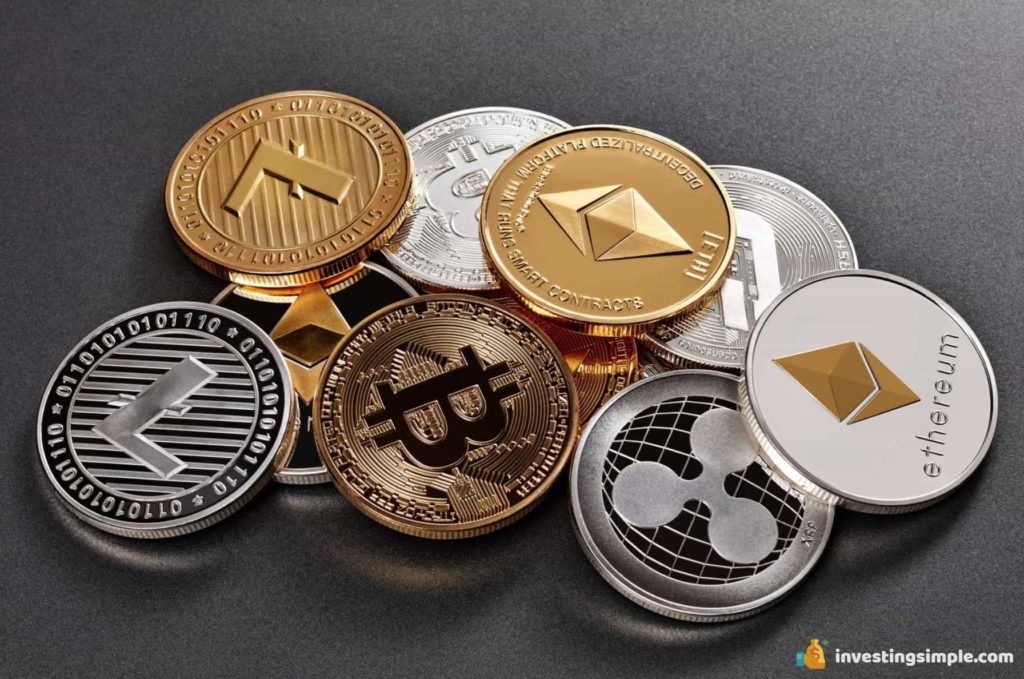 Does Cryptocurrency Have Regular Trading Hours?
Buying and selling stocks on Webull is limited from 4am to 8pm EST. This is because the stock market is regulated by exchanges. Cryptocurrencies can be traded 24/7 as they are not regulated by any authority.
Transferring Coins
Webull does not allow users to transfer cryptocurrency from their platform to another. In order to move your crypto from Webull to another platform, you will need to sell your cryptocurrency and buy in another platform. Be advised, transferring money out of Webull can take 1-5 business days.
Without the ability to transfer crypto in or out of Webull, you will not be able to store your crypto in a cold wallet. 
Because cryptocurrency is not regulated, and thus not protected the way stocks are, investors want to ensure their cryptocurrency is held secure. For many, this means using a cold wallet, or a storage device like a thumb drive which is not connected to the internet.
This is one of the reasons why Coinbase is trusted among investors. They do allow users to transfer coins into a cold storage.
Buying Dogecoin on Webull: Final Thoughts
Webull has created an excellent resource for investors. With various research tools, advanced charting, and user customization, Webull has become widely popular since launch in 2018.
With Webull's recent addition of cryptocurrency last November, investors can now hold many of their investments in the same trading app.
Because Dogecoin is not offered on many trading apps, investors may find themselves searching for a platform that does offer it.
For those interested in Dogecoin, Webull may be the platform for you!
Dogecoin comes with a certain level of volatility. In general, cryptocurrency experience high volatility due to its very nature. Cryptocurrency has no inherent value like a company who produces a good or service. Likewise, cryptocurrencies like Dogecoin can experience sudden increases and decreases to their price.