Casper Sleep Inc., CSPR Stock, was founded in 2013 and is headquartered in New York. Casper is dedicated to providing consumers a great night's rest.
The company designs and sells products relating to sleep such as mattresses, pillows, sheets, blankets, duvets, sleep accessories, and some bedroom furniture.
Casper Sleep currently has operations in the United States, Canada, and Europe. They primarily sell there products through their online website, but they also have 67 Casper Sleep retail locations as well as 23 retailer partners.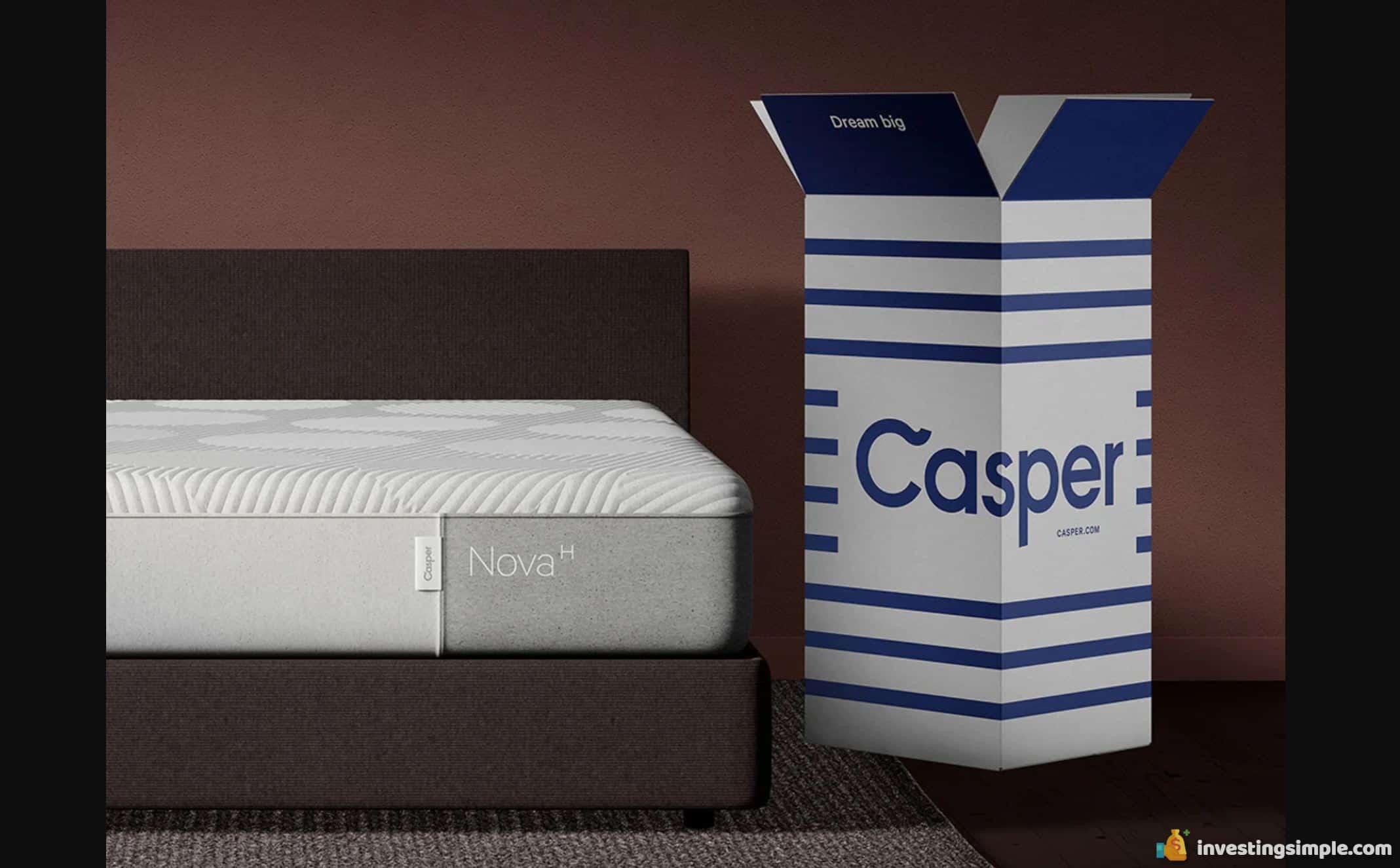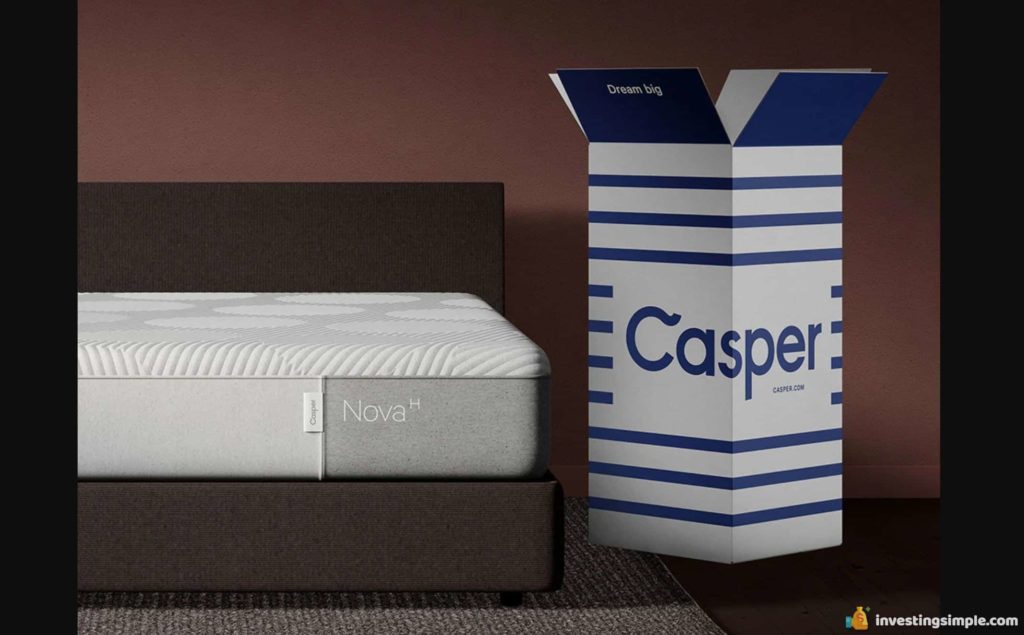 Why is CSPR Stock Moving Now?
CSPR Stock went public on February 6, 2020. With the start of COVID-19 just a month later, CSPR stock has had a tough year.
Since launch, the stock is down 47%.
In the last 3 months however, the stock is up about 23%. What is the cause of the volatility? Is CSPR stock a buy?
Though the company has grown revenues each year since being founded, the company is still not profitable. Investors were bullish on the stock due to the impressive growth, but most recently, Casper's growth has declined while the company continues reporting losses.
In 2020, full year revenues grew by 13% vs the previous year. In 2019, revenue grew by 23%, and in 2018, revenues increased by 43%. The declining growth and continued losses are diminishing investor's hopes on CSPR stock.
What are Casper Sleep's Strengths and Opportunities?
Though Casper's sales come primarily through their website, they have a variety of retail locations they own and with other partners as well.
In November for example, Casper announced a new partnership with Nordstrom to feature their mattresses and other products both online and in select stores. This latest partnership brings Casper's total to 23.
As COVID-19 continues slowing and the vaccine takes effect, sales could increase as more consumers leave their homes. The existing partnerships they have are also spreading notoriety of the brand.
Casper Sleep Inc. has created a total one-stop destination for customers. With over 40 different products, consumers can be sure to find everything they need guarantee a good night's rest.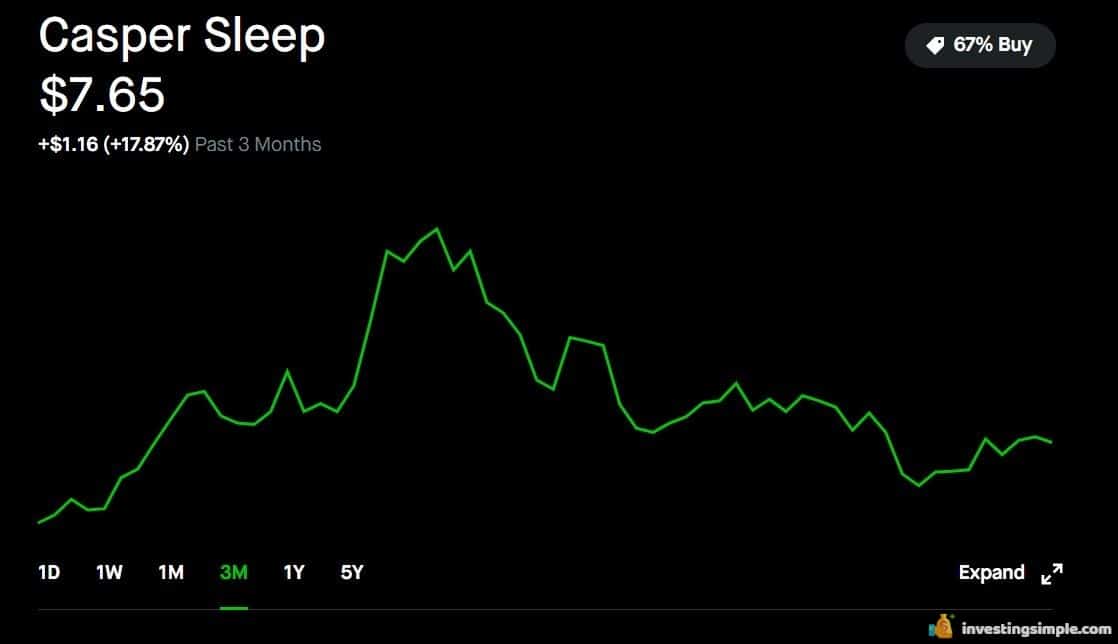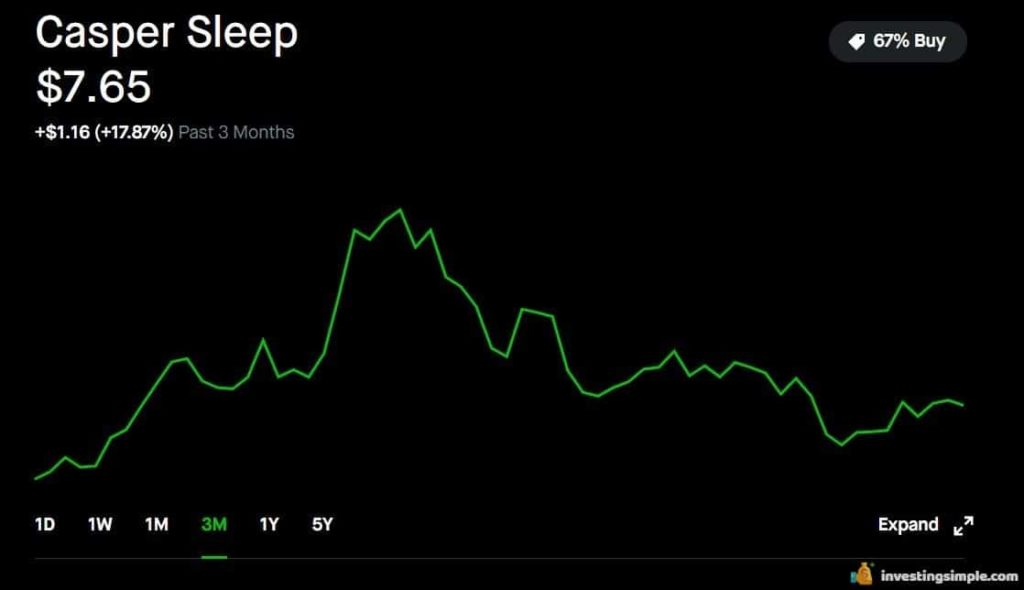 What Challenges is CSPR Stock Facing?
Casper was founded in 2013 and really helped change the mattress industry. The rolled mattress in a box concept grew in popularity and is now sold by other competitors. That innovation which fueled initial growth is now bringing on new competition.
Casper's mattresses are their flagship product and growth has declined in recent years as competitors such as Purple and Nectar have entered the sector. New competition in the sector has also motivated other mattress and sleep companies to adopt the new style of mattress thus increasing competition even more.
Sleep Number, another sleep company, has also experienced growth and is currently profitable. As other sleep companies continue reporting growth and profitability, investors will lose hope in CSPR stock unless Casper can turn things around.
Another challenge inherently embedded in the mattress industry is that consumers won't need to buy new mattresses every year. Most mattresses last between 5 and 10 years. Casper will need to continue marketing for their other products to continue sales growth.
Casper Sleep Inc.: Final Thoughts
Casper's innovation certainly disrupted the sleep industry. They have designed and created a number of products to assist consumers in achieving a better sleep. With impressive growth since being founded, Casper has built a strong foundation for the future.
In order to continue growing, Casper will need to continue differentiating themselves from competitors. They will also need to find efficiencies and demonstrate profitability to investors.
For those interested in Casper Sleep Inc, remaining close to company press releases and earnings reports will be highly important.
Start Investing Today
Investing has never been more accessible than it is today. You can quickly open a brokerage account and start investing all within 10 minutes from your personal phone!
The question is, which investing app is best? With so many to choose from, people often delay getting started, but with any investment, time is often one of the most important factors!
If you are looking to get started but are unsure how, then be sure to read How to Invest in Stocks For Beginners or check out the 10 Best Investing Books Beginners Need To Read In 2021.