For many, investing is considered unfair as some individuals are privy to opportunities that others are not. Why does this inequity exist? Many platforms require certain wealth benchmarks before an individual can start investing.
These benchmarks come in the form of high account minimums or annual income requirements. Platforms may state that they accept accredited investors only. Accredited investors are classified by the SEC as an individual with an annual income of $200,000 or more or a net worth of $1 million or more.
Today, a number of investment platforms have been created to give all investors the opportunity to find great deals. One of those platforms, DiversyFund, was created to let anyone start investing in private real estate. So, is DiversyFund a good platform to invest in? In this DiversyFund review, we will take a deep dive into the pros and cons of the platform as well as other details regarding this option.


DiversyFund: Highlights
DiversyFund offers investors one growth REIT fund
Access to commercial real estate deal
Initial investment minimum of $500
DiversyFund is vertically integrated and owns properties directly, meaning they do not use other third party company for deals
No management fees
Average investment cycle is about 5 years
Investors cannot withdraw their money before the cycle ends
DiversyFund accepts all investors, including non accredited investors
Investors cannot choose their investments with DiversyFund
Customer support phone number, email, and robo-chat
DiversyFund Review
Ease of Use

Liquidity

Customer Support

Minimum Investment

Investment Options

Transparency

Fees
Summary
DiversyFund is a platform that seeks to offer every investor the same opportunities in real estate. Investors can get started with as little as $500 and don't need to be accredited.
Top real estate deals used to be reserved for the top 1%. With DiversyFund, anyone in the US can get started.
Pros
Zero Management Fees
Simple Interface
Great Customer Support
Transparency of Investments
Cons
No Early Withdrawal
Only One Investment Option
Investors Cannot Choose Specific Projects
What is DiversyFund?
DiversyFund offers everyone the ability to invest in private commercial real estate. Typically, these kinds of investments were made available to accredited investors only. This platform is seeking to level the playing field and offer every investor the same opportunities in real estate.
Craig Cecilio, DiversyFund's co-creator and CEO, had the idea to create the platform in 2014. He wanted a platform that could offer the everyday investor opportunities that were formerly available to the wealthiest individuals only.
In 2018, the company received approval from the SEC to offer their growth REIT to everyone. The platform fully launched in April of 2019 with a minimum investment of $2,500. Just a few months later in June of 2019, the company received approval from the SEC to lower the minimum investment to $500.
Since launch, they have attracted over 22,000 investors.


What is a REIT?
A REIT, or a real estate investment trust, is a company that owns or operates income producing real estate. Similar to a mutual fund, REITs take the capital of a group of investors. This capital is then used to purchase real estate.
Typically, a REIT is publicly traded on the stock market and provides investors a highly liquid way to invest in properties without actually purchasing one themselves. In the case of DiversyFund, their growth REIT is not publicly traded but still open to the public.
Real estate serves investors as a great way to diversify their portfolio. It also helps investors hedge against declines in the stock market. In the past, only those who could afford to purchase a property were able to become involved with this type of asset. REITs give investors an opportunity to participate in real estate transactions.
How Does DiversyFund Work?
Getting started with DiversyFund is actually pretty simple. First, you will create an account with them. You will enter basic information such as name, address, phone number, etc. You will have to provide your social security number for tax purposes.
After linking a bank account, you will choose your initial investment. The minimum investment is $500. You can invest more than that in increments of $500 with a maximum investment of $1 million.
Additionally, you can also choose to set up recurring investments automatically. Or, if you want to control your investment a little closer, you can choose to deposit additional funds at any time.
DiversyFund uses your funds and the capital of other investors to buy real estate. They focus on commercial real estate, specifically apartment complexes of 100 units or more. The fund strategy for the Growth REIT is a value-add investment strategy designed to accelerate growth over a 5-year cycle. So what does that mean?
After raising capital, DiversyFund searches for deals with certain standards. Once a property is acquired, they then seek to renovate it or add value to it. After the property appreciates in value, usually around 5 years, DiversyFund will sell the property.
What Fees are There?
There are no management fees. This is not like other crowdfunding real estate platforms. Most real estate platforms will charge a management fee or other broker fee.
DiversyFund is vertically integrated. This means that they actually own their processes in house. Rather than use a third party to find deals, they do this work on their own. This actually provides DiversyFund with another revenue stream. While they make money on the properties they sell, they also make money with development fees as they are the developer for each property. Those development fees are not on the fund level, so investors will be able to participate without any fees.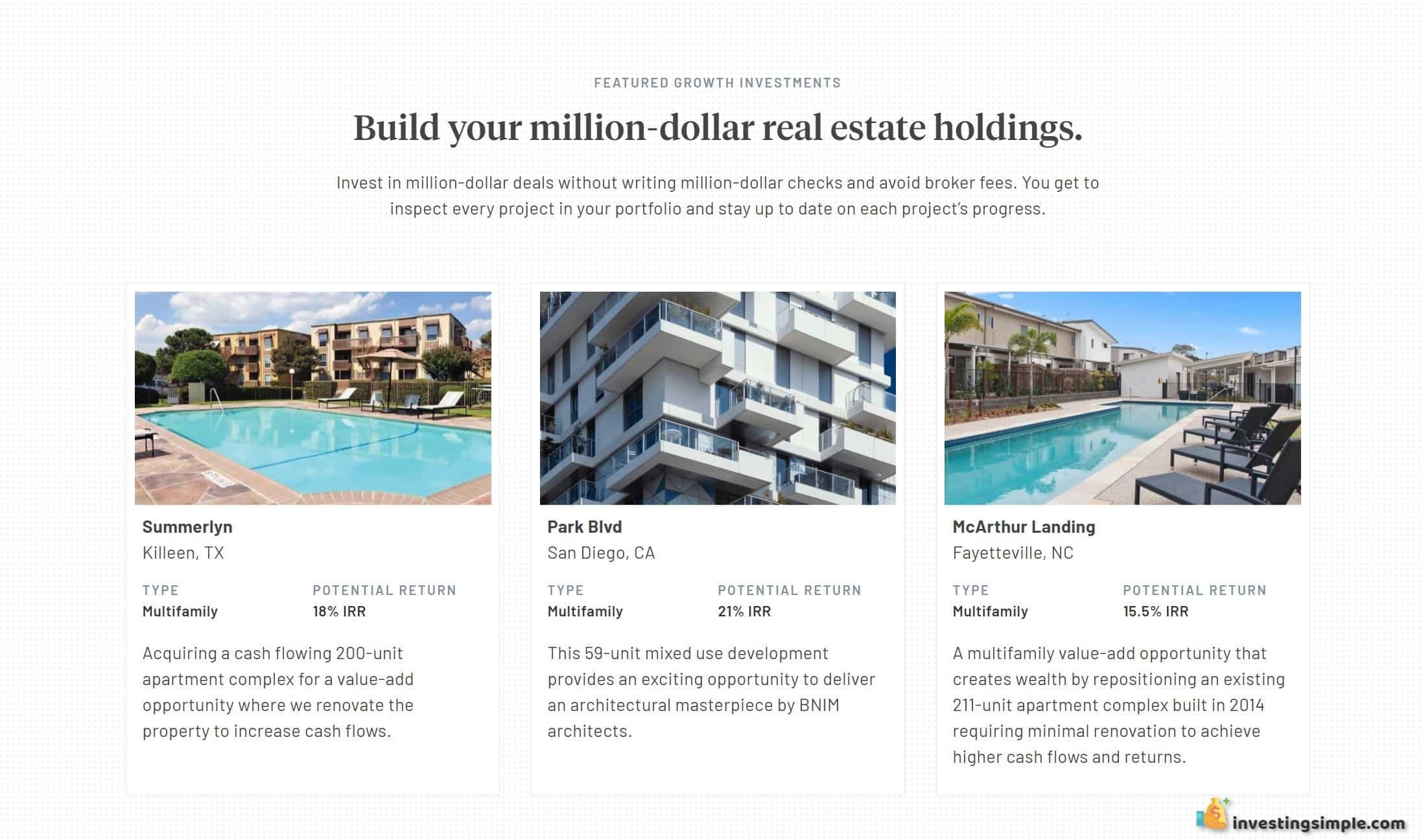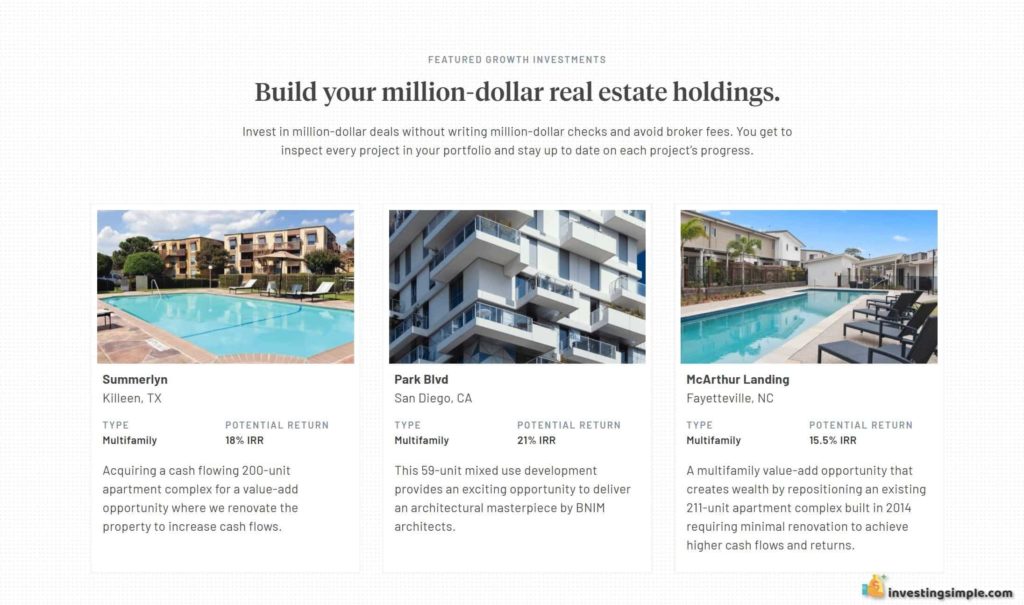 Can I Choose My Investments?
No. Investors are not able to choose their investments, rather all funds are pooled into DiversyFund's Growth REIT. Some REIT platforms, such as Fundrise, allow users to select specific projects to invest in. With DiversyFund, they offer investors 1 growth REIT without the ability to select individual deals.
How Do I Make Money with DiversyFund?
Investors make money with DiversyFund in two ways: Dividends and the Sale of a property.
As soon as you invest your money with DiversyFund, you will start earning monthly dividends. The company pays out dividends each month on the 15th from the rents they receive from their properties. The dividend is actually automatically reinvested to fund the renovations of various projects.
The main return comes from the sale of the property at the end of the cycle, usually around 5 years.
After properties are sold, each individual that invested will receive their principal with a 7% preferred return. This means that before DiversyFund receives anything, each investor will receive their principal plus a 7% return first. Afterwards, profits above the 7% will be split with 65% going to the investors until they reach a 12% return. Any additional profits will be split 50/50 between the investors and the company.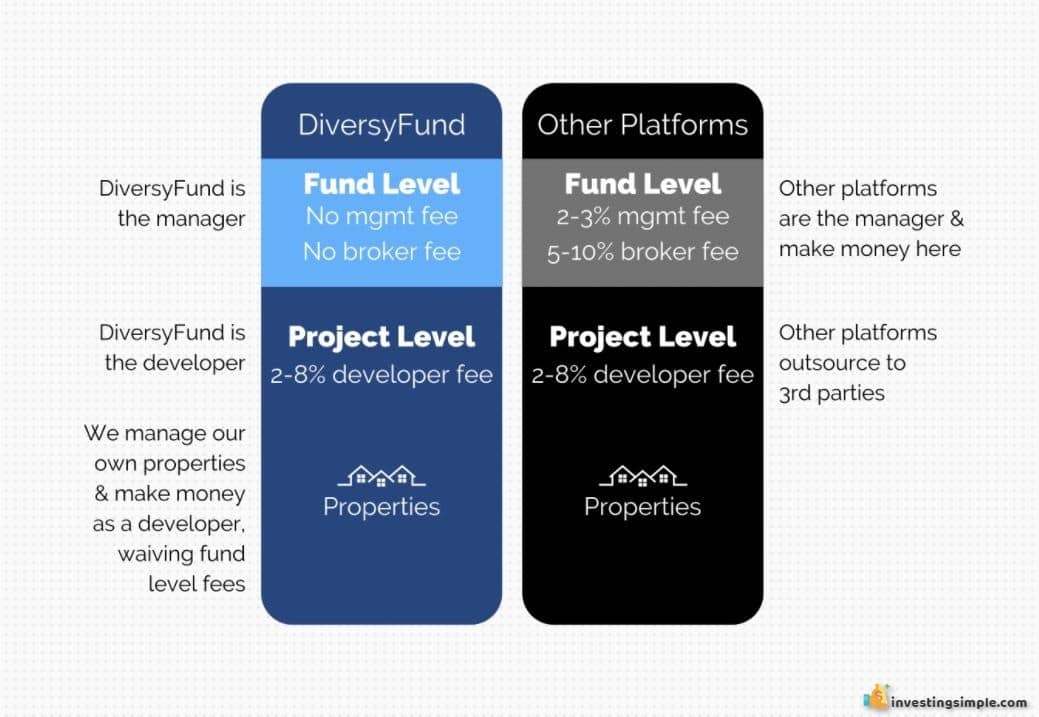 Can I Withdraw My Money Early?
Once you invest capital with DiversyFund, you cannot withdraw that money early. They state the following on their website:
The investment term is approximately five years. The REIT is not open-ended, meaning it won't go on indefinitely. It goes through a cycle of acquiring properties, renovating them, increasing rents and then selling the assets. The five year term allows us to go through this process. Investors are liquidated at the end of the investment term upon the sale of the assets.

Since we are executing a growth strategy to maximize returns, offering an early withdrawal actually impedes your investment goals and returns. It is our responsibility to take the hard but necessary steps to protect the interests of our investor base as a whole. Therefore, to protect the growth of all our investors' wealth there are no premature withdrawals.
This is both good and bad. Investments almost always do better in the long term. Many investors have lost out on opportunities simply by selling too quickly. By forcing investors to remain in the REIT for the entire cycle, DiversyFund is actually helping investors maximize their return.
On the other hand, investors must be sure that the money they invest will not be needed down the road.
Is DiversyFund Secure?
DiversyFund is a secure platform. They are registered with the SEC, which means that they have to report earnings annually and undergo yearly audits. This level of transparency demonstrates trust to investors due to their compliance with regulation and standards.
DiversyFund Review: Final Thoughts
DiversyFund is a great platform for investors that are looking to get involved with real estate. With a relatively low initial investment of $500, most individuals are now able to invest in large real estate transactions that would otherwise not be available.
The platform also allows investors to set up recurring investments to be a passive investment. It is also important to note that the money that is invested with DiversyFund is not liquid, meaning it must remain in the account for the entire cycle, which is usually five years. This platform may not be for you if you are looking for a more liquid investment.
While the company promotes strong returns, investors should be aware that returns may take 5 years to start rolling in. For investors looking for a quick return, this may not be the best option for them.
For new investors or investors that are new to real estate, this may be the platform for you. With a simple interface and great customer support, new investors find this option to be well catered to their needs.
CFRE Non-Accredited Investments