Prizepool is a relatively new bank with a unique offering. The company's mission is to help people save for a better future. Unfortunately, saving money is easier said than done. With that in mind, Prizepool created a platform to help.
So, is Prizepool safe? Are your funds FDIC insured? Before answering those questions, let's review Prizepool's offering.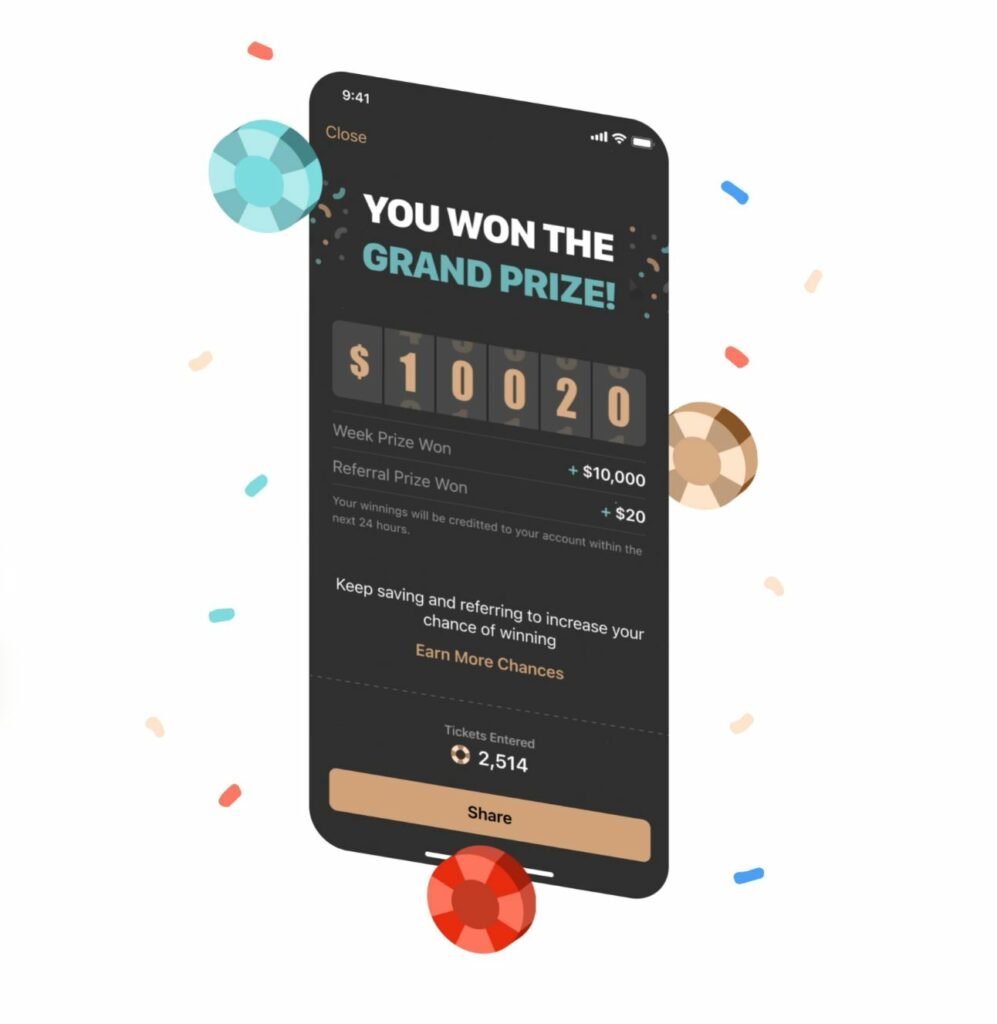 What is Prizepool?
Prizepool is a prize-linked savings account that was founded in 2019.  The company's founders are on a mission to make saving money more fun and exciting.
Check out our full Prizepool review for more!
The average American does not have enough money to cover a $1,000 emergency, but at the same time, the average American spends roughly $1,000 a year on lottery tickets. These metrics are the basis for Prizepool: people struggle to save money but are willing to purchase lottery tickets for a chance to win big.
With this in mind, Prizepool was created. The primary offering is a savings account that incentivizes saving money. Every dollar you have in your account earns you one ticket per day. At the end of each week on Friday, the company raffles off over 4,000 prizes. And at the end of the month, they raffle off a $10,000 cash prize.
Even if you do not win a prize, your money is still safe. Additionally, regardless of prizes, members earn 0.30% APY, which is significantly higher than the interest rates at other banks.
In addition to weekly cash prizes, this savings account also features no account minimums or monthly fees.
Prizepool currently has a 4.5 star rating in the app store from over 1,100 reviews! This rating alone speaks to the trust members have for the app.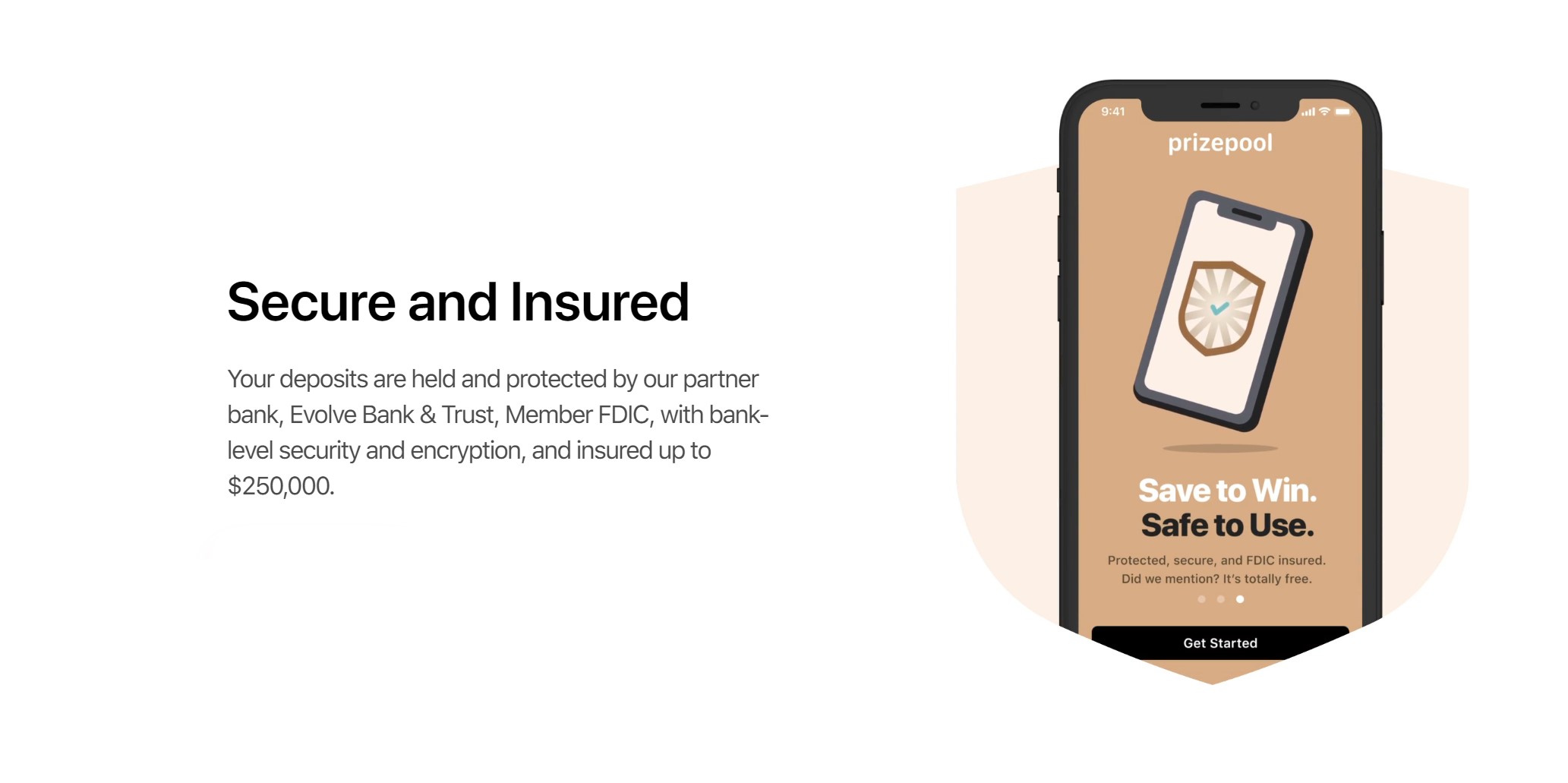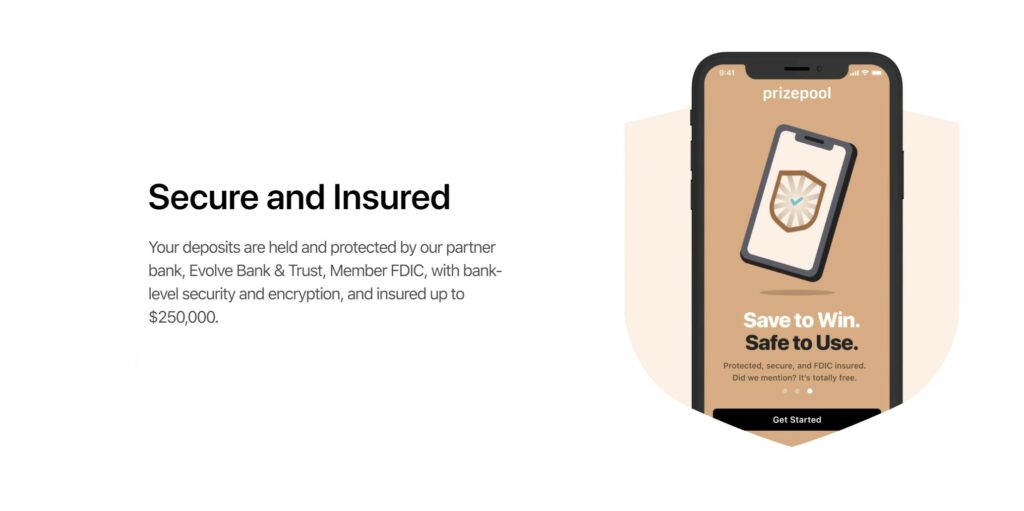 Is Prizepool FDIC Insured?
Prizepool is actually not a bank. Rather it is a platform designed to incentivize savings. All deposits are held and protected by their partner bank, Evolve Bank & Trust, Member FDIC, with bank-level security and encryption, and insured up to $250,000.
So, while Prizepool is not FDIC insured, their partner bank is. So what does it mean to be FDIC insured? The FDIC (Federal Deposit Insurance Corporation) is an independent agency of the United States government that protects against the loss of insured deposits if an FDIC-insured bank or savings association fails. FDIC insurance is backed by the full faith and credit of the United States government.
FDIC insurance is not something that you apply for, it is automatically granted to anyone with funds at a FDIC-insured bank. Prizepool is a platform that incentivizes savings, but your funds are actually held at Evolve Bank & Trust, which is a FDIC insured bank.
Is Prizepool FDIC Insured: Final Thoughts
Prizepool offers individuals a new way to save money. By offering over 4,000 cash prizes weekly, saving money is exciting just like a lottery. However, there's a key difference when compared to the lottery: even if you do not win a prize with Prizepool, your money is still yours.
The company itself is not a bank, though funds are held by Evolve Bank & Trust, which is a FDIC insured bank. By holding funds at an FDIC-insured bank, members can rest assured knowing their money is safe.
If you are interested in getting started with Prizepool, be sure to check out our full review!
Best Free Stock Promotion