LendingClub Review
Investing Simple is affiliated with LendingClub. This relationship does not influence our opinion of this platform.
LendingClub is a peer to peer lending platform that takes the bank out of the lending process. For the first time, borrowers and lenders can directly interact in transactions without the involvement of a bank or middle man. LendingClub makes sure the transaction is transparent and the terms of the agreement are met. For borrowers, LendingClub allows you to shop for loans outside of the traditional financial institutions. For investors, LendingClub allows you to be the bank and earn interest on loans.
LendingClub is one of the most popular peer to peer lending services on the market today. In this article, we will discuss the features, benefits and drawbacks of using LendingClub for both investing and borrowing.
What Is Peer To Peer Lending?
Peer to peer lending is an alternative lending process that takes a new approach to traditional borrowing and lending. With peer to peer lending, you are essentially taking the middleman out of the picture. Lenders will directly lend money to borrowers who apply for a loan. Borrowers then pay back their loan over time, paying both interest and principle with each payment to the lender.
To reduce risk, each investor on LendingClub has the option to invest a minimum of $25 in each note. The investor then purchases 40 or more notes in order to diversify their portfolio and reduce risk. This will allow investors to spread risk across a number of notes. Rather than lending one person one thousand dollars, you will lend 40 different people $25 each. This greatly reduces risk for the investor in the case the borrower defaults on their loan. This is similar to diversifying investments in the stock market. You don't want to have all of your eggs in one basket!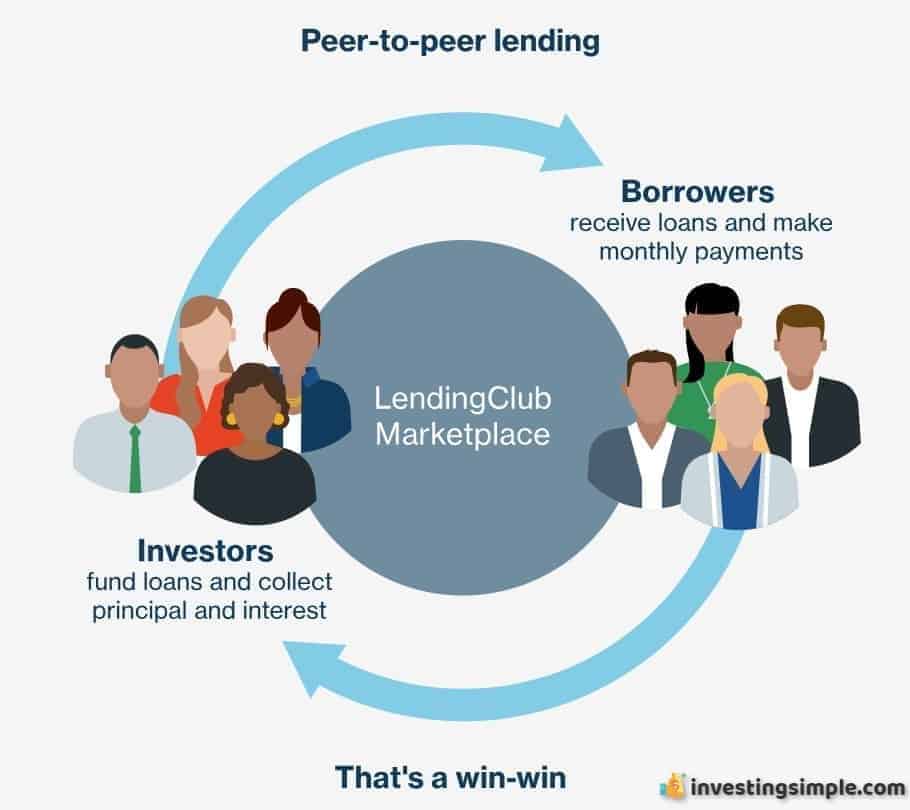 Types Of Loans: Secured vs Unsecured (LendingClub)
There are many different types of loans available to borrowers. Most loans are categorized as secured loans versus unsecured loans. Secured loans are backed by collateral in the case the borrower cannot pay. Mortgages and auto loans are examples of secured loans. In the case of the borrower defaulting on the loan, the lender will receive the house or automobile as payment. This gives the investor more protection and less risk in lending money. Typically, secured loans command a lower interest rate as the risk is lower.
Unsecured loans are a type of loan that has no collateral property backing the loan. There are many different types of unsecured loans. Some examples of unsecured loans include credit cards or unsecured house improvement loans. Most institutions offer both secured and unsecured loans. Typically, secured loans will command a higher interest rate as the risk is higher.
LendingClub offers unsecured personal loans. This means you do not need to put up equity in your house or car in order to be approved for the loan. You can apply online to borrow money and be approved the next day without being tied up in collateralizing of the loan. This simplifies the application process for borrowing. As an investor, it is important to understand the risk involved with unsecured loans.
LendingClub For Investors
Investing Requirements
The minimum investment in LendingClub is $1,000 as well as a minimum of $25 to invest in any one note. Investors must be at least 18 years old and have their identity successfully verified by LendingClub. Certain states have specific net worth requirements to invest and LendingClub is not available in all states.
LendingClub Investor Account Types:
Individual
Joint Accounts
Trust Accounts
Corporate Accounts
Custodial/Minor Accounts
Traditional IRA
Roth IRA
SEP IRA
Simple IRA
The retirement account types that are available on LendingClub are available through a custodian IRA Services Trust Company (ISTC).
Click here to invest with LendingClub as an Investor!
LendingClub Note Structure
LendingClub offers a wide variety of notes on their platform. Each note has a relative risk to the investor and receives a rating from A to E. A being the highest quality notes and E being the lowest quality. Risk is identified by a set of criteria such as credit score, debt to income ratios, credit history and activity of the borrower. The higher the risk, the higher the interest rate on the note. Therefore investors who take higher risk and invest in E grade notes will have the highest interest rates. They also have the highest risk of losing part, if not all, of their investment.

The minimum investment in LendingClub is $1,000 and a minimum of $25 for each note. This means you can invest in a wide variety of notes on the LendingClub platform in order to mitigate risk. In most cases, when investing in LendingClub notes it is safer to spread your investment across a number of notes. Rather than just purchasing a single note for one thousand dollars, you may want to invest in 40 separate notes in order to diversify risk. This way if one of your notes defaults, you will be protected by spreading bets across a number of notes.
Think about it… is it safer to lend 40 people $25 or 1 person $1,000?

LendingClub Investing Strategies
When choosing the specific notes you would like to invest in, you have different options for investment strategies. LendingClub offers both manual and automated investments on their platform. You have the ability to manually select specific notes and perform any due diligence before investing in a single note. This is a good option for investors that are more hands on and would like to implement their own unique investment style. This manual investment strategy will allow you to hand pick each note.
LendingClub also offers automated investing on their platform. You will select your investment criteria and risk tolerance and LendingClub will automatically purchase notes on your behalf. This saves the investor time and applies a consistent investment approach across your portfolio. This approach is for the passive investor.
Click here to invest with LendingClub as an Investor!
Investment Time Horizon
LendingClub recommends investors plan on holding their investments until maturity. Currently, LendingClub offers two time horizons for their notes; 36 months and 60 months. Since there is greater risk in notes that have longer maturities, the interest rates are slightly higher for 60 month notes when you compare it to 36 month notes. You have the option to sell your notes before maturity on a secondary market, but liquidity is never guaranteed. You can buy and sell LendingClub notes to other investors on the Folio investing platform. This provides liquidity to investors and allows more flexible investing.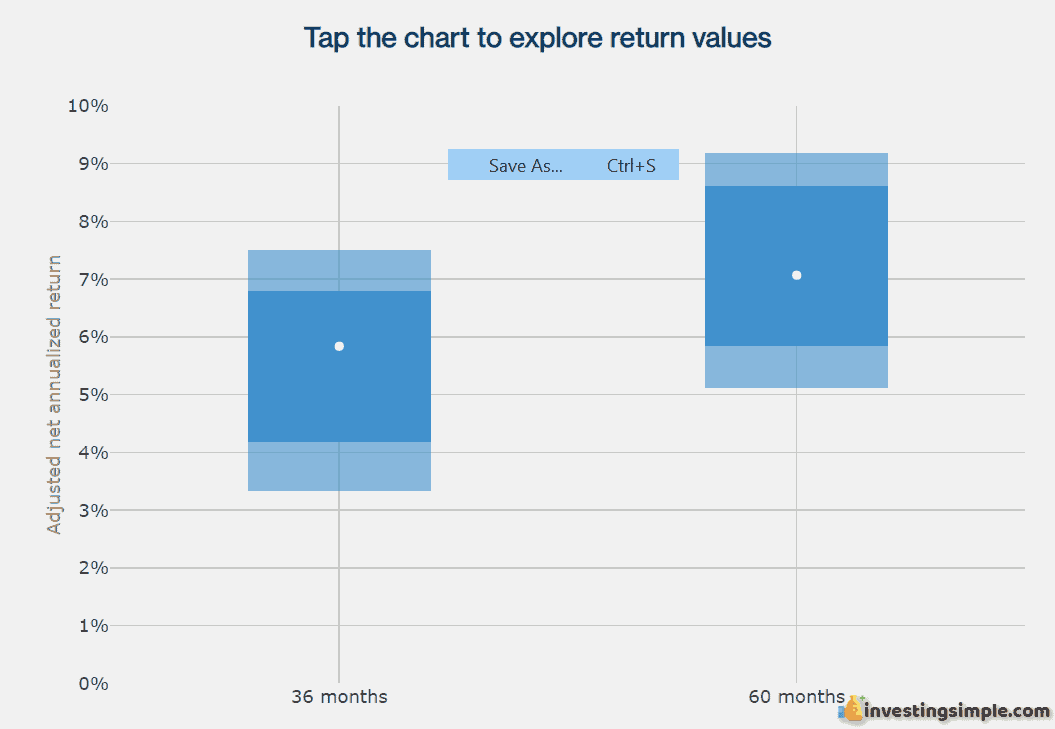 Account Fees
There is no application fee for LendingClub, however there are often origination fees that vary. These fees vary by the loan type and grade. Check with LendingClub to understand what origination fees may be involved.
LendingClub has certain transaction fees when investing on their platform. There are no fees when purchasing notes, however there is a 1% transaction fee whenever you receive payment from a borrower.
There is a 1% fee for selling any notes on the Folio platform.
LendingClub Investing Pros
Offers an alternative investment, less correlated to the stock market.
You can achieve diversification by investing in many different notes.
You can set up automatic investing on LendingClub.
Exposure to an asset traditionally reserved for the banks.
LendingClub Investing Cons
There is a 1% fee for every payment LendingClub receives.
Loans are unsecured, meaning higher risk for lenders in the case of a default by a borrower.
All investment as at risk, investors have no FDIC protection or guarantees of investment returns.
All interest earned is taxable as ordinary income and not capital gains tax rates.
LendingClub Investing: The Bottom Line
LendingClub allows investors to diversify by investing in an asset class traditionally reserved for banks. Since LendingClub is a private investment, shares or notes do not trade on a major exchange. As a result, this asset class may be less correlated to the overall stock market. One negative of investing in interest bearing assets such as peer to peer lending is that all interest is taxable as ordinary income and not at capital gains tax rates. If you plan on investing in LendingClub, you may want to consider investing in a retirement account to shelter yourself from taxes.
Click here to invest with LendingClub as an Investor!
LendingClub For Borrowers
LendingClub has a wide variety of borrowing options. You have the ability to take out personal loans, business loans as well as medical and auto loans. You can apply for the loan directly online, avoiding any need to spend time at your local bank.

LendingClub Loan Process
LendingClub will analyze your application and pull your credit score. This will be a soft inquiry and it will have no impact on your score.
They will assign a risk grade from A to E depending on factors such as your credit score, debt to income ratio, credit history and activity.
LendingClub will offer you a variety of loan offers. The interest rate will depend on your risk grade.
They will break your loan into notes and sold to investors.
After all the parties agree to the note, they will deliver your loan.
Once you apply and accept the loan offer you will receive your personal loan in a lump sum.
LendingClub Personal Loans
LendingClub personal loans are available to individuals looking to borrow up to $40,000. Personal loans are installment loans made to individuals who can repay the loan at a fixed rate every month. You can use a personal loan to refinance existing debt, make home improvements, finance major purchases, or even for travel.
Personal loans offered through LendingClub allow investors to access credit in an easy way that is convenient to borrowers. All LendingClub loans are unsecured. This means that you will not need to put up collateral such as a house or car for loan approval.
The interest rate you receive on your loan will depend on your risk grade. Ranging from A (being the best) to E (being the worst). Most A loans have around an average of a 6.95% APR, while E loans can be as high as 35.89% APR.
Click here to apply for a Personal Loan through LendingClub!

LendingClub Business Loans
The LendingClub platform offers both business loans and business lines of credit for business owners. You can borrow up to $300,000 for your business allowing you to fund projects, hire new employees, consolidate debt or expand entirely. The terms for business loans are between 1 to 5 years. Interest rates vary based on your risk ranking. Annual Percentage Rates (APR) can range from 5.99% for the best borrowers to 32% for at risk borrowers.
All business loans are fixed rate loans meaning your interest rate will stay the same over time. All business loans have no prepayment penalties, so you can pay off your loan early if you'd like.
LendingClub requires you to meet certain qualifications in order for loan approval. Here are some of the qualifications…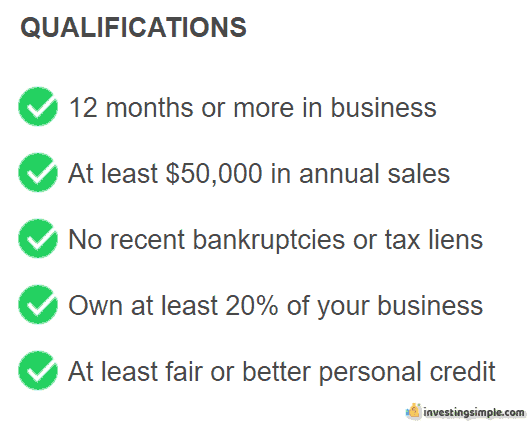 Click here to apply for a Business Loan through LendingClub!
LendingClub Medical Loans/Patient Solutions
LendingClub offers a variety of different medical care loans. The types of loans offered include fixed rate plans, no interest plans and promotional rate plans. You can use these loans for a variety of different treatments and procedures. Some examples include, dentistry, fertility, hair restoration and bariatric surgery.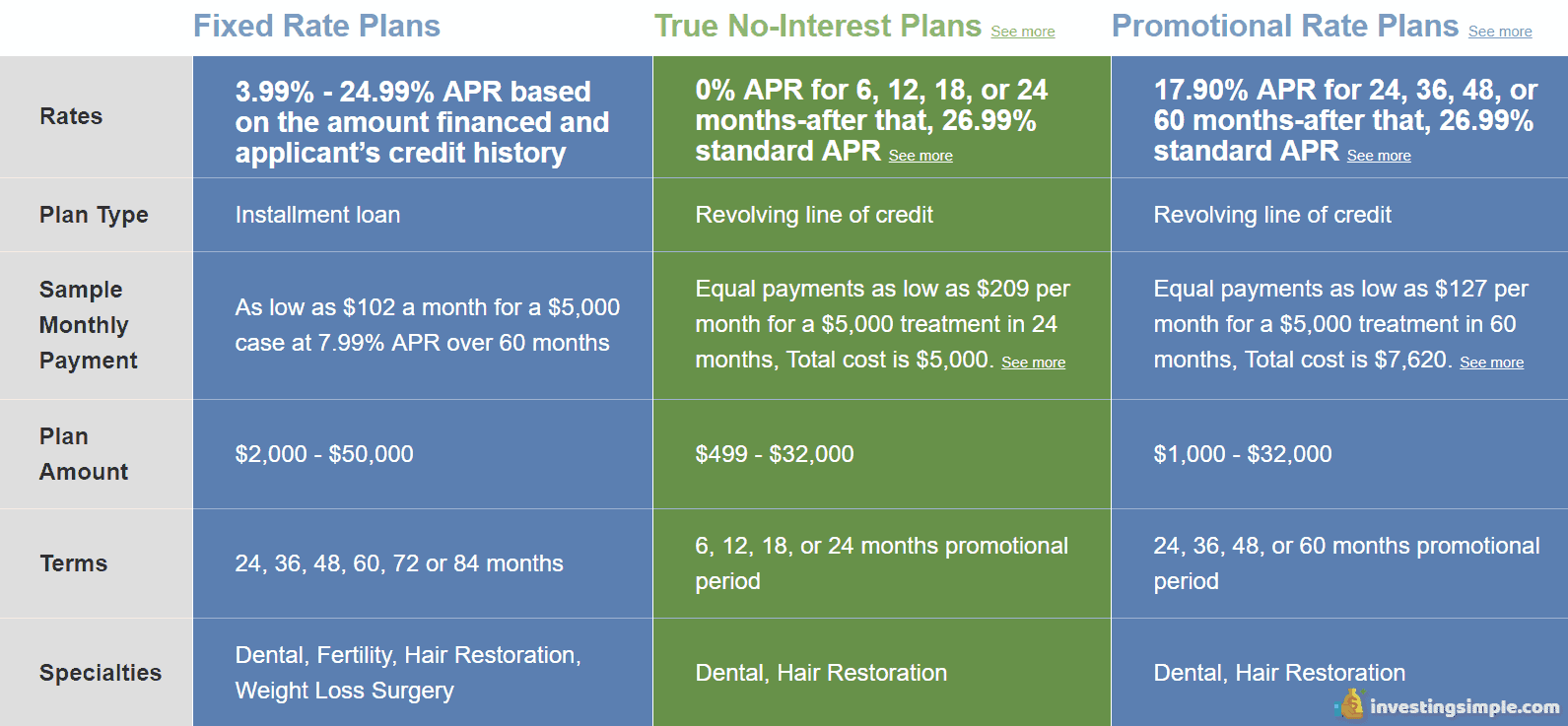 Click here to apply for a Medical Loan through LendingClub!
LendingClub Borrowing Pros
Easy application process and access to funds within a week, sometimes sooner!
No hard inquiry on your credit score.
LendingClub is transparent about fees.
No early payoff penalties.
LendingClub Borrowing Cons
Origination fees for all loans can vary between 1% to 6%.
There is a check processing fee of $7 if you pay your monthly payment by check.
Possible more attractive interest rates offered elsewhere.
LendingClub Borrowing: The Bottom Line
LendingClub offers a unique service that benefits both borrowers and investors on their platform. The rise of peer to peer lending has brought about a wave of new technology that has removed the middle man from lending. If you are looking for a personal loan, business loan or medical loan you should see what kind of rate you get offered through LendingClub. There is no application fee and no hard credit inquiry. When it comes to obtaining any kind of loan, you should always shop around and look for the best rate.
Click here to apply for a Personal Loan through LendingClub!
Disclaimer: All loans made by WebBank, Member FDIC. Your actual rate depends upon credit score, loan amount, loan term, and credit usage & history. The APR ranges from 6.95% to 35.89%*. The origination fee ranges from 1% to 6% of the original principal balance and is deducted from your loan proceeds. For example, you could receive a loan of $6,000 with an interest rate of 7.99% and a 5.00% origination fee of $300 for an APR of 11.51%. In this example, you will receive $5,700 and will make 36 monthly payments of $187.99. The total amount repayable will be $6,767.64. Your APR will be determined based on your credit at the time of application. The average origination fee is 5.2% as of 12/5/18 YTD. In Georgia, the minimum loan amount is $3,025. In Massachusetts, the minimum loan amount is $6,025 if your APR is greater than 12%. There is no down payment and there is never a prepayment penalty. Closing of your loan is contingent upon your agreement of all the required agreements and disclosures on the www.lendingclub.com website. All loans via LendingClub have a minimum repayment term of 36 months. Borrower must be a U.S. citizen, permanent resident or be in the United States on a valid long term visa and at least 18 years old. Valid bank account and Social Security number are required. Equal Housing Lender. All loans are subject to credit approval. LendingClub's physical address is: LendingClub, 71 Stevenson Street, Suite 1000, San Francisco, CA 94105.
†Per reviews collected and authenticated by Bazaarvoice in compliance with the Bazaarvoice Authentication Requirements, supported by anti-fraud technology and human analysis. All reviews can be reviewed at reviews.lendingclub.com