A low or even average credit score can actually cost you a lot when compared to a high credit score. Though it may not appear like much, a slightly higher interest rate on a loan can make a massive difference.
We can all probably agree that a strong credit score is important, but how to build credit and understanding the factors that impact a score are often a point of confusion.
Additionally and unfortunately, for many, an unfair or incorrect negative item could be impacting their score.
Lexington Law is a top rated credit repair company that strives to teach and educate people about credit and how to repair it. Check out our complete Lexington Law review below!
Lexington Law Review: Highlights
Free Consultation with complete credit evaluation
Average client uses Lexington Law for 6 months
17 year track record
70 million incorrect/unfair items removed from client's credit reports
3 payment plans starting at $89.95 per month
Personalized dashboard both in a desktop and mobile app version (compatible with iOS and Android)
Clients can cancel anytime without penalty
Lexington Law Summary
Pricing

Customer Support

Education

Services Offered
Summary
Lexington Law is a complete credit repair solution. In addition to helping clients repair their score, they also strive the help every client understand what credit is and what factors impact their score the most.
Credit can be a tricky subject, but with Lexington Law and the educational resources they offer, you will be able to feel confident about your score.
Pros
Free credit evaluation
Unlimited credit disputes and challenges
Extra services and features such as identity theft protection
Cons
Services are expensive
Company does not currently work in Oregon or North Carolina
What is Lexington Law?
Lexington Law is a credit repair company that acts as an advocate for their clients. They work to help clients understand their credit and what is impacting their score the most. The company then works with the 3 main bureaus (Experian, TransUnion, and Equifax) to remove incorrect or unfair items.
Since its launch in 2004, Lexington Law has amassed over 1 million clients. They currently have an office in Utah and Arizona, though they serve clients around the United States. Unfortunately, they do not yet serve clients in Oregon or North Carolina.
Lexington Law has helped their clients remove over 70 million incorrect or unfair negative items from their credit reports since inception. In 2020 alone, they helped clients remove 7 million incorrect items from their credit reports. A single incorrect item can have a large impact on your score.
They are also one of the few credit repair companies with a mobile app. Their app currently has 4.8 stars with 46 thousand reviews in the app store. These reviews certainly speak to the quality of service you can expect to receive with Lexington Law.


Lexington Law Plans
If you decide to work with Lexington Law, you will see three options of service: Concord Standard, Concord Premier, and Premier Plus.
Concord Standard - $89.95 a month
With Concord Standard, you receive the following:
Bureau challenges
Creditor interventions
Concord Premier- $109.95 a month
With Concord Premier, you receive the following:
Bureau challenges
Creditor interventions
InquiryAssist
Score analysis
ReportWatch
TransUnion® alerts
Premier Plus- $129.95 a month
With Premier Plus, you receive the following:
Bureau challenges
Creditor interventions
InquiryAssist
Score analysis
ReportWatch
TransUnion® alerts
Cease & desist letters
FICO® score tracker
Identity protection
Personal finance tools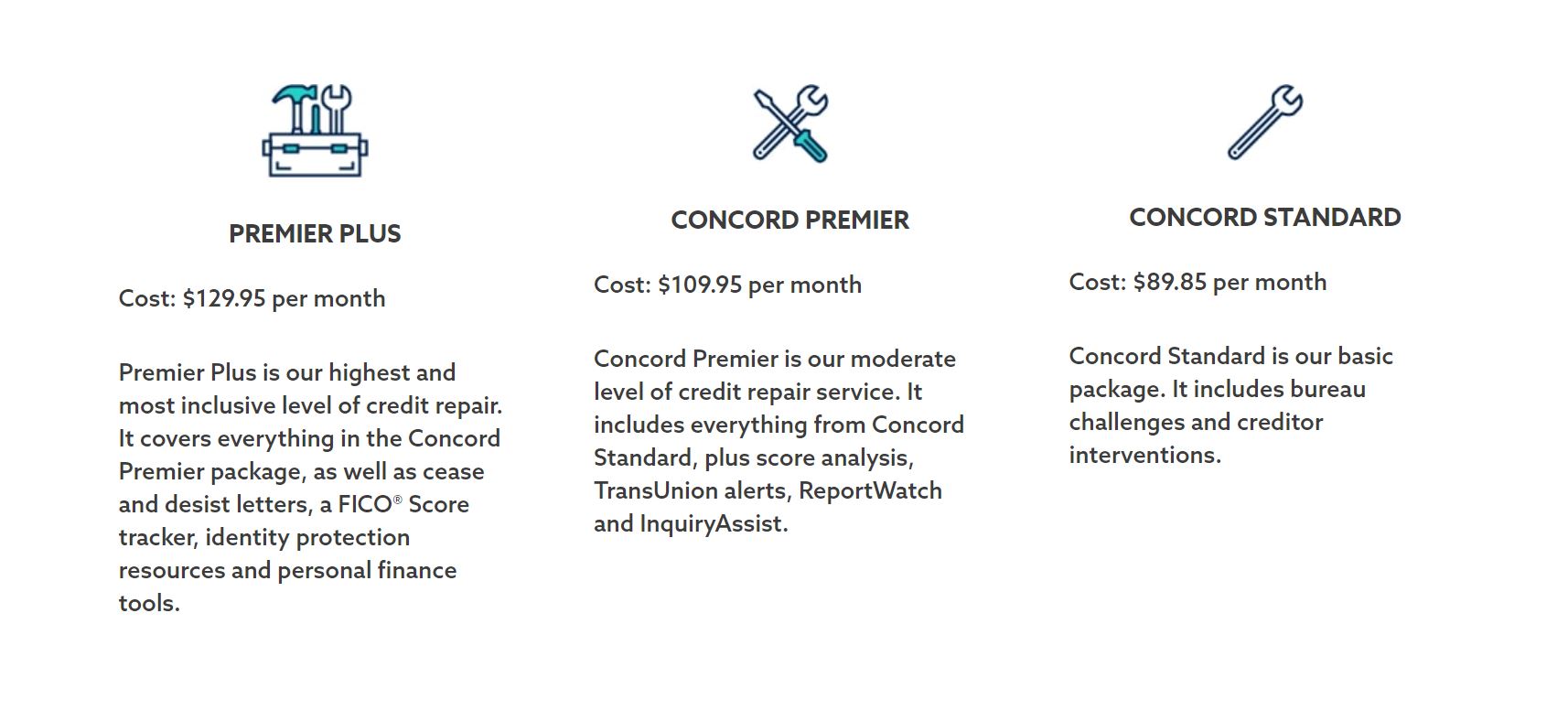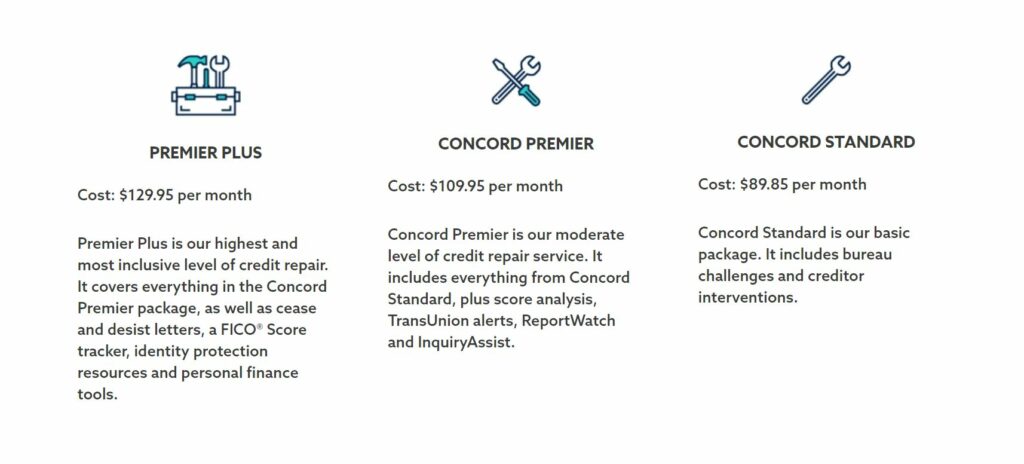 How Does Lexington Law Help My Score?
Signing up with this company provides you access to a personalized dashboard that provides a complete analysis of your score and what is impacting it. This analysis on its own is valuable for clients.
Lexington Law takes a simple 4 step approach to repair your credit score.
Credit Report Analysis: When you sign up with Lexington Law, they will first pull your credit reports from the 3 main credit bureaus. They will then compile this information into one easily readable report. The company will create a complete analysis of your history that targets questionable negative items.
Credit Disputing: Once the report is compiled, they will begin the disputing and challenging process with the credit bureaus. This will be a team effort. Working with their clients, they determine what should be disputed and challenged. Once they have the information they need, they go to work on your behalf.
Dispute Escalating: Once disputes and challenges are submitted, they will continue to monitor any changes and/or progress. (You can also track progress in the mobile app or on the desktop version.) If an escalation is needed, they will do so on your behalf.
Credit Score Analysis and Mentoring: Within the app or desktop version, clients are able to access their reports at any time. They can also track progress and view credit repair solutions to help them reach their goals.
Once you achieve the score you are hoping for, you can cancel your plan with Lexington Law penalty free with a simple phone call.
In addition to credit repair, the company also offers clients a few other features like identity theft protection, personal finance tools, and credit alerts.
Educational Resources
While credit repair is their main focus, Lexington Law also strives to help clients understand their credit and what factors impact their score most.
The company offers many resources to help educate people about credit such as their blog, which contains a vast number of articles all about credit and other various topics. They also offer calculators that highlight the difference a good score can make throughout the life of a loan.
Lexington Law also features an extensive list of FAQs all about credit and various terms relating to credit.
What is Credit?
As defined by Experian (One of the main three credit Bureaus. The other two are TransUnion and Equifax), credit is the ability to borrow money or access goods or services with the understanding that you'll pay later.
A credit score is simply a numerical value that provides an assessment of your credit history. Lenders use this information to assess the likelihood or the confidence they have in your ability to pay off debts.
Scores range from 300 to 850. Most people typically fall somewhere between 600 and 750. A score above 700 is generally considered a good score.
Want to learn more about credit and how to build it?


Credit Score Factors
A credit score is made up of a number of factors. Each one has a different weight and therefore impacts your credit differently.
There are five factors to consider with credit:
Number of Accounts: The number of accounts you hold is important to credits. They want to know that you can manage multiple lines of credit.
Length of Credit History: A key factor in your credit score is the length of your credit. Having multiple lines of credit is good, but if it is all new credit, then that can hurt you. Credits want to see established credit history that demonstrates you have paid your debts over a long period of time.
Number of Inquiries: Lenders will perform an inquiry of your credit each time you apply for a new line of credit. This indicates your credit seeking activity. Too many inquiries is a bad thing.
Credit Utilization: The general rule of thumb here is to use a maximum of 30% of your credit. For example, if you have a credit line up to $1,000, you typically will not want to hold a balance of more than $300. Increasing your line of credit can also help your revolving credit utilization.
Payment History: Consistently paying on time is the best way to build credit. Your credit score will hold any missed payments on your history for 7 years.
Lexington Law Review: Final Thoughts
A strong credit score can make all the difference when applying for a loan or buying or renting a house. In some cases, a poor score can cause you to be rejected altogether.
In many cases, a credit score can be impacted by an incorrect or unfair item. Working with a company like Lexington Law is a way for you to not only understand your credit score and how to improve it, but also to engage with a team of professionals that will advocate on your behalf.
They even offer you a free consultation to help you better understand their services. If this sounds like a good solution for you, be sure to browse their website and read more about the company!
Best Free Stock Promotions