Banks certainly come in all shapes and sizes. Offering things like ATMs and more physical branches are no longer top features. Today, individuals look for banks with a high APY, cashback, and early paychecks.
But there are hundreds of banks to choose from with different sets of features and benefits. So, which is best? That will depend on the features that are important to you.
In this article, we compare two modern banks: Oxygen Bank vs Chime Bank. Let's dive in to see which is best suited for you.
Oxygen Bank vs Chime Bank: The Basics
Oxygen Bank was founded in 2018 and is really focused on entrepreneurs and business owners. The platform does offer personal accounts as well. This bank offers members a plethora of benefits such as early paychecks, cashback, and even Netflix reimbursement. For those looking for a business account, this may be the bank for you.
Chime Bank was founded in 2013 and was designed to make banking simple. The platform boasts no fees ever and other features like a secured credit card and early paychecks. For those looking for a simple bank with no hidden fees, Chime could be the option for you.
Let's dive into each bank and compare the pros and cons.
Summary: Oxygen vs Chime
What Is Oxygen Bank?
Oxygen is a new modern bank offering members a unique experience. The online bank was founded in 2018 and has already received over 16,000 reviews in the app store with an impressive 4.8 average rating.
Oxygen is a financial technology company. They are not actually a bank. All banking services are provided by their partner - The Bancorp Bank, Member FDIC.
Oxygen was designed for entrepreneurs and free-thinkers. The company does offer both business and individual accounts but specializes in business accounts that are meant to be flexible.
How To Sign Up With Oxygen?
In order to open an Oxygen Bank account, all you have to do is download the app. From there, you can select whether you'd like to open a personal or business account.
Most banks require individuals to come into a branch in order to sign up for an account. As an online-only bank, Oxygen doesn't have any branches, and all of your account maintenance and activities can be managed from within their app. This provides a much more streamlined banking experience for young entrepreneurs looking to quickly get up and running.
After downloading the app, you'll be prompted to fill out your personal and/or business information and submit an application. In most cases applications are reviewed in just a couple of business days.
If you're going to be opening up a business account, have digital copies of your paperwork handy. You'll need to send off a copy of your operating agreement, EIN letter, and other business documentation depending on the legal structure of your business. Oxygen needs this information to make sure your business is properly set up and registered.
Once your account is set up, it functions similarly to most other business checking accounts. However, the big difference is that you can do all of your banking from their app. You won't have to worry about going into a bank branch or waiting on hold for 30+ minutes to get an issue resolved.


Banking Features
Oxygen has 4 different personal banking options and their business account option. Each account offers a different array of benefits. We'll dive into the personal accounts first.
Oxygen Personal Accounts - Elements
Perks and benefits vary among their 4 account options, or as they call it, Elements. Each of their account types comes with fee-free ATMs among over 40,000 Allpoint ATMs. Members also enjoy early paychecks up to 2 days early.
They all also come with standard bill pay, the ability to send money to friends and family, and retail and travel benefits such as lost luggage, hotel theft, and car rental damage.
Where they differ is with fees, cashback, APY, ACH limits, and a few other benefits like Netflix reimbursement.
Earth
Annual Fees: $0
Cashback: 2%
APY: 0.25%
Card Type: PVC I Foiled Card
ACH Limits: ACH pull from external accounts limit: $1,000/day $10,000/month
Water
Annual Fees: $19.99
Cashback: 4%
APY: 0.75%
Card Type: Embedded Metal Card
Netflix 2 mo. Reimbursement
ACH Limits: ACH pull from external accounts limit: $1,500/day $15,000/month
Air
Annual Fees: $49.99
Cashback: 5%
APY: 1.00%
Card Type: All Metal Card
Netflix 2 mo. Reimbursement
Peloton Digital 2 mo. Reimbursement
ACH Limits: ACH pull from external accounts limit: $3,000/day $30,000/month
Fire
Annual Fees: $199.99
Cashback: 6%
APY: 1.25%
Card Type: Mechanically Engraved All Metal Card
Netflix 2 mo. Reimbursement
Peloton Digital 2 mo. Reimbursement
ACH Limits: ACH pull from external accounts limit: $6,000/day $60,000/month
Business Account
Their business account comes with additional features such as virtual cards with spending limits, customizable invoices, and the ability to form an LLC within the app!
The business account enjoys 5% cashback on everyday purchases and features no account fees or minimums.


Oxygen Bank Fees
As mentioned previously, their Water, Air, and Fire accounts all have annual fees. However, these fees can be waived by ensuring 12 deposits through the year as well as a monthly deposit and spending qualification.
Water: Deposit $1,500/Month and Spend $500/Month
Air: Deposit $3,000/Month and Spend $1,000/Month
Fire: Deposit $6,000/Month and Spend $2,000/Month
If you can maintain those thresholds, all fees will be waived.
Oxygen Bank Security
Oxygen Bank is not actually a bank. Rather, they are an online fintech company. All banking features are offered by their partner bank - The Bancorp Bank, Member FDIC. Like any other bank, you can rest assured knowing that your money is FDIC insured up to $250,000.
Oxygen Pros
Competitive APY
Fees can be waived
LLC creation in-app
Early paychecks up to two days
Flexible Business Accounts with customizable invoices
Oxygen Cons
Higher APYs require accounts with annual fees
Cashback is limited to participating companies
What Is Chime Bank?
Chime Bank is another online fintech company that is actually not a bank. In fact, like Oxygen bank, all banking activities are provided by The Bancorp Bank, member FDIC.
Chime was founded in 2013 and has since amassed over 337,000 reviews in the app store with an average rating of 4.8 stars. This volume of reviews certainly speaks to the quality of their services.
The slogan for this company is "Banking that has your back." Members love the platform due to its wide array of features and benefits.
How To Sign Up With Chime?
Like Oxygen, Chime is completely online. Signing up for an account can be done easily within the app. You will want to ensure you have your personal information ready such as name, email, address, and SSN.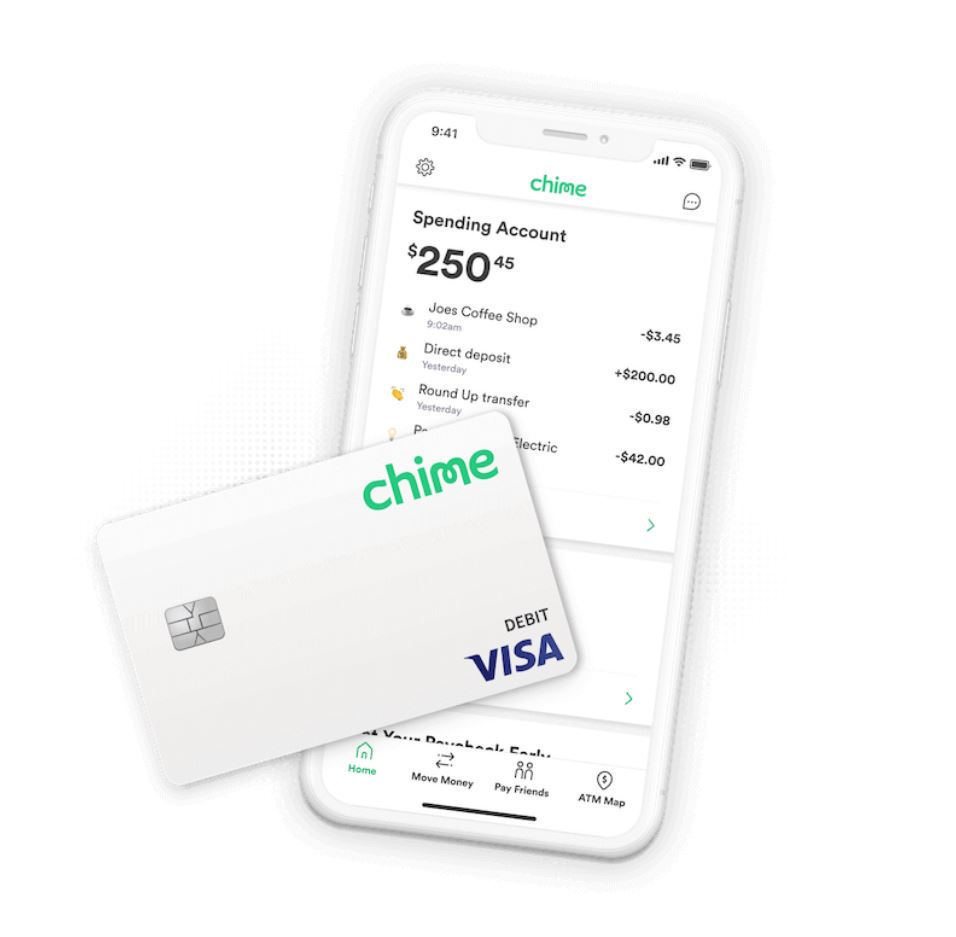 Banking Features
Banking with Chime has a long list of popular features. Let's dive in!
Early Paychecks: when you set up direct deposit, you qualify to receive your paycheck two days early
SpotMe: Members who have a $200 direct deposit, qualify for SpotMe, which is Chime's offering to help avoid overdraft fees. Without SpotMe, a purchase won't be able to occur should your balance be too low.
Automatic Savings: every time you use your debit card, Chime will round your purchase to the nearest dollar and send that amount to your savings account. For example, if you make a purchase of $1.75, Chime will round the purchase to $2. The $0.25 will be sent to your savings account.
Instant Payments: even to non-members of Chime, payments can be sent to friends and family for free and instantly.
Security and Control: If you lose your cards, you can easily turn off transactions in the app to put yourself in full control.
Account Types
Chime bank offers members 3 account types: Spending account, Credit Builder, and Savings Account.
The spending account comes with a Visa debit card featuring no account fees whatsoever. There are also no minimum balance requirements. With the spending account, you have access to over 60,000 fee-free ATMs.
Credit Builder is an account option that helps people do just what the title hints at - building credit. It is a secured credit card that can only spend what you have transferred into the account. The benefit of using this account is that Chime reports this spending and on-time payments to all three credit bureaus.
The savings account comes with an impressive 0.50% APY and no fees or minimums.
Chime Bank Fees
As mentioned previously, banking with Chime is completely free. This can give you confidence that you'll never see unknown banking fees.


Chime Bank Security
Though Chime is not actually a bank, they still offer members FDIC insurance through their banking partners: The Bancorp Bank and Stride Bank.
Chime Pros
No Fees of any kind
Early paychecks
Instant payments to friends and family
Automatic Savings
Secured credit card
Incredibly simple app
Extra control to turn off transactions should you lose your card
Chime Cons
No traditional credit card
No business accounts
Chime vs Oxygen: Final Thoughts
Both of these banks are feature-rich and offer members a number of benefits. They both offer early paychecks and a competitive APY percentage.
Chime is best for those looking for absolutely no fees and a simple banking experience. While Oxygen will be better for those looking for a business account.
Oxygen bank does not offer a credit card, while Chime does offer a secured credit card. For those looking for a more traditional credit card, neither of these two options may be the best option for you.
Oxygen bank offers a tiered approach to banking. Their first tier comes with no fees, yet it still offers a wide variety of features. Their next three tiers all come with an annual fee, though they offer additional benefits such as Netflix reimbursement and more.
Both come with a simple-to-use app that members have rated very well. Since they both have an app, you can easily explore the two options before deciding. Either way, the signup process for both is extremely quick and easy.
Best Bank Promotions