Robinhood is a solid investing platform. Experts designed it with beginners in mind, so the app itself is very easy to navigate and gives tons of basic information and tutorials. But there are other options out there if you decide not to go with Robinhood.
When Robinhood first came out, they had a truly revolutionary product. They were the only brokerage offering commission free trades. Now, almost all of them do this. That being said, it is wise to now consider what alternatives there are.
Let's take a look at 5 of them!
Best Free Stock Promotions
1. M1 Finance

M1 Finance is an online brokerage platform offering commission-free trades on a variety of financial products. There is a $100 minimum and no portfolio management fees.
Here's our full review of M1 Finance.
M1 allows investors to have a large amount of control over the contents of their portfolio. This is a key difference between M1 and many other competing apps. Often, investors must give up much of the control in exchange for the portfolio management services. M1 successfully treads the fine line between automation and customization.
The platform's target customers have longer-term goals for their investments. They can be saving up for their child's education, for a down payment on a home, or even to build up a solid emergency fund. They may have had experience with using other traditional online brokerages to invest in stocks and Exchange Traded Funds (ETFs).
In total, M1 offers more than 6,000 exchange-listed securities. They have most (but not all) NYSE, NASDAQ, and BATs traded stocks as well as ETFs.
Creators behind M1 have been careful to implement volume and price thresholds to protect its users. These thresholds restrict certain types of securities being offered, and are in place to help protect clients from taking on too much risk.
The M1 platform does not support mutual funds, bonds or options trading at this time.
M1 lets you buy portions of a whole stock. Not every investing platform offers fractional shares, so you may want to give some thought to taking advantage of this. You can put every single penny to work when you invest with fractional shares. This helps diversify your portfolio easily and avoid idle cash waiting to be invested in whole shares.
M1 Finance is a good online investing platform that. Unless you are specifically looking for bonds or mutual funds, you will find the most common stocks and ETFs offered by M1, and being able to buy fractional shares is a definite advantage.
2. Webull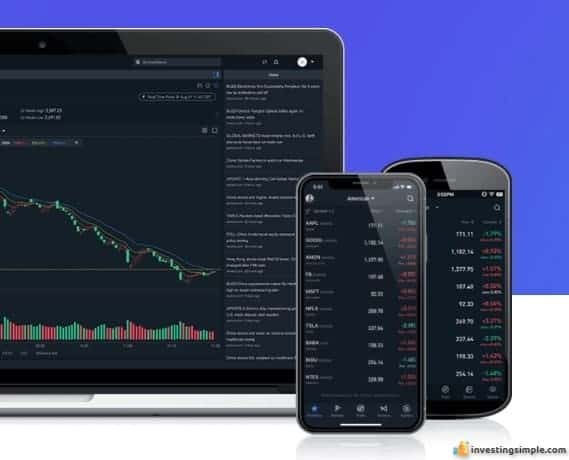 Webull is a popular commission-free stock and ETF trading platform. Financial pros designed Webull for people who are active traders looking for a more dynamic user experience than many competing free platforms are offering. This platform has features that are valuable for traders including technical indicators, research agency ratings, financial calendars and more.
Here's our full review of Webull.
Webull pros include easy access to margin, research tools and live data, making it an ideal platform for active traders. However, the research and data findings are clear and easy to follow.
In addition, Webull offers fractional shares so you can buy pieces of the pie rather than the whole thing. This follows the same investment philosophy and advantages as M1 Finance above. However, M1 Finance has offered fractional shares for quite some time whereas Webull only recently made the feature available on their platform.
Despite the fact that there is so much information and data packed into this app, Webull still maintains an excellent user interface. The app itself has a great design and it is very easy to navigate.
It also has a trading simulator, which many other platforms lack. This gives you a chance to try your hand at investing with play money before you invest actual hard-earned cash. You can practice weighing the pros and cons of various financial products, defining your tolerance for risk, and keeping emotions out of transactions.
However, remember that Webull was not designed for long-term passive investors. Instead, it is made for people who are actively trading, even day trading.
3. SoFi Invest

SoFi offers financial services, including borrowing, investing and saving. Borrowers can take advantage of personal loans, home loans, private student loans and student loan refinancing. You can also save, spend and manage your cash with SoFi Money, and invest or automate investments with SoFi Invest. All of these services are manageable online or with SoFi's mobile app.
Here's our full review of SoFi Invest.
SoFi has no account minimums for you to start building a portfolio. They won't ever take commissions, but they also aren't set up to give personalized investing tips.
You can design your portfolio yourself or get an automated portfolio that's basically non-specific. Products include stocks, ETFs, and crypto currency.
There are no fees to open a SoFi money cash management account to help you spend and save wisely. You will earn 0.25% APY on all your cash, which is an excellent rate. There is also a SoFi master debit card you can use at more than 50,000 ATMs across the country with zero transaction fees.
 SoFi is a multi-faceted financial app that will appeal to smaller investors because there are zero minimums and no trading fees. However, keep in mind that SoFi not be the best avenue for fledgling investors to follow, since all advice is automated and portfolios pre-built.
PROMOTION
$5 to $1,000
in free stock for users who sign up via mobile app
4. Public

Public is a mobile app-based brokerage platform offering people the avenue to buy and sell shares with zero commissions on their end.
This mobile platform is truly made for beginners. It is visually simple to understand. You can look at your account balances, investments and watchlists with the tap of a button. There's practically no learning curve when it comes to getting used to the Public app. You can also take a look at who on your feed owns or watches the stock, as well as earnings data and stats like dividend yield, market cap and volume.
Here's our full review of Public.
As an investor with Public, the door is open to you to engage with other traders to see what's working for them, and what isn't.
Public calls this a community of investors, and there is no particular demographic. Some are  just starting out by making a few conservative trades. Others may be risk-takers juggling a diverse portfolio. And others could be people actually working in the industry that people consider experts.
You can jump in on a discussion, direct message people, or build a group chat of your own. When you assemble your community, you can follow other traders and watch the financial maneuvers they are making.
When you are ready to start investing with Public, you can choose from either preloaded themes or picking individual stocks that look like good bets to you. Public themes are lists made by designers to let you discover new companies and support those with missions in line with your own. There are more than 30 different themes ranging from environmentally sound initiatives to companies owned by women.
Offer valid for U.S. residents 18+ and subject to account approval. See Public.com/disclosures/.
5. Stash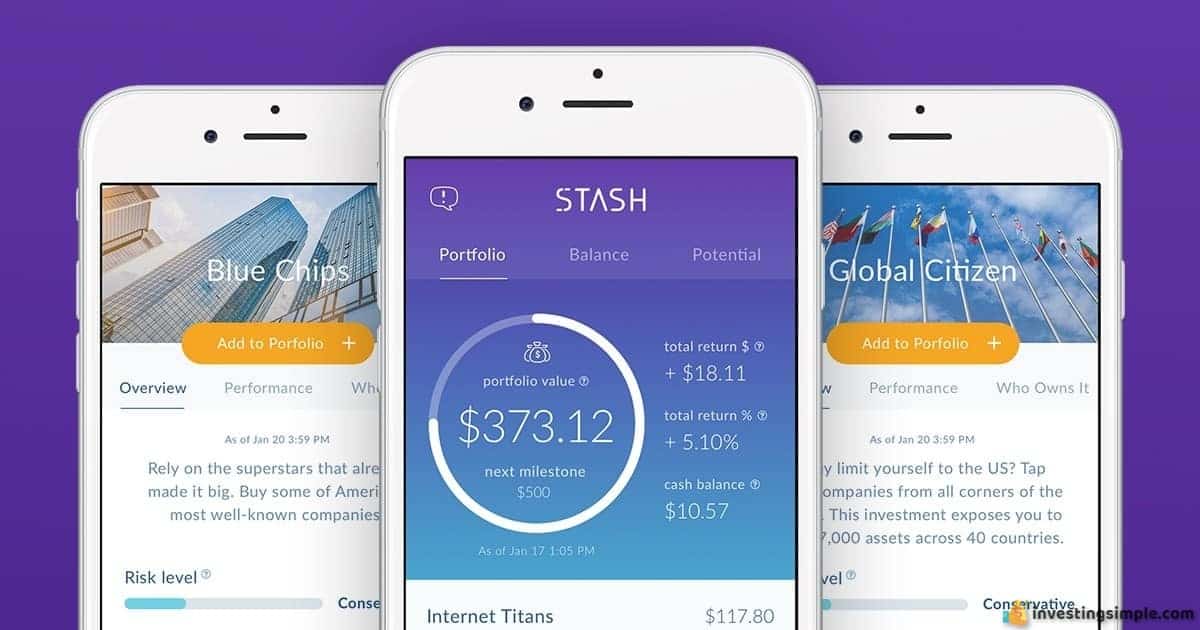 Stash is a unique micro-investing app. Designers created it for people who lack any experience and/or knowledge about investing. They are regular everyday people who do not have a lot of room in their budget to invest, but through the Stash platform, manage to funnel an average of $22 a week to their investment account.
Here's our full review of Stash.
You can launch your Stash account with just $5. This is possible via fractional shares. These are are full shares broken down into smaller, more affordable pieces.
Stash allows you to choose your own stocks, and you have a slew of choices of ETFs, which are Exchange-Traded Funds. An ETF is a bunch of investments, like stocks and bonds, blended together into a single fund that's traded on an exchange.
Stash also gives you the option to seek guidance from pros. When you set up your account, you will answer some quick questions that can create a profile of how you want to invest. Maybe you're a risk-taker.  Or maybe you're right in the middle. Maybe you have specific  long-term goals, like earning money to buy a house.
Stash also wants to grow your financial know-how, with many relevant articles available on topics ranging from reducing credit card debt to investing in a volatile market and how much you can expect to spend on services from a financial planner. Under the budgeting module, Stash will gladly tell you everything you need to know about term life insurance, setting up an emergency fund, and what to do with your year-end bonus.
An innovative Stash Stock-Back Rewards program lets Stash clients earn stock rewards, rather than cash back on purchases. There's a caveat – you must use a Stash debit card and have a Stash bank account– but you can use the card anywhere across the country.
Conclusion
There are many commission-free investing platforms out there today – and the list is growing! It's important to study your options and find one that most clearly aligns with your investment goals.
There is no one-size-fits-all, but chances are good you will find what you're looking for if you take the time to shop around.