As more people shift away from old school brokerages to new commission free trading apps, the options and features get better and better. The same is true for Robinhood. This is a commission free stock trading app that now offers banking services too.
Robinhood's cash management is a feature offered through your account that lets you use the platform to spend and earn interest on your uninvested cash.
Here's our review of Robinhood Cash Management, the online savings account and checking account.
Robinhood Cash Management
High Yield Savings

ATM Access

Low Fees

Physical Branches

Customer Service
Summary
Known as the app that launched online free trading, Robinhood opens doors for beginning investors looking to get their feet into the game without losing money before they even jump in.
Experts designed this platform with beginners in mind. It is meant to be the simplest trading platform out there. As a result, intermediate to advanced traders often find this platform to be lacking when it comes to research tools, order types and technical indicators. Still, if you are looking for a starter platform to trade commission free, it is an excellent option.
Beyond the free stock trading, Robinhood also offers Cash Management for your uninvested cash. This includes a high yield online savings account as well as convenient checking account with a debit card. Robinhood is a solid option for all around money management, from saving to spending to investing.
Pros
Sweeping moves your uninvested money into a designated bank offering high interest
Zero maintenance or inactivity fees
Debit card can be used to pay for what you buy or withdraw cash that's available in your account
Routing and account numbers let you write out physical checks
Cons
You can't make deposits by cash or check
If you use ATMs other than those designated, Robinhood will not reimburse you those fees
"Sweeping" Your Uninvested Money
If you opt into Robinhood's cash management, you can enroll in a deposit "sweep" program. This means you will have your uninvested cash automatically "swept," or moved, into deposits at a network of program banks.
Right now, there are six banks connected with Robinhood's sweep program. These banks will pay interest on the swept cash, and the current annual percentage yield (APY) you will receive from the banks is 0.30%, which is an excellent rate.  Currently, the average APY is 0.08% for savings accounts at traditional banks.
Here is the current list of partner banks:
Goldman Sachs
HSBC Bank
Wells Fargo Bank
Citibank
Bank of Baroda
U.S. Bank
Amerant Bank
When your uninvested money is moved to one of the participating banks, it prevents you from having idle cash sitting around without earning any interest.
Cash Management Debit Card
With Robinhood's cash management, you will also get a debit card issued by Sutton Bank to access your available cash. You can use your debit card and also your routing and account numbers to buy groceries, pay bills, send checks, and more.
Available cash is any cash that you have in your brokerage account that you can withdraw or spend. You can find the amount of available cash you have at the top of the cash tab.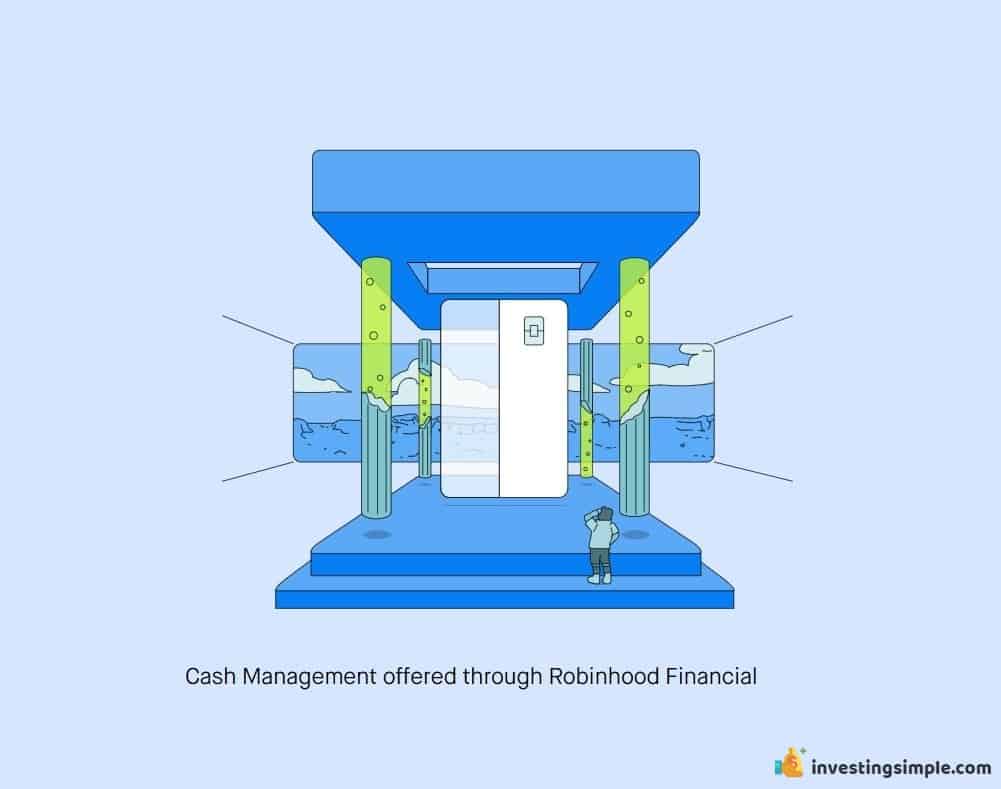 Using Your Robinhood Debit Card
You can use your Robinhood debit card virtually anywhere that Mastercard is accepted around the world. You can buy coffee at Starbucks, athletic gear online, or pick up the tab after a night out. You get the picture.
You can use your Robinhood debit card 24 hours a day, 7 days a week, as long as you have enough available cash in your brokerage account to cover purchases.
Accessing Cash With A Robinhood Debit Card?
Just like any bank debit card, you can use your Robinhood debit card to get cash at any in-network ATM or by asking for cash back after typing in your PIN at participating stores.
You can search in your app to find the closest in-network ATM. You can also use your card at an out-of-network ATM, but Robinhood will not reimburse you for any fees.
Making Deposits With A Robinhood Debit Card
Robinhood does not currently support cash or check deposits. However, you can set up direct deposit in your app.
You can also link a bank account. These funds appear as pending on your cash tab until they clear in up to five business days. Robinhood will notify you when these funds clear and are available for spending.
Are There Cash Management Account Fees?
There are no charges for various services in your Robinhood cash management account. This includes:
Maintenance fees: There are no fees to open, close, or maintain an account.
In-network ATM fees: As long as you use one of the 75,000+ ATMs in the Allpoint or MoneyPass networks, you won't pay any fees. However, if you use an out-of-network ATM, the ATM provider may charge you a fee. Again, Robinhood will not reimburse you for that fee.
Inactive Account Fees: There are no fees involved with any sort of inactivity in your brokerage account.


Conclusion
Robinhood is a solid investing app with an excellent reputation.
The cash management account offers another option for increasing your wealth by moving your unused cash to a bank where it will earn high interest.