Robinhood is a popular commission-free online investing app that's aimed at a beginner's level demographic. It is meant to be one of the least complex trading platforms out there.
However, even in its simplicity, Robinhood offers plenty of options for you to customize your investing experience. These options will likely include the type of account you are looking for. The first is Robinhood Cash Management, and the second is Robinhood Margin.
Robinhood Cash Management
One of the least efficient ways to grow your money is to have idle cash sitting in an investment account without earning any interest at all.
Robinhood's Cash Management is a feature offered that lets you earn interest on this uninvested cash.
If you opt into Robinhood's Cash Management, you can enroll in a deposit "sweep" program. This means you will have your uninvested cash automatically "swept," or moved, into deposits at a network of participating banks.
Right now, there are six program banks that participate in the deposit sweep program.  Cash deposited to these banks will be covered by FDIC insurance up to a total maximum of $1.25 million (up to $250,000 per program bank, inclusive of deposits you may already hold at the bank). These banks will pay interest on the swept cash, and the current annual percentage yield (APY) you will receive from these banks is 0.30%. The participating banks may change the APY at any time at their discretion.
This is an excellent rate compared to the average APY of 0.08% offered at traditional banks for savings accounts.
Cash Management Debit Card
If you opt for Robinhood's Cash Management account, you will also get a debit card to access your available cash.
Available cash is any money that you have in your brokerage account that you can withdraw or spend. You can find the amount of available cash you have at the top of the cash tab in the app.
You can use your card wherever and whenever you would use your existing debit card: restaurants, retail stores, online, the list goes on and on.
As long as you have enough available cash in your brokerage account to cover what you are buying, you can use the card 24/7.


Does Cash Management Carry Any Fees?
There are no charges for various services in your Robinhood cash management account. This includes:
Maintenance fees: There are no fees to open, close, or maintain an account.
In-network ATM fees: As long as you use one of the 75,000+ ATMs in the Allpoint or MoneyPass networks, you won't pay any fees. However, if you use an out-of-network ATM, the ATM provider may charge you a fee. Robinhood will not reimburse you for that fee.
Inactive Account Fees: There are no fees involved with any period of inactivity in your brokerage account.
Robinhood Gold Margin Account
For $5 a month, you can add the Robinhood Gold premium features.
Your first $1,000 of margin is included. If you use more than $1,000 of margin, you'll pay 5% yearly interest on the amount you use above $1,000. Your interest is calculated daily and charged to your account at the end of each billing cycle.
Margin borrowing is limited based on the value of equity in your account.
However there are some major red flags when it comes to margin trading. Margin involves the risk of greater financial losses and is not the right choice for all investors. If you are new to investing, you may want to seriously consider taking a more conservative approach.
As a safety net, you can set borrowing limits on Robinhood to help you control how much margin you use. By setting a limit, you can restrict the amount of margin you access to the amount that you feel comfortable using. You can set this limit to any amount, though all limits are subject to regulatory rules on margin, which are based upon the equity in your account.
There are a couple other benefits with Robinhood's Gold Margin Account. You will have access to instant deposits and extended trading hours. You also won't have to wait for your funds to process when you sell stocks or make a deposit of up to $1,000.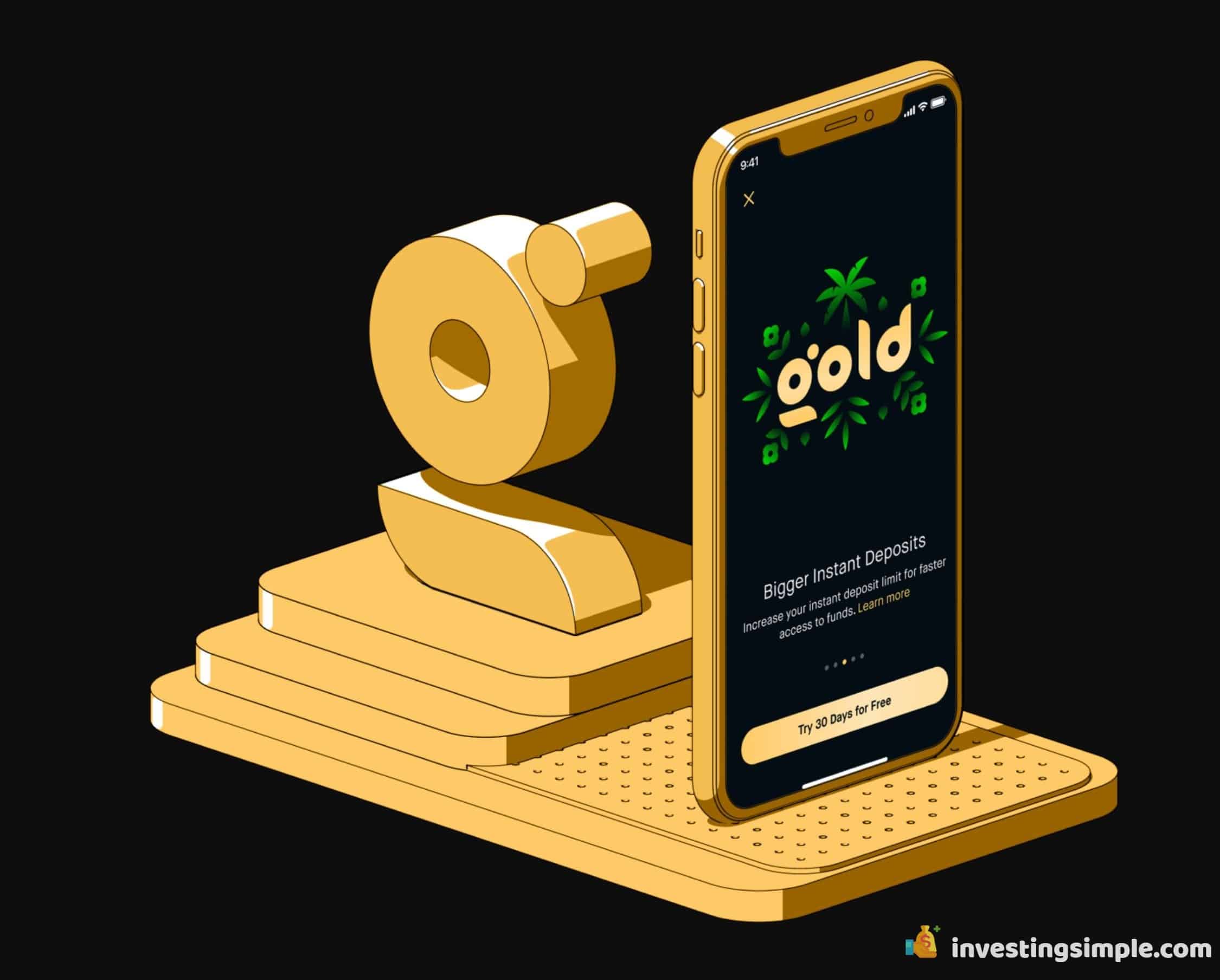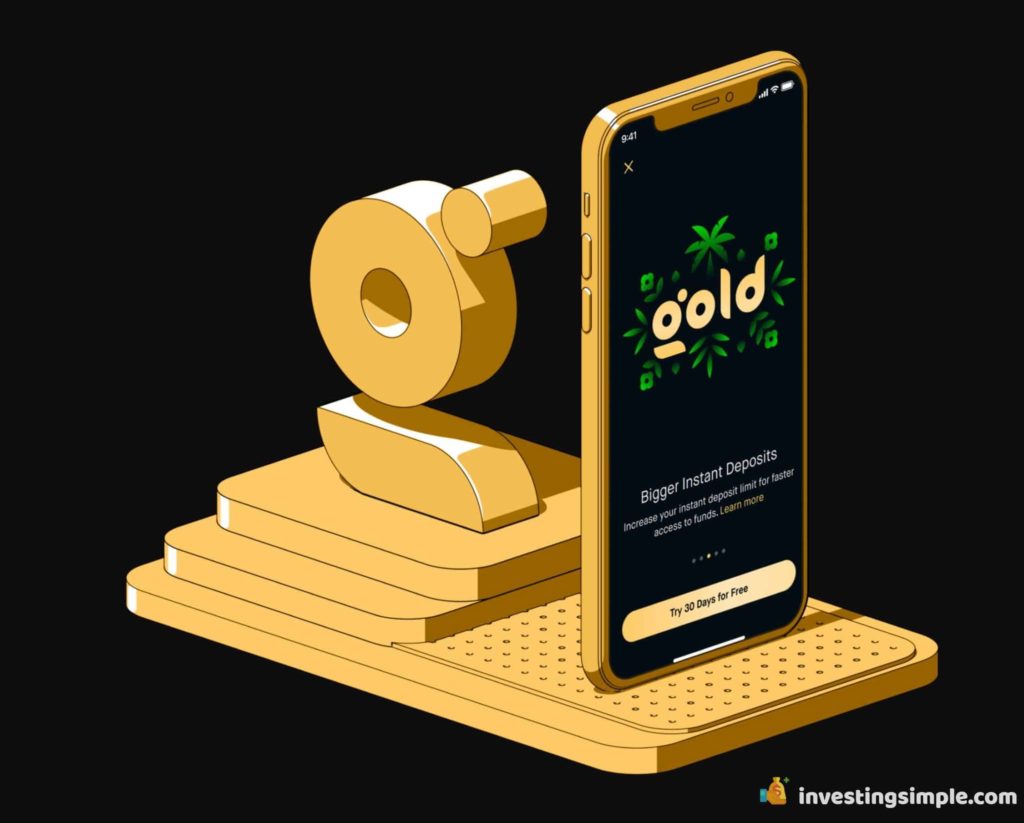 Free Trial Of Gold Margin
You can try Robinhood Gold for free for the first 30 days. After your trial period ends, you will be charged $5 for a Gold account, and every 30 days from that point on.
The free trial only covers the $5 monthly fee and does not cover interest on any margin money you borrow. This means that if you borrow more than $1,000, you will still pay interest at the end of your billing cycle.
Be sure you understand the terms of this offer before you sign up and start trading on margin.
Conclusion
Robinhood is one of the front runners in a crowded field of online investing apps. While designed for beginners, it still has two account types that offer very different features, so you will find what you're looking for. The Cash Management Account comes with zero fees to open or close. Additionally, there are no maintenance fees for cash management. This account type allows you to build your wealth by moving your unused cash to a bank where it will earn very competitive interest.
Think carefully if you are a novice investor before signing up for Robinhood's Gold Margin Account. While it might be tempting, it comes with considerable risk. However, Robinhood gives you the option to set a limit for borrowing money and also offers a 30-day free trial. If you decide you're in over your head after a month, it's easy enough to opt out.
Best Free Stock Promotions