Since its launch, Robinhood has been on a mission to democratize investing, that is, make it more accessible and understandable for everyone.
The company started by offering commission free trades that virtually changed the way investing is done today. They also offered fractional shares, which allows people to purchase a dollar amount instead of a set number of shares. With free trading and fractional shares, anyone could get started with less than a dollar!
Robinhood is famous for its sleek interface and simple approach to investing.
In May of 2021, Robinhood launched its IPO access to all. FIGS was the first company to have its IPO available on Robinhood in late May of 2021.
In this article, we provide a review of IPOs and the process to become a publicly traded company. We will also take a deep dive into Robinhood's IPO investing access and how it works.
Check out our full Robinhood review to learn more about the investing platform.
What is an IPO?
An IPO, or Initial Public Offering, is the one of the first steps in 'going public.' Companies can raise capital in a few ways. They can take on debt through loans, or they can offer equity. In order to offer equity, they embark on a process to become a publicly traded company.
The IPO is when the company first offers shares of its stock to the public. 
While this may sound simple, it is actually a lengthy process. Prior to an IPO, a company must grow on its own. It may receive funding from founders and family members, bank loans, or venture capitalists. However, once a company achieves stability and strong financials, it may be eligible to go public.
Becoming a public company is a huge opportunity to raise capital. Specifically, to raise a lot of capital.
How Does an IPO Work?
In order to become a public company, there are a few important steps before the actual IPO. The company begins by finding an underwriter, which is an investment bank that works to market the new company, set the initial price and date of the IPO, and compile all necessary documents for the SEC.
The initial price and number of shares to be offered is important for a number of reasons. First, the price and number of shares will determine the equity of the original founders. (An IPO can be a lucrative exit strategy for founders of a company.) Second, this initial price is typically viewed as a 'discounted price.'
Sounds great right? Well, there are a few things to be aware of. First, most IPOs do not ever reach the average investor. Most often, IPOs are reserved for large institutions and high net worth individuals. Everyday investors typically will not have access to invest in the new company until it is listed by a brokerage.
Second, IPOs feature high risk. As there is no real company history, the price can dramatically spike up or down post IPO. Those purchasing shares in an IPO are typically investors looking to hold equity in the company for the long term. Though some investors may look to 'flip' shares, which means to take advantage of the IPO price and sell after a spike.
What is Robinhood?
Robinhood is a commission-free, online investment platform that launched in 2013.
The platform's mission is to make investing more accessible to everyone. 
Since its launch, Robinhood has captured the attention of many. With its incredibly simple design, the platform caters well to beginners. Robinhood has roughly 13 million members and continues to grow today.
They have a number of features that make them stand out such as zero commissions or fees, fractional shares, free options trading, and more. Most recently, the investment platform has launched a new feature: Robinhood IPO Access.
Robinhood IPO Investing
Typically, the vast majority of shares at an IPO are purchased by large institutions. Most retail investors do not have an opportunity to invest in the IPO stage. Robinhood, in its effort to change the world of investing, has recently created a new opportunity for everyday investors.
With its IPO Access, account holders can now purchase shares of a company during the IPO process.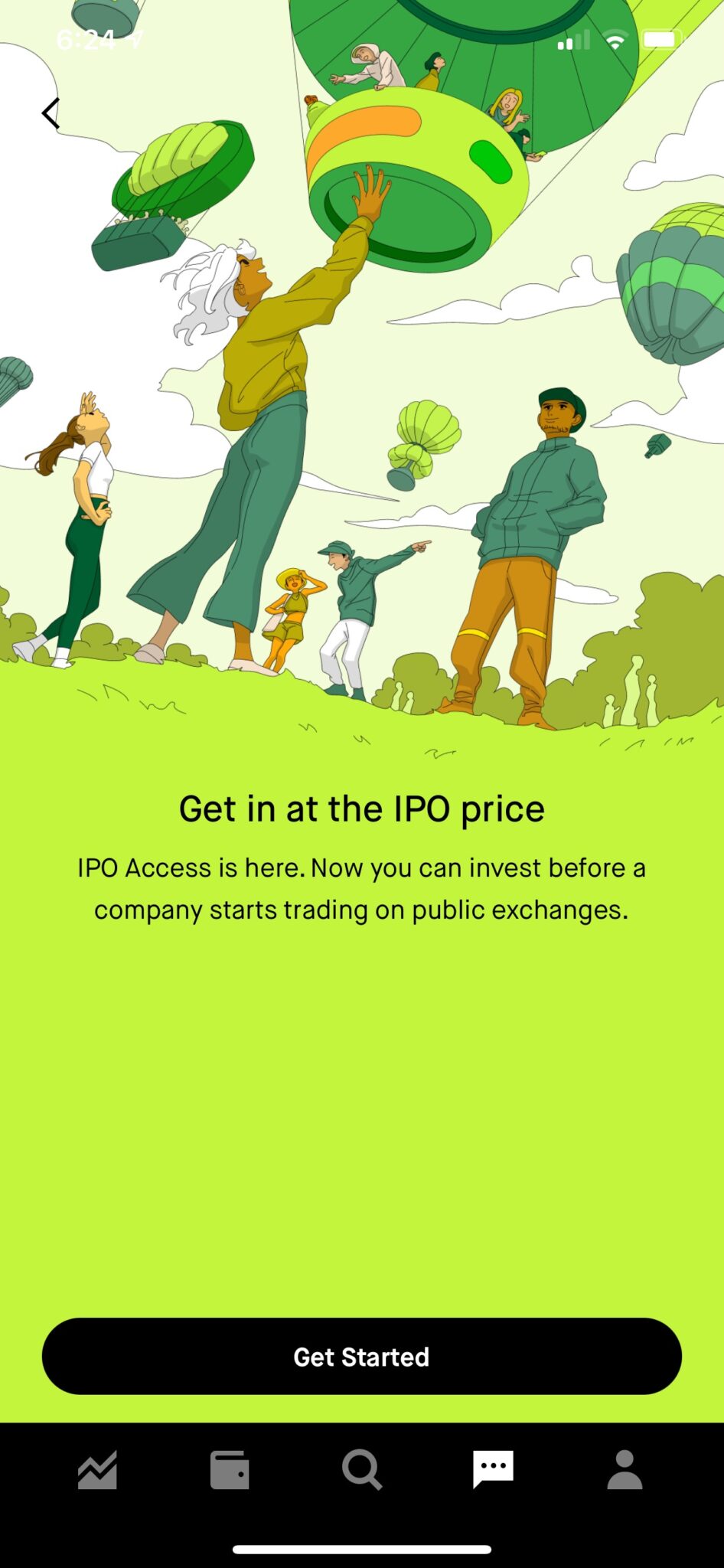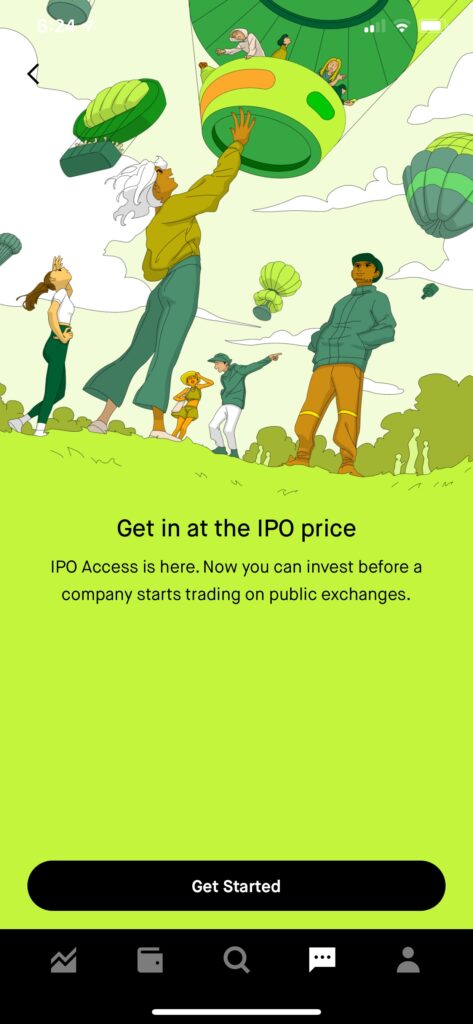 How Does it Work?
Investing in an IPO through Robinhood is actually pretty simple, just like the rest of the platform.
Before diving into how the process works, it is important to recognize that Robinhood does not act as the underwriter. Instead, the investing platform partners with an investment bank. This bank then allocates some of the initial shares to Robinhood's member base. In the case of FIGS' IPO, Robinhood was allocated roughly 1% of the shares.
For example, if a company going public decides to offer 200,000 shares, then that will be all that is available for purchase during the IPO. Robinhood may receive an allocation, or percentage, of the share offered. If they receive 1% of the shares offered, then in this case they would receive 2,000 shares for its account holders.
Members do not get to purchase shares immediately. They first show demand by requesting shares. Through a random selection, members may receive the chance to actually purchase the shares.
To get started, you will need to follow 7 steps:
1: Find an IPO that interests you
Robinhood has created a new list for IPO offerings. In the search bar within the app, you can type in "IPO Access" to see a list of companies in the IPO stage. Robinhood has stated that not all companies being publicly listed will make it to the app.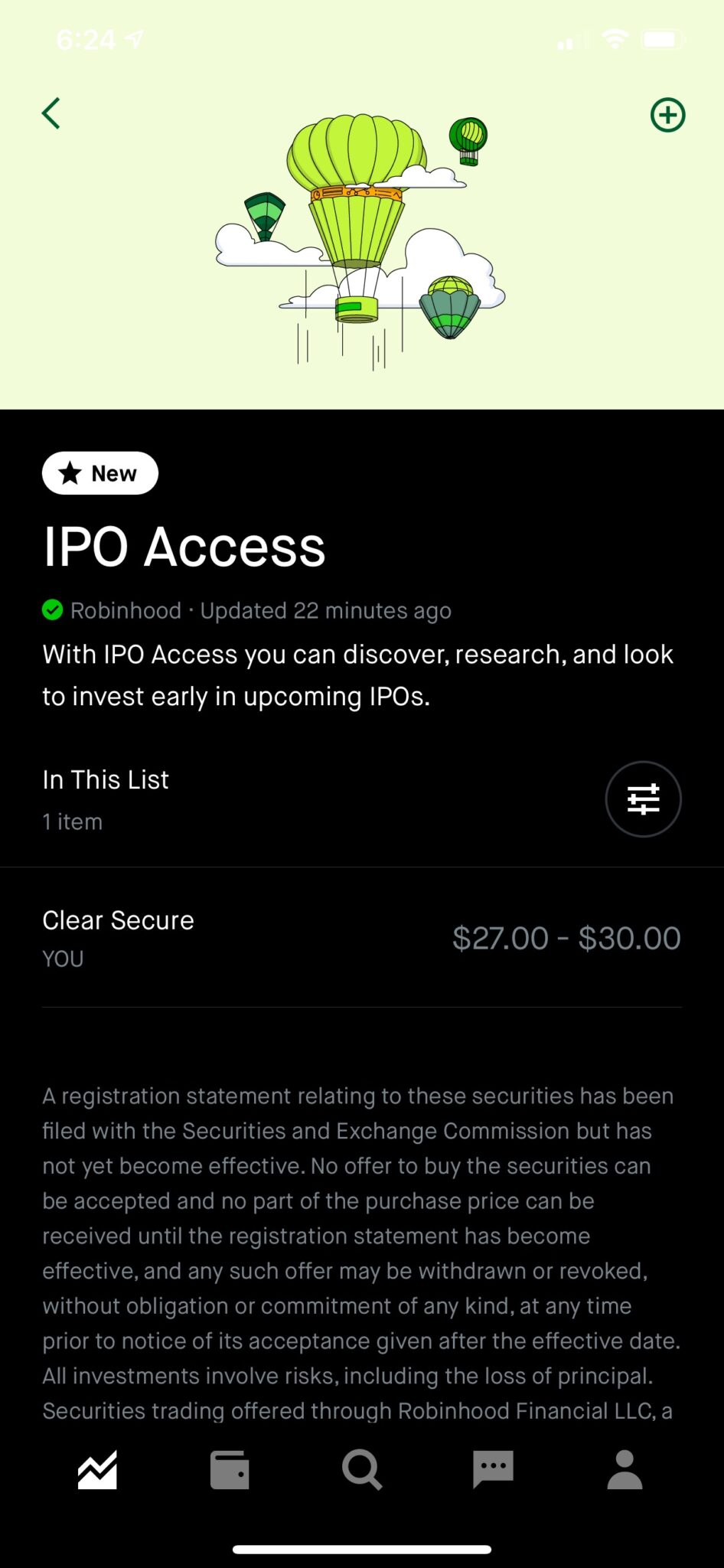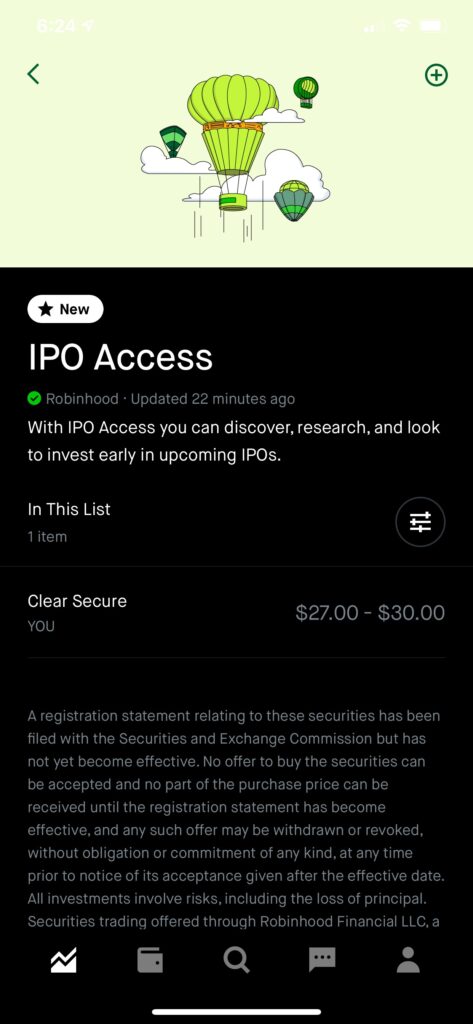 At the time of this writing, there is just one company in the IPO Access list: YOU. In the near future, it is expected to have more companies in the list.
2: Tap the 'Confirm Eligibility' button
When you click on one of the company's in the list, you will see information about the company including a description of the company, a link to the prospectus, and the expected date of the IPO.
At the very bottom, you will be able to tap the 'Confirm Eligibility' button.
3: Review the checklist and confirm your eligibility
This will take you through a number of important items to be aware of such as how the process works and a few disclaimers about volatility.
4: Tap the 'Request Shares' button
If you decide you would like to invest in a company's IPO, you can request shares. Because Robinhood is allocated a number of shares, they cannot offer everyone the opportunity to participate. Likewise, they allow account holders to request shares.
By using the number of shares allocated and the demand for those shares, Robinhood will randomly select account holders that will be given the opportunity to purchase those shares.
5: Enter the details of your request
When you reach this page, you will see the listed price, which is the price that has been set as the IPO price. This could change and you will be notified if you are selected.
In this step, you will need to select the number of shares you would like.
Robinhood has stated very clearly that the number of shares you request does not impact your likelihood of being selected. (Nor does the age of your account or account balance. It is a random selection.)
6: Tap the 'Review' button
After entering in the number of shares you would like to request, tap the 'Review' button to move forward.
7: Swipe up to submit your request for shares
Ensure the information you have inputted is correct. If so, swipe up to submit your request.
What Happens If I Am Selected?
Robinhood does not guarantee that everyone who requests shares will get them. This is because of the allocation they received from the investment bank.
If you requested IPO shares, Robinhood will let you know how many you can buy on the IPO date. They allocate shares after the market opens, but before the IPO share is trading on the open exchange.
If you are selected, then you will be able to place a limit order or cancel entirely. By placing a limit order, you will be able to ensure a purchase will not be executed unless your specified price has been reached.
You may notice that the list price and the actual price vary. The underwriter, working with the company, determines the list price. However, once the stock is actually trading, the opening price will be determined by what investors are willing to pay per share. This also determines the stock's price moving forward.
Take a look at Robinhood's FAQ page for more information about IPO Access.
Are There Any Fees?
Like the rest of the platform, IPO Access is available with zero fees and commissions.
What is Flipping?
With IPOs, it is common to see a dramatic increase in price in the first few days after being listed. Flipping is the practice of buying shares initially and selling quickly after the 'pop.'
While Robinhood does not stop you from engaging in this practice, you will be restricted from participation after flipping.
"If you sell IPO shares within 30 days of the IPO, it's considered "flipping" and you'll be restricted from participating in IPOs for 60 days.

Issuing companies and their underwriters often try to avoid IPO stock flipping. Flipping could lead us to offer fewer IPOs in the future." 
Robinhood IPO Investing: Final Thoughts
In recent years, investing has become more readily available to all. This has been achieved in large part due to commission free trades and fractional shares. Robinhood has been at the forefront of this effort to democratize investing.
Most recently, Robinhood has created a new feature on their platform: IPO Access. Typically, IPOs were limited and reserved for institutional and high net worth individuals. Today however, the everyday investor now has access to IPO investing.
Robinhood is not the underwriter during an IPO. Instead, they partner with investment banks in order to receive an allocation of shares. Robinhood members can then request the opportunity to purchase shares. After a random selection, those members who were selected will have the ability to participate in the IPO.
It is important to note that IPOs are typically highly volatile immediately following launch. Newly publicly traded companies feature high risk as they are typically young organizations without a long track record.
Check out Robinhood's new IPO Access today!
Best Free Stock Promotion