The most important factors when building your net worth are how much you save and how much you invest.
With these two platforms, you will be able to accomplish both of these tasks with no hassle. Both are designed to make saving and investing your money as easy as possible.
Qapital was built to help people get in the habit of saving early and as frequently as possible.
Robinhood, on the other hand, was built to help people get their first launch into investing.
However, both apps allow you to both save and invest your money.
In this article, we will be reviewing both and covering the similarities and differences between Robinhood vs Qapital!
Summary: Robinhood vs Qapital
Qapital allows users to save by using pre-set events that trigger transfers to a savings account
Robinhood is a user-friendly investing platform for new investors
Qapital has a savings and checking account paying an APY of 0.1%
Robinhood has a high-interest savings account paying an APY of 0.3%
Both platforms offer investment functions
Qapital has a monthly fee while Robinhood is free for all users
Robinhood is designed as an investment platform first, and a savings platform second
Qapital, on the other hand, is mainly designed to help you save money for different goals
You get a free stock when you sign up for Robinhood
Qapital offers just 5 investment portfolios, no individual stocks
Robinhood offers stocks, ETFs, options and crypto
What Is Qapital?
Qapital is a personal finance app that specializes in making a game out of your saving objectives while helping you invest for the future as well.
The main focus of this platform is rule based saving. You set different rules and automate the process of saving for your goals.
In addition, it allows users to invest in pre-built investment portfolios to match their timeline and risk tolerance. Taking after another saving-friendly app, Acorns, Qapital also features a round up technology.
This allows each purchase to be rounded up to the nearest dollar and saved for a rainy day.
Savings & Checking Accounts
Upon downloading the app, users connect their bank account and debit card to the app. They can then choose from a variety of options and game-like savings mechanisms to transfer money from their bank account to their Qapital bank account.
Game-like features utilize IFTTT (if this then that) logic.
When your debit card is used on certain activities, say eating out for example, a set amount of money, which you decide, is transferred to your Qapital account. This helps you save automatically without even thinking.
You can also connect this feature to your social media accounts so that each time you like a photo on Instagram or watch a video on YouTube, you are putting money away for long-term or short-term goals.
Round Up
Like Acorns, Qapital focuses on a roundup method, called the Roundup Rule. Users can specify the Roundup amount for every transaction that passes through their debit card.
For example, when you have the $2 round up enabled, if you make a charge for $0.75, $1.25 will go into savings. If you purchase something for $1.00 with the $5 Roundup enabled, $4.00 will go into your savings.
This is great for those who struggle to consistently save.
Investments
Qapital offers pre-built portfolios for every type of investors.
Their 5 portfolios range from the most conservative (90% Fixed Income, 10% Equity) to the most aggressive (10% Fixed Income, 90% Equity).
With Qapital, their purpose is to help you invest on autopilot. This means that all you as the investor needs to do is provide an amount, timeline, and risk level they do the rest.
This investing approach is based on the Nobel Prize-winning Modern Portfolio Theory which focuses on minimizing risk while maximizing rewards. These investments are automatically rebalanced so your risk preferences can always stay in check.
Qapital will also reinvest the dividends you receive so you can invest and earn compound interest.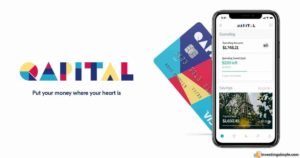 Qapital Fees
One downside to Qapital is that all plans come at a cost. There is no free lunch here.
Basic ($3/mo)
You can create unlimited, personalized savings goals, participate in the gamification of the automatic savings, and easily transfer money between goals.
Complete ($6/mo)
You can do all of the above in additional to utilizing the Qapital Visa debit card.
In addition, with the complete package, you can set up your goals and invest in Qapital's investing platform as mentioned earlier.
Master ($12/mo)
This includes all of the above plus Money Missions where you are challenged to think differently about how you spend money.
The Master plan also comes with the ability to have the first look at new features coming to the platform.
Qapital Pros
Designed to make saving easier than ever
Low fees for investment accounts with large balances
Provides multiple savings strategies
Free 30-day trial
Qapital Cons
Limited customer support (email or in-app contact only)
Small investment accounts impacted by high fees
$10 account minimum for investments
No free plan
What Is Robinhood?
Robinhood is an investment app that makes getting started in investing easy.
With no commissions on stocks, ETFs, cryptocurrencies or options, Robinhood removes would-be excuses for not investing.
Robinhood Features
Slick Application
Robinhood stands out as having one of the easiest to use apps.
The app is intuitive and does not confuse investors with the large amount of data usually perceived as necessary to make smart financial moves. It is truly designed with beginners in mind.
$0 Minimum
You can literally open up a Robinhood account with $5 if you want to. There are no minimums to save or invest with them.
However, if you are interested in more advanced investing, there is an account minimum of $2,000 to open a margin account.
Commission Free Trades
Robinhood lets investors trade with no commissions.
This includes stocks, ETFs, options and Crypto!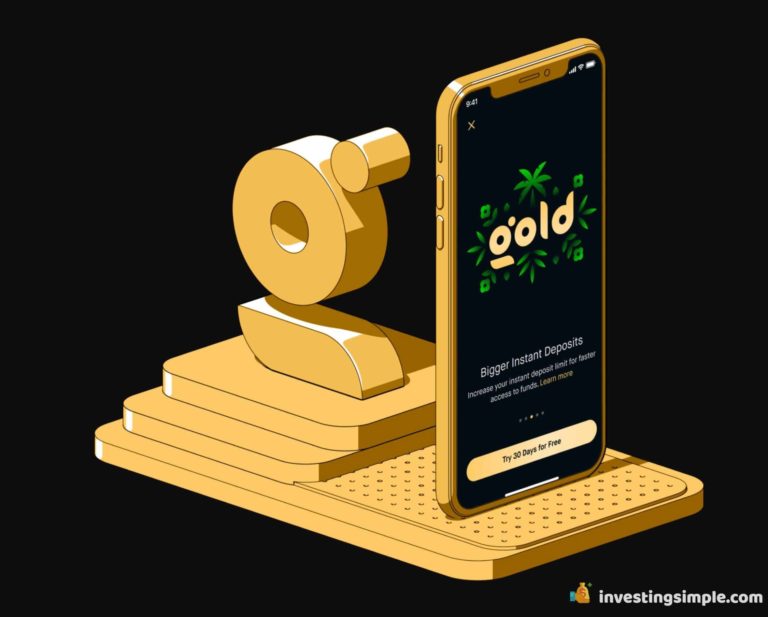 High-Interest Savings Account
For those looking to save money, Robinhood does offer a high interest online savings account. Unfortunately, there are no fancy rule based savings here. You simply transfer what you want to save directly into this FDIC insured account.
This is a huge advantage over traditional banking as interest rates for savings accounts have largely been stagnant for several years. Users that store their money with Robinhood also have access to an optional debit card and 75,000 ATMs where you can withdraw your cash for free.
Free Stock Promo
If you sign up for Robinhood, you will get a free stock worth between $2.50 and $200. The free stock is based on a lottery system.
According to Robinhood's Terms and Conditions... "There is an approximately 98% chance of the stock bonus having a value of $2.50-$10, an approximately 1% chance of the stock bonus having a value of $10-$50, and an approximately 1% chance of the stock bonus having a value of $50-$200, based on the price of shares at the time of purchase."
Best Free Stock Promotions
Fractional Shares
With Fractional Shares, you can purchase a certain dollar amount of a stock instead of a specific number of shares. This is great for investors that want to buy into, let's say Berkshire Hathaway A Class Shares, but just don't quite have the cash to do it.
With this feature, you will be able to purchase shares of stocks and ETFs in $1 increments.
Cryptocurrency
Robinhood allows you to trade a variety of popular cryptocurrencies 100% commission free. 
It is important to recognize that Robinhood Crypto is not a part of Robinhood Financial LLC. Cryptocurrency is held in a different account which is not regulated by FINRA or insured by the SIPC.
You are also unable to transfer your crypto out of your Robinhood account.
Robinhood Pros
100% commission-free stock and ETF trading
Access to cryptocurrency
Ease of use
Fractional shares make it easy to buy the stocks you love
High yield savings account
Get a free stock when you sign up
Robinhood Cons
Limited research & data
Only offers brokerage accounts and not tax-advantaged retirement accounts
Customer service is only reachable online, not over the phone
Conclusion: Qapital vs Robinhood
At the end of the day, deciding between these platforms comes down to what your main focus is.
Robinhood focuses mostly on investing, offering a wide variety of assets. You can save money using the online savings account, but it does not come with the fancy features offered by Qapital.
On the other hand, Qapital was designed with savings in mind. The investment side is kind of an afterthought, since they only offer 5 portfolios and no individual stocks.
If you are fee sensitive, Robinhood may be the winner for you as it is 100% free. One downside to Qapital is that they do not offer a free plan.
Keep Reading: