Robinhood vs. Webull vs. M1 Finance
There has never been a better time to invest than today. Not because the market conditions are perfect, the reason is because of the numerous free options available. When it comes to picking the best brokerage, three core choices are Webull, Robinhood, and M1 Finance. We are going to help you decide which one best fits your investment strategy!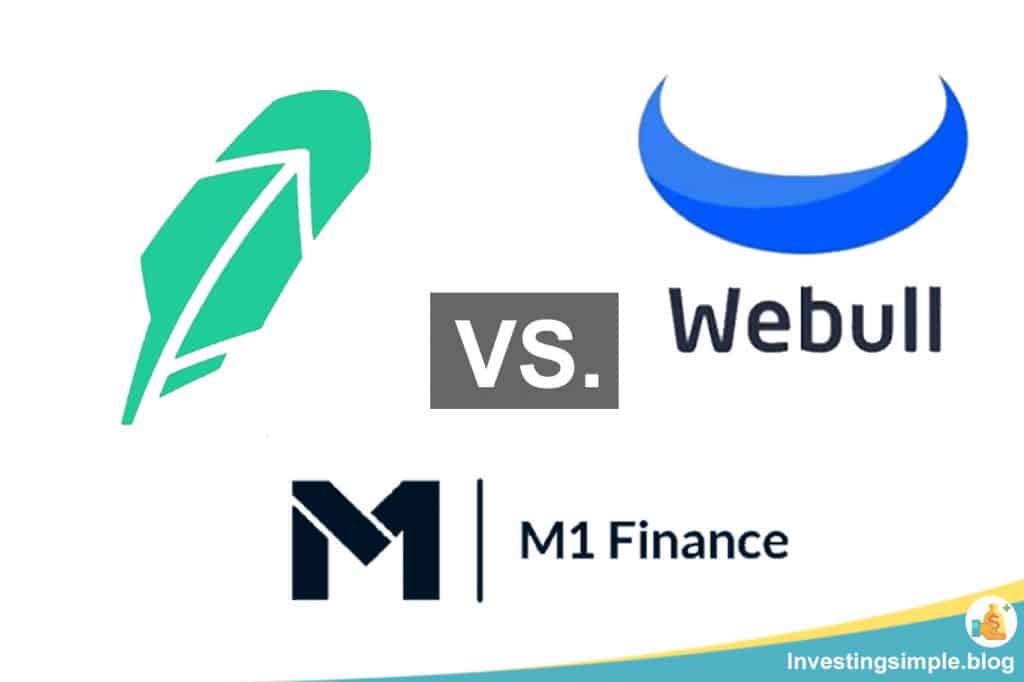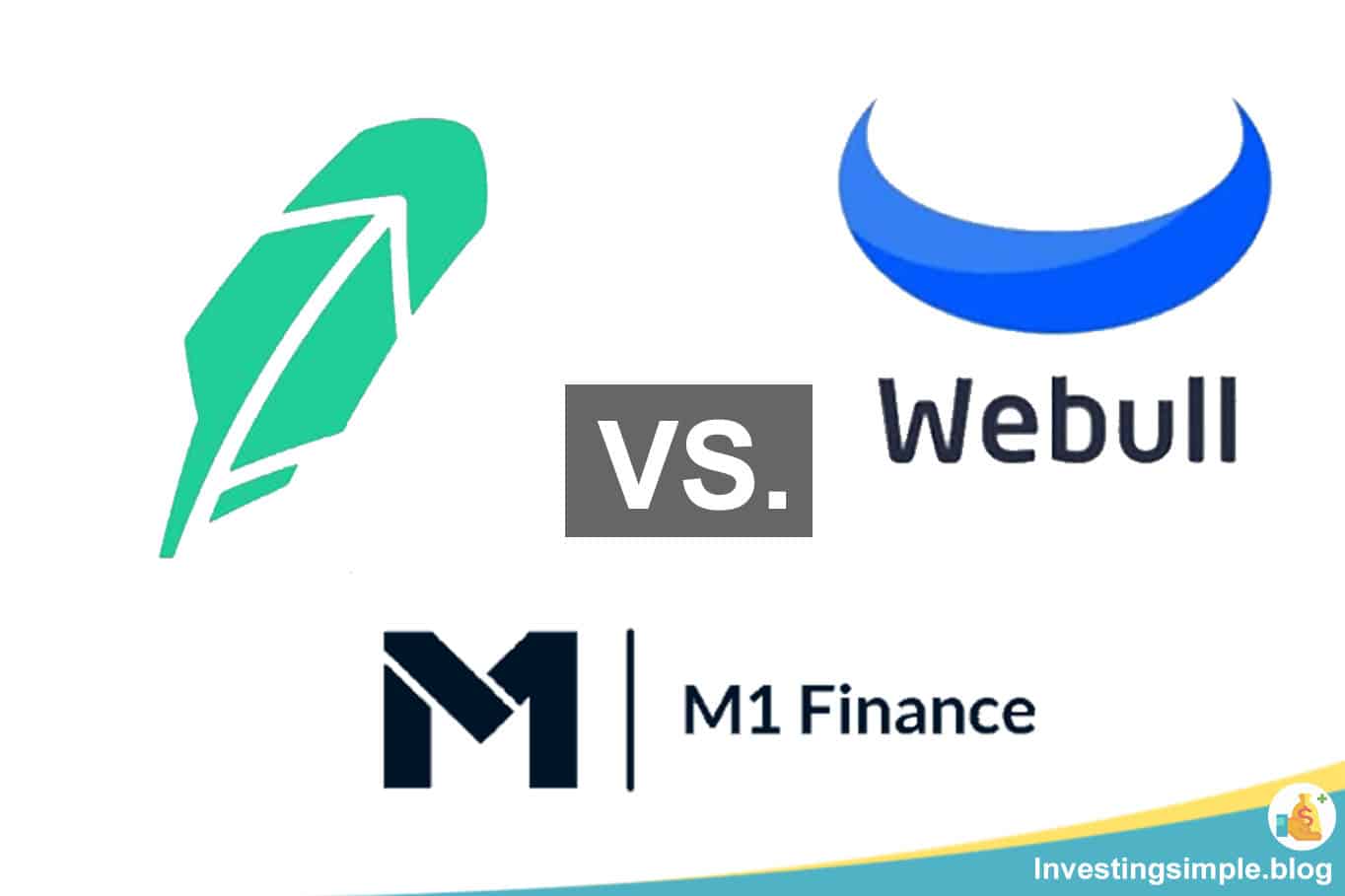 Summary
All three of these apps lack in customer service, one of the tradeoffs of using a free investing platform.

M1 Finance has the best features for long term and dividend investors.

Robinhood has very limited features, but it is 100% beginner-friendly.

Webull has the best features for intermediate to advanced traders or investors.

The only one that offers retirement accounts is M1 Finance.
If you are looking for a trading simulator, you will only find that with Webull.
Webull and Robinhood have a $0 minimum balance, while M1 Finance has a $100 minimum balance.
Investing Simple readers get a free stock when signing up with Webull! You have to use this link or the one below to get them.
Over the last few years, investing in the stock market has changed a lot. In the past, your only option was to open an account with an online discount broker and pay anywhere from $5 to $10 per trade. On top of that, many of these brokerages had hefty minimum balances in the neighborhood of $1,000 or more!
From Cheap To Free Trades
In April 2013, Robinhood launched and changed the game forever. This was the first commission-free trading platform that took the industry by storm. Not only was it commission-free, but they were also able to offer this with no minimum account balance. Robinhood simply identified a number of inefficiencies with the way these big brokerages were operating their businesses. They created an ultra-lean and paperless business model, allowing them to offer free trades.
M1 Finance followed suit a few years later. In December of 2017, they decided to ditch the traditional business model of charging an asset management fee. They made a bold prediction that the future of finance is free, and they were correct.
Finally, we have Webull. In May of 2018, they officially launched their trading app. Webull recognized the power of the business model that Robinhood operated, but they saw areas were they were falling short. They identified a demand for a more robust free trading platform.
Sign Up Incentives
Webull
Investing Simple readers can get a free stock!

Open an account here for the first one.

Fund the account with at least $100 for the second one.
You must use our link to get the free stocks. If you download Webull from the app store, you will not get the free stocks.
M1 Finance
No signup incentive. We do earn a small commission if you use our link!
Robinhood
If your friend has a Robinhood account, they can send you an invitation. If you open an account through that invite, you both get one free stock. Open a Robinhood account here. 
Are Free Trading Apps Safe/Legit?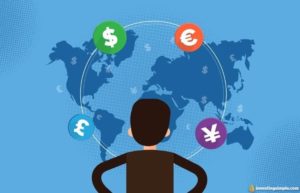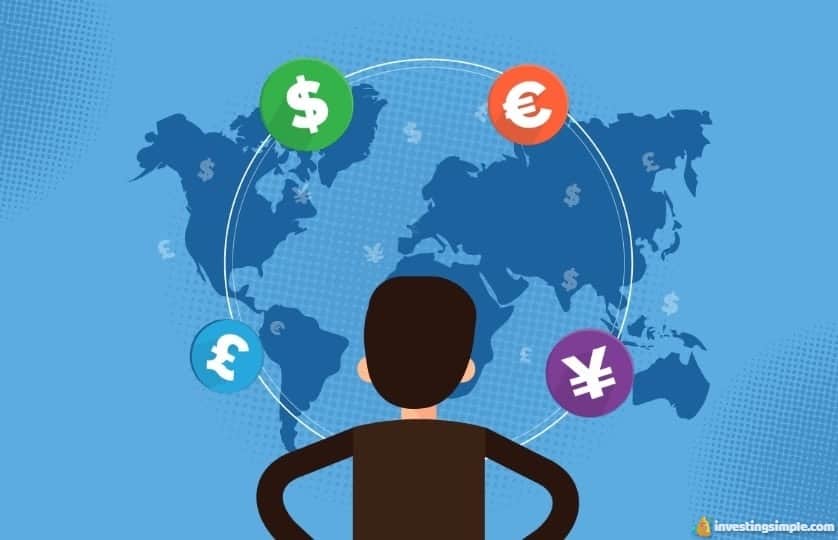 One of the most common questions we get from readers is whether or not these free trading apps are safe or legitimate. Your parents probably told you that there is no such thing as a free lunch out there. Naturally, you are skeptical when you hear that you are getting anything for free. The good news is these three apps are totally legitimate. They are all members of FINRA with SIPC insurance that protects you in the event of insolvency. In plain English, that means if they lose your shares or money, you are insured. You are not insured against losses from investments you make.
Now, it is essential to understand that these companies are not operating a charity either. They have families to feed just like most of us do, so they need to make money. Instead of charging customers fees or commissions, they have simply found creative ways to make money.
How Free Trading Apps Make Money
They earn interest on the uninvested cash held within your brokerage account.

Margin trading allows them to earn margin interest.

Some offer loans against securities held within the account, allowing them to earn interest.

Loaning out shares to short-sellers.

They earn fractions of pennies on each trade by directing order flow.

Some offer paid or premium subscriptions.
Customer Service & Paperless Statements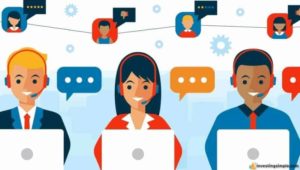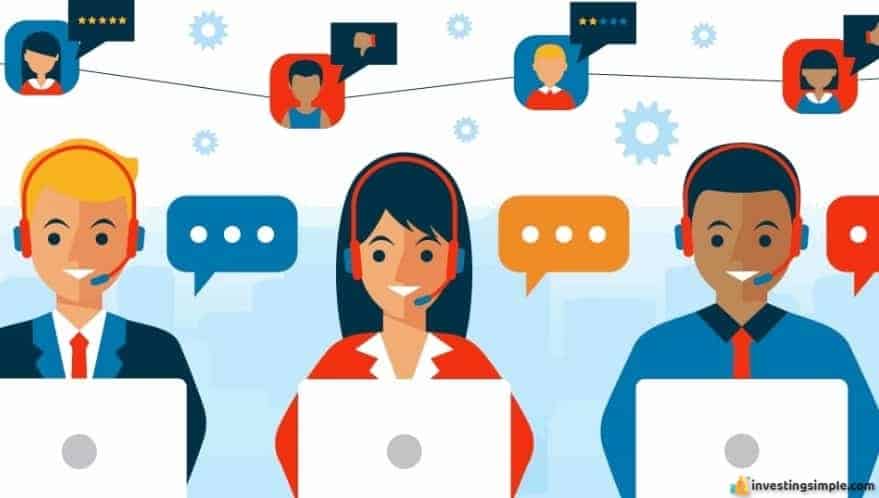 One area where all free trading platforms are lacking in customer service. Remember how I said they identified inefficiencies with the old way of doing things? Well, one of the most expensive and time-consuming pieces for brokerages out there is customer service, particularly phone support. As a result, they cut this out of the equation and offer email or chat support instead. As a result, you cannot call any of these brokerages on the phone or place trades over the phone.
Another essential point to note is that all of these free platforms operate paperless businesses. Tax forms and statements are sent to your email, not your mailbox. This is not optional. Sending out paper statements and tax forms was another one of these inefficiencies they picked up on. If you want paper statements, you should avoid these free investing platforms altogether.
What Is Webull?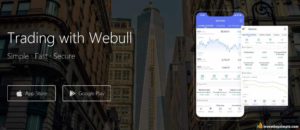 Webull is the newest free investing app on the list, but they are gaining market share fast and with good reason. Robinhood really pioneered the commission-free trading movement, but there was still a void that Webull was able to fill. That void is a robust, data-driven free trading platform. Robinhood offers a beginner, friendly trading app that literally anyone can use and understand. As a result, it is a bit lacking for intermediate to advanced traders or investors.
They picked up on this demand and created a genuinely excellent free trading app. Despite all of the data and tools built into the app, it still has a great user experience. It is definitely not a beginner friendly platform, though! It is similar to taking a drink from a fire hose. The amount of data available at your fingertips can be very overwhelming.
Both Webull and Robinhood have a niche here.
Webull has created a great platform for intermediate to advanced traders and investors who are looking for more fundamental and technical data than most free trading apps offer. The trading simulator on board helps you to hone your skills too!
Webull Features
Real-Time Market Data
The main strength of this platform is the robust data available to traders and investors. This includes over 22 different technical indicators. Fundamental investors will find all of the numbers they are looking for too, including key financial documents, earnings dates, and analyst recommendations. Webull has packed all of the data you will likely ever need into a seamless app.
Trading Simulator
One of the best features, in my opinion, is the free trading simulator. The general rule of thumb out there is that 90% of traders lose money. A key contributor to this is trading with real money when you do not know what you are doing. The trading simulator offered by Webull is a perfect way to practice with fake money to learn the basics of trading or investing. It also allows you to familiarize yourself with the platform and order types before using your money.
Commission Free Short Selling
For those interested in short selling, Webull offers this commission free. One caveat is that this type of trade has to take place in a margin account, which has a minimum balance requirement of $2,000.
Extended Trading Hours
They offer extended trading hours, both pre-market and after-market. Normally, you can only trade stocks from 9:30am to 4:00pm EST. With Webull extended trading hours, you can place trades before the market opens and after the market closes.
Advanced Orders & Research Tools
One of the main complaints about Robinhood is the lack of order types. Webull offers a number of advanced order types that traders might be interested in. If you want to practice and familiarize yourself with these order types beforehand, you can do so with the trading simulator.
What Is M1 Finance?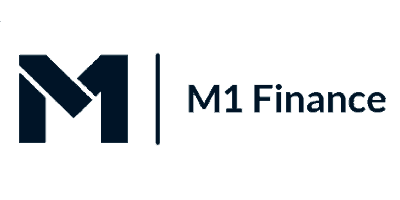 Remember how we said that Webull identified a market that was not being served well by Robinhood? Well, M1 Finance did the exact same thing. When it comes to investing in the stock market, there are primarily two types of investors. You have the traders, who are moving in and out of stocks on a regular basis. Then you have the long term investors who are holding stocks for years and likely reinvesting dividends.
Plain and straightforward, Robinhood was not an excellent platform for long term investing. They do not offer retirement accounts, dividend reinvestment, or fractional shares. If you don't know what these are, not to worry. We will be explaining them shortly.
In a nutshell, M1 Finance has created the ideal free investing platform for long term investors. Dividend investors should be particularly interested, as they offer a portfolio level dividend reinvestment. They are also one of the only free investing platforms that offer retirement accounts.
M1 Finance Features
Custom & Expert Pies
With M1 Finance, you are creating a portfolio or pie. You have the option of creating your own from scratch or investing in one of the prebuilt expert pies they offer. They do not charge any fees to invest in these expert pies. Within each pie, you can hold stocks or ETFs. Each pie can hold up to 100 stocks or ETFs, and you can have multiple pies within the platform!
For example, you could have a growth pie and an income pie to compare the returns from each. Or, you could invest in your custom pie and an expert pie to see if you can beat the experts! This pie based investment strategy is geared towards long term investors.
Portfolio Level DRIP
Dividend investors, fasten your seatbelts! One of the key complaints about these free investing apps is that they did not offer a dividend reinvestment option. M1 Finance has come up with a unique solution to this. When a stock within your pie earns a dividend, that dividend is reinvested across your entire portfolio. This is a little different than a stock level DRIP, where 100% of the dividend goes back into the issuing stock. Still, this is an entirely free way to reinvest dividends and earn compound interest.
Fractional Shares
When you buy shares of stocks on Robinhood, Webull, and most other apps, you have to buy whole shares. This can become a problem when you look at companies like Amazon. This stock trades at over $1,000 a share. If you do not have enough to purchase a whole share, you can't buy one through these other apps.
M1 Finance offers fractional shares on its platform. This means that you can invest in as little as 1/10,000th of a share of any stock or ETF that trades on the NYSE or NASDAQ. If you wanted to, you could invest as little as $10 in Amazon through fractional shares.
Automatic Rebalancing
They take a unique approach when it comes to rebalancing. For those who are not familiar, rebalancing is something that you must do to keep your portfolio at your target allocations. Not all assets within your portfolio will move the same way. You might start out with 50/50 allocations between two stocks and a month later find it is 40/60.
As you add more money to your account or earn dividends, M1 Finance will invest in whatever assets you are underweight in within your portfolio to bring you back to your target allocation. If you are looking to take money out of your account, they will sell whatever you are overweight in. This means that M1 Finance is automatically buying low and selling high on your behalf.
Retirement Accounts
Finally, a free investing app that offers retirement accounts! Through M1 Finance, you can open a variety of different IRA's including the Roth IRA and Traditional IRA. To open a taxable account with them, you just need a minimum balance of $100. To open a retirement account with them, you need a minimum balance of $500. You can also rollover an IRA or 401k to your M1 Finance account.
What Is Robinhood?


Robinhood has created the most beginner friendly free trading app, period. They know what market they are going after and they stay in their lane. They offer basic order types, line charts, and some fundamental data. One of the strengths of Robinhood is that they offer both desktop and mobile platforms. They also allow you to trade stocks, ETFs, cryptocurrencies, and options commission free.
They focus on one thing, and that is simplicity. As a result, it can leave much to be desired for more experienced traders or investors. They only offer basic order types, very limited data, no trading simulator, no dividend reinvestment. It is a la carte of the brokerage industry.
Robinhood Features
Multiple Assets
Robinhood offers multiple assets on the platform with zero trading commissions. This includes stocks, ETFs, cryptocurrencies, and options. If you are interested in these assets, this may be a good fit for you. Another option is to strictly trade options and cryptos with Robinhood and do your stock and ETF investing elsewhere.
Desktop Platform
One of the strengths of Robinhood is that they are one of the only free brokerages that offer both a mobile platform and desktop platform.
Robinhood Gold
This allows you to have easy access to margin. They extend you a loan to buy stocks with based on your account balance and how much you are paying them. It is important to understand that trading on margin is high risk, and it is not recommended for beginners. You need to have $2,000 with Robinhood to open a margin account.
The Verdict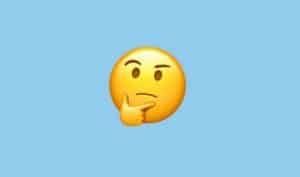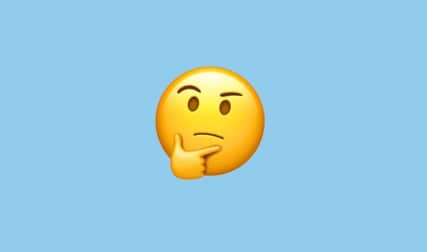 All three of these platforms are offering a unique investing experience. They all offer commission-free trading with a small minimum account balance. What sets them apart from each other is the features of each app.
M1 Finance has the best features for long term and dividend investors.
Webull has the best features for intermediate to advanced traders and investors.
Robinhood has limited features, but it is the most beginner friendly platform.
At the end of the day, all of them are free meaning you could try them all and see which one is the best fit for you. Webull has the best promotional offer for new accounts. If you sign up using our link, Investing Simple readers will get a free stock!