In a financially digital world, investing for everyday people is becoming easier than ever.
Most new investors look to online investing platforms to start trading. But with so many to choose from, it can be hard to narrow down to the broker that will be best for you. At Investing Simple, we're committed to helping you find the investing app that suits you best.
In this article, we will be taking a deep dive into two of the hottest online brokers on the market now: TD Ameritrade vs M1 Finance. Whether you are concerned with the features, fees, pros, or cons of TD Ameritrade or M1 Finance, we have you covered. 
M1 Finance vs TD Ameritrade: The Basics
M1 Finance is a free investing platform tailored towards long-term investors. The app is designed to allow investors to streamline and automate much of their investing. Traders looking for a way to quickly buy and sell stocks will not find this with M1.
TD Ameritrade is an older and more well-established platform that tailors more towards active traders. With significant data and charting capabilities, TD is well-known among traders. 
Both platforms allow investors to buy and sell both stocks and ETFs. However, TD also offers a host of other asset classes including options and mutual funds. Either platform will also allow you to open a retirement account and invest on a tax-advantaged basis.
TD Ameritrade vs M1 Finance: Summary
TD Ameritrade offers an online trading platform that is perfect for the advanced trader 
Both services offer no commissions on stocks and ETFs 
TD Ameritrade offers options contracts where M1 Finance does not 
M1 Finance is more for the beginner investor and someone who is looking for automation 
TD Ameritrade has an income calculator for those interested in tracking monthly dividend income 
Both offer high-quality customer service 
M1 Finance offers fractional shares so you can buy portions of companies instead of full stocks/ETFs
Limited fee structure for both brokers 
TD Ameritrade offers industry-leading equity research from accredited firms such as Credit Suisse and Morningstar 
What Is TD Ameritrade? 

TD Ameritrade is a popular online broker that offers fantastic trading services at extremely competitive prices. Whether you are interested in stocks, ETFs, options, or any other asset class, TD likely has you covered. 
The broker has been around since 1975 and has a much longer track record than many of the newer investing apps. However, this also means that they tend to be slower to adopt newer features and trends.
TD Ameritrade Mission 
TD Ameritrade's mission is to help everyone get into the financial markets, no matter how deep their pockets are. They are able to do this by offering competitively priced services to their users. Helping you find financial stability is very important to TD Ameritrade, and they provide tons of features to help you accomplish this.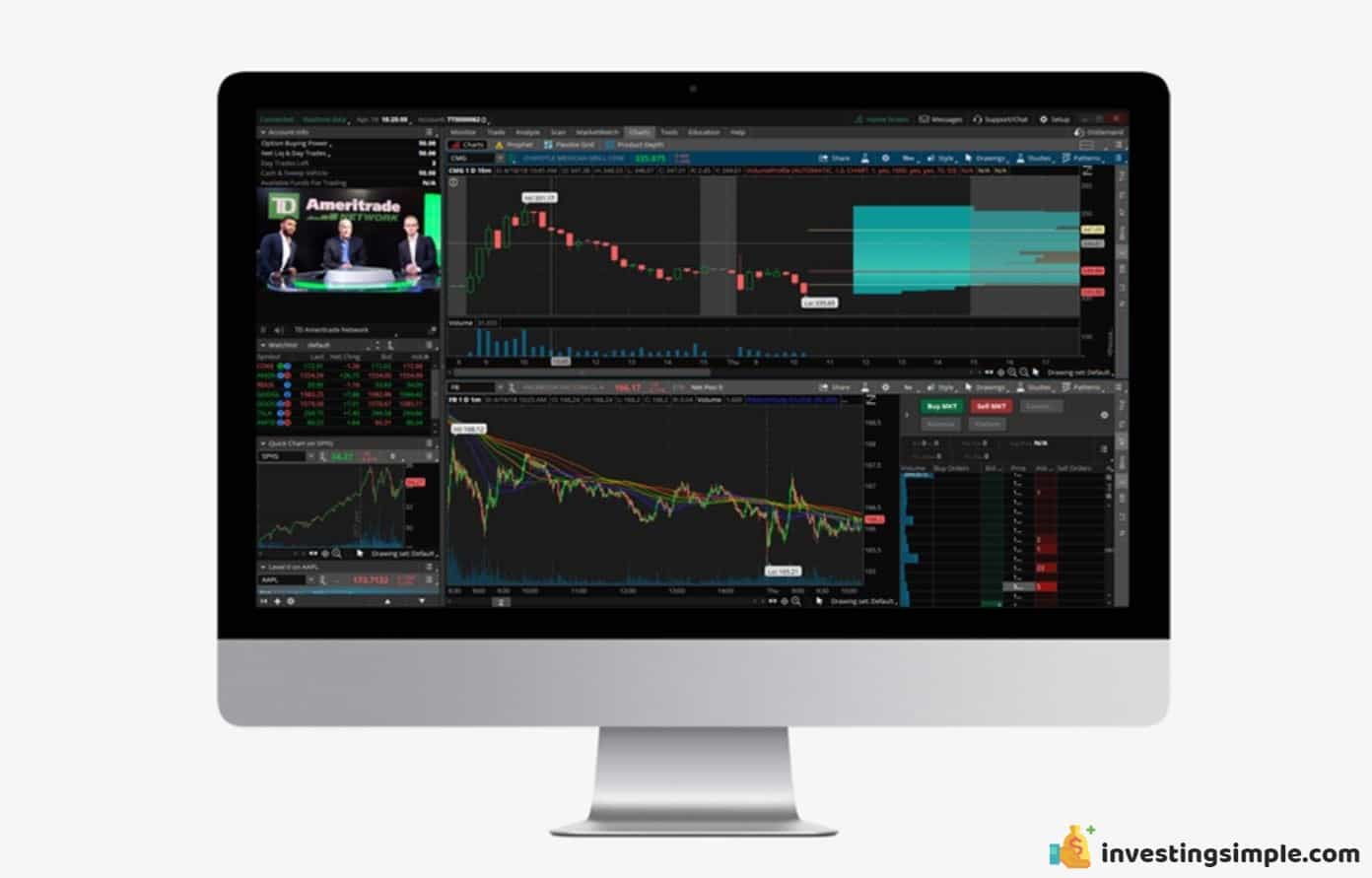 TD Ameritrade Features 
ThinkorSwim 
TD Ameritrade offers the ThinkorSwim (TOS) application to all of its users. This platform allows traders to study stock charts and trends as well as access significant data. You are also able to execute trades from within the platform and most active traders choose to spend most of their time using TOS.
Longer-term investors can choose to use the traditional TD platform for a simpler interface. The TOS app can certainly be intimidating to newer investors, and in general, the mobile app will suffice for simple orders and basic research. 
Both platforms can be used either from desktop or mobile depending on your style.
Income Calculator 
If you are a fan of dividends, you will be a fan of TD Ameritrade's income calculator. This tool on TD Ameritrade's website allows you to automatically calculate your annual dividend income from your stock portfolio. For those of you wondering how much you'll need to invest to live off of the dividends, that is exactly what this tool is for.
There is also a chart that shows the monthly income you will receive from your stock positions. For the income investor, this tool is crucial to mapping out dividend returns and staying up-to-date on your monthly income. 
Equity Research 
Of the many research firms that cover stocks offered on TD Ameritrade, Credit Suisse is one of the most well-regarded. Credit Suisse covers many of the stocks that are offered on TD Ameritrade, and you can check out all of their price targets and equity research reports free of charge. 
These reports help investors do more of their research and evaluations within their trading platform and save them from needing to navigate between multiple platforms just to plan a single trade.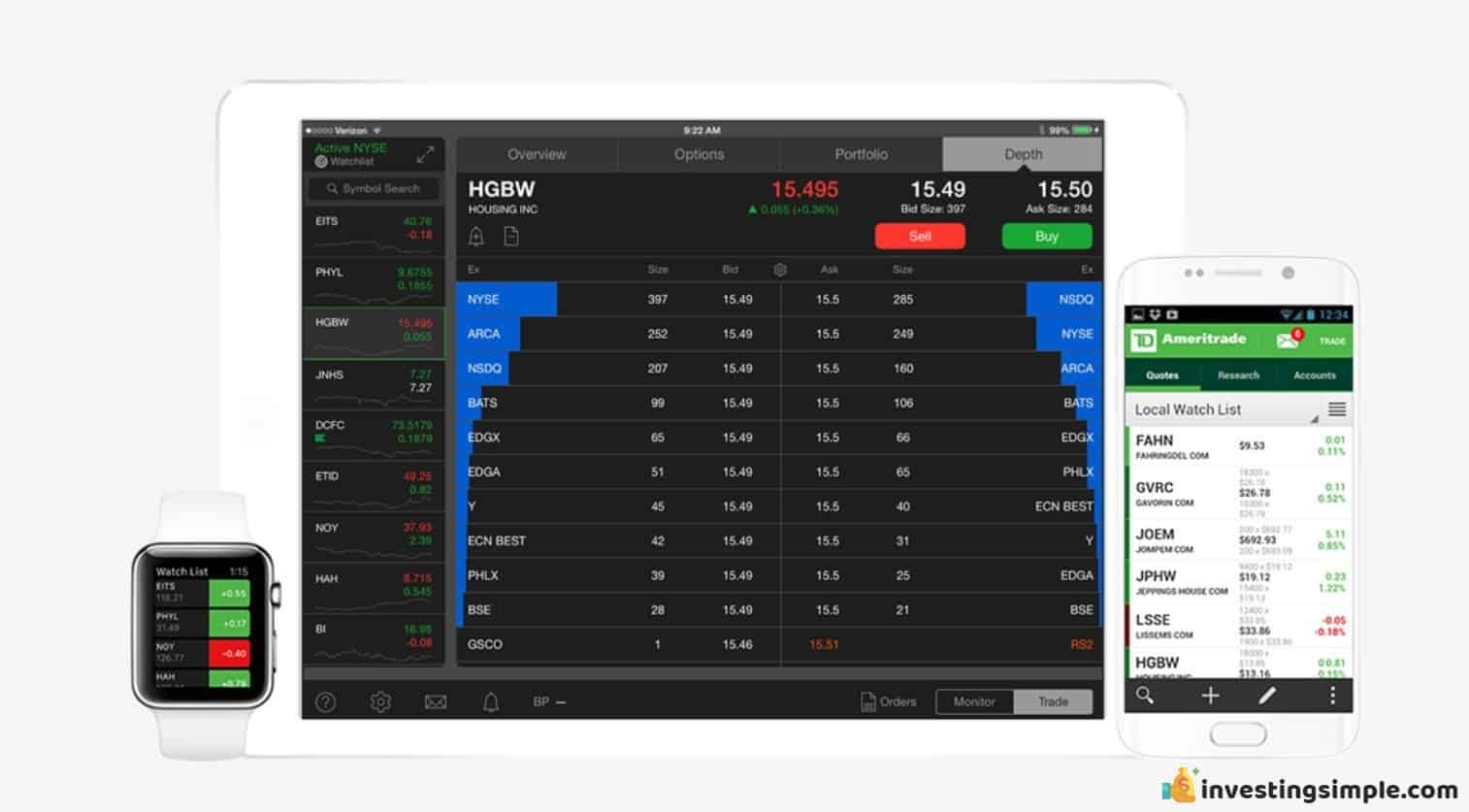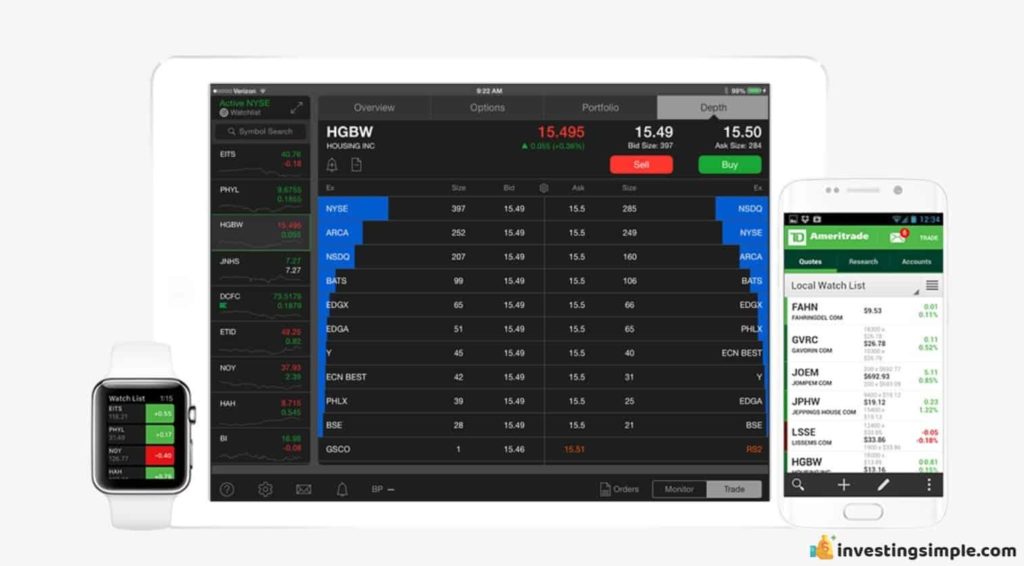 TD Ameritrade Fees 
Although TD Ameritrade's goal is to keep costs low for its users, it is still important to be informed of some broker fees before deciding to open an account. 
Stock Trading Fees 
Sure, there is no commission for stock trade execution through the ThinkorSwim trading platform or the official TD Ameritrade website. However, if you are looking to have a broker-assisted trade there will be a fee of $25. This fee may seem steep for those with a small account, but if you are placing a large trade and want a broker's advice/assistance, the fee may be worth it. 
Options Trading Fees 
In terms of options, TD Ameritrade charges a $0.65 options trading fee per contract. And, if you are looking for a broker-assisted options trade, you will be looking at $25+$0.65 per contract. 
TD Ameritrade Pros 
ThinkorSwim trading platform is top of the industry and helps you chart out trades 
Two mobile apps let you access all of TD Ameritrade's features from your fingertips 
Income calculator lets you track out monthly dividend income from your portfolio 
Equity research is offered from top research firms on Wall Street, including Credit Suisse 
No commissions on stock and ETF trades 
24/7 customer service 
TD Ameritrade Cons 
Options contract fees of $0.65 
Broker-assisted trades are pricy compared to other brokers, coming in at $25 per trade  
Technical issues on the ThinkorSwim platform may result in sub-optimal trade execution prices 
No access to tax minimization features 
No access to fractional shares
Limited ability to automate your investing
What Is M1 Finance?  
Regarded as the "Finance Super App," M1 Finance is an online broker that lets you borrow, invest, and spend with optimal benefits and low costs. The app has picked up lots of steam in the last year, and for good reason. Let's take a look at the core features to really find out what the creators of M1 are really striving for on this "Super App."
M1 Finance Features 
Intelligent Automation 
M1 Finance's automation tools allow you to set up a portfolio once and automate the entire process from there. Alternatively, you can choose to use one of M1's 30+ expert-built portfolios completely free of charge.
Many other platforms will charge a management fee for access to pre-built portfolios. However, M1 Finance makes money through other means that don't involve charging commissions or management fees.
Zero Commission 
Similar to TD Ameritrade, M1 Finance charges no commissions on the stocks and ETFs that it offers. You can track your portfolio on a line chart and see how your portfolio is constructed through a pie chart offered by M1. 
The M1 Finance pie is a signature piece of the platform and is what you will use to structure your portfolio. Instead of purchasing individual shares of stocks and ETFs, you'll design your pie with the allocations to different investments and then as you add money to your M1 account, it will automatically be allocated according to your pie.
Fractional Shares 
Fractional shares are one of M1 Finance's more unique features. This lets you buy portions of companies instead of being forced to buy full-priced stocks or ETFs. For example, instead of spending $3,000 on a share of Amazon, you can buy 1% of a share for only $30. This is a fantastic feature for those who have smaller accounts but want to diversify. 
This allows your pie to be fully invested because you don't have to wait until you can afford a full share to make a purchase.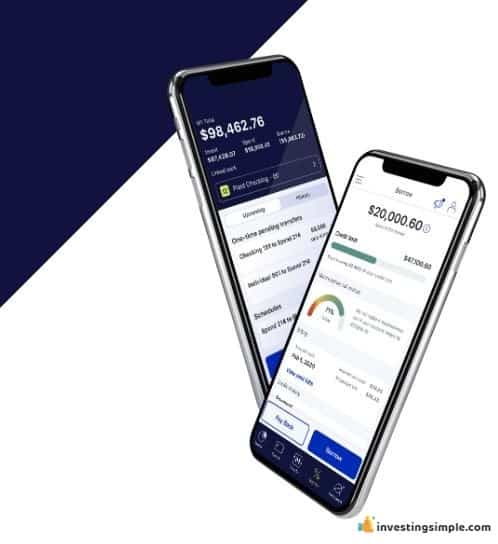 M1 Finance Fees 
M1 Finance's fees are embedded in its account structures. There are two types of accounts that users can choose from: M1 Plus and M1 Basic. While M1 Basic is free of charge, the more advanced M1 Plus does have an annual fee. 
M1 Plus
The M1 Plus account comes with an annual fee of $125. This fee may seem steep for smaller accounts, but M1 Plus does come with added benefits such as:
1% cashback on all M1 Spend purchases
$50,000 daily ACH limit
Interest rate of 2% opposed to 3.5% on margin
Two daily trade windows open instead of M1 Basic's one trade window.
Most M1 users won't feel the need to upgrade to M1 Plus, but your choice will come down to what you find to be important in an online broker. In general, you'll see the most benefit from the upgrade if you plan to take advantage of M1 Borrow or M1 Spend.
M1 Finance Pros 
No commissions on stocks and ETFs offered on the platform 
Intelligent automation is great for new investors who are looking for an automated and diversified portfolio to invest with 
Portfolio construction pie chart shows what exactly you are investing in the % makeup of your portfolio 
Fractional shares let you buy portions of companies instead of having to pay upfront for entire company's stocks 
M1 Finance Cons 
M1 Finance does not offer many research capabilities, unlike TD Ameritrade which offers many 
Only two trading windows per day for M1 Plus and one trading window for M1 Basic 
No access to options or mutual funds
TD Ameritrade vs M1 Finance: The Verdict
At the end of the day, TD Ameritrade and M1 Finance each have their own unique features.
If you are interested in stock trading and seeking out a highly technical trading platform for technical analysis, TD Ameritrade may be a great choice given its TOS trading system. If instead, you are looking for a highly automated investing experience with limited fees, M1 Finance may be a great option.
Beginner investors will likely find an easier experience getting set up with M1 Finance, but those looking to do any day trading will need to opt for TD Ameritrade. 
Either way, both of these brokers are well-regarded by their users and very beginner-friendly. Each has its own pros and cons, but both are top-notch and very high quality. It all comes down to your interest level, financial goals, and the time you have to devote to trading.
In the end, both platforms are free to use so you are able to sign up for both and try them out to see which one you prefer.
Best Free Stock Promotions