Robinhood is a major online platform trading known for allowing its users to invest on their own terms, offering a smooth mobile experience with zero trading fees.
The brokerage is renowned not only for its excellent interface and mainstream success, but is also a household name due to its various moments of shifty reliability.
Since 2018, Robinhood has offered zero commission crypto trading within its app - a great onboarding experience for those looking to taste what bitcoin and other cryptos have to offer. However, with just 15 cryptos supported on the app, some investors may look for another platform.
Uphold is an up-and-coming crypto exchange platform that offers an innovative take on a lot of Robinhood's best features.
All inside of one digital wallet, Uphold users can buy and trade 36 different cryptos, US stocks, foreign fiat currency, and even precious metals! It's "Anything-to Anything" trading feature allows for instant asset conversion, with the click of a button.
With Robinhood's new crypto wallet, transferring your coins to a new platform is actually really easy. So, let's dive in. We are going to cover the steps to transfer from Robinhood to Uphold.
Best Free Stock Promotions
How To Transfer From Robinhood to Uphold
In the world of crypto, everything is direct, 'peer-to-peer', through a system of digital wallets.
In order for any transaction to take place, there needs to be two wallets, each with a unique address. 
Whenever you send crypto, you need to have the address of the recipient to send it, kind of like sending an email or a text message.
Robinhood's crypto wallet became widely available in April of 2022. Due to local regulations, residents in New York, Hawaii, and Nevada, are not able to gain access just yet. But for those in other states, signing up for this crypto wallet is quick and simple. In order to transfer from Robinhood to Uphold, you will need to set up this new wallet. The steps to do so can be found in our complete Robinhood crypto wallet guide!
Once you have set up the wallet, the transfer can be completed with 3 easy steps:
Open and verify your Uphold account
Locate your Uphold wallet address
Send your crypto from Robinhood to Uphold
Below, we're going to guide you through each part.
1. Open Uphold Account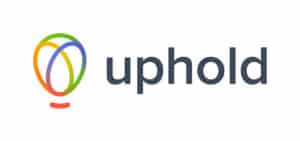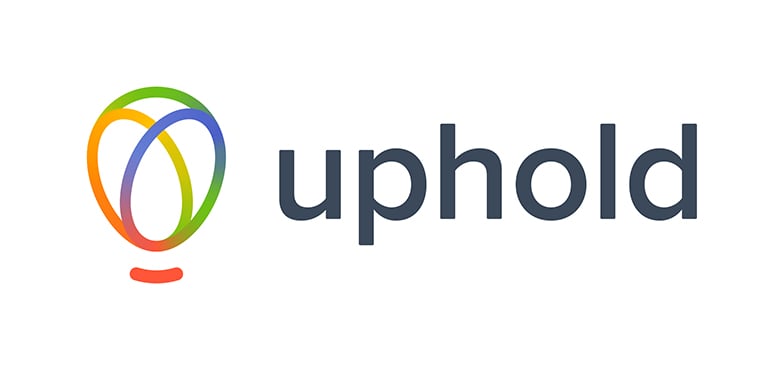 Opening an Uphold account is pretty straightforward. You'll need to give them some personal info, sign up for 2-factor authentication, and finally verify your identity.
First, you'll enter some account credentials - an email and a new password, as well as your country of residence and citizenship. Then you'll have to agree with Uphold's terms of service, assuming you do agree.
Next, enter your first and last name, the territory where you live, and your birth date. Choose a username and Uphold will send you a confirmation email. Open the email to finish signing up.
Now you'll sign up for 2-factor authentication, which Uphold uses for extra security for all its user accounts. "2FA" provides added safety by requiring you to confirm inside the authenticator app it's actually you signing into Uphold. Uphold uses Authy for 2FA.
You'll need to download Authy's app, signing up using your phone number (this takes just a second or so).
Finally, once your Uphold account info is all together, you'll need to verify your identity. Fortunately, this process is pretty quick. You'll need to confirm your current address, and upload a photo of a valid ID like your driver's license, as well as a selfie.
2. Locate Uphold Wallet Address
Once you have an Uphold account, you will need to locate the Uphold wallet address for the crypto you want to transfer.
If you have multiple cryptocurrencies, then you will need to repeat this process for each one you want to move. Each of your cryptocurrencies have a unique wallet address. Thus, if you want to move Bitcoin and Ethereum from Robinhood to Uphold, then you will need to complete this process first for Bitcoin and then for Ethereum.
In order to find the proper wallet address in Uphold, follow the steps below:
Go to your portfolio (wavy button at the bottom of the app)
Choose the crypto you want to deposit into Uphold (the one you will be sending from Robinhood)
Click the ellipsis at the top right (...)
Choose the option that says "Wallet Address"
Go to your private wallet
Copy your private wallet address
3. Transfer From Robinhood To Uphold


Now that you have copied the wallet address to the corresponding cryptocurrency from Uphold, you are ready to initiate the trade.
Follow the steps below to transfer your assets:
Open the Robinhood app and locate the cryptocurrency that you want to transfer to Uphold
Scroll down and tap on "Send"
Next you will need to enter how much you would like to transfer. You can select "Send All" if you want to move all of that particular cryptocurrency
You will need to paste the wallet address you just copied from Uphold. Tap "Enter Manually"
Paste in the wallet address
You will also need to paste in the code from your authenticator app
Tap "Review"
Tap "Confirm" after reviewing the transfer
Transfer From Robinhood To Uphold: One Final Tip
Transferring crypto assets is actually a pretty simple process. It is as easy as copying and pasting a wallet address.
If you want to learn more about Uphold's platform, be sure to check out their site!