Should You Invest $500/mo Into Acorns?
So, your friend, your co-worker, or your cousin has been blabbing to you about how awesome this Acorns thing is.
Now you want to know exactly what it is, how it works, and whether or not you can make some decent money from it. Don't worry, we've got you covered.
In this article, we will tell you everything you need to know about Acorns and whether it's worth using as a saving and investing app.
What Is Acorns?
First of all, what exactly is Acorns?
Acorn is an investing app that lets you invest money in an extremely hands-off way, and that is very easy. With Acorns, the app will automatically round up every purchase that you make with your credit or debit card and invest the remaining change.
So, if you purchase for $5.50, Acorns will automatically round this purchase up to $6.00, and it will take the extra $0.50 and invest it for you.
This is not the only way to invest with Acorns. You can also set up recurring weekly/monthly investments, or even make lump sum deposits at your leisure. However, most users start out with the simple spare change round up feature.
In this way, you can build a portfolio with your pocket change instead of losing it between the seats of your car or having it disappear into your couch. Acorns rely on robo-advisors to choose the investments for you based on your spending habits, goals, and risk tolerance.
It is called "Acorns" because, like acorns, small investments can grow into much larger amounts over time.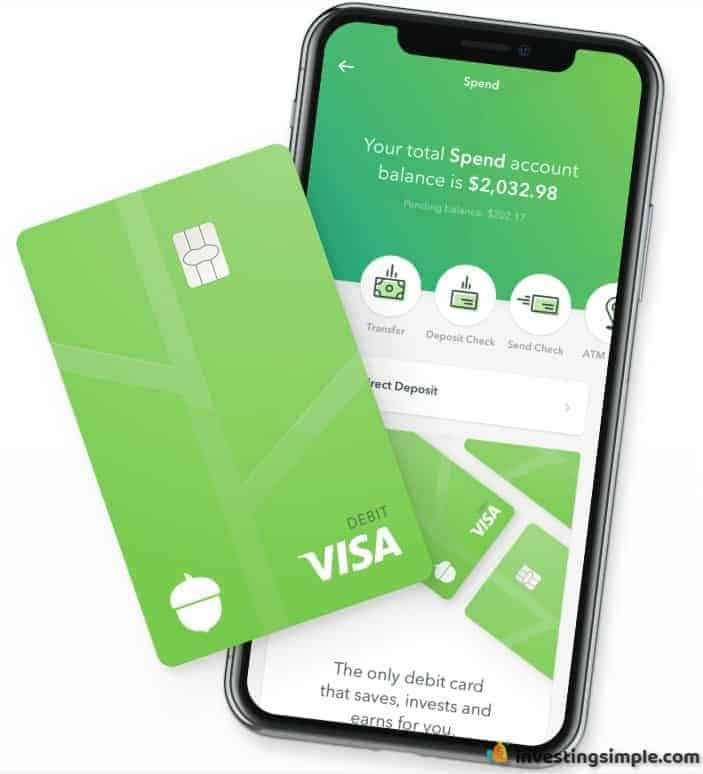 How Does Acorns Work?
To use the Acorns app, you must first download it on your phone. The app is free to download, but you do have to pay a monthly subscription to use it. 
Then, you link as many credit cards or debit cards to the app as you want. Once your cards are linked, your purchases will start being automatically rounded up and invested.
However, even though Acorns is primarily known for its purchase rounding up investing, you can also do standard investing with the app as well. You can do this by depositing money into your account either on a one-time or on an ongoing basis.
All money is invested in 1 of 5 portfolios offered. You cannot invest in individual stocks or ETFs
Additionally, you can open an IRA with Acorns. So, if your goal is to save for retirement, then you can do this with Acorns, and you can enjoy all of the tax benefits that IRAs offer. This is available for a higher monthly fee.
Benefits Of Saving While You Are Young
When it comes to compound interest, time is on your side when you are young. This means that the earlier that you start investing putting money into a savings account, or earning dividends or compound interest in any other way, the better.
Compound interest works like a snowball rolling down a snowy hill. The initial investment is small, but as it moves down the hill, it gets larger and larger.
So, if you have a larger and longer hill (more time), the snowball will be significantly larger when it reaches the bottom than it would be if you have a shorter hill. If you start investing at the while you are young; you are starting on a higher hill than the rest. 
This is because every year, you are benefiting from compound interest and/or dividend yields, and your account is growing larger and larger. Thus, the dividends and/or compound interest will incrementally increase each year.
Acorns is a painless way to begin investing as a young person. Since you have decades ahead to grow your money, starting young is imperative to growing some serious wealth.
Understanding Compound Interest
Albert Einstein once described compound interest as the "eighth wonder of the world."
He also said, "He who understands it, earns it and he who doesn't, pays it."
If you are unfamiliar with the concept of compound interest, it is the process in which you receive interest on the interest you have already received. In other words, it is when you make money off of the money you have previously made through an interest payment.
Many savings accounts offer compound interest. So, say if you have a savings account with 5% compounding interest annually and if you have $1,000 in this account, you would receive $50 in interest payments in the first year and $52.50 in compounding interest payments in the second year.
This is because, after year one, your bank account would be worth $1,050. So, in year two, you would receive a 5% interest payment on $1,050 as opposed to the $1,000 that you started with because $50 has been added to the account from the first interest payment.
Over time, compounding interest can work in your favor and help you build your savings and your investments.
You have the ability to earn compound interest with Acorns. 
The portfolios offered on Acorns earn dividends. They automatically reinvest those dividends back into the portfolio. Thus, your dividends allow you to earn more dividends over time!
Dividends are periodic payments that a company may make to individual shareholders of its stock. It is a distribution of the profits the company earned. These payments usually fall between 1 to 7 % annually, depending on the company, and are typically paid once a quarter or each month. 
What Returns To Expect From Acorns
Whether you use Acorns or any other investing app or platform, you will want to consider starting investing as early as possible. This is because compounding can be even more powerful, the longer the given amount of time. 
You may want to consider starting to invest a portion of your income over time so you can build long term wealth. The beautiful thing about Acorns is that it essentially automates the entire process with its purchase rounding technology and its robo-advisors.
You can also add more funds whenever you'd like and do not have to rely on funding your account with your spare change solely.
The S&P 500 tends to return an average of around 10 percent every year.
So, you want to start your investment snowball as early as possible in your life.
If you can start investing before you are out of high school or college, then that maybe even better. However, if you can't, then you should think about starting to invest as soon as you get a job when you leave high school, college, or graduate school. You will thank yourself when you are older.
Check out our article on a beginners guide to investing. 
Acorns Fees
Despite the fact that Acorns does offer an effortless and convenient way to invest your money, there are specific fees that go along with this service.
There is a fee structure with three different tiers.
$1 Per Month
The first tier, Acorns Core, costs $1 a month and offers the most basic features.
These include automated investing, smart portfolios, Grow Magazine, found money, and here for you.
$2 Per Month
The second tier, Acorns Core + Acorns Later, includes all of the features from tier one, plus IRAs, automatic updates, recurring contributions, anytime/anywhere deposits, and assisted rollovers. This tier costs $2 per month.
$3 Per Month
Finally, the third tier, Acorns Core + Acorns Later + Acorns Spend, includes everything from the first two tiers in addition to a checking account with a debit card,  custom spend strategies, digital direct deposits, mobile check deposits and check sending, no overdraft or minimum balance fees, unlimited fee reimbursement for ATMs worldwide, and FDIC protection up to $250,000.
The one downside to Acorns is that you have to pay a monthly fee to invest. There are countless investing apps out there that are free to invest in. Also, the $1-3 per month structure can result in high fees on small balances. A lot of other robo-advisors charge a percentage based asset management fee which is more fair.
---
Should You Invest $500 Every Month Into An Acorns Account?
Investing $500 every month into a diversified investment could be an intelligent decision.
Over time, you will be able to build long term wealth with a consistent saving and investing strategy.
Acorns have several portfolio options depending on your investing goals and risk tolerance, and robo-advisors manage them. So, no matter what your objectives and risk tolerance are, you should be able to find a reliable portfolio option.
Over time, your investments could grow, especially if you have several dividend stocks in your portfolio, and if you reinvest these dividends when they are paid out to you every month or every quarter.
If you do choose to invest $500 every month into an Acorns account, you can set up automatic monthly deposits so that you do not have to go into your account and make a transfer every month.
You can also choose the day that the transfers take place. This adds to the level of convenience that Acorns provides to its users.
If you want to invest conveniently, and if you're going to put your spare change to good use, then Acorns could be an excellent investing platform for you to use. The best feature is the automation which forces you to invest in small increments. Of course, it is not the only one that offers hands-off, automated investing, but it is still a good option among those that are available on the market. 
Keep Reading: