As I am sure your parents have told you, if something seems too good to be true it probably is. But is this the case with the free stock promotion offered by Webull?
Webull is a stock, ETF, and options trading platform that is now offering a very generous free stock promotion. New users can receive 4 free stocks if they open and fund their account with $100 or more on their initial deposit.
There are millions of dollars being invested into companies like Webull. A lot of that money is being directed into promotions like this one, allowing you to get a free stock just for signing up! So, here's the gist:
Webull is offering new users 4 free stocks just for opening an account and funding with an initial deposit of $100 or more.
First 2 Free Stocks - Create Your Account
To receive the first free stock, all you need to do is open a Webull account here.
The first two free stocks will be valued between $2.50 - $250 each and is a random selection.
This promotion ends on 2/1/21 so you'll have to act quickly to take advantage of this promotion!
Two More Free Stocks - Funding With $100+
All you need to do to get 2 more free stocks is fund your Webull account with $100 or more on your initial deposit. The free stocks will be worth between $8 and $1,600 each. You must fund your account within 30 days of account opening.
The free stocks will be credited to your account within 5 days of being claimed. The free stock reward is totally random and it is based on a lottery system.
Webull cautions that stock price fluctuations may alter these value ranges.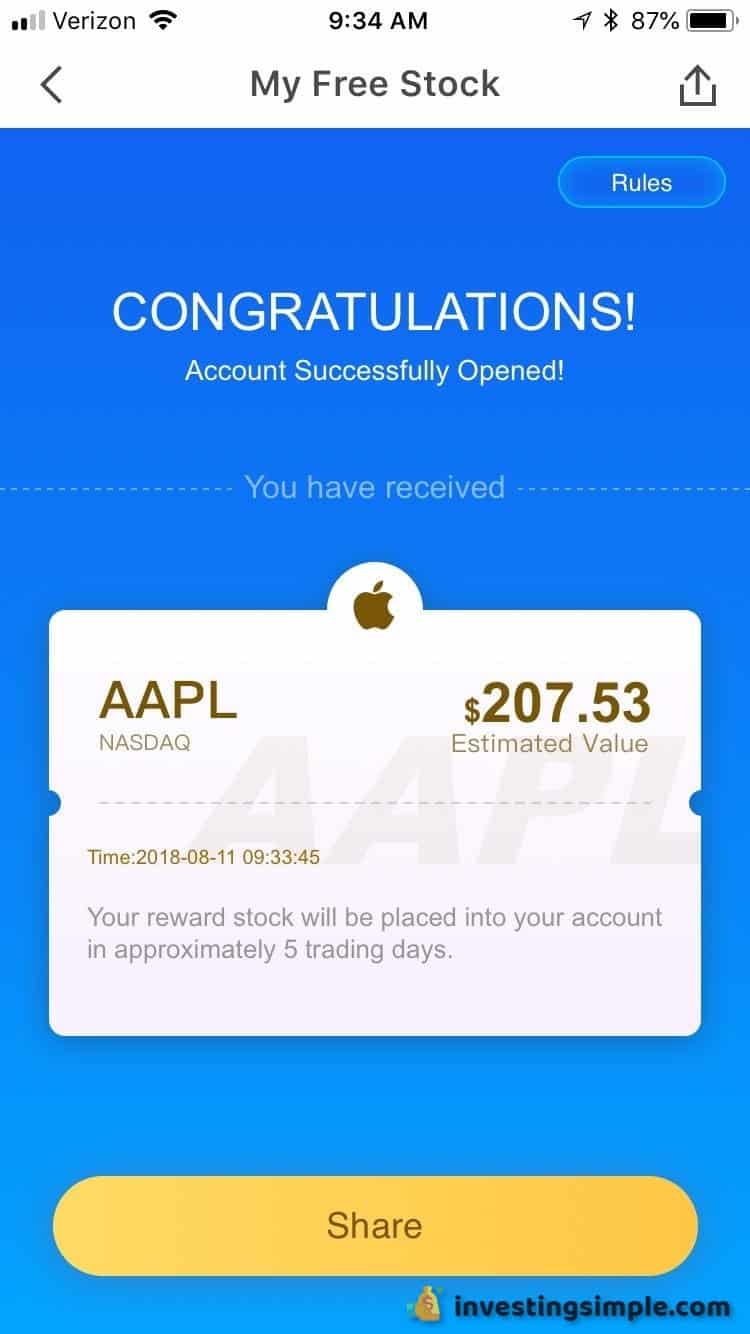 Best Free Stock Promotions
Webull Free Stock Promotion
Here is what you need to know about the Webull free stock promotion, according to the Webull website:
During the activity, customers will only get 4 free stocks for opening their first brokerage account with Webull Financial LLC. The price of the stocks can fluctuate based on market movements.
The Reward Program Inventory is composed of stocks with a minimum market capitalization of $2.5 billion and is listed on either the NYSE-listed or NASDAQ-listed markets. The current program inventory is composed of widely held, recognized brand names and consumer & service-related industries.
The Deposit Bonus Promotion is only applicable for Webull cash and margin accounts. Any other accounts (such as Webull IRAs) are not qualified for this.
Webull purchased the shares above the promised $8 - $1600 valuation, however it is possible that the stock prices decrease between when they buy them and when you receive the stock.
Click Here To Get Your Free Stock From Webull!
What Are The Odds?
As mentioned earlier, the free stock promotion is based on a lottery system. Here are the official odds for this:
Free Stock Odds ($8 To $1,600)
Value of $8 to $30: 1 in 1.02
A value of $30 to $100: 1 in 52.63
Value of $100 to $200: 1 in 1,111.1 
A value of $1,000 to $1,600: 1 in 10,000
As I am sure you guessed, odds are that you will end up getting a lower value stock. However, there is still a chance of getting a high value stock.

Webull Referral Program (More Free Stocks)
Once you open your Webull account, you can refer your friends and earn additional free stocks.
For each new Webull user you invite that funds with $100+ initially, you can receive 3 free stocks valued between $8 and $1,600.
Once the new user deposits $100, they will also receive a free stock valued between $8 and $1,600. You both get free stocks!
Invitation Special Earn An Extra 3 Stocks
Users who invite at least 3 new users to the Webull platform, and if they each deposit $100, then you will receive an additional 3 free stocks.
This means the more friends you refer, the higher your odds of getting a free stock valued up to $1,400.
If you refer 3 people to Webull and they deposit $100, then you will receive a total of 9 FREE stocks.
How To Refer Friends To Webull
To refer your friends, once you are in the Webull app go to "my free stock" and check the terms for the invitation bonus.
You can then hit "refer my friends" and Webull will provide a tracking link you can use and give to your friends to sign-up.
Once your friend funds their account with $100, you will receive 3 free stocks and your friend will receive a free stock as well.
Webull Summary Review
Webull is a brokerage company founded in 2018 and located in New York City. The Webull platform is a member of SIPC and FINRA, you can check them out on brokercheck.
Account Types: Individual, Traditional IRA, Roth IRA, Rollover IRA
Trading Fees: Commission-Free trading of stocks and ETFs
Account Minimums: $0
Top Features: Trading Simulator, Desktop/Mobile App, Charting Features, Commission Free Stock/Options Trading, Analyst Ratings, Retirement Accounts, Extended-Hours Trading.
To learn more about Webull, check out our full Webull Review.
Webull is a relatively new brokerage, launching only a few years ago in 2018. However, new brokerages have taken the industry by storm and have reduced fees across the industry. Webull, Robinhood, and M1 Finance are all relatively new brokerages, all with $0 fees for trading.
One of the reasons why Webull shines as a new trading platform is the combination of advanced features with relative ease of use. Webull offers more advanced charting, trading data, and real time quotes when compared to other free platforms such as Robinhood or M1 Finance.
Webull caters to investors who want hands on information to make trades directly on their mobile phone for FREE - Webull has $0 commissions for trading stocks and ETFs.
Why Offer Free Stocks?
You might be wondering what Webull gains from this. Webull is looking to acquire more users and gain market share in the brokerage industry. They are trying to compete with some big players like Robinhood.
It is common for brokerages to offer an incentive to people who sign up for new accounts in order to gain market share and build a user base.
Webull makes money through a few different avenues. One of these avenues is offering paid subscriptions to market quotations. For example, if you wanted access to TST Level-1 you would pay them $4.99 a month or $53.99 a year.
Webull knows that a certain number of users will be interested in their premium service, so it is cost-effective for them to offer free stocks in order to attract new users.
Here's an article on all the ways that Webull is making money.
A lot of people are cautious about this and wonder whether or not Webull is legitimate. We are glad to share that they are 100% safe and just as legitimate as any other brokerage out there. They are looking to acquire new users, and that comes with a large marketing budget.
When Do You Get The Stocks?
After you open your account and it is approved, you have 30 days to claim your free stock. In order to do this, you need to fund the account with $100 or more on your first deposit. After the funds have settled, you will get your free stock. It can take up to 5 business days for the funds to settle.
How Long Is The Promotion For?
Currently, Webull is offering the free stock promotion through February 1st 2021. Though they may end up extending it, there is limited time to receive your free stocks.
So, if you are interested in giving it a shot and seeing what stock you get, feel free to use our link below. As mentioned above, this is an affiliate link.
Keep Reading: