So, you want to start a business.
Maybe you've had enough of the 9 to 5, and want to be your own boss. Perhaps you're driven by a creative vision you can't help but give your best to. Maybe you've been sitting on a really great idea for a long time, waiting for the right moment.
First off, welcome to the world of entrepreneurship! 
It's a lot of hard work, and it's not for everyone. However, if you catch the vision and commit to following through, you could change your life forever.
Most new entrepreneurs quickly become overwhelmed, as they begin to realize just how in deep over their heads they are.
Don't worry, this happens to every entrepreneur at some point in their life.
Thankfully, most of the successful entrepreneurs have written books sharing their thoughts and experiences as they built businesses of all kinds.
To give you a leg up in your business journey, we've compiled what we think are the top 10 business books for beginners.
These books are perfect if you're just starting into the world of entrepreneurship. One thing you'll find from reading through these books is entrepreneurship, business ownership, and wealth all revolve around expanding and changing one's attitudes.
These books helped us expand our mindset, challenge our attitudes, and learn about blind spots that we would have never thought of beforehand.
In no particular order, the top 10 best business books for beginners!
Don't forget to grab your free stock worth up to $200 from Robinhood today!
Limited Time: Robinhood 1% Transfer Bonus
If you transfer an existing brokerage account to Robinhood through December 8th, 2023, you can get an Unlimited 1% Transfer Bonus.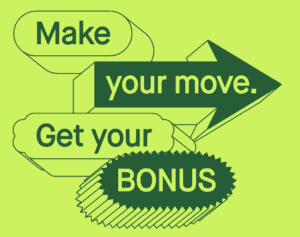 For example, if you transferred a brokerage account worth $50,000 - that would be a bonus of $500.
In addition, Robinhood offers a free stock for new users as well as a 1% IRA match for retirement accounts.
1. The E-Myth by Michael Gerber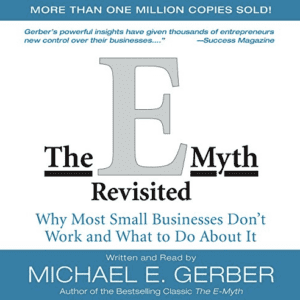 "Why do most small businesses fail, and how can I prevent my business from doing so?"
Michael Gerber takes a deep dive into this question, and his findings show how blindspots can kill budding businesses.
What is the "E-Myth"? In Gerber's words:
The entrepreneurial myth: the myth that most people who start small businesses are entrepreneurs.
The fatal assumption that an individual who understands the technical work of a business can successfully run a business that does technical work.
Michael Gerber is a seasoned thought leader in the business realm, helping hundreds of thousands of companies grow for over 40 years.
In this seminal work, he shows new entrepreneurs the lifespan of a small business, and the three main roles business owners must learn to master and balance between to ensure their business' survival;
Technician
Manager
Entrepreneur
One of the major lessons of this book is how to build systems into your business that aren't dependent on your personal work ethic, talent, or genius.
By building a business structure that works without you, you can work on your business, instead of needing to work in your business.
The E Myth will help you avoid what could be years of time, and thousands of dollars worth of potential headaches by showing you exactly what your business needs at each stage of its lifespan.
The best part? Gerber has written over 20 different versions of the E Myth, tailored specifically to different business models and sectors!
Check the price of The E Myth on Amazon Here!
2. From Side Hustle To Main Hustle To Millionaire by Ryan Scribner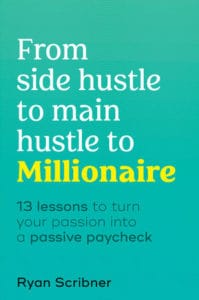 These days, most businesses out there start off as a side hustle - something you do alongside your current job or business.
However, starting a side hustle isn't as simple as it may seem. That's because a side hustle is truly a "mini-business."
Ryan quit his job in 2017 in pursuit of freedom and better opportunities. From there, he launched his YouTube channel and created multiple digital income streams for himself. This, among other things, led to him becoming a millionaire.
In his book, Ryan shares tactical strategies for building your side hustle, but also hedging and diversifying both your business and your personal wealth.
If you want to start a side hustle and actually take it seriously, this is the book for you.
Check the price of From Side Hustle To Main Hustle To Millionaire on Amazon Here!
3. The 22 Immutable Laws Of Marketing, by Al Ries and Jack Trout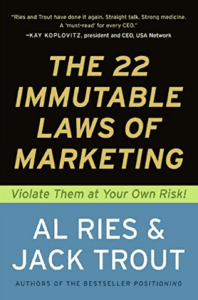 Would you build a rocket, expecting to sell it to the highest bidder, without first learning about rocket science?
Al Ries and Jack Trout have written an in-depth guide to an only slightly less cryptic topic in The 22 Immutable Laws of Marketing.
Marketing, like human psychology, is used in everything. Every part of your business in some way is affected by marketing.
The 22 Immutable Laws go through several hard principles about marketing that help define good business ideas against weak ideas very quickly.
It reveals to you how customers think about brands and products, and how you can position your brand into the best place for growth.
From the law of perception to the law of acceleration, after reading 22 Immutable Laws, you will know intuitively what not to do when facing the myriad choices you must when developing your brands, products, advertising campaigns, and even networking.
Marketing is everything. If this is the only book you ever read on marketing, it could save your business from some fatal rookie mistake.
Check the price of The 22 Immutable Laws Of Marketing on Amazon Here!
4. Rich Dad Poor Dad, by Robert Kiyosaki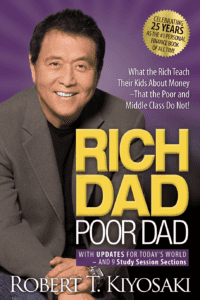 What if you could learn everything about money that rich people already know?
What would your life look like if you had a wealthy father figure who taught you how to manage wealth?
Every culture since the dawn of time has featured rites of initiation, where newcomers undergo the passing of a ceremony to become ready for their new season of life.
Rich Dad Poor Dad is one such example, in self-help book form.
In Rich Dad, Kiyosaki talks about his two father figures, one of which is a hard-working employee, and the other who is a business owner. Through the book, Kiyosaki shows how each father acts in different financial scenarios, through moments of fear and greed.
One of the core principles of Rich Dad is that rich people use their discretional income to buy assets, where poor people use their discretional income to buy liabilities.
Check out our article on Assets vs Liabilities to learn more!
A lot of people have a lot to say about Robert Kiyosaki and this incredibly popular book, but until Rich Dad Poor Dad was written, the public discussion around personal finance was much more unclear.
Rich Dad Poor Dad might seem boring or outdated to some talking heads in the "hustle-sphere", but you should absolutely read it!
By doing so, you will understand which every-day financial choices are wasteful, and how to make sound financial choices in various situations in life.
Check the price of Rich Dad Poor Dad on Amazon Here!
5. How To Win Friends And Influence People, by Dale Carnegie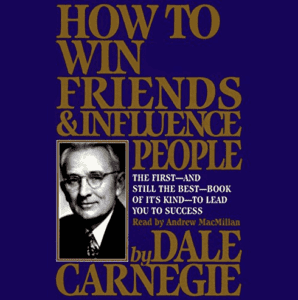 If people skills have been a daunting area for you in the past, this next book can help take the stress out of a lot of hairy situations.
Even if tasks like networking, meetings, and sales come more naturally to you, Dale Carnegie's book shows readers how they can become world-class leaders and how to win in their social lives.
Though this book might seem out of place at first glance, it's actually incredibly relevant to building new businesses. It teaches you how to turn win/lose situations into win/win situations.
Written in 1936, How To Win Friends And Influence People has sold over 20 million copies, and is one of the best-selling books of all time.
Though there are many principles and instructions in this book, a recurring core lesson it teaches is genuine goodwill. That is, if your goodwill is genuine towards the people you're interacting with, and you actually give yourself to care about them, this will produce better outcomes than hoped for.
"If you want people to like you, you must like them first."
By reading through this timeless work, you can learn how to make real friends, as well as how to inspire, motivate, and influence people towards mutual good in and outside the world of business.
In our modern overstimulated and socially isolated world, marketers everywhere are trying nearly anything to cut through the white noise of the internet, and reach their consumers as effectively as possible.
Carnegie's principles are more valuable now than ever, especially for entrepreneurs who are just starting to figure things out.
Check the price of How To Win Friends And Influence People on Amazon Here!
6. The Hard Thing About Hard Things, by Ben Horowitz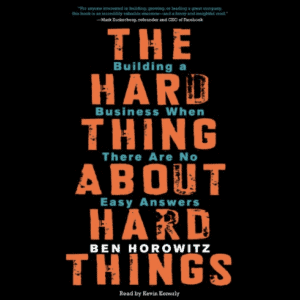 Imagine this: You've made it. Your entrepreneurial dreams have all turned out successful... you're running your dream business, but now, the market is melting, and everything you've worked for is on the line.
This is a very real place you could be in 5 years, and as Ben Horowitz writes, there are a lot of hard things that need to be done without any easy answers.
Ben Horowitz has founded several tech companies, like Loudcloud in 1999, one of the first cloud service providers, and Andreessen Horowitz.
Ben has faced many hard trials managing his businesses, including the dot com bubble.
The Hard Thing About Hard Things is a guidebook for entrepreneurs who are facing hard times in their business.
While it's one thing to correctly navigate towards booming success, it's entirely another to learn how to correctly navigate periods of great danger.
Whether it's facing the choice of firing a friend, managing your mental health when everything around you is "on fire",  dealing with bad employees, or even making the decision to sell your business, Ben Horowitz' experiences bleed through, and can help you make sober decisions with your enterprise when it's do or die.
This book is a great read for any budding entrepreneur. Business ownership can be one of the most stressful lifestyles to adopt, and Horowitz shows you how to deal with this well.
Check the price of The Hard Thing About Hard Things on Amazon Here!
7. The 7 Habits of Highly Effective People, by Steven R. Covey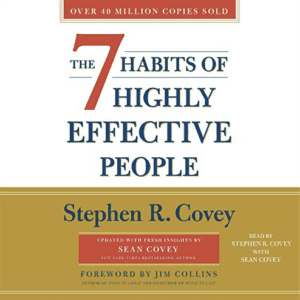 Why do we spend so much time on things that don't align with what we want?
Most people want good things for themselves; success in their work life, a wholesome family, and being able to make ends meet while having fun. These are all great goals, but most often, the things we do, including our daily habits, aren't congruent with the same caliber of lifestyle we say we want.
The 7 Habits of Highly Effective People provides an antidote to this problem we all find ourselves facing.
By reading this book and applying it to your lifestyle, your potential for success will skyrocket as a byproduct.
This book is a great read for anyone who has heard of it, but hasn't read it yet. It's one of those "classics" that everyone's heard about, and sounds important, but is often skimmed over.
The information itself is easy to consume, but it's entirely different to investing time in yourself by giving your attention to what this book can offer. If nothing else, by reading this book, you will gain experiential knowledge of the worth of investing in yourself, in real-time.
You'll never know what's on the other side of really taking time to get your act together.
Check the price of The 7 Habits Of Highly Effective People on Amazon Here!
8. 12 Months To $1 Million, by Ryan Daniel Moran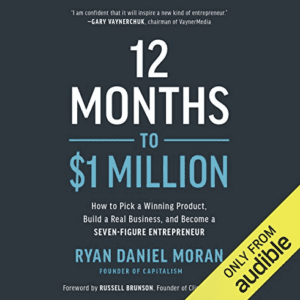 If we told you it was possible for you to become a millionaire in just 12 months, would you believe that it's actually possible?
Sometimes you just need everything laid out for you, step by step. Well, if you're getting into the world of business ownership, 12 Months To $1 Million shows you exactly how to go from zero to millionaire, in (you guessed it), just one year.
This book provides you a blueprint for a business that can scale into seven figures. If you follow its instructions for a year, you'll not only have the know-how of what it takes to grow a brand and scale up, but you'll know how to repeat this process to generate multiple income streams as desired.
The idea behind this business plan is simple: If you have a line of 4 products that cost around $30, and make an average of 100 sales per day, you have a business that will generate $1 million USD revenue per year.
Through the book, Ryan takes you through the three stages of your business:
First 4 months where you identify a solid product to sell.
Next 4 months where you learn to build a marketing system to grow your business to 25 sales a day.
Last 4 months establishing new products to help fill out your sales to 100 per day.
Ryan Daniel Moran is the founder of Capitalism.com, and has built a business that "helps entrepreneurs build 7-figure businesses they can sell."
12 Months To $1 Million is a great read for anyone who feels like they have a good idea for a physical product brand, but are looking for clarity on exactly what to do with it.
This book also shows how it's possible for anyone to have big success in business, without needing to spend 40 years to build it.
Check the price of 12 Months To $1 Million on Amazon Here!
9. Zero to One, by Peter Thiel and Blake Masters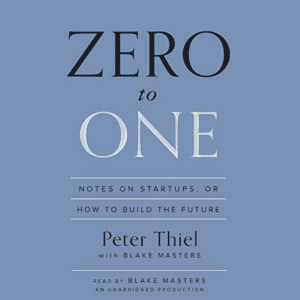 What if you had the thoughts of an incredibly disruptive modern billionaire, on the topic of building new startups?
Zero to One is a collection of lectures by Peter Thiel, compiled by himself and his student, Blake Masters.
Peter Thiel is a contrarian billionaire who cofounded companies PayPal and Palantir, and has invested in several ventures, including Facebook.
Zero to One teaches entrepreneurs how to think about the future, and how to approach building new startups for lasting success.
Its title principle, learning to go from "Zero to One", talks about the act of creation itself; making something (1) new, from nothing (0).
Thiel isn't talking about making something derivative, like an off-brand generic soda, but instead, making something that's actually new - the future. The book asserts that innovation is one of the most important signals for future success.
While Zero to One includes several entries that are a bit more philosophical, it also contains lectures that provide keen insights into positioning your startup for success in the digital world.
A major idea in the book is that monopolies solve the problems that competition creates for a business' revenue. By building a company that has the qualities of a monopoly, you can limit your exposure to competitors, ensure steady future returns, and create a future spent investing in additional income streams.
This book is a great read for anyone who feels like they have their basics covered, and wants to take their business journey to the next level, no matter the cost.
Check the price of Zero To One on Amazon Here!
10. Think and Grow Rich by Napoleon Hill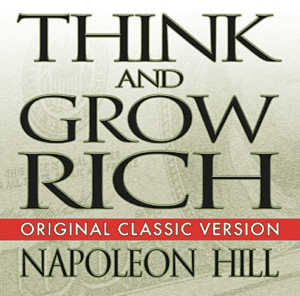 If someone's mind is ruled by fear, self-doubt, cynicism, and bad habits, how likely is it they will become wealthy and successful? Probably not too likely.
However, if someone replaced their negative thought patterns with encouragement, accountability, goals, and persistence, it seems more likely that that person could become successful on accident!
Another foundational work everyone can learn from, Think and Grow Rich by Napoleon Hill was published in 1937 after the Great Depression. It asserts that one's thoughts are extremely powerful and that when harnessed correctly, can be used to create wealth and good fortune.
While this can come across like all the buzzwords from every online guru in the same place, Think and Grow Rich has influenced multiple generations of successful entrepreneurs. You've likely already heard principles from this book paraphrased through third-hand sources during your self-development journey.
Napoleon's work teaches how to transmute your thoughts into tangible riches, but it also wrestles with many human themes like lifelong dreams, sexual drive and productivity, fear of poverty, and the fear of death.
Though it may seem laden with more spiritual concepts, the book includes pragmatic formulas for its readers to work through, including visualization, daily affirmations, creating a productive social circle, goal planning, and more.
Think and Grow Rich is great for any beginner in the world of business, because it teaches you how to win from nothing.
Check the price of Think And Grow Rich on Amazon Here!
One Last Thing: Don't Make This Mistake
Time is our most valuable resource, because we cannot trade anything to gain more time.
While studying, investing in yourself, and starting your new business venture, it can be easy to lose sight of the forest through the trees. There's a lot of exciting moments, endless tasks to get through, and a real amount of stress and fear - usually of personal failure.
A common reaction to trying out something unknown is to devote weeks or months solely focused on studying every aspect you can about your new project, without actually starting any of the real work involved.
This is a big mistake! Unless you're beginning inside a highly technical field, even then you should start taking steps and risks to building your business now.
Read a few books, but then get going on something!