If cryptocurrency truly is the money of the future, it's about time we dive into one of the most well-known purveyors of the asset, Robinhood.
Though known for its free stock trades, Robinhood also allows its users to buy and sell cryptocurrency. Robinhood allows its users to place orders for over 17 cryptocurrencies. This gives users great access to the most popular coins but could be leaving some options off the table.
Robinhood gained its popularity as a brokerage account when it became one of the first to waive commissions on trades for stocks and ETFs. Recently, it has even introduced fractional shares to make its offering even more advantageous to young investors.
Both of these features are available with Robinhood Crypto. Investors can purchase fractional coins without fees with the one and only, Robinhood!
In this full Robinhood crypto review, we are going to examine what makes Robinhood Crypto stand out from the crowd and why you might want to give it a try!
Pricing
Ease of Use
Transferability Of Coins
Availability Of Cryptocurrencies
Summary
Robinhood shocked the investing world when it opened the floodgates and allowed average individuals to trade stocks without commissions. It has done a very similar move when it launched Robinhood Crypto, a cryptocurrency exchange outlet where users can buy and sell cryptocurrencies without fees and trade 24/7.
This platform is a fantastic option for those just starting out and are just looking to purchase the main cryptocurrencies. This is not a great option for those who are looking to transfer their coins in and out of the app, as this is not possible.
Pros
Commission-Free purchases
24/7 trading
7 main cryptocurrencies available
Available in 46 states
Fractional coins
Cons
Unable to transfer coins into or out of platform. Liquidation is necessary to move assets
10 cryptocurrencies are viewable but not tradeable
Robinhood Crypto Review: Platform Highlights
Purchase 18 different popular cryptocurrencies including Bitcoin and Dogecoin
Track real-time price quotes on additional cryptos
There are no commissions to buy and sell crypto on the platform
You are able to buy fractional coins
Trade cryptos 24/7 on the platform, the markets are never closed
Robinhood Crypto is separate from Robinhood Financial and you technically have two separate accounts
Funds do not need to settle in your account before making a crypto purchase
Robinhood holds the majority of their crypto in cold storage and carries insurance to protect in case of theft
Crypto Wallets are also available through Robinhood
Robinhood will be keeping track of your cost basis and reporting any gains to the IRS
Crypto is not FDIC or SIPC insured
Robinhood Crypto is available in 48 of the 50 states
Best Free Stock Promotions
What Is Crypto?
For those of you that are less familiar with the term cryptocurrency, allow me to explain. A cryptocurrency is a virtual form of money that is not issued by a central authority like a government.
Instead, cryptocurrencies are secured by cryptography and are run on decentralized networks utilizing blockchain technologies. Cryptocurrencies are unique because they are almost impossible to counterfeit.
That's because there are many different nodes in the network keeping track of transactions. In order to forge a transaction, you'd need to trick a majority of the nodes, and with a network as wide as Bitcoin currently has, that would be quite an impressive feat.
Coins can be sent directly to another individual or business and used as payment for goods or services. One upside is that these transfers are done without those pesky processing fees that retailers often mourn.
Robinhood's Take On Cryptocurrency
Robinhood opened up the world of digital currencies to average investors through Robinhood Crypto. For many Robinhood users, before Robinhood Crypto came about, they had no idea where they could buy cryptocurrencies.
Cryptos Supported On Robinhood
In February of 2018, Robinhood began allowing its users to trade two of the most popular cryptocurrencies Bitcoin and Ethereum.
Since its launch, Robinhood crypto has added a number of new coins to its platform. Today, investors can trade 15+ cryptos including Bitcoin, Bitcoin SV, Bitcoin Cash, Ethereum, Ethereum Classic, DogeCoin, Shiba Inu, Polygon, Cardano, and more.
The company is also actively adding new cryptocurrencies to its platform, so be on the lookout.
Availability And Commissions
Robinhood offers 24/7, commission-free trading. This means that no matter what, you can buy and sell cryptocurrencies without paying fees to Robinhood. Unlike stocks, cryptocurrencies aren't regulated or brokered through an exchange, meaning trading can happen at all hours of the day and every day of the week.
Robinhood Crypto, due to the speculative nature, is not available in all states, though the company claims it is striving to be open for business in all 50 states as soon as possible.
It is currently unavailable in Hawaii and Nevada.
Robinhood Crypto Interface
Like its stock market investing approach, Robinhood has tried to keep things very simple.
This includes the interface for its crypto investing. For new investors and crypto shoppers, this is a huge advantage. Learning without being overcome with analysis paralysis is great if you are just starting out.
Since Robinhood Crypto is housed on the same app as Robinhood's stock investments, you'll have to gain access to the crypto investing portion of the app.
To do this, you simply enter the cryptocurrency you are interested in purchasing into the search bar and you're off. You'll notice the interface changes completely from a rather simple and non-creative design for stocks to a very edgy look for cryptocurrencies. At this point you can very simply click 'Buy' and enter the dollar amount you are interested in buying.
This is a great benefit because you can manage all of your financial assets in one place.
Keep in mind that Robinhood Financial and Robinhood Crypto are separate entities. This means that if you own both stocks and cryptos on Robinhood, they are kept in separate accounts. Your stocks and ETFs will have additional protections including SIPC insurance, while your cryptos will not.
Instant Deposits
Robinhood supports immediate access to $1,000 of deposits. This is increased to $5,000 for Robinhood Gold users. Below is a sliding scale for instant deposit amounts grow as your account grows.
$50k instant deposit limit if your portfolio value is over $50k
$25k if your portfolio value is over $25k
$10k if your portfolio value is over $10k
$5k for every other Gold user
On Robinhood Crypto, you have access to your full deposit immediately.
This means that you no longer have to wait 3-5 business days for your cash to settle and can instead start trading right away. This is a big plus for many crypto traders who aim to take advantage of short-term price swings and need to be able to move quickly.
Market Orders
Robinhood Crypto currently supports market and limit orders. These function in the same way as they would for normal stock transactions. A market order is the simplest form of order. It simply is communicating that you wish to buy a specific asset at the next available price.
For the safety of investors, Robinhood places a collar on all market orders for crypto. Without a collar, if there were a dramatic price swing as you are trying to invest, you may end up paying a price significantly higher than you were expecting. The collar used by Robinhood is 1% for buys and 5% for sells.
This means if you put in a market order to buy Bitcoin for $30,000 and the price shoots up to $31,000, your order would not execute until the price dipped back under $30,300. In most cases, this won't trigger because the price typically doesn't move by more than 1% within the span of a couple of seconds. However, this is something that has happened in the past so it's reassuring to have that additional safeguard in place.
Limit Orders
A limit order to buy on the other hand, provides some security in that your account will only trigger a purchase if the price falls to or below a specified price. This protects you from paying too much when you put in a market order and the price suddenly rises before your trade executes.
Recognize, however, that just because you have submitted a limit order, it does not mean that it will execute. Your limit buy order will only execute if the cryptocurrency meets or falls below your limit price, and your limit sell order will only execute if the cryptocurrency meets or goes above your limit price.
Due to the volatile nature of cryptos, it may be wise to use limit orders if you are worried about a large price swing causing you to pay significantly more than you had planned.
Protection
Robinhood Crypto is a completely separate business entity from the brokerage account and savings account. The brokerage account is covered by SIPC insurance. The cash management account is covered under FDIC insurance. There is no federal insurance in place to protect cryptocurrencies.
"Cryptocurrencies are not covered by either FDIC or SIPC insurance. Legislative and regulatory changes or actions at the state, federal, or international level may adversely affect the use, transfer, exchange, and value of cryptocurrency." - Robinhood Crypto Risk Disclosure
In order to keep crypto safe, most of it is stored in cold storage which is inaccessible unless you have access to the physical storage devices. Only a small amount is kept in online storage to support day-to-day transactions. Robinhood also carries crime insurance that protects a portion of the assets against losses from theft, including cybersecurity breaches.
That being said, there is still the potential for the loss of your crypto and this is not protected by the government.
Fractional Coins
Similar to investing in the stock market, Robinhood supports fractional coins. This means that instead of purchasing the entire coin, you can type in a dollar amount and elect to purchase only that amount.
This is a great option for those wanting to dip their feet in the cryptocurrency waters without risking a large amount of dough. Plus, with Bitcoin trading upwards of $50,000 per coin, it would become out of reach for many smaller investors.
Recognize that purchasing fractional coins does not necessarily reduce your overall risk as an investor in cryptocurrency (or stocks for that matter). You will be affected by price reductions and price increases equally no matter how much you own. This, however, changes depending on your level of diversification. This is the key to building a bulletproof financial portfolio.
The more diversified your portfolio, the less impactful large swings become to your overall financial picture. This means instead of putting all of your money into one asset, using fractional shares to spread it out across a wider variety of investments.
While it's unlikely this limit will apply to many users, you are only able to buy $350,000 of any particular coin in your Robinhood account. Yes, this is a ridiculously high limit for most, but we figure it's still worth mentioning.
Movement Of Coins
With Robinhood's new crypto wallet, moving coins in and out of the platform has become a breeze!
Cashing Out
If you decide that crypto investing is not for you, the process to cash out is rather simple. This is the exact same process that you would follow for cashing out stocks or ETFs. Simply sell the coin(s) within the app and withdraw the funds. Similar to stock investing, you will have to wait 5 business days after selling to withdraw your funds to an external account.
Transferring Coins
Robinhood recently announced the launch of a new feature: crypto wallet. This new wallet will allow users to move their coins with ease. It has also been designed to be simple and highly secure.
Security features include the following: identity verification, multi-factor authentication, and email and phone verification. These safety measures are a huge plus!
To transfer from one platform to another, you will just need to locate the crypto wallet address. Each crypto has a unique wallet address that is specific to the platform. For example, Bitcoin held in Robinhood will have a different wallet address than Bitcoin held in Coinbase.
With the wallet address, it is as simple as copying and pasting the address and clicking send. Check out these examples to execute a transfer either into Robinhood or out:
This wallet is currently available to Robinhood members, but they must enable the wallet to get started with it. The steps to enable the wallet are listed in our complete Robinhood Crypto Wallet guide.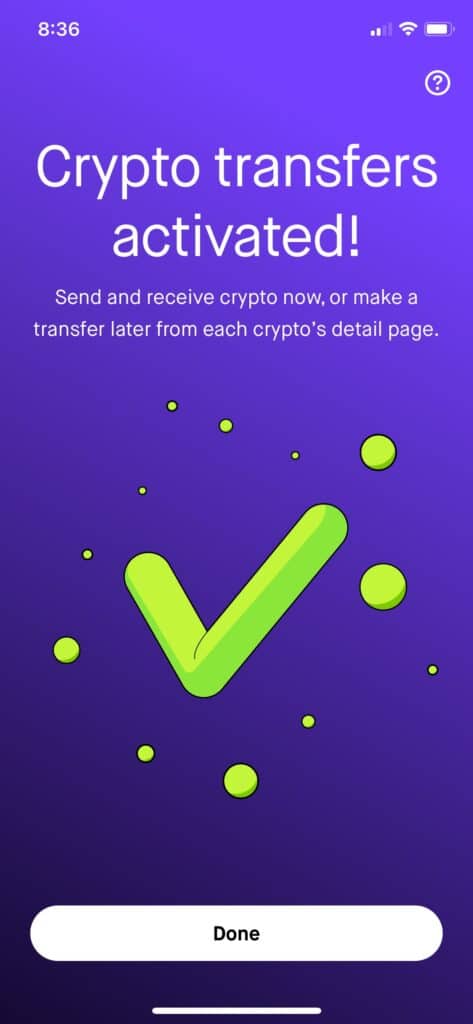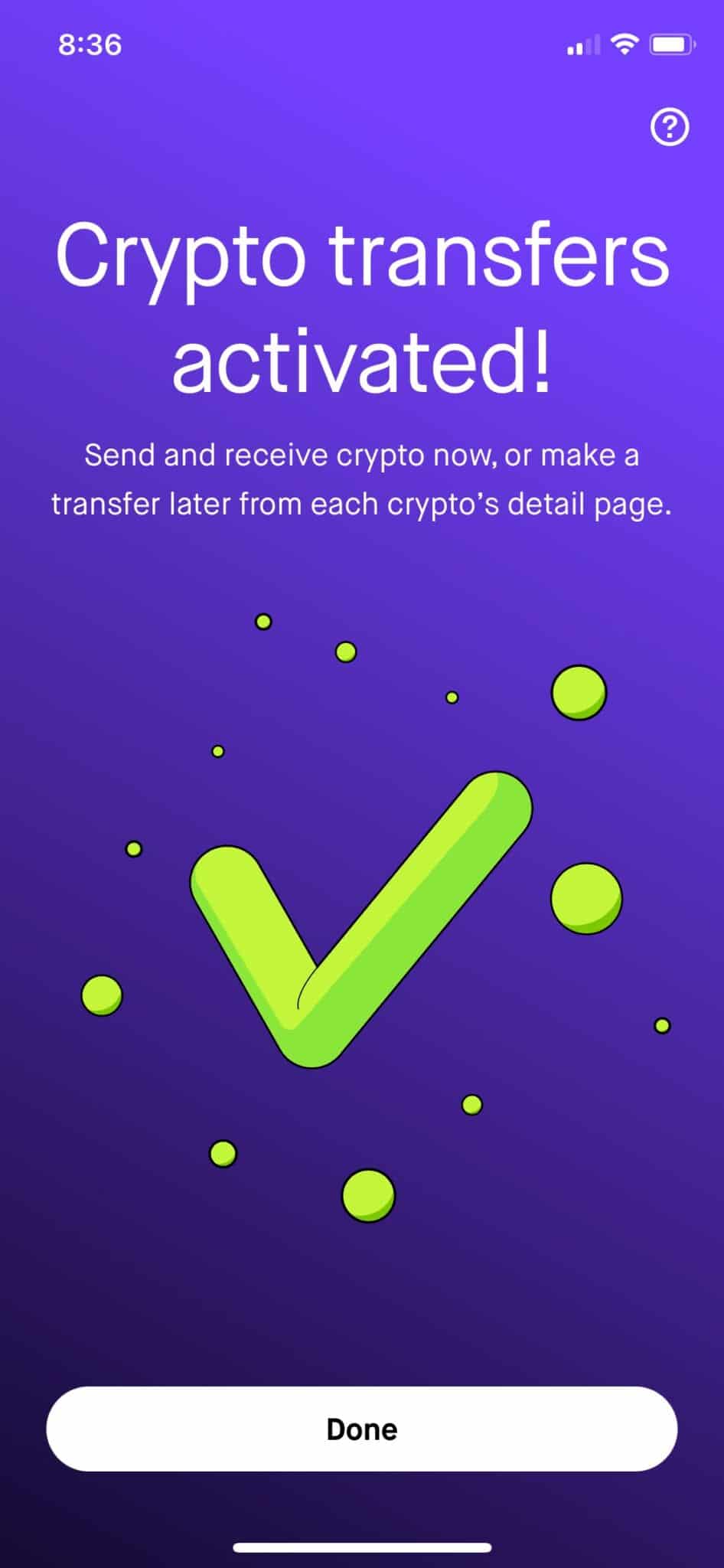 Robinhood Crypto vs. Robinhood Financial
When thinking about purchasing crypto on the Robinhood Crypto platform, it's important to keep in mind that Robinhood Crypto and Robinhood Financial are two separate companies. There are a couple of key implications that this has on Robinhood users.
Robinhood Financial housed your brokerage account and Robinhood Crypto houses your crypto account. This means that if you have a margin account through Robinhood Gold, that only applies to your Robinhood Financial account. You cannot purchase cryptos on margin, nor can you use your cryptos as collateral to increase your buying power on Robinhood Financial. In the eyes of Robinhood, these are two totally separate accounts with two separate companies.
That being said, if your Robinhood Financial account is restricted or suspended, you may also find your Robinhood Crypto account restricted. While it's unlikely you will have your account suspended unless you are engaging in dangerous or illegal behavior, know that they will treat the accounts as separate or as connected when it most benefits them.
Essentially, when it is beneficial to Robinhood to treat these accounts as separate, they will do so. At the same time, when it works to their advantage to treat both accounts as one, they will opt for that treatment. In the grand scheme of things, this shouldn't have a significant impact unless you are trying to take on a significant amount of margin from Robinhood.
Robinhood Crypto Pros
Commission-Free crypto purchases
Easy-to-understand interface for beginners
24/7 trading
15+ main cryptocurrencies available
Available in 46 states
Fractional coins allow for diversification
Do not need to wait for funds to settle before investing
Robinhood Crypto Cons
Low number of coins supported
Crypto is not FDIC or SIPC insured
Summary: Robinhood Crypto Review
In summary, Robinhood takes the cake once more with its sleek platform and unparalleled ease of use. Robinhood is also highly beneficial in its lack of trading fees for both stocks and cryptocurrencies. Fractional coins can also make a big difference in the life of a first-time crypt buyer.
Where Robinhood falls short is in its availability in both states and number of cryptocurrencies. While it is available in all but 2 states, that is quite a bit of people that are unable to participate in Robinhood Crypto. A similar situation is evident when it comes to number of cryptocurrencies available. While you can feel confident that you have access to the most popular coins, experimentation is limited on Robinhood.
Seeing as Robinhood is free to use, this could be a great starting point for first-time crypto investors. Just keep in mind that crypto has no federal insurance as stocks and bonds do. If these factors are not issues for you, then this platform may be exactly what you are looking for.