Cryptocurrency continues to rise in popularity. With a vast number of cryptocurrency apps to choose from, many are left confused about which is best.
For most investors, convenience is one of the top factors when choosing among trading apps. Unfortunately, many of the crypto apps that are available offer the ability to trade crypto only. Thus, if you want to see all of your investments in one place, then you would have to have multiple trading apps.
Robinhood has sought to minimize this nuisance by offering traders a location to trade crypto, regular stocks and ETFs. However, in the past, all crypto holdings were actually held by Robinhood Crypto, LLC.
While this is still an option, Robinhood also offers members access to a crypto wallet. In this article, we are going to provide a quick summary of the Robinhood crypto wallet. But first, let's quickly review Robinhood.
Best Free Stock Promotions
What is Robinhood?


Robinhood, launched in 2013, is a sleek trading app that features commission free trades and a vast number of features. Before 2013, trading stocks and ETFs often came with hefty commissions and fees. Robinhood's mission was to democratize investing and allow everyone an opportunity.
With that mission came commission free trades and fractional shares. In addition to these two features, Robinhood investors also have access to options trading, cryptocurrency, margin, IPO investing, and more.
Currently, Robinhood offers investors the ability to trade 18 cryptocurrencies including Bitcoin, Ethereum, Litecoin, Dogecoin, Bitcoin SV, Bitcoin Cash, and Ethereum Classic. And what's better, these trades can be done commission free just like stocks.
Be sure to check out our full review on Robinhood to learn more!
Robinhood Crypto Wallet
Before the crypto wallet, the process to transfer crypto into or out of Robinhood required selling your position, transferring funds into your bank account, and finally transferring those funds either into Robinhood or the trading app of your choice.
Clearly, this was a cumbersome process. Liquidating your positions also triggers a tax event. When you sell cryptocurrency for a gain, you will be responsible for capital gains taxes. Thus, this method of transferring coins is not ideal.
Robinhood crypto wallets allows investors to move their crypto in or out of Robinhood with a few simple taps. With a wallet, it is easy to send your crypto to other wallet addresses and receive supported cryptocurrencies into your Robinhood account. The beauty of this is that you will be able to consolidate your coins into one account so it's easier to track your portfolio. In Robinhood, you will also experience commission free trades on crypto!
Robinhood is also making additional efforts in regards to safety and simplicity. The wallet has been designed to be intuitive, with security features such as identity verification, multi-factor authentication, and email and phone verification to keep coins safe from hacks and other threats.
Am I Eligible?
When the wallet was first announced, signing up required a waitlist. But earlier in 2022, all eligible members on the waitlist received access. Unfortunately, customers in Hawaii and Nevada are not able to gain access to the wallet due to local regulations.
For those in other states, signing up is quick and easy! Let's take a look at setting up your new wallet.
How To Set Up New Robinhood Crypto Wallet
If you already have a Robinhood account, then signing up for a crypto wallet is easy. The steps to do so are below.
If you do not yet have a Robinhood account, then you can sign up here! Signing up with our link will earn you free stocks! In order to create an account, you need to be at least 18 years old and be a citizen or permanent resident of the United States.
Set Up Your New Wallet
Login to the Robinhood App
Tap the person icon on the far right of the bottom navigation menu
Tap the three bar icon in the top left
A menu will appear. Tap on "Crypto Transfer Limits"
Choose "Activate blockchain transfers"
Tap "I acknowledge" to Robinhood's crypto protection notice
There are 3 steps to complete

Verify your identity by uploading a photo of your passport, driver's license, or other U.S. Government-Issued ID (This step typically take 1-2 minutes to verify after submission)
Set up two-factor authentication by verifying your phone number and email. You will also need to download an authenticator app like Authy. Robinhood will supply you with a key that you will enter into your authenticator app. After submitting the key into the authenticator app, that app will give you a 6 digit alphanumeric code that you will copy and paste back into Robinhood's platform.
Finish setup by activating crypto transfers.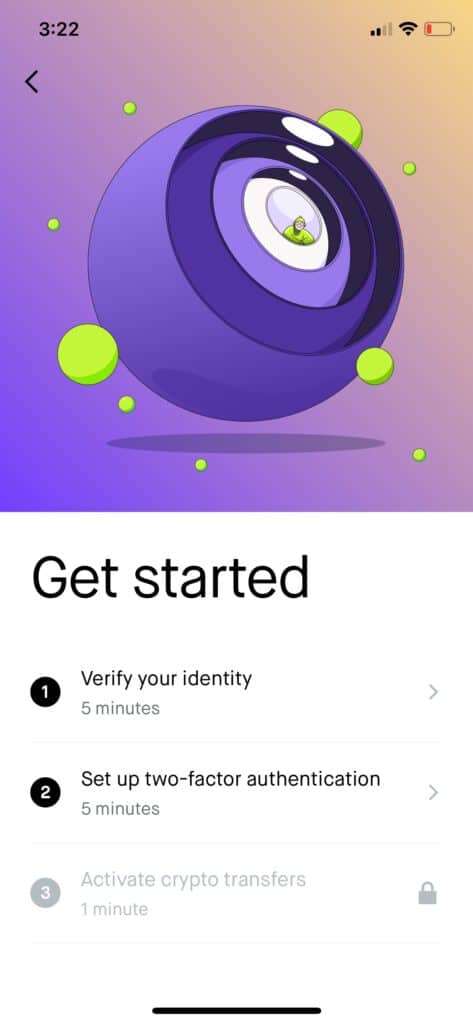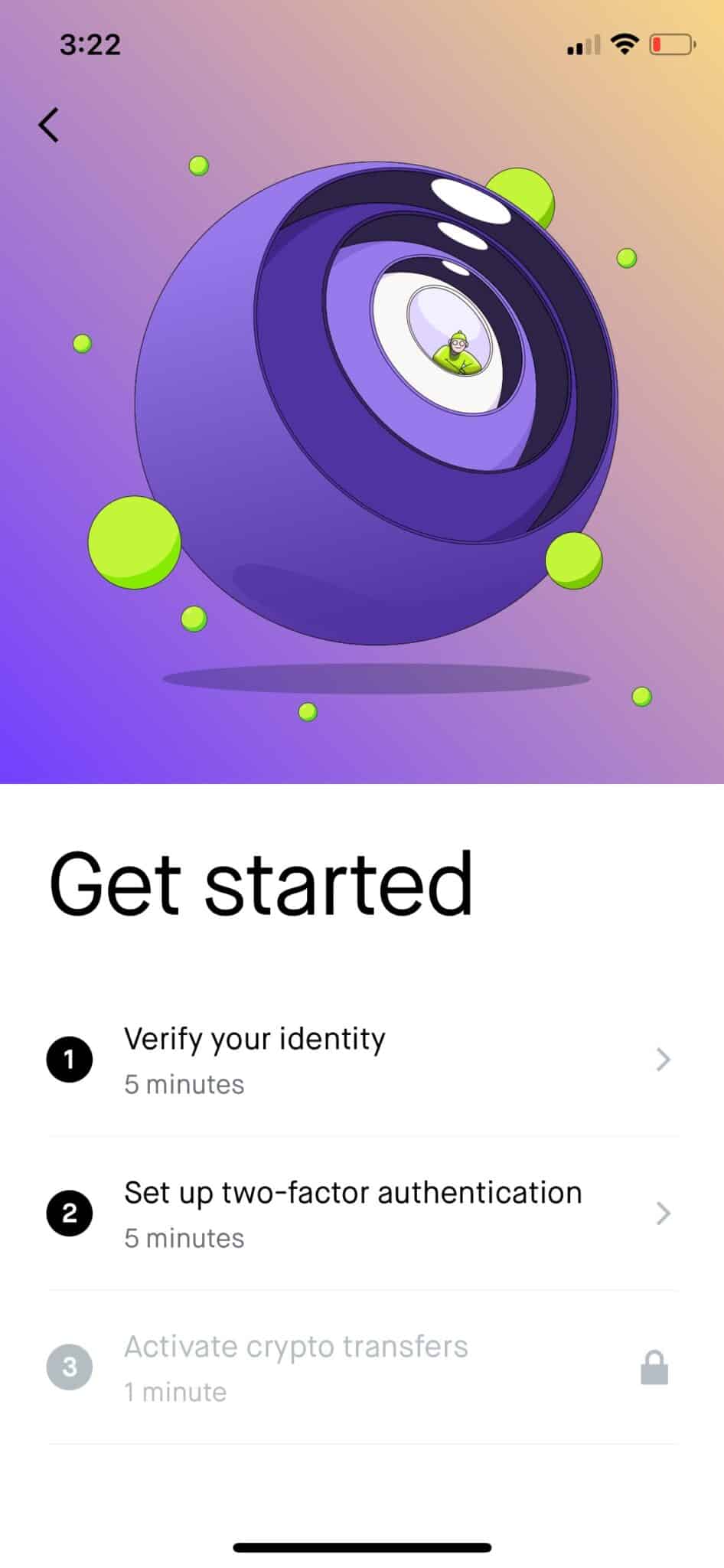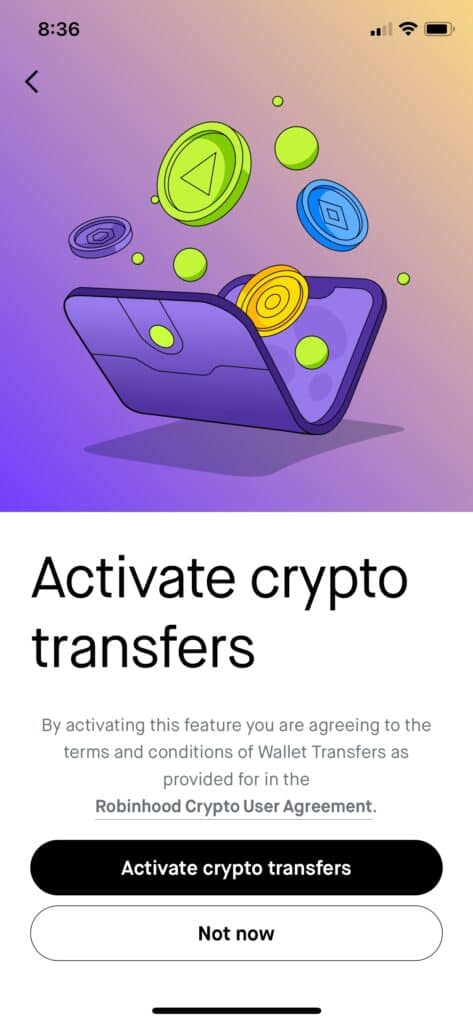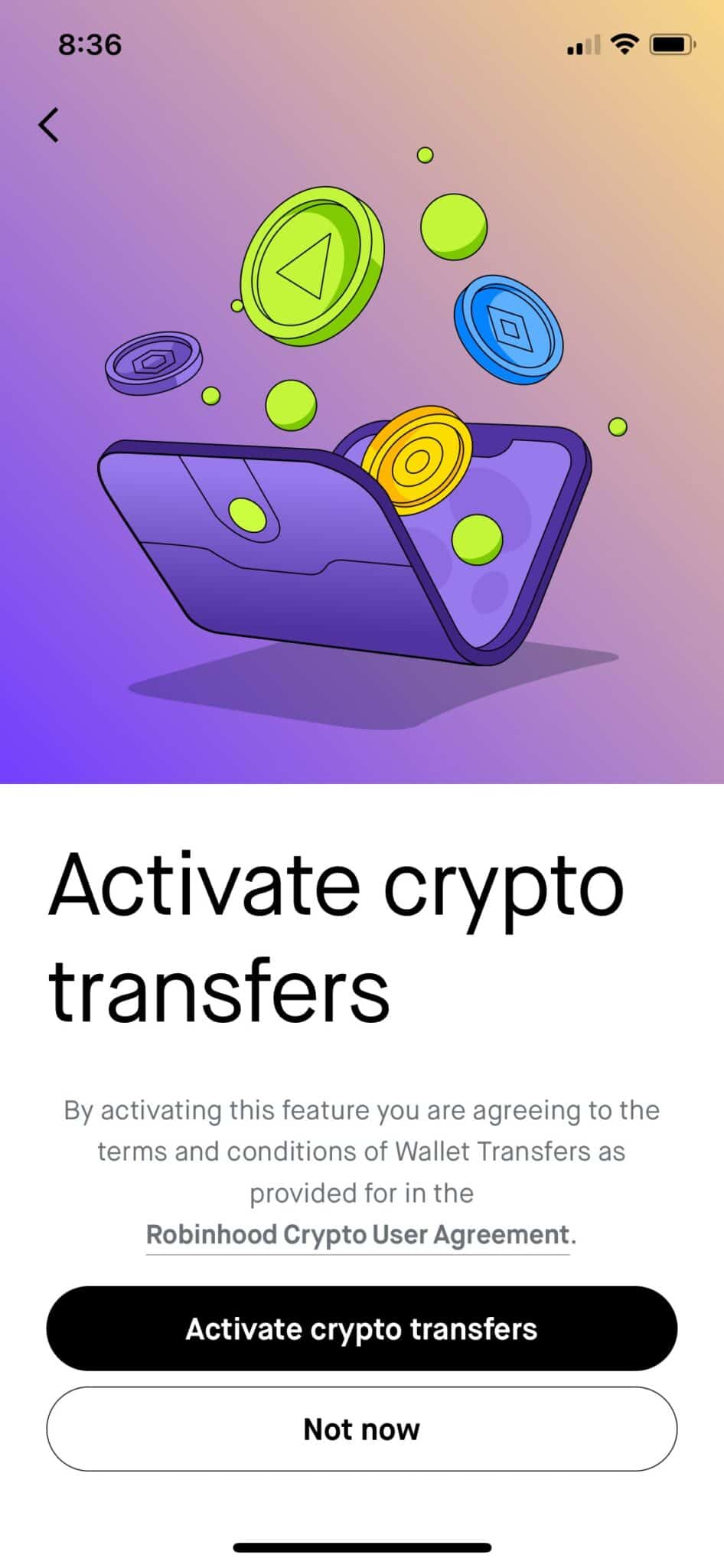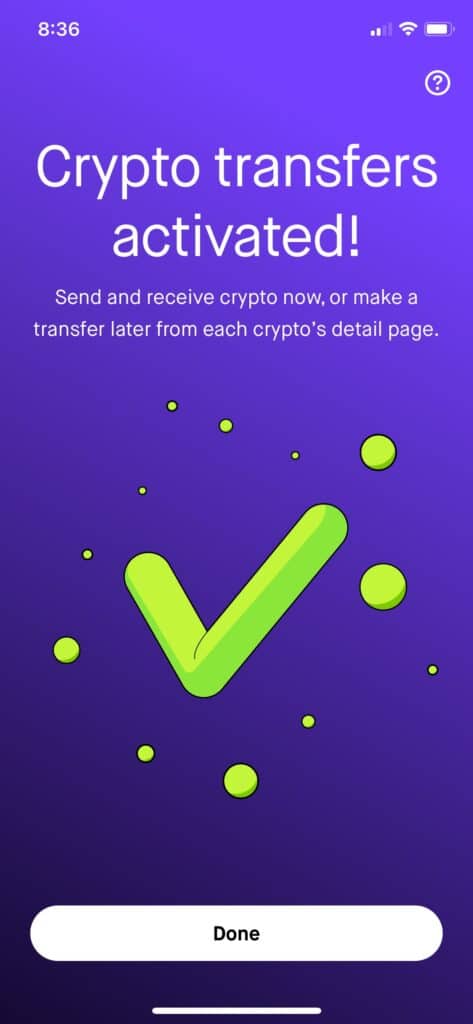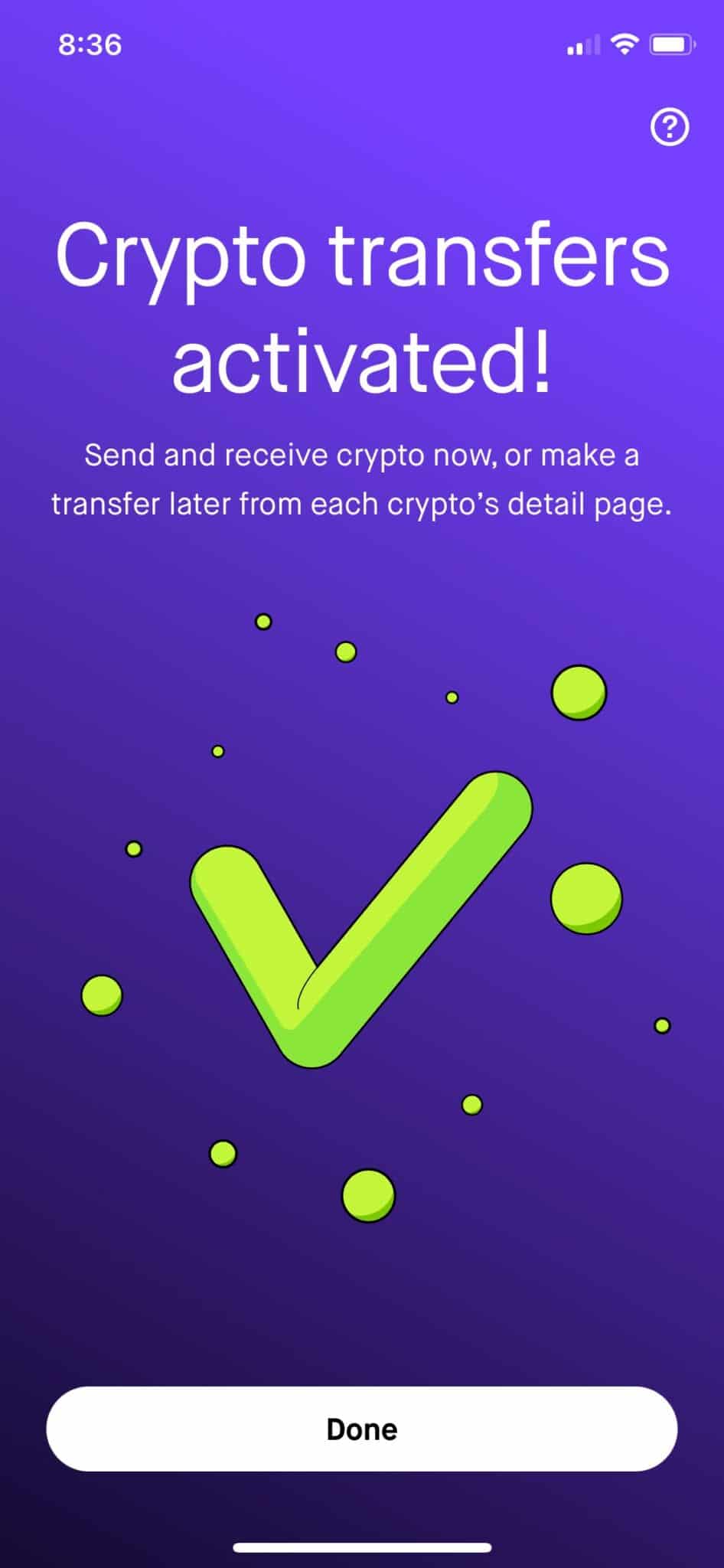 This entire process can be completed in a matter of minutes. Be sure that the photo of your ID is clear - this will ensure a quick setup.
How To Transfer Crypto In or Out of Robinhood
With the wallet set up, transferring crypto in and out of Robinhood is simple.
From the main page in the app, tap on the magnifying glass icon to search for a cryptocurrency. Type in the desired coin and tap on it to open its page. Once there, scroll down and either tap on the "Send" or "Receive" button.
Each crypto within a crypto wallet has a unique address. For instance, Bitcoin in your Robinhood crypto wallet will have a different address than Ethereum in your Robinhood Crypto wallet. This address will be used to send and receive crypto.
When sending or receiving cryptocurrency, you will need to have the other platform readily available. For example, if you are transferring from Coinbase to Robinhood, you will need to paste your Robinhood wallet address into the Coinbase platform to execute the transfer.
Here are two example articles that cover the process in more detail:
Robinhood Crypto Wallet: Final Thoughts
With a wide array of new trading apps, managing your portfolio is becoming ever more difficult. With the new Robinhood crypto wallet, you will now be able to easily manage your crypto holdings with the rest of your investments.
And the best part is there are no commissions! Other crypto trading platforms charge high fees for each and every trade. With Robinhood, your money will go a bit further!
Be sure to check out the new wallet in the Robinhood app!
Don't forget to grab your free stock worth up to $200 from Robinhood today!