Stock options can be a great way for someone to bet on the price movement of a stock. However, options are not an investment strategy suitable for beginners. Options come with high risk and high reward where total loss of your investment is possible. 
That being said, if you are an intermediate-to-advanced trader interested in options, there are several platforms that offer a great options trading experience. However, not all investment platforms give you the ability to invest using stock options for free, and some do not offer options trading at all. 
Robinhood is a popular, commission-free investing app that allows you to trade options free of commissions. This app has provided options trading on its platform since the end of 2017.
In this article, we will cover options trading on the Robinhood platform. We will also cover a bit of basic information about options if you are new to this investment strategy.
Don't forget to grab your free stock worth up to $200 from Robinhood today!
Limited Time: Robinhood 1% Transfer Bonus
If you transfer an existing brokerage account to Robinhood through January 31st 2024, you can get an Unlimited 1% Transfer Bonus.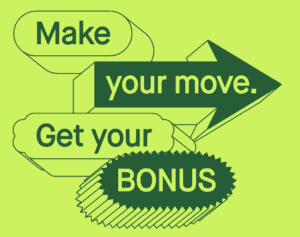 For example, if you transferred a brokerage account worth $50,000 - that would be a bonus of $500.
In addition, Robinhood offers a free stock for new users as well as a 1% IRA match for retirement accounts.
Robinhood Options: The Basics
Robinhood was the first investing platform to debut completely free options to its users.

Before Robinhood, fees could be as high as

$20 for exercising and assignment.

Many brokerages have followed suit and eliminated fees, though many have not.

Trading options with Robinhood is very simple and, like the rest of their platform, is aimed at beginner-level investors.

As a result, you won't find any advanced features or research tools on this app.

Depending on your level of experience, Robinhood will approve you for a specific level of options trading.

Overall, utilizing options trading with Robinhood may be a solid choice if you are new to the world of options.

If you are more seasoned it is unlikely that you will choose Robinhood due to its lack of analytics.

Use the button below to get a free stock!
Pricing

Beginner Friendly

Features

Option Types
Summary
Trading options on Robinhood is decent. It's not the best platform for you to use, but they do offer many features that make it an attractive platform to start trading. The free trading that they provide extends to their options trading as well. You will never have to pay extra fees to complete your trades. They also offer commission-free crypto trading.
The sign-up process is simple. Getting your options trading enabled only requires you to have minimal stock trading experience. When they approve your account, you will be able to begin using some basic options strategies. To access some of the higher-level investment trading strategies, you will have to gain some experience in trading options on their platform.
There are quite a few hoops to jump through to get into the more advanced features.  If you are a beginner in options trading, you probably don't need these advanced features anyway. So using Robinhood to trade options if you are just starting out might be a good entry to options trading.
Pros
Beginner friendly
No fees for trading options
Basic and advanced option orders available
Free stock for signing up
Cons
No advanced data or charting
What is Robinhood?


Robinhood is a commission-free, online investment platform that launched in 2013.
It was the first app built around a completely free trading system. The organization offers free trades on stocks, ETFs, cryptocurrencies, and of course, options.
Since its launch, it has grown to over 13 million users; making it one of the most popular investment platforms to date. From these investors, it is estimated that the company has around $60 billion in assets under management.
The company caters mostly to beginner investors with a lot of features that are tailored to users who have no experience in investing. Since it is aimed at beginners, the platform does lack some tools that more seasoned investors might expect on a stock trading platform. 
Robinhood allows you to invest in over 5,000 stocks listed in U.S. Exchanges and over 650 ADRs (American Depositary Receipts). All of this is available on the free mobile app.
Best Free Stock Promotions
What are Options?
Most sources encourage you to have some investing experience before trying out options. We'll go over the basics so you can make sense of what Robinhood offers.
Options offer investors a different way to take advantage of the stock market other than buying securities outright. They give you the choice, but not the obligation, to buy or sell a security at a predetermined price by a set date.
There are two broad types of options that investors utilize: puts and calls.
There are various subtypes and strategies, but these are the most basic ones so you can get a feel for what they do. 
Puts: When you purchase a put, you are buying the right to sell that security at a set price. Put options are used when an investor believes a security is going to fall in price within a timeframe. 
Calls: Calls give you the right to buy a security at a set price by the contract date. A call is essentially the opposite of a put. Investors may purchase a put when they believe a stock is going to rise in price by a certain date.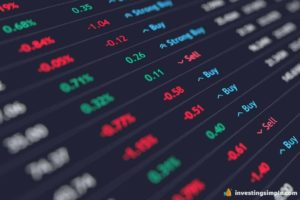 Example
We will use an example of a simple call option to get a clearer understanding of how they work. Most options contracts require a purchase of 100 shares or more. 
For our explanation, let's use a fake stock called XYZ. An investor has been watching XYZ for the past few weeks and the stock has held steady at $150. The investor believes that it is soon going to rise above this amount.
This investor could just purchase shares of the stock at $150 and if the value goes up then they have, of course, an unrealized gain. However, if this investor does not want to risk a large amount of capital on his assumption, he could buy a call option for this stock instead.
An investor could purchase a call option on stock XYZ for $2.00 at a strike price of $150. This means the investor would be in the money (profitable) if the stock rose to $152 or higher. If the price of the stock does not reach a desirable price, the investor does not have to execute the call option. In that case, they would lose the premium. 
While this is an overly simplistic example, options trading can become confusing rather quickly. That is why it is not recommended for beginners!
Options Leverage
Options contracts carry leverage because each contract controls 100 shares of the underlying security. 
For this reason, stock options tend to have more volatile price movements as they control a large number of underlying shares of stock. 
A call option with a $2.00 premium would cost $200. This options contract would control 100 shares of the underlying security. 
Options offer a bit more flexibility in the way of investing that is different from traditional stock trading.
But at the same time, the risks are also magnified.
Options Expiration
Most options traders end up losing 100% of their investment. That is because all options contracts have an expiration date. After this date, the contract expires and can no longer be used.
If you reach the expiration date and are not in the money, the contract will expire worthless and you'll be left with nothing to show for it. It's important to keep this in mind going into any options trading whether on Robinhood or a different platform.
When buying options on Robinhood, you'll be able to select the expiration date for your options. In general, the farther away the expiration date is, the more expensive the options are. This is because there is a higher chance of your contract reaching breakeven if there is more time.
You'll need to weigh the trade-off between the expiration date and the price in any options trades you make on Robinhood.
Features of Robinhood Option Trading
When trading options on Robinhood, you have access to the other well-known features that have made the platform stand out.
In a nutshell, there are no extra costs to trade options on Robinhood.
This means when you trade options on Robinhood, the only costs that you will have are the prices of the contract premiums and standard regulatory fees.
However, if you have experience using options on a different platform, you might find that you are lacking the tools you rely on.
Robinhood does not offer some of the analytics that many options investors like to use. If you are coming from a different platform like Webull, you will see that there is a lot less data for you to use to make your trades.
For this reason, your best bet might be to use an external platform to do your research to plan your trades and then use Robinhood for the execution of those trades.
Options P/L Chart
In addition to free options trades, Robinhood also features a Profit and Loss Chart. When you click 'Trade' on a stock in Robinhood and select 'Trade Options,' you will see the available contracts. When you click on one of the contracts, you will then see the P/L Chart.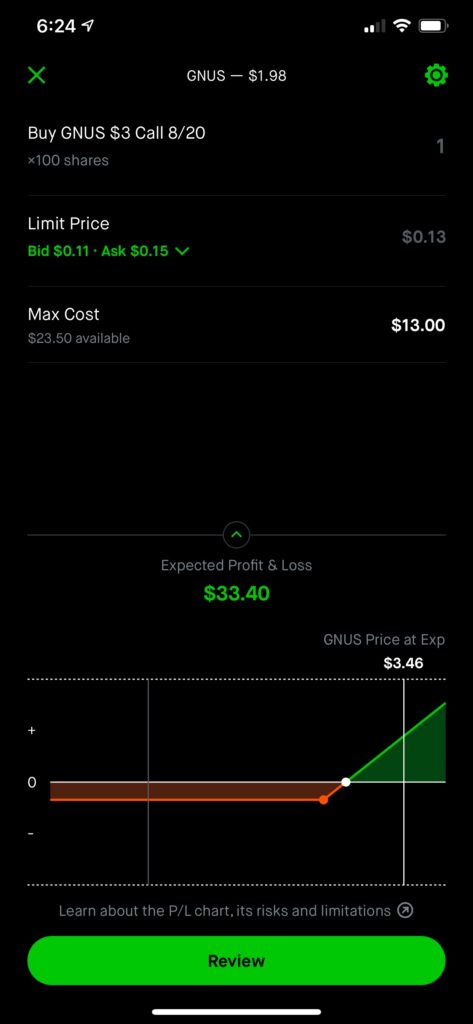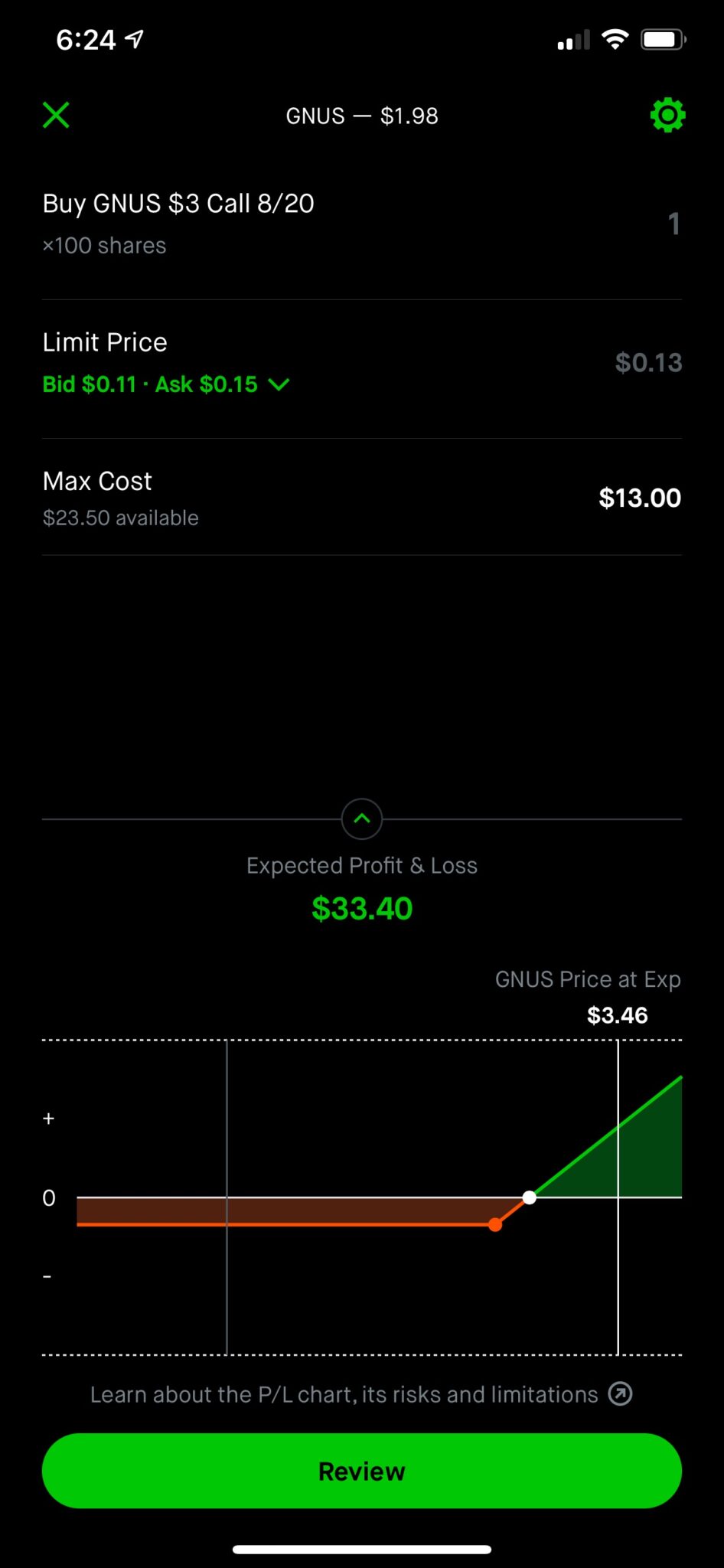 This chart visually represents an option's potential profits or losses at expiration. The horizontal line at '0' indicates the price at expiration. The white dot represents the break even price, or the price at which being above or below represents profit or loss.
Potential profit and loss are indicated by the green and red lines. When buying an option, the maximum loss is the premium paid for the options contract, while the maximum gain is unlimited. The opposite is true when selling an option.
This tool's benefit is simply an easy visual to help you confirm your strategy.
Options Chain and Strategy Builder
Robinhood is a fan favorite for a number of reasons, but one of these reasons is for its educational content. When you tap on a particular stock and choose trade in the bottom right, you will have the option to buy, sell, or trade options. When you select options for the first time, you will be able to go through a short set of educational resources to better understand options. This is what Robinhood calls the Options chain.
Additionally, when you select trade options, the first screen you will see is Robinhood's Strategy Builder. Of course, you can forgo this help resource and choose among the different expiration dates across the top of the screen. With the strategy builder, you can select 1 of 4 choices regarding what you think the stock price will do. From there, you get a few selections about strategies that go well with your prediction about the stock. And finally, you can read a summary about what your selection means.
How to Trade Options with Robinhood
Of course, to trade options with Robinhood, you will first need to create a Robinhood account.
This is a painless process that you can complete in just a few minutes through the mobile app.
To begin trading options with Robinhood, you will need to have stock trading experience before being allowed to start using options on the platform.
To sign up, you will need to go into your account settings and tap on Options Trading.
Robinhood Options Tiers
There are three tiers of options trading available on Robinhood. Depending on your prior experience with trading, you will be approved for Level 1, Level 2, or Level 3 options trading. These tiers determine the type of strategies you are allowed to use depending on your perceived experience.
Level 1 Options Trading - If you are approved for level 1, you will not have access to any options trading. Your account will only be allowed to trade stocks, ETFs, and cryptos.
Level 2 Options Trading - With level 2, you will have access to basic options strategies on Robinhood. This includes long calls, long puts, covered calls, and cash-covered puts.
Level 3 Options Trading - Level 3 gives you access to advanced options trading strategies. This includes credit and debit spreads, iron condors, calendar spreads, and other more sophisticated strategies.
If you are initially approved for level 1 or level 2, you will have to gain further approval from Robinhood to progress to a higher level. They will likely require some additional experience which is intended to protect beginner traders from getting in over their heads.
Once you progress to more advanced strategies, it becomes possible to lose even more money than you initially invested, so make sure to do your research beforehand.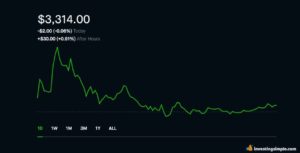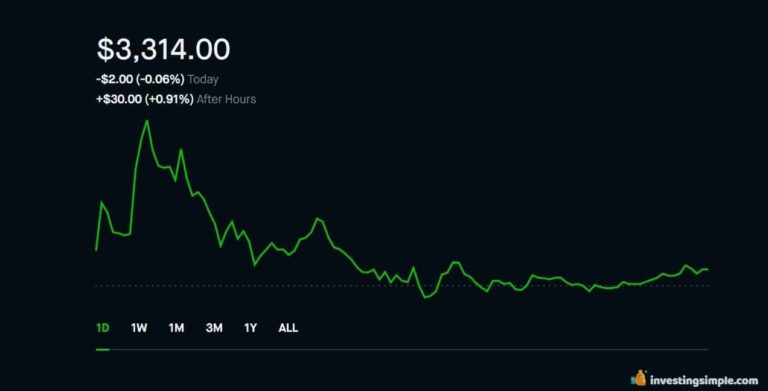 Buying Options Contracts
Once you are approved for either level 2 or level 3 options trading on Robinhood, you can start buying options contracts within your account.
To do this, you will tap the magnifying glass in the top right of your home screen on the mobile app. Then use the search bar to look up the stock you would like to trade options contracts on. 
From there, you will select the stock and tap trade in the lower right corner of the details page. Then select the Trade Options button to begin viewing options.
By default, Robinhood has selected the Buy option to highlight first when you view the options available, but it does allow you to sell them as well.
Trading Options on Robinhood: Final Thoughts
Trading options on Robinhood is a solid choice. It's not the best platform for research and technical analysis, but it does offer many features that make it an attractive platform to start with.
The free trading that it is known for extends to options trading as well, making it even more attractive for beginners. You will never have to pay extra fees in order to get your trades completed. They also offer commission-free crypto trading. 
The sign-up process is simple, though getting level 2 options trading enabled requires you to have some stock trading experience. When Robinhood approves your account, you will be able to use some basic options strategies.
To access the more advanced level 3 options trading strategies, you will have to gain some experience in trading options on their platform.
There are quite a few hoops to jump through to get into the more advanced features. Again, this is to protect the investor from getting in too deep.
If you are a beginner in options trading, you probably don't need these advanced features anyway. So using Robinhood to trade options if you are just starting out might be a good entry point. To get started, click on the link below! 
Keep Reading: