So you've heard of Webull, the commission free stock trading app that is offering new users a number of free stocks when they sign up.
You might have some questions, like is Webull safe? Are the free stocks legit? Is the app any good?
Many online brokerages and investing apps have popped up over the last few years. Some great, others... not so much.
As a result, it has become more and more difficult for investors to decide which one is best for them. Some of them offer great platforms to their users while others being frustrating and unbearable to use.
We first began reviewing Webull in May of 2018. We were actually the first blog to post a review of this app!
Pricing

Data & Charting Tools

Beginner Friendly

Account Types

Sign Up Incentive

Assets
Summary
Overall, Webull has great features for both the fundamental and technical traders/investors. This is not a watered-down app like some of the competitors. This free trading app packs in the features and the data of a full-blown brokerage while maintaining great functionality.
Webull takes steps to protect customer data through encryption, and the additional insurance policy through Apex Clearing is a huge plus.
Pros
100% commission free, including short selling.

Fractional shares.

Free extended hours trading for all users.

Basic order types supported as well as a few advanced ones.

Research data for both fundamental and technical strategies.

Trading simulator to learn the basics and familiarize yourself with the platform.

You can Get A Free Stock up to $1600 when You Deposit $100 when you use the link below.

24/7 chat support.
Free IRA's now available.
Options trading commission free!
Webull Review: Platform Highlights
100% commission free trading.

Webull is our #1 recommendation for active traders, however it might be overwhelming for a complete beginner.

Free short selling.

Commission-free cryptocurrency trading.

Free after-hours/extended hours trading.

Easy access to margin.

They offer a free trading simulator where you can practice with fake money.

Research oriented platform with many advanced features.

Free IRA retirement accounts.
Fractional shares.
Advanced Webull Desktop 4.0 platform that gives traders access to more tools and data
FREE STOCKS! (If you use our link below)
What Is Webull?
Webull is a commission-free stock trading app focused on shorter-term stock traders that launched in May 2018.
After Robinhood paved the way for these commission-free trading platforms, Webull saw an opportunity to offer users a more robust trading app.
They really pick up where Robinhood leaves off in terms of the features and data available to traders. A few examples of these features are dozens of technical indicators, free trading simulator, and helpful data like earnings calendars. 
If you are a complete beginner, Webull might overwhelm you. There is a lot of data available right at your fingertips, and there are a host of tools that you may have never used before.
However, for intermediate to advanced traders, this will be a breath of fresh air. On Webull, you'll likely find many of the features that you have been wishing for on Robinhood.
This makes for an ideal platform for active traders.
Are The Free Stocks Legit?
So, the elephant in the room, is the Webull free stock incentive legit?
I know what your parents told you; no such thing as a free lunch.
Rather than spending money on ads, they offer users a referral bonus. So, when you use our link below, you get free stocks and we earn a small commission.
When we tried the app out ourselves, we got the following stocks:
Ford - F (worth about $9)
Ambev - ABEV (worth about $4)
The free stocks are based on a lottery system, so it could be a lower value stock or it could be higher value. The value of each stock changes based on the promotion they are running.
Best Free Stock Promotions
How To Open A Webull Account
In order to open a brokerage account on Webull, you need to meet the following requirements:
Be 18 years or older.
Have a valid SSN (Social Security Number).
Must have a legal residential address in the U.S. and outlying U.S. territories.
Have a U.S. citizenship, U.S. permanent residency card, or a valid U.S. visa.
Webull Account Types
Individual
Traditional IRA
Roth IRA
Rollover IRA
Webull provides the following platforms: iOS, Android, Mac, Windows, and Web.
Assuming you meet the above requirements, the signup process is a breeze. You will need to include some personal information, like your name, address, and even your SSN. This is because all brokerages are required to verify your identity and report trading activity to the IRS.
But don't worry, all of this data is fully encrypted and never shared.
How Does Webull Make Money?
A lot of people are wondering how webull makes money, and for a good reason!
There are many free trading apps out there these days. We are here to tell you that they are not, in fact, operating a charity or ripping anyone off trying to beat the system.
It seems counterintuitive that the platform is generating profit since they do not charge investors any fees or collect any commissions. If you're scratching your head over this, here are the answers to these perplexing questions.
They offer paid subscriptions if you are looking for real-time global market data.

Webull offers margin accounts, allowing them to earn margin interest.

They can earn interest on all the idle cash held within brokerage accounts.

By directing order flow, they earn fractions of a cent on every trade placed.
Just to be clear, they do not charge any fees or commissions to customers!
Webull Features
Real-Time Data
Webull is most well-known for their data.
In fact, they were initially just an app for investment research before they added the trading feature! Webull offers real-time market data on US markets to all users for free.
You do not need to pay for any subscriptions to get access to real-time US market data. Real-time data is essential when you are using it to make trading decisions. At the blink of an eye, micro-trends can happen that traders are often looking to capitalize on. When price data is delayed in reporting, this could be very costly for an active trader.
Trading Simulator
One of our favorite Webull features is the trading simulator. Investing or trading stocks for the first time can be very nerve-racking, especially if it is with a trading platform that you are not familiar with!
The trading simulator allows you to practice in "sandbox mode" with fake money to hone your skills, familiarize yourself with the trading platform, and understand how each of the different order types of work. Basically, you get $1,000,000 of fake money to invest with. This allows you to practice executing trades without the risk of making mistakes or losing money.
With Webull, you do not need to pay the full price of a stock to invest. On the app, fractional shares allow you to invest in dollar amounts and not whole shares. For example, if you want to invest in Amazon, but can't afford with $3,000+ price tag, you can invest a smaller amount of cash and own a proportional amount of the stock.
Fractional shares do not decrease your exposure to fluctuations in the stock price. However, it does allow you to diversify across other companies and industries.
Commission Free Short Selling
For those who are interested in short-selling, Webull offers this commission-free.
Short sales must take place within a margin account, and you must have a minimum balance of $2,000 to open one with Webull.
In a short sale, you are betting against a stock by borrowing shares with the plan to repurchase them at a later point in time. This is a complicated subject, but you essentially make money when a stock or asset goes down in value. Most free trading platforms do not offer short selling. Webull offers this commission-free within a margin account.
For more information, here's our full article explaining margin trading on Webull.
Extended Trading Hours
The stock market, like any other business out there, has hours of operation.
Those hours are Monday through Friday, 9:30am to 4:00pm EST.
Most trading platforms only allow you to place trades within that window.
Webull offers all users the ability to place trades pre-market and after-market. You can place trades anywhere from 4:00am to 8:00pm EST Monday through Friday. This is especially important if you are trading stock during earnings and want to sell right after the bell, or you want to get in on a stock that is reporting earnings pre-market.
Stock Lending Income Program
Webull's stock lending program allows its clients the opportunity to earn income by lending fully-paid stocks to it. While these shares are owned, Webull will pay you, the client, an interest.
This is calculated as follows:
Daily Interest Earned = Number of Shares on Loan *Stock Price* Annualized Interest Rate / 360 * 15%
The community tab allows other users to share their thoughts, perspectives, and ideas on potential investment opportunities in the market. This can be a great tool for learning from other investors and sharing your thoughts on different investments.
Learning Center
By navigating to the "Help" tab at the top of Webull's official website, there are many educational resources that will help clients learn about different investments. If you're considering pursuing more advanced trading strategies, we recommend doing some thorough research before committing to a trade.
Webull Research Tools
As we stated earlier, the tools Webull provides to their users is one of the elements that sets them apart from many of the other online brokers out there.
Fundamental Data
Fundamental investors study the financial health of a company to make a long term bet. They look at key financial documents like the balance sheet, cash flow statement, and income statements.
They also look at key metrics like earnings per share, PE ratio, and more!
Webull places all of this data at your fingertips. You can view the numbers from the key financial documents as well as see visual graphs of the overall trends. They also offer helpful comparison tools that compare the metrics of one company to another in the same industry.
You will be able to answer questions like:

Is the company beating earnings expectations?

Are profits and revenue increasing?

What are the assets compared to the liabilities?

How does the overall valuation compare to peer companies?

Who are the key executives and what are they up to?
Worldwide Market Data
Webull platform embraces worldwide financial data.
5 Categories: Equites, ETFs, Indices, Forex, Futures.
100+ Exchanges: NASDAQ, NYSE, LSE, HKEX, SGX, NSE, BOM etc.
Some of this data is free, while others come with a monthly subscription.
Here's our full article explaining the real-time quotes offered through Webull.
Advanced Quotes (Paid)
Real-time quote that shows the best bid & offer and gives detailed transaction records. Extremely useful for active traders frequently moving in and out of positions.
Basic Quotes (Free)
Real-time quote that shows the last bid & offer, but not necessarily the "best" ones to fill the client's order.
Financial Calendars
Another useful feature for users is the financial calendar. This calendar shows you important upcoming dates for a company, including dividend payments and earnings reports.
Beyond that, there are also calendars that show what companies are reporting earnings each week as well as what are the up and coming IPOs or initial public offerings.
These allow you to keep up to date on important events that have to power to move the markets. Having all of these events in one centralized location is a big advantage for Webull traders.
Are There Any Fees/Commissions?
All buys and sells on Webull are 100% free, including short selling!
There are fees charged by the SEC and FINRA for each trade.
These fees are charged on every trade across all brokerages. It is important to understand that these fees are passed directly to these regulatory agencies, and Webull does not receive any of the money. You will pay these fees regardless of what brokerage you use.
There is a $0 fee for incoming ACATS stock transfers and $75 fee for outgoing transfers if you want to transfer your stocks to a different brokerage.
Webull Account Types
They currently offer three different account types:
Taxable Account - $0 Minimum
Margin Account - $2,000 Minimum
Retirement Accounts - $0 Minimum
As far as retirement accounts go, there are three different ones to choose from. The first is the Traditional IRA. They also offer the Roth IRA. Finally, they allow rollover IRA's. For example, this could mean rolling over a 401k into a new IRA.
Active traders are subject to high taxes. This is because all of their gains fall under short term capital gains. This is the maximum tax rate you can pay from investment income. By placing trades in a tax sheltered account like a Roth IRA, you can significantly reduce your tax liability or even eliminate it altogether!
Here's our article covering everything you need to know about taxes when investing with Webull.
Customer Service & Paperless Statements
Webull offers 24/7 chat support as well as email support and phone support during market hours.
Another important factor to note is that all communications between you and Webull will be handled electronically. This includes monthly statements as well as year-end tax documents. 
Webull Assets Available
Webull offers stocks, ETFs, options, and crypto trading all commission-free!
Stocks/ETFs: Webull allows you to trade most major exchange listed stocks, ETFs, and ADRs. That being said, you will not find mutual funds, pink sheets, penny stocks, and other OTC stocks are not available for trading.
Margin/Short Selling: Webull offers both margin trading and short selling in margin accounts with a minimum of $2,000.
Options: Webull offers options on its online brokerage platform with 0 commissions, 0 contract fees, and 0 assignments or exercise fees.
Here's our full review of options trading with Webull.
Webull Crypto Trading
Webull recently rolled out cryptocurrency trading on the platform. With a $1 minimum transaction and no fees, this is one of the most accessible ways to invest in cryptocurrencies that is available.
Investors will find a number of cryptos including Bitcoin, Ethereum, and Dogecoin on the platform. In addition, Webull offers instant settlement on Crypto trading which means you are free to immediately buy and sell without having to wait for your funds to settle.
Webull Desktop 4.0
Recently, Webull released a new desktop interface for their users called Webull Desktop 4.0. This interface provides a host of advanced trading features above and beyond what is available on the Webull app and provides for increased customization and flexibility for advanced traders.
Overall, this update is a significant improvement in the realm of commission-free trading. The features that Webull now offers for free makes other free platforms like Robinhood look much less appealing. Even some of the features of paid platforms now pale in comparison to the immersive trading platform that Webull has created.
Here's our full review of Webull Desktop 4.0 after testing it out.
Stock Screener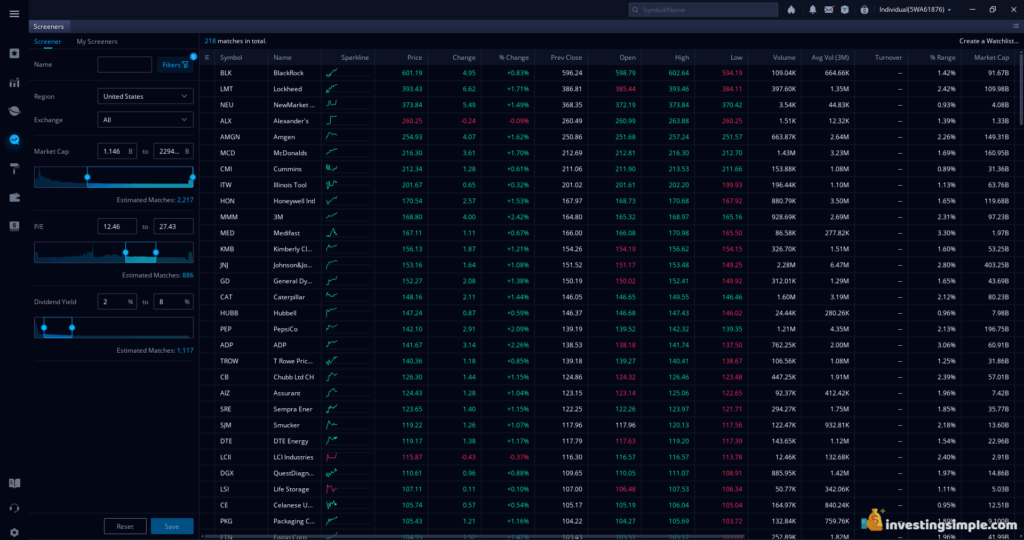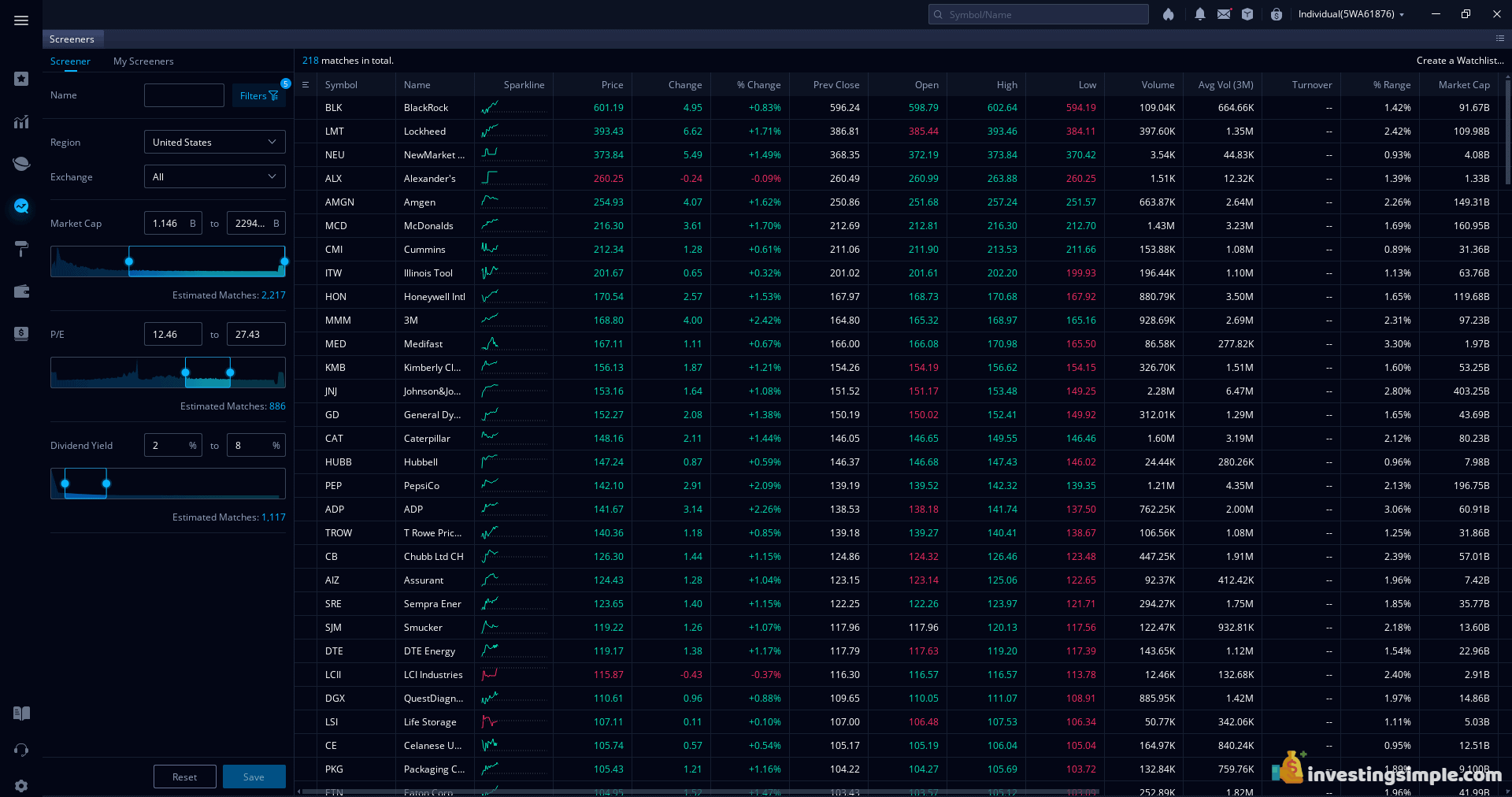 Included in Webull Desktop 4.0 is an advanced stock screener that allows you to quickly filter through thousands of stocks based on dozens of criteria including:
Market Capitalization
% Change
Dividend Yield
Daily Volume
P/E Ratio
Analyst Ratings
Over a dozen others...
By using this tool, you are able to quickly identify stocks that meet your criteria for trading and spot patterns you can capitalize on immediately.
While stock screeners can be found elsewhere, a built-in stock screener is particularly useful for day traders taking advantage of faster price swings. That is one of the biggest draws to the updated version of Webull, how streamlined the trading process is for fast-moving day traders and swing traders.
Is Webull Safe/Legit?
Short answer, yes and yes. Your brokerage account with Webull is covered by SIPC insurance. This type of insurance protects investors up to $500,000 of assets including up to $250,000 cash.
Webull is just as safe as any other brokerage app out there in terms of security measures they have put in place.
This type of insurance does not insure you against potential losses within your account.
Beyond that, investors have additional protection through their clearing firm Apex Clearing. According to the Webull website, the coverage limits provide protection for securities and cash up to a total of $150 million, subject to maximum limits of $37.5 million for any one customer's securities and $900,000 for any one customer's cash. Similar to SIPC protection, this additional insurance does not protect against a loss in the market value of securities.
In the unlikely event that Webull goes out of business, your personal assets are covered.
Your personal information is fully encrypted with Webull and never shared.
In a nutshell, Webull is just as safe as any other broker out there. In fact, the additional insurance offered through Apex Clearing gives investors additional protection above and beyond the SIPC insurance. Your data is not shared with anyone else and is fully encrypted. They do not sell your information to other companies.
Webull Review: The Verdict
Overall, Webull has great features for both the fundamental and technical oriented trader or investor.
The offerings might be a little overwhelming for complete beginners. This is not a watered down app like some of the competitors. This free trading app packs in the features and the data of a full-blown brokerage while maintaining great functionality.
Webull takes steps to protect customer data through encryption, and the additional insurance policy through Apex Clearing is a huge plus. Investors should be comfortable with the paperless business, understanding that they will not be receiving any paper statements or tax forms in the mail.
Webull does offer great customer support, offering 24/7 chat as well as phone support. This is a big advantage over many of the other investing apps out there that decide to skimp on customer support.
The free stock incentive is totally legit. If you use our link below, you can get up to two free stocks just for signing up and depositing any amount.
If you are ready to get started, here's our step-by-step article on how Webull works for beginners.