Are you looking to kickstart your investment journey without spending a dime upfront?
Robinhood, a popular online brokerage platform, offers a free stock promotion that lets you do just that.
Here's a brief overview of how it works.
Keep on reading, or watch our video below on the topic.
Limited Time: Robinhood 1% Transfer Bonus
If you transfer an existing brokerage account to Robinhood through January 31st 2024, you can get an Unlimited 1% Transfer Bonus.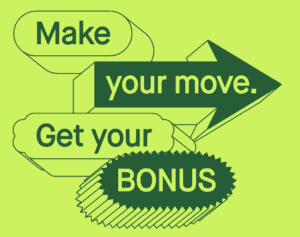 For example, if you transferred a brokerage account worth $50,000 - that would be a bonus of $500.
In addition, Robinhood offers a free stock for new users as well as a 1% IRA match for retirement accounts.
Robinhood Free Stock
Robinhood offers new users a completely free fractional share worth between $5 and $200.
Sign up with the above button to get your free fractional share today!
Best Free Stock Promotions
Opening A Robinhood Account
To get started, you'll need to open an account with Robinhood.
Once you're approved, you're on your way to claiming your free stock.
However, it's important to note that there are certain limitations that apply, so be sure to read the terms and conditions.
Choosing Your Free Stock
Once your account is set up and linked to your bank account or debit card, you'll receive a specified random dollar amount as a reward.
With this reward, you have the exciting opportunity to pick a gift stock from a list of 20 of America's leading companies. These companies are carefully selected based on their market capitalization within their respective sectors.
The cash value you receive will vary, ranging from $5 to $200.
It's important to keep in mind that approximately 98% of participants receive rewards valued between $5 and $10.
You can use this reward to claim a fractional share of a stock.
If you're not familiar with fractional shares, it's essentially owning pieces or fractions of whole shares of a company.
Robinhood allows you to use the cash value of your free stock reward to invest in fractional shares of one of the 20 companies offered.
Selling Your Free Stock
You're allowed to sell your gift stock three trading days after claiming it.
Once you've sold it, you're free to use the proceeds from the sale to invest in other stocks of your choice.
However, if you wish to withdraw the proceeds in cash, there's a catch.
To withdraw the cash proceeds from your gift stock, you must keep the cash value of that stock in your Robinhood account for at least 30 days after claiming it.
After this 30-day period, there are no restrictions on withdrawing the proceeds.
For example, if you receive $10 worth of stock and sell it, you won't be able to withdraw that $10 until 30 days have passed.
Each person is only eligible to open 1 Robinhood account, so you are only able to earn 1 free stock. 
Final Thoughts
In summary, Robinhood's free stock promotion is an opportunity to start investing with a complimentary gift stock.
Robinhood also offers a 1% IRA Match, which you can read about here.
Keep in mind the restrictions on selling and withdrawing your rewards, but with some patience, you can kickstart your investment journey without any initial capital.
If you are looking for other promotions, check out our list of the best free stock promotions here, updated monthly!