Best Real Estate Crowdfunding Platforms 2020
According to The College Investor, 90% of the world's millionaires over the last two centuries have been created by investing in real estate.
Buying real estate has been one of the best investments you can make for many decades. There are countless benefits to owning property and being a real estate investor.
One of the problems faced by investors looking to get started with a real estate investment is the high barrier to entry.If you are looking to buy a rental property, get ready to shell out a down payment of 20% or more in most cases!
Real estate crowdfunding platforms have created a unique solution to this problem. Now, you can pool your money with other investors all over the world thanks to crowdfunding.
Every little bit of money adds up, and this money is put to work through private real estate investments. You can start investing with some of these platforms with as little as $500, in some cases even less.
In this article, we will be reviewing the top 9 best crowdfunding platforms out there right now in 2020 to help you navigate this new investment.
It is important to remember that this is a new investment, giving us limited operating history to look back on. However, returns from these crowdfunded real estate platforms have been very solid!
1. Fundrise

Fundrise is at the top of our list for a number of reasons. First of all, Fundrise was founded in 2010 giving it one of the longest operating histories compared to other platforms out there.
This crowdfunded real estate investing platform offers a number of different investment portfolios. The starter portfolio has a minimum balance of $500 and the advanced plans have a minimum balance of $1,000.
The second reason why Fundrise tops our list is because they offer the most diverse selection of investment portfolios. The selections available from other crowdfunded real estate investing platforms are often quite limited.
We believe that Fundrise offers something for everyone. In terms of the real estate investing strategy, Fundrise follows a value investing approach. They aim to buy properties below the market value and then build equity through improvements.
The Fundrise property acquisition team has purchased over $7.5 Billion in real estate over their careers. If you are looking to learn more, here is our Fundrise review.
Click here to invest with Fundrise!
Fundrise Investment Options
Starter Portfolio
The Fundrise Starter Portfolio is for new investors who would like to test out the platform without going all in. The minimum opening balance is just $500. This portfolio consists of 50% growth and 50% income holdings. If you want to upgrade to an advanced plan down the road, it is completely free and you can do so at any time!
Supplemental Income
Next, we have the Fundrise Supplemental Income Portfolio. This portfolio holds income producing real estate. Investors will earn returns primarily through dividends from cash flow producing real estate. Fundrise generates dividends through rental and interest payments in proportion to your share of the fund.
Balanced Investing
The Fundrise Balanced Investing Portfolio offers a blend of 50% growth and 50% income investments. The balanced investing portfolio invests in a blend of eREITs and eFunds offered by Fundrise. The goal for this portfolio is for a balance of income generating real estate as well as real estate that is appreciating in value.
Long Term Growth
Finally, we have the Fundrise Long Term Growth Portfolio. The goal of this portfolio is to generate returns primarily from asset appreciation. This portfolio aims to purchase high growth potential real estate and generate returns mostly from the sale of the underlying properties. This includes buying property and performing renovations in order to sell the asset for a gain later.
Fundrise Returns
These crowdfunded real estate investing platforms are relatively new. As a result, there isn't a lot of data to look back on. That being said, the historical performance of Fundrise has been e
xceptional. It is important to remember that these returns are "net of" or "after" fees.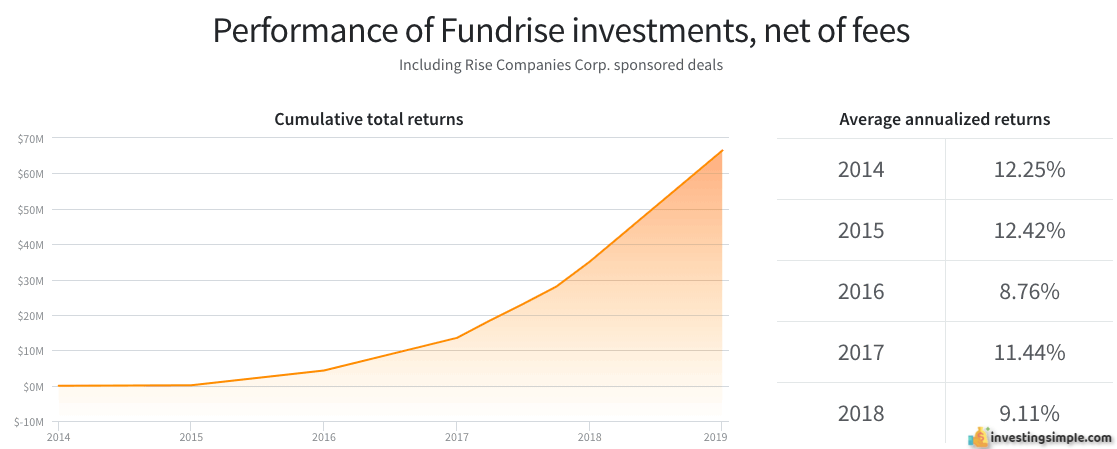 Click here to see updated Fundrise returns.
Fundrise Fees
Fundrise charges a fee of 1% per year. They do not charge any other hidden fees and there is no front load fee with Fundrise. One of the main reasons why Fundrise is #1 on our list is because of this straightforward, transparent fee structure.
Click here to invest with Fundrise!
2. Realty Mogul

Realty Mogul formally launched in 2013. This platform offers a number of different investment options, however some are limited to accredited investors only. These investors have to meet net worth requirements in order to invest.
Realty Mogul offers two portfolios that are not limited to accredited investors, but the minimum balance to start out with them is $5,000. For that reason, we are partial to Fundrise. The Realty Mogul Private Placements are available to accredited investors only.
Realty Mogul has a unique approach when it comes to property acquisitions.
First of all, they do not invest in projects that are not producing cash flow. This includes ground up construction and raw land.
Second of all, they only work with a select group of real estate partners that have a proven track record.
Third and finally, they seek out properties with leases in hand. Ideally, this approach mitigates some of the potential risks associated with this investment.
Click here to invest with Realty Mogul!
Realty Mogul Investment Options
Mogul REIT I (Income)
Mogul REIT I is a public non traded REIT holding commercial debt and equity investments. The goal of Mogul REIT I is to generate income through a variety of real estate investments. With the aim to preserve, protect and grow your investment over the long term, Mogul REIT I has the objective to pay attractive and consistent cash distributions. The minimum investment for Mogul REIT I is $5,000.
Mogul REIT II (Growth)
Mogul REIT II is a public non traded REIT focused on the growth of capital over the long term. This REIT has the goal of paying out quarterly cash distributions to investors.
Mogul REIT II mainly invests in residential real estate, primarily apartment developments. One of the main strategies of the REIT is renovating and repositioning multifamily homes with the goal of capital appreciation over time.
Mogul REIT II looks for properties in established and revenue consistent areas and neighborhoods. The minimum investment for Mogul REIT II is $5,000.
Private Placements (Accredited Investors Only)
Realty Mogul also offers a variety of private placement investments. These private placements are limited to accredited investors only. You must have a net worth of $1,000,000 or annual income of $200,000 ($300,000 if married).
For the most part, all private placement offerings are slightly different within this platform. Some may have investment minimums as well as lock-up periods for your initial investment. The investment objective for private placements is for long term capital appreciation and income over time.
Realty Mogul Returns
The Mogul REIT I pays distributions on a monthly basis, while Fundrise pays these on a quarterly basis. According to the site, the annualized distribution rate for the Mogul REIT I is 8%. The Mogul REIT II pays distributions on a quarterly basis, just like Fundrise. According to the site, the annualized distribution rate for the Mogul REIT II is 4.5%. It is important to note that the goal of this REIT is to earn a return based on asset appreciation, not income from distributions.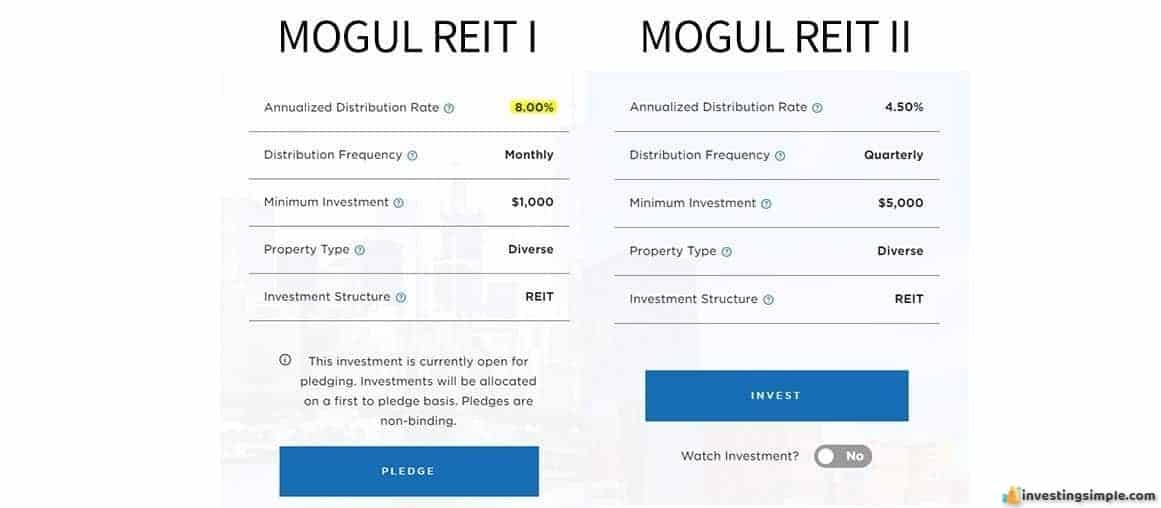 Click here to see updated Realty Mogul returns.
Realty Mogul Fees
Realty Mogul platform charges fees based on the type of investment you select. For example, debt or equity investments. These fees include an asset management fee ranging from 1% to 1.50% annually. There are also legal fees for certain investment types. These fees can be up to 3%. Overall, the fee structure is very unclear. We prefer the transparent, easy to understand 1% fee structure of Fundrise.
Click here to invest with Realty Mogul!
3. AcreTrader (Accredited Only)

While this may not be the most seductive form of earning passive income online, AcreTrader lets you invest in farmland! You know, that stuff we use to grow a very important resource called food?
Picture this. You take a piece of farmland and then divide it up into shares. Then, investors buy individual shares of that land! As an asset class, farmland has provided investors with average annual returns of 11-12% over the last 30 years.
There are two potential ways to get paid:
If the land goes up in value, you make money when it is sold!
If the land is rented to farmers, you earn dividends!
The minimum investments on AcreTrader typically range from $5,000 to $10,000 depending on the size and price of the farm. It is important to note that AcreTrader is currently available to accredited investors only. That being said, if it seems like a good fit for you, it is definitely worthy of bragging rights at your next cocktail party!
The team over at AcreTrader is reviewing land on a day to day basis. Of all the parcels they review, less than 1% are selected for the site. Once a parcel is added to the site, it is split into shares. Each share represents 1/10th of an acre. So, if you purchased 10 shares you would own 1 acre of farmland. The typical minimum investments for AcreTrader offerings range from $5,000 to $10,000.
If the land goes up in value while you own it (known as asset appreciation) you will earn money when you sell it! Historical appreciation of farmland has been 5.9% annually over the last 50 years.
Each offering as an estimated ownership duration, after which they plan to sell the land. While there are liquidity opportunities available during the investment, farmland should still be viewed as a long-term investment.
Click here to invest with AcreTrader!
4. Rich Uncles

In 2012, Uncle Ray launched the Rich Uncles real estate investing platform. A key differentiator between Rich Uncles and the other crowdfunded real estate investing platforms is that you can start investing with just $5. Unfortunately, at this time Rich Uncles only offers investors two separate portfolio options. The limited portfolio selection is one of the main reasons why Rich Uncles came in lower on our list.
Each week, Rich Uncles is researching and evaluating over 1,000 potential investment properties. Of those evaluated, only the top 0.3% are added to investment portfolios. Rich Uncles is extremely selective about what real estate deals make the cut. One of the unique characteristics of Rich Uncles is that they purchase properties with 50% or more cash down payment, giving them a huge equity stake. The property tenants are names we all know like Walgreens, Chevron and Husqvarna.
Click here to invest with Rich Uncles!
Rich Uncles Investment Options
National REIT (NNN REIT)
The National REIT aims to invest in industrial, retail and commercial real estate throughout the United States. The minimum to invest in the National REIT is $500. Currently, the National REIT is limited to investors in just over 20 states. This REIT invests in strictly commercial real estate, meaning there is no residential real estate in the mix.
Student Housing REIT (BRIX REIT)
This REIT aims to invest in student housing throughout the United States. Rich Uncles focus on student housing in broadly diversified markets around high demand universities. Rich Uncles searches for housing with greater than 90% occupancy rates and a minimum capacity of 150 beds. The minimum to invest in the Student Housing REIT is $5. Currently, this REIT is open to investors in all US states.
Rich Uncles Returns
According to the site, the estimated annualized dividend of the Student Housing REIT is 6%. The estimated annualized dividend of the National REIT is 7%.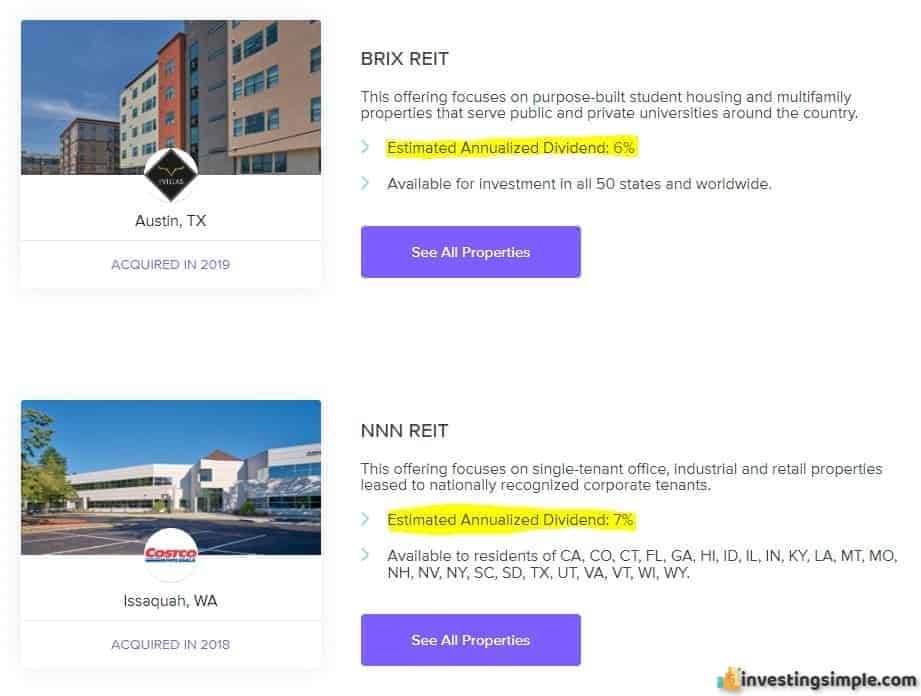 Click here to see updated Rich Uncles returns.
Rich Uncles Fees
Rich Uncles takes a unique approach to their fee structure. Most traditional REITs charge significant maintenance and investment management fees. Rich Uncles, on the other hand, does not make money unless the investor makes money. The first 6.5% of profits are paid out to investors. Then, Rich Uncles then takes 40% of any profits that exceed 6.5%. This fee structure ensures the investment goals of the investors align with the compensation paid to Rich Uncles.
5. CrowdStreet (Accredited Only)

CrowdStreet is an online commercial real estate investing platform that launched back in 2014. On the site, they claim to have had projects that exceeded returns of 22% for investors and sponsors. This platform differs from the others mentioned above because there are three different ways you can invest with them:
Invest directly into individual real estate deals
Contribute to an investment portfolio of 30 to 50 properties
Fully managed investments based around your goals and objectives
CrowdStreet allows investors to pick and choose individual projects to invest in. This platform also focuses solely on commercial real estate, meaning there is no residential real estate in the mix. On their site, they claim to review around 400 potential investment opportunities each month. Of those reviewed, less than 3% are accepted.
One of the key reasons why CrowdStreet is in fourth place on our list is because of the high upfront investment. For the direct investing approach, a $25,000 or $50,000 minimum is common. They recently lowered the minimum investment for the portfolio option from $25,000 to $10,000. Finally, the fully managed portfolio option has a minimum investment of $250,000. This makes CrowdStreet out of reach for many new investors. Due to federal regulations, most of the CrowdStreet investments are for accredited investors only.
Click here to invest with CrowdStreet!
CrowdStreet Investment Options
Direct Investing
Through direct investing, you pick and choose properties to invest in. This is ideal for the active investor with a sizable amount of capital to deploy. CrowdStreet offers research tools for investors and is very transparent. Currently, the deals available on CrowdStreet have a minimum investment range of $25,000 to $50,000.
Fund Investing
Investing in a portfolio of real estate projects is a great approach for passive investors. CrowdStreet has already done the research on these real estate investments. Each portfolio holds anywhere from 30 to 50 commercial properties. The minimum to invest in the CrowdStreet Blended Portfolio is $10,000.
Managed Investing
Finally, there is managed investing. CrowdStreet will personally manage your portfolio to help you reach your investment goals. CrowdStreet experts will build you a personalized real estate investment portfolio and invest in deals on your behalf. This service is reserved for high net worth investors, as the minimum to invest is $250,000.
CrowdStreet Returns
With the direct investing approach, each project has a targeted investor IRR or internal rate of return. Of the 8 projects available when we did our research, the targeted investor IRR ranged from 9% to 24% based on a number of different factors.
Unfortunately, we could not find any historical return data for the CrowdStreet Blended Portfolio. Since the managed plans are tailored to each specific person, returns will fluctuate. CrowdStreet boasts about a number of past projects that have generated exceptional returns.

Click here to see updated CrowdStreet returns.
CrowdStreet Fees
This crowdfunded real estate platform has a unique approach when it comes to fees. The deal sponsors pay all the fees, meaning there are no fees for the investors. CrowdStreet is very transparent about who the sponsor is for each deal. This fee approach is one of the highlights of this platform.
6. EQUITYMULTIPLE (Accredited Only)

Coming in at #5 on our list is the EQUITYMULTIPLE platform. This is an online commercial real estate investing platform backed by an established real estate company called Mission Capital. Founded in 2002, Mission Capital is a leading real estate and debt capital markets solution provider.
While EQUITYMULTUPLE is a relatively new venture, they have over a decade of experience with real estate through Mission Capital. This gives them one of the longest track records of involvement with real estate of any platform mentioned on our list. Unfortunately, EQUITYMULTIPLE only has offerings for accredited investors.
EQUITYMULTUPLE allows you to invest directly into individual real estate projects. Investors can build their own real estate portfolios from scratch. They follow a four step process when assessing potential investments:
They start out with a list of proven sponsors and lenders with an established track record
Next, the EQUITYMULTIPLE team evaluates specific real estate markets or potential investments
If a market or project meets initial criteria, they do a deep dive and include less than 10% of submissions
Investors select projects to invest in and build portfolios
Click here to invest with EQUITYMULTIPLE!
EQUITYMULTIPLE Investment Options
This crowdfunded real estate investing platform is designed for active accredited investors. It is up to you to select individual real estate projects to invest in. EQUITYMULTIPLE offers screening tools and has a growing list of live offerings you can invest in.
The minimum to invest in each project is $5,000. You can build your own portfolio of real estate investments on EQUITYMULTIPLE by investing in multiple deals on the platform. Potential investments fall into one of three categories; equity, preferred equity or debt deals.
EQUITYMULTIPLE Returns
According to the site, EQUITYMULTIPLE aims for a net APR of 7 to 12% for for debt deals. For equity deals, they aim for a cash on cash return of 6 to 12% for investors. In certain major real estate markets, they will accept equity deals with lower projected cash on cash returns.
EQUITYMULTIPLE Fees
The fee structure for EQUITYMULTIPLE differs based on the structure of the deal. All of them include a 2% placement fee, paid by the sponsor. This fee is not paid by the investors.
Equity deals carry a 0.5% to 1% asset management fee paid by the investors. EQUITYMULTIPLE also collects a 10% carry on the profit of the deal. Preferred equity and debt deals have different fee structures based on the preferred return and interest rate on the debt. However, they will waive the fees for some deals if you refer a friend.
Click here to invest with EQUITYMULTIPLE!
7. PeerStreet (Accredited Only)

PeerStreet merges the world of peer to peer lending with crowdfunded real estate. This platform supplies a marketplace where accredited investors can invest in real estate debt. PeerStreet relies on cutting edge technology like advanced algorithms and big data analytics to review each potential investment.
Most of the loans available on the PeerStreet platform are shorter term, ranging from 6 to 24 months in duration. PeerStreet goes through a strict due diligence process on both the loans added to the site and the origination partners. PeerStreet only works with the highest quality originators that have a track record of success in the private lending industry.
Click here to invest with PeerStreet!
PeerStreet Investment Options
PeerStreet investors can select potential investments by hand or invest in prebuilt portfolios. PeerStreet matches investors with loan originators. PeerStreet offers strictly debt investments, meaning you do not have any equity in the properties.
The minimum investment for PeerStreet is $1,000 which is quite low, however, it is limited to accredited investors only. It is important that investors understand that there is no secondary market for the loans either. Once you invest, you are locked in for the duration of the loan. Platforms like Fundrise, for example, offer quarterly redemption periods.
PeerStreet Returns
The expected annual returns according to PeerStreet range from 6 to 12%. You might be wondering why this is higher than traditional mortgage rates. The reason is that PeerStreet looks for specialty loans that are higher risk and higher potential returns.
One example of this is property rehab loans. It is recommended that investors have a vast knowledge of real estate lending before investing through this platform.
PeerStreet Fees
PeerStreet may apply a servicing fee to each loan being offered on the platform for investment. The fee varies from investment to investment. Typically, it ranges from 0.25% to 1% and it is disclosed on every investment opportunity.
8. Patch of Land (Accredited Only)

Patch of Land is another peer to peer real estate lending platform, similar to PeerStreet. Patch of Land pairs up accredited and institutional investors with borrowers on the platform. Patch of Land specializes in high yield, short term loans backed by collateral. Patch of Land aims to streamline the process of connecting lenders with borrowers through the use of technology and data oriented systems.
Many of the real estate projects found on these peer to peer real estate lending platforms are bypassed by traditional lenders due to the risk involved. This makes these investments of higher risk and higher potential return. Diversifying across many different loans on the platform is one way to reduce the risk. Like many of the other crowdfunded real estate investing platforms out there, Patch of Land is reserved for accredited investors only.
Click here to invest with Patch of Land!
Patch of Land Investment Options
Investors are tasked with selecting investments by hand, making this an active investment. After you select properties you want to invest in, you simply fund the account and start earning interest on the loans. The minimum investment to get started with Patch of Land is just $1,000.
One of the pros of investing with Patch of Land is that they pre-fund all of the deals on the platform. That means that investors begin earning interest on day one. If these deals were not pre-funded, investors would have to wait until projects were fully funded in order for funds to be released. During that time period, you would not be earning any significant returns.
Patch of Land Returns
According to Investor Junkie, stats as of July 2017 show that Patch of Land has funded 655 loans, delivering an average rate of return of 11.12% since inception. On the Patch of Land site, they claim you can earn 12% in as little as 12 months.
Patch of Land Fees
Now, we reach the ugly side of this investing platform. The fee structure of Patch of Land is greedy. Patch of Land collects 1 to 2% of the interest of each loan. This fee structure is significantly higher than other real estate investment options out there.
9. Roofstock

Roofstock provides investors with a very unique real estate investing option. This platform only offers single family residential real estate. Roofstock aims to be a platform that pleases both buyers and sellers involved with single family rentals.
Buyers are offered a marketplace of vetted homes they can invest in with cash flow potential. Sellers are offered a place to list their single family rentals for sale without disrupting tenants or lost income by selling it vacant.
Roofstock allows investors to focus on building a real estate portfolio without worrying about property management. The property management team takes care of operational responsibilities like collecting rent, handling vacancies, repairs and other day to day property management. Roofstock is offering you the opportunity to take advantage of the benefits of owning real estate without dealing with the hassles of being a landlord.
One huge benefit to investing through Roofstock opposed to investing locally is that you can invest across many real estate markets. You are not stuck with the deals in your area. Roofstock has teams of property managers all over the US. This could allow you to take advantage of a hot real estate market or diversify across many markets.
Click here to invest with Roofstock!
Roofstock Investment Options
Properties
With Roofstock, you can invest in single family real estate with as little as 20% down. At the time of writing this review, there were over 300 different properties available for purchase on the platform. Just like with a traditional real estate investment, investors should be ready to put down tens of thousands of dollars to buy an investment property.
Portfolios
Another option for investors is to buy into a portfolio of properties for sale on Roofstock. This is for high net worth investors with hundreds of thousands or millions of dollars to deploy. You are essentially buying an entire portfolio of single family rentals. Some of these portfolios on the site were as much as $10 million.
Property Shares (Accredited Investors Only)
The third way to invest through Roofstock is to purchase property shares. This investment is available to accredited investors only. The minimum investment to purchase these property shares is just $5,000. Property shares allow you to have fractional ownership in a single family rental, along with other investors.
Roofstock Returns
Every property for sale on Roofstock has financial data investors can look at. Each property is going to have a different anticipated return. For example, a few properties we saw on Roofstock had a Cap Rate ranging from 5.25% to 7.76%.

Roofstock Fees
The fee structure for Roofstock is very straightforward. Buyers pay a marketplace fee of 0.5% and sellers pay a listing fee of 2.5%. That is a total fee of 3%, which is far lower than the typical commissions you pay to a real estate agent.
Real Estate Crowdfunding For Beginners
For those who are not familiar with real estate crowdfunding, let's go ahead and cover some of the basics. You might be wondering why all of these platforms are relatively new with limited operating history. The reason behind that is because crowdfunded real estate is a new investment opportunity that came around in 2012.
The Jumpstart Our Business Startups or JOBS Act passed under the Obama administration. This law was intended to loosen restrictions on small businesses, particularly by easing securities regulations. Prior to this law passing, it was illegal for companies to use crowdfunding to issue securities. Now, it is perfectly legal to raise money in this fashion!
Before this law passed, your options to invest in real estate were quite limited. You could go the traditional route and buy physical real estate of course, but the upfront costs make this out of reach for most investors. Beyond that, the other options included private deals for accredited investors only or buying into a REIT.
What Is Crowdfunding
Crowdfunding is a relatively new way to finance a project or venture. Born out of the internet era, investors from all over the world can kick in a few bucks to back a project or idea. You are probably familiar with crowdfunding sites like Kickstarter where crowdfunders can back ideas or help those out who are in need.
These crowdfunded real estate investing sites took it a step further by turning this practice of raising capital into an investment. Instead of backing a product that you would eventually receive, you could back an investment and receive securities.
Crowdfunding has changed the way money is raised forever. In 2015 alone, over $34 Billion was raised worldwide through crowdfunding efforts. Think of thousands or tens of thousands of people all over the world kicking in money towards a project or an investment. The possibilities are truly endless!
What Is An Accredited Investor
A lot of the private real estate investments are reserved for accredited investors only. A number of these new crowdfunded real estate investments are too. No, this isn't some exclusive club that you missed the invite to. This is a federal regulation.
An accredited investor is someone who is allowed to be involved with investments that may not be registered with financial authorities. Public investments available to average retail investors are heavily regulated by governing authorities like the SEC and FINRA.
These agencies aim to protect investors from unforeseen risks. It is impossible for them to regulate every investment out there, so some go unregulated. They expect the individual investors to do their own due diligence. As a result, they want to make sure these investors have the financial capacity to take this risk.
Most of these private real estate deals are completely legitimate, but you need to know what you are looking for. Before these crowdfunded real estate platforms emerged, only these accredited investors were able to invest in these private or "closed door" real estate offerings.
How To Become An Accredited Investor
In order to be an accredited investor, you must meet two requirements:
Annual income of $200,000 or more ($300,000 for married couples)
Net worth exceeding $1,000,000 (excluding primary residence)
These individuals have the means to burden the risks associated with unregulated private investment offerings. This includes private real estate deals, hedge funds, venture capital deals and other unregulated investments. A number of the real estate investments reviewed in this article require you to be an accredited investor.
Crowdfunded Real Estate vs REIT
A lot of people are wondering why you would go through the trouble of investing through a crowdfunded real estate platform when you can just go out and buy a REIT. This question is totally understandable!
If you aren't familiar, a REIT is a real estate investment trust. It is a company that owns and operates income producing real estate. This could be residential, commercial or industrial real estate ranging from office buildings to cell towers. REITs trade on major stock exchanges just like the stocks we know and love. You can buy a share of a REIT just as easily as a share of Apple.
So the question becomes… why not just buy a REIT if you are looking to diversify? Here are a few reasons why.
Why You SHOULDN'T Buy A REIT
1. Correlation
Since these REITs trade on the same exchanges as stocks, they can correlate with each other. This means the prices are moving in tandem. One of the main reasons for diversifying into real estate is to have less correlation with your investments. Maybe your stocks are down, but your real estate investments are up! Asset correlation is a huge downside of the REIT. Stocks go up, REITs go up. Stocks go down, REITs go down.
2. Panic Selling
Since most REITs trade on major exchanges, they are susceptible to panic selling. This is exactly why they correlate with stocks, another investment susceptible to panic selling. Bad news spreads quickly, and anyone who has held individual stocks knows what a panic driven sell off looks like.
Since these are highly liquid investments, you can sell them in an instant. This high volume of selling can cause drastic price moves, something you just won't see with a private real estate investment. REITs frequently get caught up in panic selling that relates to the stock market.
3. Volatility
Since REITs are a highly liquid investment, they are changing hands every second of the trading day. Just like with stocks, the price changes every few seconds. This liquidity makes public investments a lot more volatile than private investments.
In a nutshell, the price goes up and down all the time. This is not the case with private real estate investments. In some cases, they can even lock you in for the duration of the investment. For some this is a pro and for others this is a con. In most cases, less volatility means you will be able to sleep better at night.
There are some instances where a REIT makes more sense than a crowdfunded real estate investment. Here are a few.
Why You SHOULD Buy A REIT
1. Liquidity
Investors looking for highly liquid investments should stay away from crowdfunded real estate. A REIT makes a lot more sense in that situation. Just to recap, liquidity is an indicator of how easily an asset can be converted into cash. You can sell a REIT and convert it into cash in a matter of seconds.
The securities you are given in these crowdfunded real estate deals are not highly liquid investments. In fact, many of these platforms do not guarantee liquidity. Some have redemption periods where you can liquidate, but not all. The reason behind this is because real estate itself is not a highly liquid investment. If everyone tried to cash out at once, they would have to sell off properties which won't happen overnight.
2. Time Horizon
In general, you should not invest money that you have earmarked for a major purchase or life event in the near future. Fundrise, for example, recommends that investors have a minimum time horizon of 5 years when investing in the platform.
If you are not willing to lock up your cash for that period of time, don't invest! You could invest in a REIT for a shorter time horizon, just understand if the stock market experiences a correction you will likely see the same correction with your REIT investments. Remember, there is a lot of correlation between these assets!
Debt vs Equity Investments
When real estate investments are discussed, you will often hear about debt and equity investments. It is important to understand the difference before deciding on a crowdfunded real estate investment. You want to make sure this type of investment aligns with your goals and investment objective.
Debt Investments
Private real estate debt funds ballooned in popularity after the financial crisis of 2008. Banks were in trouble and unable to fulfill the need for loans, so private real estate investors stepped in. At this time, this was only the high net worth accredited investors who were able to invest in these deals. Now, real estate markets are far healthier and these private real estate debt investments are still a popular choice among investors.
With a debt investment, you are loaning funds to someone who owns real estate or is purchasing real estate. It is just like going to the bank for a mortgage. However, instead of a bank it is a group of private real estate investors backing the loan. In the past, this was a small group of high net worth individuals who would have access to these deals. Now, thanks to crowdfunding and the JOBS Act, average retail investors can get in on the action.
Here is what you need to know about debt investments.
1. Short Term
These loans are usually anywhere from 6 months to 24 months. Debt investments are usually for real estate development projects.
2. Secured Debt
The property backs the loan. This mitigates some of the risk associated with the investment. If the borrower defaults, the investors can potentially recuperate some of the losses by selling off the property in foreclosure.
3. Interest Payments
These interest payments are often on a fixed schedule, giving investors a steady source of cash flow. This is similar to income investors who buy dividend stocks.
4. Limited Upside
The set terms of the loan limit your potential return. Whatever interest rate you set is what you get. If the developer makes a killing flipping the property you back as a debt investor, you don't share in the profits. You would need to be an equity investor to do so.
Equity Investments
Equity investors have an ownership interest in the property. As a result, they stand to gain if there is any upside and lose if there is any downside. Equity investors share the upside if the property appreciates and share the cash flows if the building is producing income.
Consider a flip for example. Equity investors pool their money together to buy a number of townhouses in a hot real estate market. They secure a loan from the debt investors mentioned above. They upgrade the townhouses over the next year and hold onto them for an additional three years, renting them out.
If the properties are producing cash flow, the equity investors share the profits. During this entire duration, the equity investors are paying interest on the loan from the debt investors. After the fourth year, they sell the townhouses for a significantly higher price. All of the equity investors would share the upside from the asset appreciation.
Here is what you need to know about equity investments.
1. Higher Risk/Reward
The risk is higher with equity investments, meaning the reward potential is higher too. You are along for the ride of the property appreciates or depreciates as you are a part owner of the property.
2. Tax Deductions
Real estate ownership comes with a number of tax benefits. Investors can take advantage of this and potentially see a lower tax bill at the end of the year. Debt investors cannot take advantage of these tax deductions.
3. Long Term
Equity investors are in it for the long haul. It is not as simple as loaning money out to a real estate developer for a year or two. Equity investors should have a minimum investment time horizon of 5 years.
In most cases, it makes sense to have a blend of debt and equity investments in your real estate portfolio. Equity investments are more aggressive and debt investments are more conservative. When in doubt, talk to a financial advisor about the risks you should be taking with your money.