If you are new to the world of investing, one of the very first decisions you have to make is what platform or app to invest with. 
There are countless brokerage platforms out there to choose from, each offering different features.
However, one of the deciding factors might be getting something out of it for free. 
Since there are so many platforms competing with each other, many offer incentives in the form of free stocks or free bonuses to entice new users.
Here are the current 8 best free stock bonus promotions!
Keep on reading, or watch our video below on the topic.
Limited Time: Robinhood 1% Transfer Bonus
If you transfer an existing brokerage account to Robinhood through January 31st 2024, you can get an Unlimited 1% Transfer Bonus.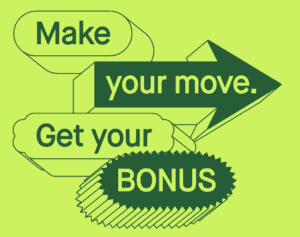 For example, if you transferred a brokerage account worth $50,000 - that would be a bonus of $500.
In addition, Robinhood offers a free stock for new users as well as a 1% IRA match for retirement accounts.
Best Free Stock Promotions
1. Robinhood - Free Stock Worth $5 To $200

Once your account is set up and linked to your bank account or debit card, you'll receive a specified random dollar amount as a reward.
With this reward, you have the exciting opportunity to pick a gift stock from a list of 20 of America's leading companies. These companies are carefully selected based on their market capitalization within their respective sectors.
The cash value you receive will vary, ranging from $5 to $200.
It's important to keep in mind that approximately 98% of participants receive rewards valued between $5 and $10.
You can use this reward to claim a fractional share of a stock.
You can read more about the Robinhood free stock promotion here!
2. M1 Finance - $75 To $500 New Account Bonus

First of all, this promotion runs until 12/31/23, so you may want to act soon before you forget!
All users who open a new account with M1 Finance here are eligible for a bonus depending how much they deposit into their new M1 Invest account.
If you make a deposit within the first two weeks of opening the account, you will get the following bonus (based on the deposit amount):
Deposit $10,000 to $29,999 and get a $75 Bonus
Deposit $30,000 to $49,999 and get a $150 Bonus 
Deposit $50,000 to $99,999 and get a $250 Bonus
Deposit $100,000+ and get a $500 Bonus
You don't have to make the deposit all at once. It simply has to happen within the first two weeks, even if you do multiple deposits.
Your bonus will be deposited directly into your M1 Finance account.
You can read more about the M1 Finance free stock promotion here!


Look no further than Webull's free stock promotion, available through December 19th, 2023.
During the promotional period, new eligible Webull customers can earn either 20 or 70 free fractional shares based on their deposited amount:
Deposit $500+ and earn 20 Free Fractional Shares
Deposit $25,000+ and earn 70 Free Fractional Shares (in total)
The value of these shares ranges from $3 on the low end to $3,000 on the high end.
However, most people will get lower value shares based on the odds.
You can read more about the Webull free stock promotion here!
4. Acorns - Free $20 Bonus


Acorns has partnered with Investing Simple to offer an exclusive bonus investment of $20.
Start off by taking 3 minutes to open an Acorns account via our partner link with Acorns
After opening the account, you have to set up a recurring investment ($5 minimum)
Acorns will deposit your $20 bonus within 10 days of the following month
Keep in mind, Acorns does charge monthly fees starting at $3 a month for using the platform. This should be considered before opening an account with Acorns.
You can read more about the Acorns free bonus promotion here!
5. Moomoo - Get Up To 15 Free Stocks

This current promotion ends 12/31/2023, so you may want to act soon.
You can read more about the Moomoo free stock promotion here!
6. Public - Free $10 Reward Slice


You have the power to choose your reward from a selection of designated stocks, ETFs, and crypto assets. These selections are carefully curated from Public Investing's inventory of settled shares.
They include the top 50 most popular stocks on the Public app and crypto assets that meet specific criteria.
First things first, you'll need to sign up for Public, the social investing app. It's a platform that allows you to invest in stocks, ETFs, and even cryptocurrencies.
Sign up for Public with the button below to get a free reward slice worth $10!
You can read more about the Public free stock promotion here!
7. Coinbase - Earn Up To $200 In Bitcoin


New users in the United States (excluding Hawaii) can participate in the "Spin the Wheel" promotion.
To get in on the action, follow these simple steps:
Create a Coinbase account: Start by signing up for a Coinbase account. It's quick and straightforward.
Complete your first cryptocurrency purchase: Make your inaugural crypto purchase on Coinbase, and you're on your way to spinning the wheel.
Spin the wheel of rewards: Once you've completed your first crypto purchase, you'll be eligible to spin the wheel of rewards.
Receive your reward: Shortly after spinning the wheel, you'll receive a reward in either USD or Bitcoin, directly in your Coinbase portfolio.
This promotion is exclusively for new Coinbase users who make their first cryptocurrency purchase on the platform. The rewards are randomized and determined solely by Coinbase, falling within a range of $3 to $200.
Approximately 89% of new users who spin the wheel will receive a reward between $3 and $5, either in USD or Bitcoin.
Around 11% of new users who participate will strike it bigger, receiving a reward between $6 and $200 in USD or Bitcoin.
You can read more about the Coinbase free crypto promotion here!
8. SoFi - Free Stock Bit Worth $5 To $1,000


If you open a new SoFi Active Investing account, you will have a chance of winning a free SoFi Stock Bit worth up to $1,000!
In order to be eligible for the promotion, you have to make a minimum deposit of $10 within 30 days of opening the account.
New SoFi users will be able to move the claw to a certain gift, drop the claw, and win a random dollar amount of stock ranging from $5 to $1,000.