A very important lesson I have learned throughout my self-studies of personal finance is from the book Rich Dad Poor Dad by Robert Kiyosaki.
Many people have referred to this as the bible of the personal finance world, and for good reason. For so many, reading this book becomes the pivotal moment where you decide to invest your money and grow your wealth rather than spending and living paycheck to paycheck.
This is where I learned the true difference between assets and liabilities. Most people spend their entire lives dumping money into liabilities or depreciating assets. This is why the vast majority of people are in bad shape financially. All the while, they think they are making wise financial decisions.
Now, the Google definition of an asset is a useful or valuable thing, person or quality.
The definition of a liability is the state of being responsible for something.
These definitions are very unclear, so I hope to shed some light on them over the next few minutes!
I learned from reading this book that an asset has the power to bring money to you and a liability takes money away from you. Throughout this article, this will be the definition we are going to use as we dive into the mind of Kiyosaki.
I hope to share with you a different perspective of your own assets and liabilities. This different mindset may help you when it comes to making difficult money decisions made on a regular basis.
Best Free Stock Promotions
What Are Assets?
Try to spin the traditional definition of an asset on its head. We are going to talk about what I believe is the true and most important definition of what an asset is. An asset is an investment tool that brings in cash flow. Simply put, assets put money in your pocket.
Perfect examples of assets may be real estate, stocks that pay dividends, or royalties. There are many different types of assets. Not all have the power to generate cash flow, but purchasing assets that do can be a tremendous wealth builder.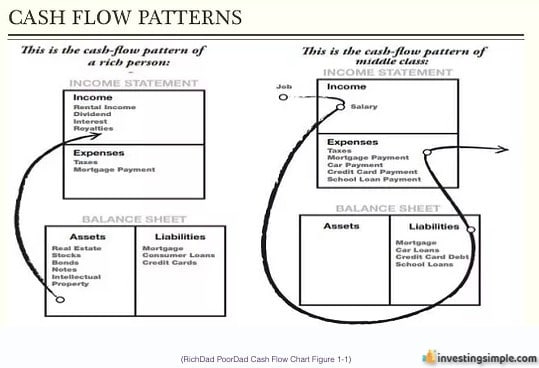 There are some charts in the book that show how most middle-class people live today. While these patterns may seem "normal", that's likely because the people around you are setting a bad example and falling into the same traps. If you are not careful, you could end up stuck treading water for decades just trying to keep your head above water.
As you can see in the picture above, most people rely on their one source of income which is their salary from a job.
They then proceed to take on a lot of expenses and liabilities in order to "keep up" with the people around them. This, in turn, is what people use as excuses as to why they can't invest their money into assets. Or, they have some of the other beliefs such as "money is the root of all evil, I don't need money to be happy, etc."
If people took the money they spent on unneeded liabilities and purchased assets that will generate income, such as rent from a rental property, dividend income from dividend paying stocks, bonds, notes, etc. you could completely change your financial outlook.
Now while something as extreme as purchasing a rental property might seem like a huge leap if you're currently living paycheck-to-paycheck, change happens over time, and forming small habits today can lead to big changes down the road.
Money & Your Personal Life
By building these habits and developing a healthier outlook on money, you may end up a lot better off in not only your financial life but in your personal life as well.
You will stress less about money and the less you stress, the happier you are! Imagine instead of having to pay out $100 a month towards a liability such as your car payment, you instead earn $100 from an asset such as from your dividends.
It would most likely put a smile on your face (because I know for me, it does!). For certain assets, you could reinvest your earnings and get the power of compound interest on your side. This can be one of the most powerful concepts to understand as it is what has allowed countless millionaires to achieve significant wealth.
A change of your mindset regarding money can have a tremendous impact on your life.
One of the biggest challenges when building assets is that it can take a long time. If you don't have the upfront cash to put in right away, it can seem difficult to get started. As someone who is building up my assets slowly, but surely, I can tell you that it will be worth it in the long run.
Eventually, you will have multiple streams of income working for you. Diversifying your income is a great wealth builder. Having this freedom will allow you to do things you wouldn't be able to do otherwise.
Plus, the alternative is relying on your single stream of income for your entire life with the hope that you'll somehow be able to retire eventually. The freedom and security provided by owning assets is extremely valuable and has the potential to drastically change the options you have in life.
What Are Liabilities?
These are what you need to stay away from!
Simply put, liabilities are things that take money out of your pocket.
These are car loans, mortgages, credit card debt, school loans, etc. that just eat away at the hard-earned money you make. Not all liabilities are bad, but many times liabilities can quietly destroy your cash flow without you even noticing.
This is one of the easiest traps to slip into. As your income increases, it's tempting to spend that money as fas as it's coming in (or even faster). Because "you deserve it" right? In general, there is a place for treating yourself to nice things, but when doing so it's important to realize that the purchase you are making is not likely taking you closer to the financial position you desire.
How can anyone get ahead in life if they only have one source of income with no assets while at the same time keep racking up expenses and liabilities? It is near impossible to attain financial freedom when you are spending more money than you make.
Now, certain liabilities can be good such as a mortgage on a rental property. At this point, it is an asset, not a liability because that rental property will put money in your pocket. I would try to eliminate as many liabilities as possible so you can purchase income-generating assets.
Write down a list of all your liabilities and see which ones you can get rid of so you can increase your cash flow and purchase more income-generating assets. Your mindset plays an extremely important role when it comes to dealing with liabilities. You have to maintain a strong mindset and stick through the tough times in order to reach financial freedom.
You can't have the following money mindsets:
Negative thoughts about money
Believing you can get rich quick
All talk, no action
Negative thoughts about being wealthy
Eliminating these thoughts from your mind is one of the essential steps when cutting down on liabilities and expanding your assets.
This is a process that will take years, but has the potential to pay off significantly over the course of your life. So long as you can stay focused on where you are aiming to get to and stay motivated day-to-day to take actions that will move you closer to that place, you are well on your way.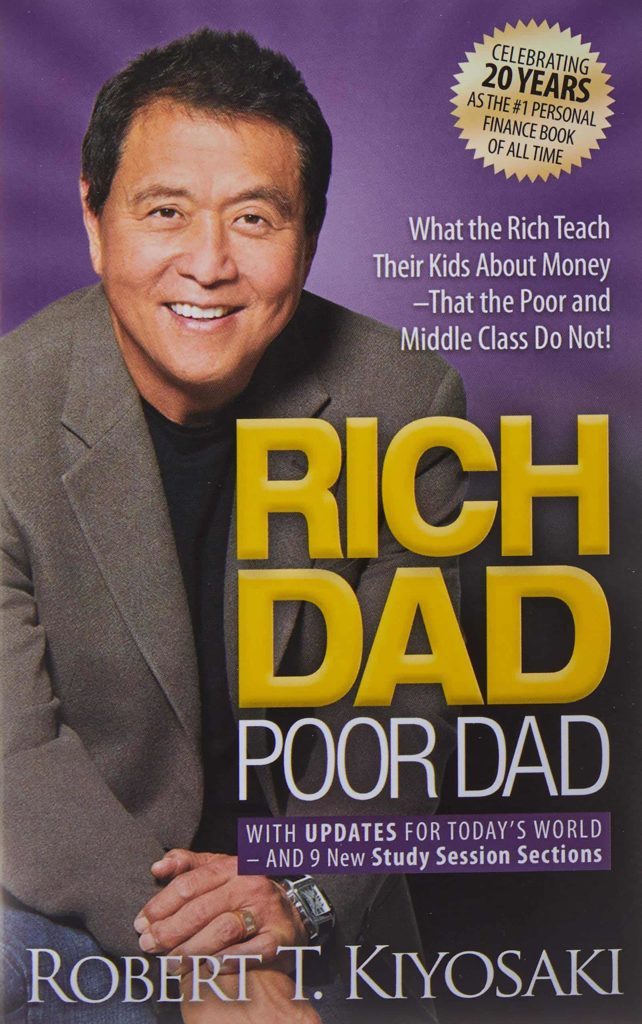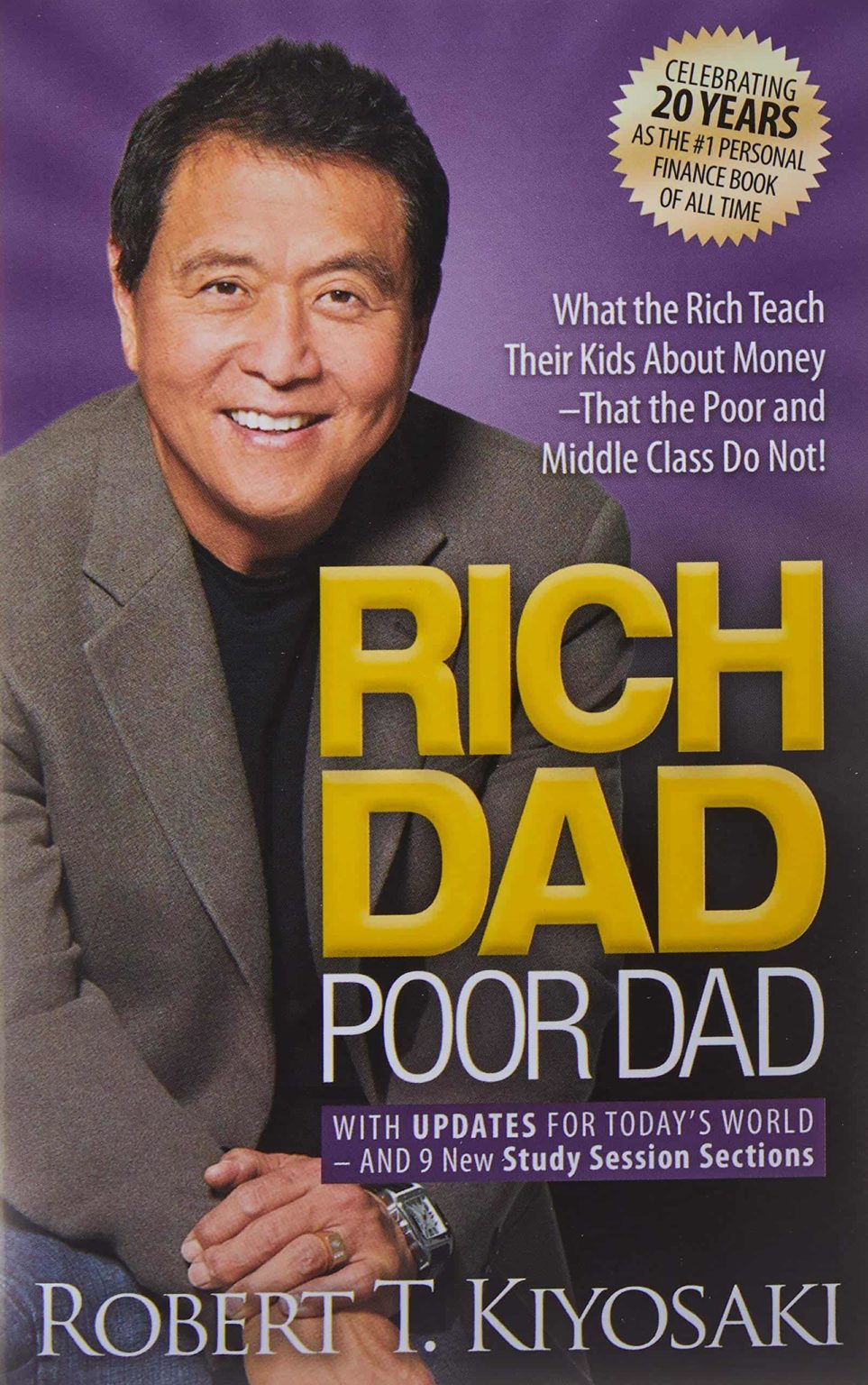 Summary
While there are countless lessons to be learned in Rich Dad, Poor Dad by Kiyosaki, this lesson is often the most pivotal.
A lot of people spend their entire lives earning from just one source of income. Then, they direct that income primarily to liabilities or depreciating assets. An example of a depreciating asset is your car. While it is an asset, it goes down in value every single year.
What you want to focus on is creating multiple streams of income. Then, you should direct that money into appreciating assets. At the same time, by minimizing the amount you spend on liabilities you can maximize what you invest. Over time, this effect compounds and can significantly change your financial situation and the financial situation of generations to come.
It is important to note too that Robert Kiyosaki isn't totally against liabilities. He spends money on cars, boats and other things that drain your wallet. The difference is he lets his assets pay for them. For example, your rental property could be covering your monthly boat payment with the cash flow.
When you only allow yourself to buy liabilities after you are generating sufficient income, you feel more pride in being able to purchase those assets and are able to get off of the paycheck-to-paycheck hamster wheel.
Overall, I hope this "new" definition of what an asset and liability are will help you in your future endeavors when it comes to financial freedom. While these two words are tossed around frequently, few people fully understand the concepts they represent and are taking action on them.
By working on building up your income-generating assets, such as dividends from stocks while at the same time working on eliminating liabilities, you will increase cash flow and your overall take home pay. I would recommend reading Rich Dad Poor Dad as this lesson that I learned will forever be one of the most valuable pieces of information when it comes to money.
Don't forget to grab your free stock worth up to $200 from Robinhood today!