Acorns Spend
Pricing

Rewards

Integration

Low Minimum

Fees
Summary
Acorns is a solid platform for the investor who wants to automate their finances. It is great for the lazy or forgetful investor. The new Acorns Spend feature has made this an even more compelling choice. It is now easier than ever to save, spend and invest. 
Acorns Spend is a one of a kind service that offers lots of features that separate it from other checking accounts. 
On a more personal note, my first experience investing was with Acorns. Acorns provides an easy to use platform for beginners. If you are able to justify the $3 monthly fee, it is a solid choice for savers and investors. 
Pros
Solid platform for the "Hands-off" investor

Choose your portfolio based on risk tolerance

Easy-to-use, beginner-friendly application platform

Low-cost monthly fee makes it very competitive ($3/mo for Spend)

First service that helps its clients more efficiently save, spend, and invest all in one

All ATM fees reimbursed
No minimum balance required
No overdraft fees
$250,000 FDIC insurance
Cons
Not a great choice for the investor that wants to be in control, since you can only choose from 5 portfolios

Depending on account size, the $3 monthly fee may have a negative effect on portfolio gains
Most people are familiar with the spare change round-up app called Acorns.
The concept is simple; you make purchases every day using a credit or debit card. Then, the spare change on each purchase is rounded up and invested automatically. Now, Acorns is expanding to other services above and beyond the spare change round-up to become a more comprehensive platform.
This has led them to offer Acorns Spend. Acorns Spend is essentially a checking account that links with your investing account to streamline your personal finances.
In this article, we will provide a complete analysis and overview regarding the features, fees, pros, and cons of this new service Acorns Spend. 
Summary
Acorns Spend is designed to work hand in hand with the Acorns Investment accounts

This investing service is best for the hands-off investor who wants their money managed by someone else

Acorns is an extremely beginner-friendly platform in the form of an application while maintaining a slick and clean user-friendly interface

Investors choose from 1 of 5 automated portfolios using diversified ETFs

Built-in dollar-cost averaging mechanism with the ability to round up purchases and set a fixed deposit schedule

Low monthly fees may eat up total returns for smaller accounts

Acorns Spend costs $3 per month and gives you access to Acorns Later, the retirement account
The debit card links directly with your Acorns investment accounts
This account is FDIC insured for up to $250,000
This checking account has no minimum balance 
They also eliminated fees, no overdraft fees and all ATM fees are reimbursed
Acorns Spend enables you to have real-time round ups instead of delayed round ups
What Is Acorns?
Acorns is focused on growing wealth for its clients by passively investing their spare change. 
Like many other robo-investing platforms, Acorns is attempting to take the complication out of investing by providing automated portfolios. Acorns allows its clients to select their risk tolerance before choosing a portfolio. Based on your risk tolerance, you will be placed in 1 of 5 prebuilt portfolios.
There are no individual stocks, ETFs, etc. Just 5 portfolios to choose from. 
Acorns is committed to planting the financial seeds for the future of all of its clients and hopes that Acorns Spend will help them accomplish this mission. They have continued to add new and exciting features over time. 
The central draw of the service is how easy it is to use. Users don't have to change their behavior or form new habits. You just keep doing what you typically do and Acorns passively puts away money for you.
Acorns Spend Features
Basically, Acorns Spend is a type of checking account that Acorns has developed to help automate the investment process for its clients. 
In its simplest form, Acorns Spend is a checking account that links to an Acorns debit card. As its clients save more money in their Acorns Spend checking accounts, Acorns will automatically invest and earn.
Several distinctive features make this service one of a kind. 
Save, Spend, Invest
Acorns Spend is the only debit card that allows you to both spend, save, and invest all within the same account. This makes this a truly unique offering. 
The design of the debit card is slick, the app is easy to use and very beginner-friendly. This makes it a great choice for the beginner investor.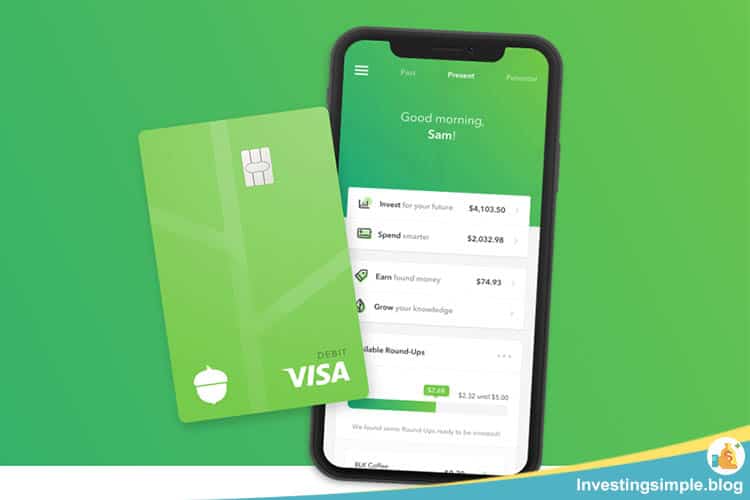 Round Up Your Transactions & Save
Acorns Spend utilizes round-ups to passively invest your money. Roundups work by rounding up to the nearest dollar for all purchases made on the Acorns debit card. 
So, as you spend, you are making small micro-deposits into your investment account. 
This method of investing is very popular among noteworthy investors such as Warren Buffett. The technique that Acorns Spend utilizes is called dollar-cost averaging. 
Dollar-cost averaging is when an investor gradually increases his or her principal by incrementally adding money to their investment account and investing it. 
Acorns does this automatically for you which takes the burden off of the management of your investments. After all, this strategy is backed by arguably the world's most successful investor, Warren Buffett. 
Smart Deposit
Most investors will certainly have heard the age-old advice that you should pay yourself first. Although simple in theory, practicing this piece of wisdom can turn out to be quite a challenge.
Acorns Spend offers a feature called Smart Deposit that will allow investors to do just that, pay themselves first. You can use this feature to automatically direct a portion of each deposit into your investing account.
For example, if you wanted to save 20% of your income, you could program your Smart Deposit to send 20% of your income to your investments. By taking the money away before you even see it in your checking account, it will force you to save before you spend.
This can be a very effective tool for beginner investors who have yet to make investing into a strong habit.
Recurring Deposits
Acorns Spend also allows you to automatically invest money on top of your round-ups. For example, you could take advantage of the spare change round-up and in addition invest $25 automatically every Friday. 
By setting up recurring deposits, you can grow your investments much faster than you can by solely utilizing the spare change round-up.
Acorns Investment Accounts
Acorns invests your money in Exchange Traded Funds (ETF's) which are well diversified and popular among retail investors
The portfolios that Acorns construct for its investors are made of these different ETFs. 
Here are some of the funds used:
VOO (Large Companies)

VB (Small Companies)

VEA (Developed Markets)

VWO (Emerging Markets)

VNQ (Real-Estate)

LQD (Corporate Bonds)

SHY (Government Bonds)
Bonus Investments
When you use your Acorns debit card to make purchases, you will have the potential to earn bonus investments.
Acorns has partnered with a number of retailers including Airbnb, Apple, and Walmart. When you shop with these vendors, you'll be able to receive up to 10% "cash back" added to your investment account.
This is a completely passive way to increase your investing by continuing your current habits. For users that regularly shop with some of Acorns's 350+ partners, this feature could lead to significant gains to your investments.
Investment Portfolios
Each one of these ETFs is diversified and Acorns has created 5 different portfolios that hold these ETFs. 
For example, an investor that has a high risk tolerance and wants to increase the potential for gains can select that as an option in the portfolio settings of the app. 
As a result, Acorns will put more capital to the VOO (Large Cap) ETF which has more exposure to the stock market. 
On the other hand, an investor who is more risk-averse can select a more passive portfolio construction where more capital is put in the SHY (Government Bond) ETF which has less volatility and risk.
This automatic policy is something that investors should not overlook. Asset allocation is essential in proper portfolio construction and the professionals at Acorns have programmed their robo-advisory system to optimally allocate based on the investor's risk tolerance.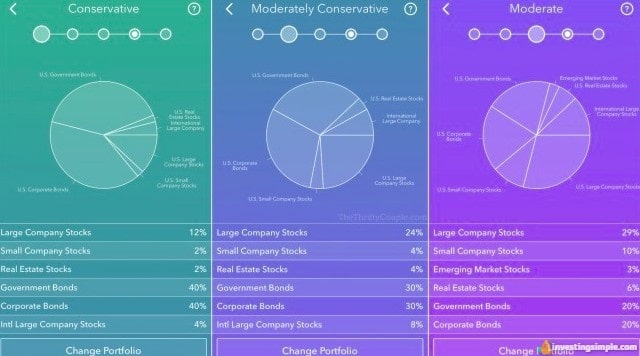 Acorns Grow
Lastly, Acorns Spend offers multiple services for its clients to learn more about the investments that it is making and general personal finance tips. These tips can be found in the "Grow" section on their website. 
My first exposure to investing was through the educational resources provided by Acorns a few years ago. It piqued my interest and I would not be writing this article now unless I utilized the Acorns "Grow" educational resources!
Acorns Spend Fees
Acorns offers its service, Acorns Spend, at $0 minimum balance with no overdraft fees. 
The only fee that clients pay for Acorns Spend is the $3 monthly payment. This equates to a $36 annual fixed payment for using this service. 
Acorns Spend also offers an unlimited free or fee-reimbursed ATM service nationwide. No more $2.00 payments just to take out money at an ATM! Acorns will cover that on over 55,000 ATMs around the globe. 
Given that Acorns is investing your money in a way that aligns with your own financial goals, the $3 monthly management fee is a good value for all of the features that Acorns Spend has to offer. But, be cautious if you have a small account balance, in this case these fees may be significant. 
As the saying goes, there is no such thing as a free lunch. Acorns needs to be compensated somehow by offering their services, and this fixed fee is how they can do that. 
Compared to many other robo-advisor platforms, this fee is very small. However, you'll have to think about whether the fee is justified in your personal situation.
Acorns Gives Back
An added benefit of becoming an Acorns user is that you'll be supporting their mission of fighting climate change.
Acorns is partnered with One Tree Planted to restore natural forests by planting thousands of trees every year. Every time a new user signs up for Acorns, they plant a tree. So far, the platform has planted over 438,000 trees!
By signing up for the service, you'll be contributing to restoring forestland and reducing the release of CO2 into the atmosphere. Additionally, you'll be helping to create jobs for disadvantaged communities.
Closing Thoughts: Acorns Spend
Acorns is a solid platform for the investor who wants to automate their finances. It is great for the lazy or forgetful investor that doesn't want to have to change their behavior. The new Acorns Spend feature has made this app an even more compelling choice. It is now easier than ever to save, spend, and invest. 
Acorns Spend is a one of a kind service that offers lots of features that separate it from other checking accounts. 
On a more personal note, my first experience investing was with Acorns. Acorns provides an easy to use platform for beginners. If you are able to justify the $3 monthly fee, it is a solid choice for savers and investors. 
As time goes on, Acorns is likely to continue to add new features like Acorns Spend to their service and become a more comprehensive financial platform!
Best Free Stock Promotions
Keep Reading: