Once upon a time, investing was something only the wealthy could dabble in, and as for the rest of us, well, we had to content ourselves with low-interest savings accounts. Unless you had tens of thousands of dollars to invest, you could not participate in the stock market.
Flash forward to today's new methods of micro-investing, allowing anyone – yes, we said anyone – to get into the game without derailing their monthly budget.
Two companies, Acorns and Stash, help novices chart new territories and make small investments that, over time, add up to big payouts. Here's what you need to know about investing with Acorns vs Stash.
Summary: Stash vs Acorns
Both apps are targeted towards beginners who are just getting started with investing.
Both charge a monthly subscription cost.
Acorns charges between $1 and $3 per month depending on the plan you choose.
Stash has a monthly fee ranging from $1 to $9.
Both have $0 account minimums, but watch out because fees are high on small accounts.
Acorns offers just 5 investment portfolios that hold low fee index funds.
Stash offers both investment portfolios as well as some individual stocks.
Both lack the features of more advanced robo-advisors like Betterment.
Stash offers custodial accounts, which Acorns does not.
Both offer retirement accounts.
Acorns offers the well known spare change round up investment strategy.
What Is Acorns?
Acorns allows you to start your portfolio with pennies – literally – and you don't even need to rein in your spending. In fact, when you spend, you're actually investing, because the platform rounds up your purchases to the next dollar, then funnels it into your Acorns portfolio.
It's that simple. Not only that, but you can join for a monthly fee of $1 for Acorns Lite, the basic platform.
Acorns Core facilitates micro-investing of as little as one cent. Buy something for 99 cents, and Acorns will round it up to $1, with that extra coin tossed into your investment account. And if you're a starving college student (or even if you're well-fed), Acorns will waive that monthly fee.
If you think it is a good fit, you simply sign up with Acorns Core's "Invest The Change" app and forget about it.
Once your round-ups total $5, the money is withdrawn from your linked checking account and invested, where it will gain momentum, letting you reinvest your dividends until you have a substantial portfolio. There are no minimums and zero commission fees.
This real loose change comes from any purchases made from a linked debit or credit card or even your PayPal wallet.
Acorns Fees
Acorns charges a monthly subscription ranging from $1 to $3 per month.
For $1 a month, you get:
Acorns Lite
Spare change round up investing
Bonuses from found money partners
For $3 a month, you get:
Acorns Personal
Everything listed above as well as Later and Spend
Acorns Later retirement account
Acorns Spend debit card and checking account
Investment Options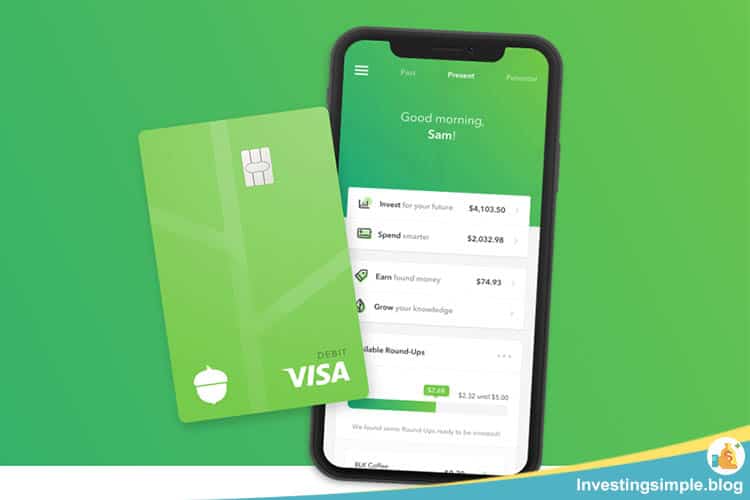 Acorns Core stows those extra coins into investments diversified across more than 7,000 stocks and bonds, automatically rebalanced with market fluctuations up and down.
You speed up the process by making one-time investments at any time.  Got an extra $10 from walking to work instead of taking the bus? The shuttle that right into your Acorns account. If you're really organized, you can schedule weekly or monthly transfers from your bank account into your Acorns investments.
Acorns will tailor your portfolio to match your risk tolerance and even your short and long-term financial goals.
Maybe you are a risk taker? Or perhaps you don't like to rock the boat. Whatever your personality dictates, Acorns will create a unique portfolio just for you. Just answer some short, simple questions about your lifestyle and financial goals, and a mix of Exchange Traded Funds (ETFs) will become your starter portfolio.
Give some thought to your financial future, specifically, where you intend to use your investment funds. Acorns will ask you to choose among these 5 options:
Long term investment
Short term investment
Major purchase
Children
General
Your Acorns account is a Limited Trading Authority account. Acorns will recommend, (or can even choose yourself) one of 5 Acorns investment portfolios, but you must trust the experts on which ETFs make up those portfolios.
You cannot pick and choose individual stocks or make your own portfolio.
Other Acorns Features
There are also different ways to build up your account! Acorns Earn is a long list of retail partners that will earmark an extra 5 to 10 percent of your transaction in cash back to your Acorns brokerage account. They include Nike, Apple, Airbnb, Macy's, DirectTV, Walmart, and a whole bunch more.
While you're on a roll, you may also want to sign up for Acorns Spend, a debit card for a checking account with Acorns built-in. The account has no minimum balance requirement, no overdraft fees, and unlimited free or fee-reimbursed ATMs nationwide.
And through Acorns Grow, you'll have online access to a vast variety of tutorials and other educational content to help you grow your investment know-how and sound like one of the smart guys.
Acorns Later
Want to plan for your distant future? Acorns Later that are Individual Retirement Accounts (IRAs) both traditional and Roth IRA.
Acorns experts will recommend an IRA for you based on your goals, employment, and income, then keep you posted on how it's doing. IRAs allow you to save money without all the tax implications of other investments.
You will be in good company: more than 250,000 have already signed on as Acorns Later investors. And if you already have an IRA or 401k, knowledgeable reps will help you roll it over into Acorns Later. As you approach retirement, your investments will begin to shift to line up with your goals.
Acorns are investing backed by experts, taking micro-investing to a whole new level, at costs so low you will never feel the pinch. With its wide array of products, Acorns may be calling your name.
What Is Stash?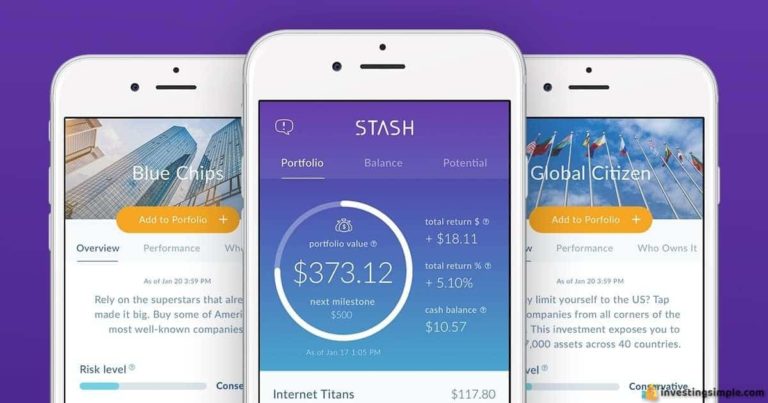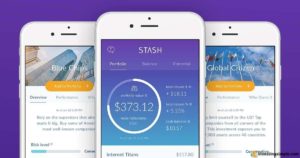 Micro-investing app Stash launched a couple years ago, has attracted a cache of more than 3 million customers, with another 25,000 jumping on the bandwagon each week.
What makes Stash so attractive? Its demographic is people who lack any experience and/or knowledge about investing, which is basically a wide net to throw out.
And they're not the rich and famous either. They're regular Joes who do not have a lot of wiggle room in their budget to invest, but through the Stash platform, manage to funnel an average of $22 a week to their investment account.
But wait, there's more. It doesn't cost a fortune to buy into your own unique investment portfolio: you can choose from one of the monthly subscriptions they offer.
Stash follows a similar pricing model to Acorns. The monthly subscription ranges from $1 to $9 per month.
Stash Fees
The Stash app offers three different subscription plans:
Beginner
Coming in at $1 a month, this is the cheapest plan
This gives you an individual investment account as well as a Stash bank account with a debit card
You also get access to some free financial education tools
Growth
For $3 a month, you get the middle plan
In addition to everything offered above, you also get a retirement account
Stash Plus
Coming in at $9 a month is the "Cadillac" plan
You get everything included with the Beginner and Growth plan
Plus members also get a custodial account for up to 2 kids
You also get a metal debit card as well as market insight reports
How Does Stash Work?
Stash allows you to choose your own stocks, which is a share in the ownership of a company, and you have a slew of choices of ETFs, which are Exchange-Traded Funds. An ETF is a bunch of investments, like stocks and bonds, blended together into a single fund that's traded on an exchange.
Don't worry, you won't be quizzed on investment jargon. In fact, you don't even need to recognize the terminology, because you will be well versed in the names of the companies ripe for the picking.
There are hundreds of companies on the list in which you can invest, but here's a list of some of the stand-outs:
Amazon
Best Buy
Campbell Soup
Chipotle
Domino's
eBay
Facebook
Harley-Davidson
Hershey
JP Morgan
Kellogg's
McDonald's
Microsoft
Pepsi
Spotify
Starbucks
Walt Disney
We aren't in any way recommending any companies from this list, but it gives you an idea of the broad range of availability. How you decide what companies to buy into is your challenge. You can study financials. Go with your gut. Ask a wise relative. Wing it.
Stash Investment Guidance
Stash also gives you the option to seek guidance from pros. When you establish your account, you can answer some quick questions that will create a profile of how you want to invest. Maybe you're a risk-taker. Or not. Perhaps you're right in the middle. Maybe you have specific long-term goals, like earning money to buy a house. Or maybe you just want more wealth (hey, who doesn't?)
Based on your answers, the smart folks at Stash will recommend investments that suit your goals. But their suggestions aren't written in stone. In fact, you can ignore them entirely and use your intuition, or any other avenue of decision-making. Maybe you love Kellogg's cereal, or Hershey Bars, or Disney World is your coveted destination. Who knows?
On the ETF side, you have a plethora of options ranging from a long-term mix, Blue Chips, Worldwide bonds, and a wide array of other choices to suit your individuality. It's up to you, ultimately, to choose your stocks and ETFs.
Financial wizards at Stash deliberate carefully over all the investments offered. They look at well-known stocks and investing themes based on expense ratio, trading liquidity, and your risk profile.
Stash Rewards Program
An innovative Stash Stock-Back Rewards program lets Stash clients earn stock rewards, rather than cash back on purchases.
There's a caveat – you must use a Stash debit card and have a Stash bank account – but you can use the card anywhere across the country. How it works is actually kind of cool: When you buy a Starbucks chai tea, Stash will reward you with a fractional share of the Starbucks stocks.
If you buy that tea from a vendor not listed as an investment on the Stash platform, you will earn capital back in a Stash-approved ETF. The stock you earn will then be added to your investment account.
Stash – and we – want you to remember, though, that stocks and ETFs aren't risk-free investments. Your stocks can lose value, just as it can appreciate.
Investment Resources
Stash also aims to up your financial know-how, with tons of articles available on topics ranging from reducing credit card debt to planning a wedding on a budget. It also wants to make you a better parent! There's a specific kid's module featuring a youngster putting coins into a piggy bank to catch your eye. There are modules about teaching children to count money, sorting coins, and even getting your kid to do (paid) chores. They can learn how to plan a picnic on a budget and differentiate between what they "need" vs. what they "want."
There's a pop culture module that gives you a break from the business of investing and instead, entertains you. Among recent topics: "How much do Americans spend during the Super Bowl?" and "The companies creating colossal cuts of cash curing your candy cravings." Hey, we can't make this stuff up!
You can educate yourself on current events on the Stash teaching module, including the Facebook and Russia investigation, and Ford abandoning car production in favor of trucks and SUVs.
Under the budgeting module, Stash will gladly tell you everything you need to know about term life insurance, setting up an emergency fund, and what to do with your year-end bonus.
The Verdict: Acorns vs Stash
Both Stash and Acorns offer a compelling platform for beginners who are looking to enter the realm of investing. They both have a similar monthly fee structure with the basic plan being $1 per month for both. What differentiates these platforms is the features offered by each.
Stash allows you to pick and choose your investments and even enable you to invest in individual stocks. With Acorns, you are limited to prebuilt investment portfolios that hold ETFs.
Acorns offers the popular spare change round up investment model, which is not offered by Stash. Both Stash and Acorns have a debit card and checking account with a cash back rewards program.
It is important to remember that there are other completely free investing platforms out there if you are looking to avoid fees altogether. They might not offer all the bells and whistles. But it will allow you to keep more of your hard earned money invested.
Best Free Stock Promotions