When we choose to invest our money we have to decide exactly how we are going to manage our investment portfolio. 
Traditionally there are two types of investment management, active management, and passive management. These two types of portfolio management are very controversial in the investment community. 
Personally, I use both of these investment strategies. 
In this post, we will outline the differences between active vs passive investment management. And we will give examples and case studies form the of the greatest investors of all time. I will outline in detail some of the strategies used by Jack Bogle, Warren Buffett, Howard Marks, and Stan Druckenmiller. 
At one time or another these investors collectively managed trillions of dollars. And each has its own approach to investment management. 
But which investment strategy is better?
Hopefully, after you read this article you can make your own decision as to which investment management style you prefer. 
What is Active Investment Management?
Active portfolio management is an investment strategy that is more dynamic in nature. 
Active management by definition means you are more active in making buys and sells within your portfolio. But, there are many different variations of active investment management.
Active managers have the goal to beat the market over time. They may pick a benchmark index such as the S&P 500, and aim to capture higher returns than the index over time. 
There are many different active management styles, but generally active portfolios tend to be more flexible. Active managers have a greater ability to change their investment strategy when compared to more passive approaches. 
An active manager will try to take advantage of market irregularities or events that will impact stock prices. 
Political events, earnings releases, economic events, Federal Reserve decisions, or breaking news events are just some of the events that an active manager may try to exploit and capitalize on.
What is Passive Investment Management?
Passive portfolio management is an approach that is more strategic in nature. The goal of passive management is to earn market returns over time. 
A passive portfolio manager will aim to earn a return equal to a benchmark index, such as the S&P 500. 
Passive management does not require a proactive approach or an extensive investment management team. For these reasons, passive investments tend to be lower cost for the average investor. 
Passive investors typically believe that there is no use in trying to beat the market because it is nearly impossible. This is why passive investors choose to invest in index funds, which will earn market returns over time. 
A passive index fund may eliminate the risk associated with individual stocks, sectors, and human biases. The main risk associated with a broad market passive index fund is market risk.
Portfolio Management: Active vs Passive
When new investors begin learning about investment management strategies, the debate between active vs passive investing will be a decision they will make whether they realize it or not. 
It is common for investors to start out using active management and buying and selling individual stocks. After all, it can be exciting to invest in individual companies. But, it isn't until they start losing money when they may question their investment style. 
As an investment advisor myself, I believe the active vs passive debate is extremely interesting. I truly think for many investors, it will come down to your fundamental beliefs about markets, how stock prices are determined, and your thoughts about human behavior.
Is the Stock Market Really Efficient?
Market efficiency is a big factor in making investment decisions. And it is possible for some markets to be more efficient than others. 
One of the most basic principles that we learn in business school is the Efficient Market Hypothesis (EMH). This hypothesis is just as controversial as the active vs passive debate. 
Efficient Market Hypothesis (EMH) - The belief that markets represent all available information, and there is no ability to "beat" the market on a consistent basis because the market immediately adjusts to new information. 
Now I am not trying to bore you with theory and academic jargon, but when discussing the debate of active vs passive investment management, it comes down to your belief in the efficiency of markets. 
Efficient markets believe to some degree that the market looking so hard to find bargains that it quickly removes bargains from the market. This is why the prices of assets in the market are always fairly priced according to this theory. 
There are investors who believe the market is efficient to different degrees. 
Generally, there are 3 levels of the efficient market hypothesis:
Strong Form

- The Market is completely 100% efficient. All information is priced into a stock price and there is no information that can give you a competitive edge. Fundamental and technical analysis both will not work. 

Semi-Strong Form

- Only information available to insiders will give you a competitive advantage in pricing securities. Fundamental and technical analysis both will not work.

Weak Form

- Today's stock prices reflect all the data included in past prices and the application of technical analysis will not work. However, investors can use Fundamental analysis to take advantage of undervalued securities.
Fundamental vs Technical Analysis
Two of the most common methods for evaluating the future value of a stock are fundamental and technical analysis. 
Both fundamental and technical analysis is used by active investors with the goal to profit from pricing irregularities. 
Fundamental Analysis - Using company financial data and economic data to calculate the intrinsic value of a stock. If the calculated intrinsic value is above the current market value then the stock is undervalued and should be purchased. If the intrinsic value is below the current market value then the stock should be sold or shorted. 
Technical Analysis - The strategy of using price trends to extrapolate future stock price changes. Many technical analysis investors do not believe fundamental analysis can work because all information is already priced into the stock price (strong form efficient market hypothesis).
Case Studies:
Jack Bogle, the father of Passive Index Investing
Jack Bogle is one of the most influential investors of our time. He is the revolutionary figure behind Vanguard and the creation of the index fund. 
Bogle has provided a detailed analysis of how index funds beat active managers over time. 
Throughout his life work, Bogle explains how 95% of actively managed funds lag the market index over time. This is an astounding figure, as so many active managers fail at reaching their goal.
Over the past 30 years, passive management has exploded in popularity due to its long term success and low costs. You can see below the fund flows over the last 10 years. The overall trend is out of active funds and into more passive investment strategies.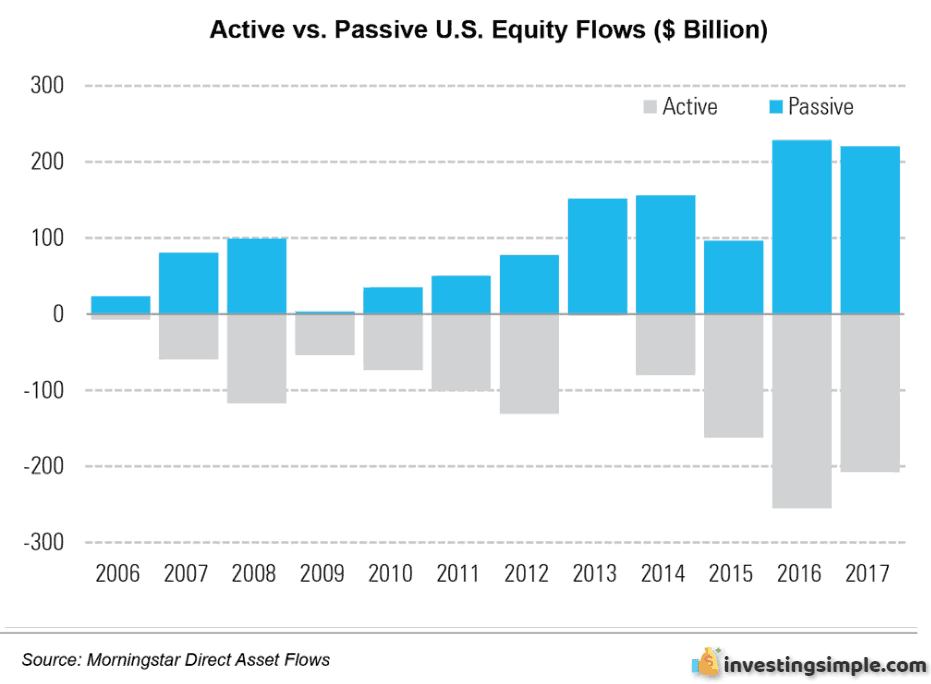 Every year since 2006 there have been net outflows from active funds, and net inflows into passive strategies. This is a perfect example of the overall shift in beliefs about active vs passive management.
Warren Buffett's Bet on Passive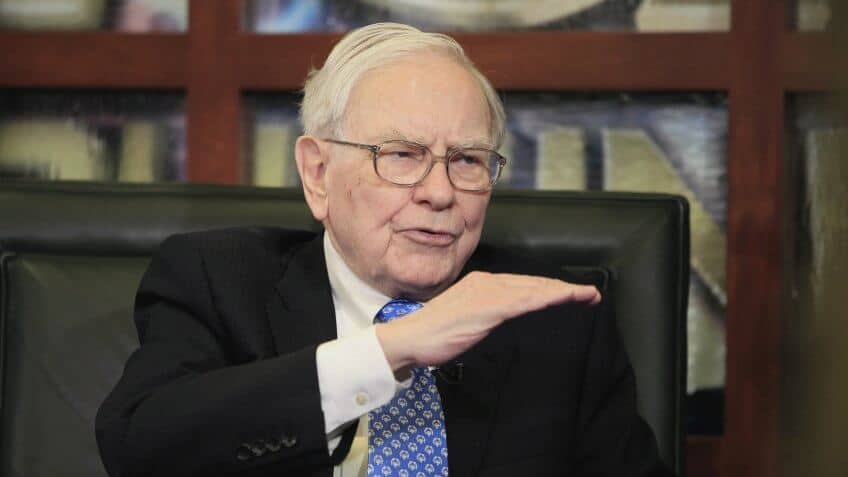 Warren Buffett is an active investment manager, who aims to purchase undervalued companies. Buffett's strategy is to calculate the intrinsic value of companies using fundamental analysis. If his calculated intrinsic value is below the market value then the company may be a good investment. 
Although Buffett is an active manager, in the past he has been a strong proponent of passive investing. 
Warren Buffett himself, one of the greatest active managers of all time, has explained how the average investor will be successful if they invest in low-cost index funds. 
Buffett even wagered a million-dollar bet against an active manager. 
In 2007 Buffett bet an active portfolio manager at Protege Partners $1 million dollars that a passive index fund would beat the active manager over a 10 year period. In 2017 Buffett won this bet with the active manager earning a 2.2% annualized return, dismal in comparison to the S&P 500's 7.1% return. Buffett donated his $1 million in winnings to Girl's Inc., a local Omaha charity. 
"Consistently buy an S&P 500 low-cost index fund," Buffett told CNBC's On The Money. "I think it's the thing that makes the most sense practically all of the time."
Howard Marks on Active vs Passive Investing
Howard Marks is an active portfolio manager who manages one of the largest hedge funds in the world, Oaktree Capital. 
With over $120 billion dollars under management, Marks leads the investment decisions mostly comprising of distressed corporate debt, high yield bonds, and equity investments. 
Marks has a legendary track record and has made billions of dollars for his clients. His active strategy and philosophy about markets have been praised by Warren Buffett. 
Howard Marks is known for his thoughts on cycles, emotional investing, and traits required to be a successful investor. As well as his aggressiveness, open-mindedness, and simplicity in his investment approach.
Marks believes the measure of an exception investor is someone who has a good return proportionate to the risk they take. 
As an active manager himself, it is no surprise that Marks has been very outspoken on the discussion of active vs passive management. 
Marks has been cautioning for years about the large movement of capital towards passive management. Largely from the unknown consequences or effects of so much capital flooding into the system with no "brains" or reasoning behind the individual investments. 
When Marks heard from one of his clients that their new treasurer was going to fire his equity fund managers and invest in index funds he said tell him "feel free to put all your money within a fund where no one decides which stock is included, what they're worth, or how it should be weighted".
Marks on the Shift From Active to Passive
I think there are a few important points to note about the large shift to passive management. One point brought up by Howard Marks is that as more and more people heard into passive, the higher the odds of success for active management. This is a fundamental function of markets.
When everyone uses the same strategy, the lower the odds of success for that strategy. Marks believes there will be a shift at some point in the future when active management begins outperforming passive. 
Only time will tell how passive management evolves over time, but we must wonder about the effects of the vast amounts of market capital migrating to passive management.
Stan Druckenmiller, One of the Greatest Active Managers of All Time
One of the most fascinating stories in the realm of active management is the story about a renowned money manager named Stanley Druckenmiller. 
Stan's story is so interesting because of his investment style. He is an active money manager who makes large trades both long and short over a period of months or years. Most of his trades are based on the macro environment across countries, asset classes, or different sectors. 
Whether he is shorting financials, long treasuries, or betting against the British pound, Stan has one of the best track records in modern investing history. 
Druckenmiller earned 30% returns or higher for over 30 consecutive years for his clients at Duquesne Capital. 
He also made over $260 million dollars in 2008 when he predicted the financial crisis. 
Stan retired from managing other people's money in 2010 but maintains a family office to manage his own net worth which is approximately $4.8 billion dollars. 
Stan has never had a down year when managing money, while the S&P 500 has had at least 6 since 1988. 
One of the Greatest Trades in History
In 1992 Stan and well-known investor George Soros placed a bet against the Bank of England and shorted the British pound. Over a 1 week period their bet paid off and they profited over $1 billion dollars. Their belief was that rising interest rates and the lack of the bank's ability to prop up the British Pound would be unsustainable. Eventually, the currency plummeted and the trade more than paid off. 
So how did Stan Druckenmiller do this? 
If markets are truly efficient then Stan's story would just be based on luck. 
Druckenmiller and Soros calculated a future weakness in the British Pound and their calculation proved to be correct.
A passive investor would not believe it to be possible to accurately predict such an event, and may even attribute this success to dumb luck. 
But active investors routinely try to find such irregularities in markets and attempt to profit when they believe the market is wrong.
Active vs Passive Investment Management: In Summary
After years of investing and learning about the greatest investors of all time, active vs passive management is still a difficult decision to make. There is strong evidence supporting both investment strategies. 
But, what we can do is outline the facts and try to use our intuition to find the strategy that fits our investment beliefs.
Most active managers fail to beat their benchmark index over time. According to Jack Bogle, the founder of Vanguard, over 95% of managers fail to beat the market. 

Even though Vanguard was founded on the idea of the passive investing index fund, they still support active investing strategies and provide active funds available to investors. 

Though there are many active managers that fail to beat the market, there is a select group of investors who succeed at beating the market.

Net fund flows out of active management and into passive management has been clear over the past decade. 

Mathematically, if more and more people choose to invest in passive funds, the odds of success for active management increases. 
What are your thoughts on active vs passive investing?
Leave a comment below and let us know what strategy you prefer.
Best Free Stock Promotions