AMC Entertainment Holdings, AMC stock, was founded in 1920 in Kansas. AMC owns and operates 1,004 theaters and just over 11,000 screens worldwide.
Approximately 62% of those theaters are located in the United States.
In addition to movie ticket sales, AMC also gains revenue from concessions offered in their theaters. In 2011, AMC launched a rewards program they call AMC Stubs. This allows customers to earn points and receive exclusive discounts.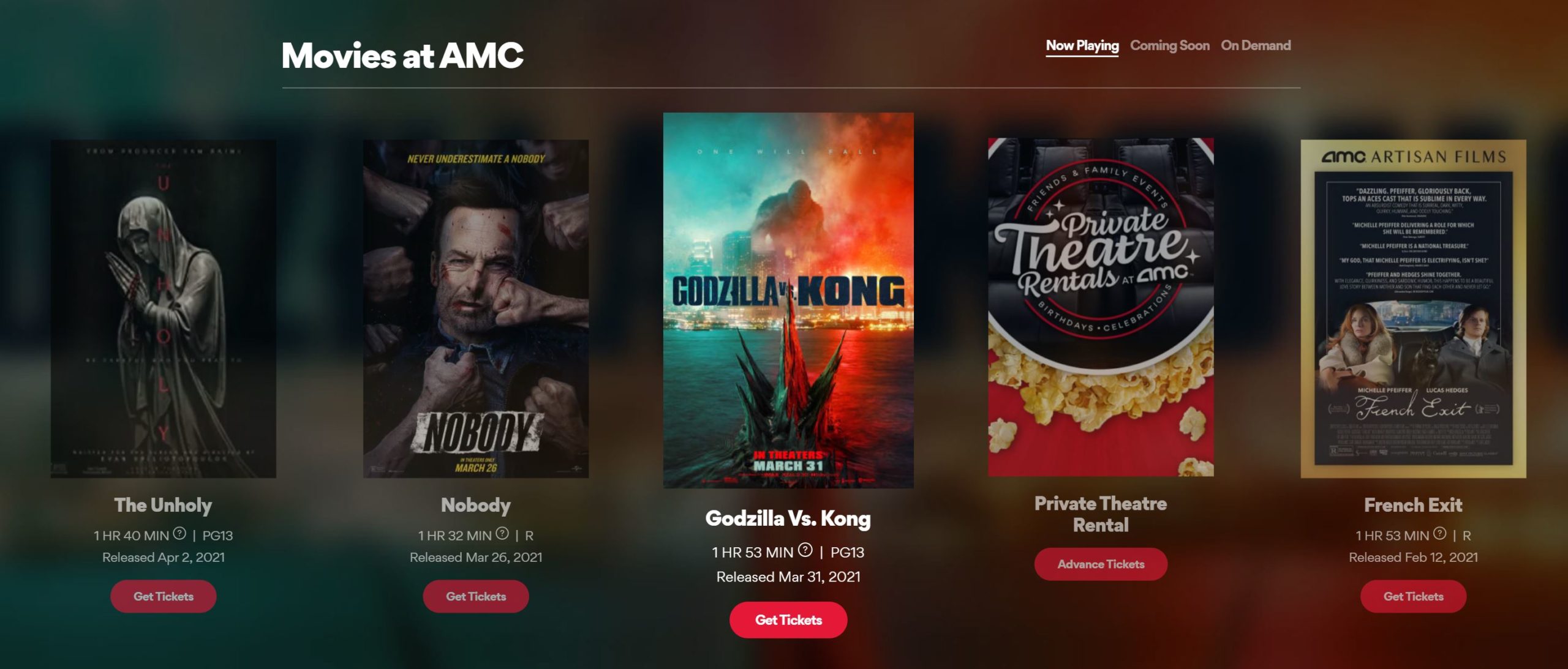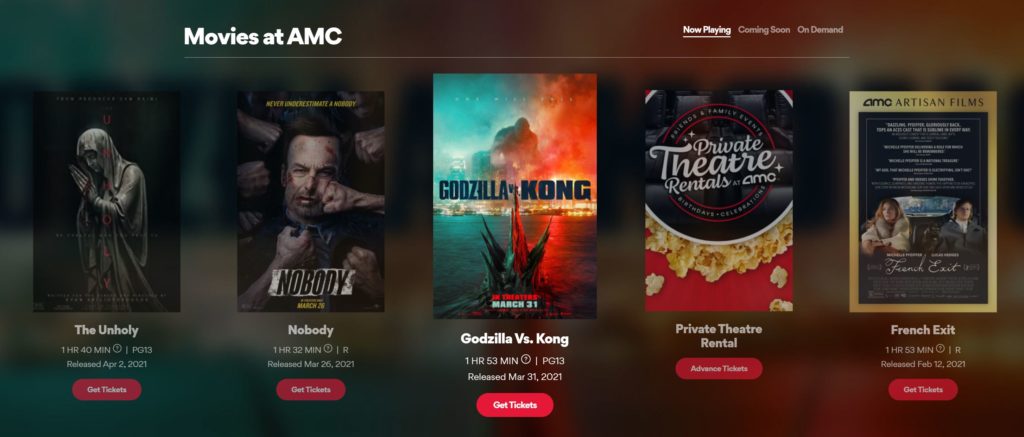 Why is AMC Stock Moving Now?
Earlier this year, on January 27th, AMC stock flew to nearly $20 a share, which was a dramatic spike of 765%. After falling back down to about $5 a share, the stock price went on another run on March 15-19th reaching a peak of +508%.
The massive increase in trading AMC stock was led by a Reddit group called WallStreetBets. Earlier this year, members of this Reddit group targeted a number of stocks such as AMC, GME, and SNDL. They targeted stocks that were heavily short sold, which means a high number of investors were betting on the stock to decrease. The increased trading for AMC led to a short squeeze. Simply put, as the stock price increased, institutions and other investors were forced to buy the stock to stop further losses, which contributed to the increasing price even more.
Since March 19th, AMC Stock has fallen about 27%, though in the latest year, AMC stock is still up over 220%.
On March 17th, AMC also released a statement indicating that 98% of their U.S. theaters would be opened by the 19th. This offered some hope to investors that sales could return to pre-COVID trends.
What are AMC's Strengths and Opportunities?
With the COVID-19 vaccine becoming more readily available, AMC could see consumers return to theaters. Before the pandemic, company revenue in 2019 increased 7.7% vs 2017. Investors interested in AMC stock are hopeful that the company will return to pre-pandemic growth.
AMC has established themselves as the market leader with just over a thousand theaters. Their two main competitors, Regal and Cinemark, combined have 880 theaters spread across the United States.
Regal currently owns and operates 549 theaters, and Cinemark has 331.
What Challenges is AMC Facing?
Theaters attract consumers primarily for two reasons: exclusive viewing ability for new movies, and an enjoyable experience. Both of these are currently at risk for AMC.
Warner Bros. announced recently that all new movies would be launched on HBO max the same day as in theaters. Disney is actually doing something similar with a small set of movies with their streaming service Disney+.
This move came as a direct result of staying at home trends due to COVID-19. With the exclusive ability to show new movies, theaters have always forced consumers to either see the movie in theaters or wait for it to come out. However, as more streaming services gain access to new movies, consumers will have less incentive to go to the theaters.
Due to the pandemic, AMC lost 77% of revenue in 2020 vs 2019.
As consumers sheltered in place and avoided crowds, theaters saw sales plummet. Though access to vaccines is becoming more widespread, some consumers are still avoiding crowds, and without a clear understanding of the "end" for COVID, AMC stock could continue to decline.
Additionally, vaccine effectiveness continues to struggle as new variants of the virus become known. While the majority of AMC theaters have been reopened, the company will likely not see sales like they had in 2019 until the end of COVID.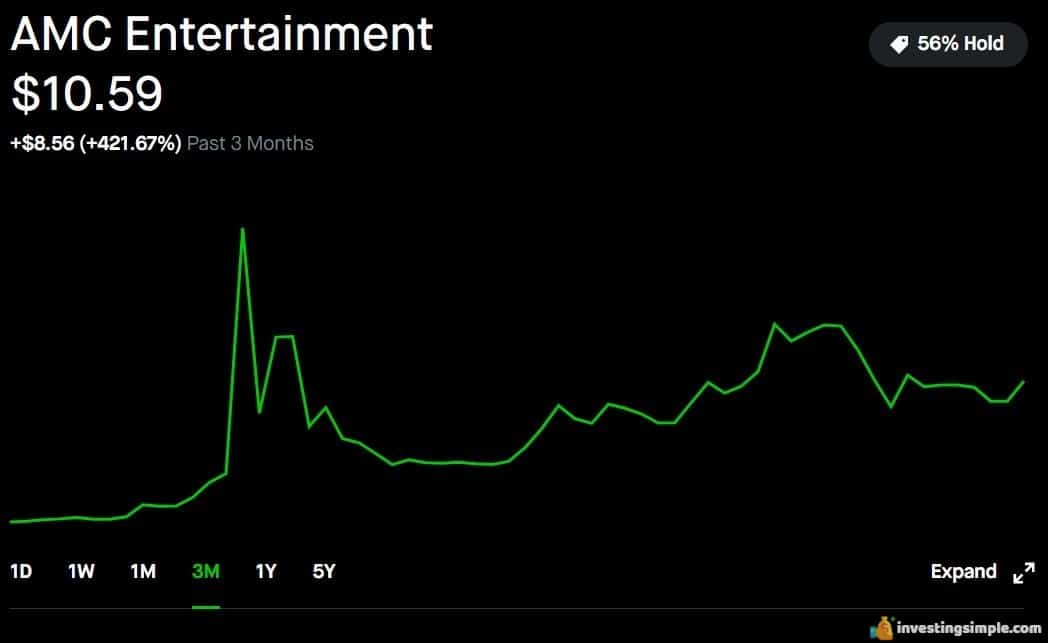 AMC Entertainment Holdings: Final Thoughts
AMC future's appears bleak for many investors as COVID trends are still looming.
In order to see growth, AMC will need to pivot and find new revenue streams. Investors interested in AMC stock should pay close attention to AMC financial results. Though AMC stock went on dramatic run earlier this year, a company's financial performance will always be important in the long term.
If the company can't find ways to eliminate debt and supplement revenues, then AMC stock may continue to decline.
Start Investing Today
Investing has never been more accessible than it is today. You can quickly open a brokerage account and start investing all within 10 minutes from your personal phone!
The question is, which investing app is best? With so many to choose from, people often delay getting started, but with any investment, time is often one of the most important factors!
If you are looking to get started but are unsure how, then be sure to read How to Invest in Stocks For Beginners or check out the 10 Best Investing Books Beginners Need To Read In 2021.