Innovation is the future, but not all innovative ideas come to fruition.
For most investors, consistently identifying the top innovations that will truly change our day to day routine is nearly impossible. Those who can accurately and consistently choose the companies that will lead the way with disruptive innovation will certainly enjoy strong returns for many years.
Ark Invest is an asset management company seeking to solve this difficulty. At Ark, they believe solely in disruptive innovation and are trying to help investors identify those companies best poised to shape the future.


What is Ark Invest?
Ark Invest was founded in 2014 by Cathie Wood. They launched their first ETF in September of 2014 and have continued founding additional ETFs as well as a few other asset type offerings.
Because disruptive innovation is the sole focus at Ark Invest, investors can be confident that the ETF funds they have are truly dedicated to ideas and concepts that are shaping the future. Ark Invest believes in investing in the future and has identified a few key areas that deserve a closer look.
Some of the key innovation areas they have identified include autonomous tech and robotics; genomic technology; AI, big data, and blockchain; fintech innovation; and space exploration.
Ark Invest currently manages 6 innovation ETFs with the latest addition of ARKX, which is an ETF fund dedicated to all things space.
What is an ETF?
An ETF is an exchange traded fund. Like a mutual fund or an index fund, an ETF is a fund that bundles a group of companies together and thereby diversifies an investor's portfolio.
ETFs are funds that track the performance of an asset or index. Investors can purchase shares in an ETF like they would with a regular stock, but they do not own any of the underlying asset.
Simply put, a fund provider picks a number of assets that could be stocks, bonds, or commodities and forms a group. The fund provider owns this group, which now has a unique ticker symbol and price. They then sell shares of that group to investors. Rather than purchase shares from many publicly traded companies with a certain sector, investors can easily purchase shares of the ETF and track the sector.
ETFs have become popular in recent years. Interested in learning more about ETFs vs Index Funds?
What is ARKX ETF?
ARKX is the most recent fund created by Ark Invest. The new ETF will go live on March 30, 2021. ARKX most typically will have 40-55 holdings, with the top 10 holdings making up 50.7% of the ETF.
The newly created ETF seeks to provide exposure to companies working in space exploration. Specifically, ARKX ETF tracks a number of companies that are building rockets, drones, and other orbital and non-orbital spacecraft.
The focus of this investment is on space exploration.  More specifically, it is geared towards reusable rockets, orbital aerospace, suborbital aerospace, aerial drones, 3D printing, and enabling technology. ARKX defines space exploration as "leading, enabling, or benefitting from technologically enabled products and/or services that occur beyond the surface of the Earth."
Many investors are curious to hear more about the decision to exclude Tesla and SpaceX from ARKX holdings.
Cathie Wood has been a huge proponent for Tesla, which is actually the top holding in other Ark Invest ETFs. Others wonder why a company such as Netflix made the cut. There are currently 39 holdings in ARKX ETF.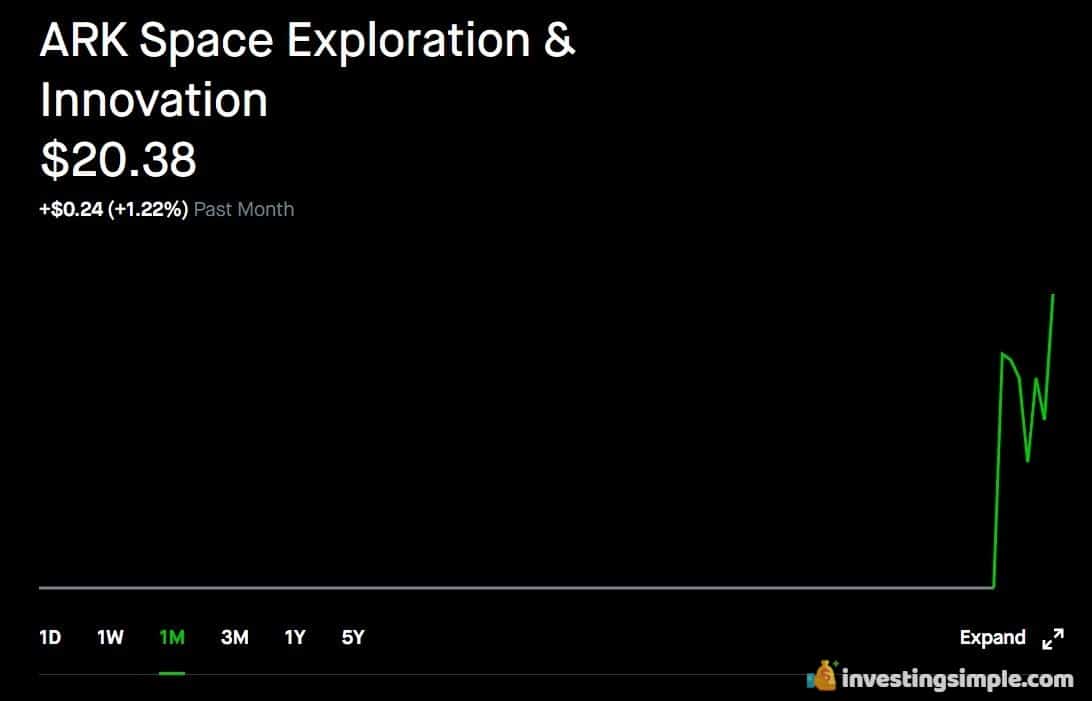 Who is Cathie Wood?
Cathie Wood is the portfolio manager of ARKX as well as the founder of Ark Invest. She has gained a number of followers recently with the success and strong results of other funds offered by Ark Invest.
Wood has over 40 years of experience finding investment opportunities in innovation. Before she founded and launched Ark Invest, she was the CIO for AllianceBernstein.
ARKX ETF: Final Thoughts
Anyone interested in space exploration should be attentive to ARKX ETF as it tracks the leaders in space exploration.
Throughout history, space exploration has been highly controlled by governments around the world. However, with incredible advancements in technology, space is closer today than it has ever been. New key learning, sensors, and robotics have allowed for the increasing numbers of satellite launches and rocket landings in the recent past.
New technology will continue to create new questions for those looking up into space. ARKX ETF is a way for those who are interested to invest in space and the companies leading the way there. It could also be a fund that watches a company put the first person on Mars.
If this sounds like a fund you are interested in, be sure to put it on your watchlist.
Start Investing Today
Investing has never been more accessible than it is today. You can quickly open a brokerage account and start investing all within 10 minutes from your personal phone! The question is, which investing app is best?
With so many to choose from, people often delay getting started, but with any investment, time is often one of the most important factors!
If you are looking to get started but are unsure how, then be sure to read How to Invest in Stocks For Beginners or check out the 10 Best Investing Books Beginners Need To Read In 2021.