Atom Finance
Pricing

Data & Research Tools

User Friendly

Customer Service

Sign Up Process
Summary
Atom finance offers a no-cost solution to help you make stock trading decisions. While at the same time, other companies charge you thousands of dollars per year. The total funding of atom finance is now 12.5 million dollars. The latest financing round helped the company in expanding its engineering team. Their team is working on growth, operational functions and product marketing.
Atom public beta has more than 100,000 sign-ups now and the popularity is growing quickly. Commission free trading apps like Robinhood have made it free to place trades. Now, Atom finance aims to make it free to have access to institutional investment data.
Pros
100% free for individual investors

In depth investment research platform

Data collection of your favorite companies

Fast sign-up process

Free comparison of different companies

Easy financial modeling tools

In-depth analysis of stocks

Synchronize portfolio options

Bank-grade encrypted connection
Cons
No live chats

Weak customer support

They do charge for institutional access
Atom Finance is the Brooklyn based company that has set a goal to build the best investment research platform and application. 
It is a news media and financial technology company that offers all the data, resources, and analysis available to institutional investors.
If you're familiar with Bloomberg, Atom aims to be a free alternative to the platform offering significant features to individual investors that have historically cost thousands of dollars.
With Atom Finance, you can track all of your investments in one place. It also provides you with the opportunity to link your brokerage accounts. After that, you will be able to get exclusive price alerts, all the market briefings, and much more.
You just need to link your brokerage account to Atom Finance to see returns, trades, holdings, and more. You can also see real-time P&Ls and your portfolio statistics. With Atom Finance, you can also track the data of your favorite companies. 
The stated goal of Atom Finance is to introduce a democratic system to provide access to high-quality research and resources to investors. The platform provides you with detailed information about the financial state, valuation metrics, and consensus estimate for a given company.
You can also check the transcripts, events, curated news, and SEC filings. It will help investors like you to make informed, educated, and wise investment decisions.
Atom Finance provides in-depth coverage of markets and stocks. It also explains the reasons for price changes and real-time commentary of the stock price movements.
It allows you to create financial models without using Microsoft Excel or other spreadsheets. Users are also able to sync the multiple brokerage accounts to track and analyze all of their investments. 
The best part is, it's 100% free for individual investors.
How Does Atom Finance Work?
For the most part, this app best serves active stock market investors. This is the type of investor who picks and chooses their own stocks or ETFs to invest in, rather than having their money managed by someone else.
The financial markets move fast, and Atom Finance delivers insights in real-time that allow you to move quickly. You don't have to worry about getting lost in millions of data points.  
Atom finance offers reliable investing tools to manage your portfolio. You can track profit and loss, see account history and transactions, and analyze the data. 
To start, you have to sign up for Atom Finance.
Open the website and simply click on the sign-up button to start. Enter your details and complete the form to finish the registration process. 
You can get started by following 3 or more companies. In the search bar, you can search for companies to follow. Click on submit and you are up and running with data on the firms that matter to you. 
After that, the dashboard will appear. It provides you with up-to-date reports. In this section, you can check the complete overview, earnings, valuation, financials, and industry details. 
The live trade section will help you make decisions about investing in a certain company or not. Atom finance also provides the pre and post earning notes and other key excerpts on the conference call. 
It provides noteworthy corporate actions that include strategies, announcements, M&A, rumors, and much more. Their security is incredible as you can connect your account using Plaid, a financial service that uses the bank-grade security protocol. 
Best Free Stock Promotions
Atom Finance Features
Atom Finance provides a lot of unique features for investors, and these are as follows:
Market News And Updates
Atom Finance gives you access to market news and updates in a very efficient way. When you sign-in to your Atom Finance account, you can see the complete dashboard settings that include the feed button.
It is your news feed that will provide you with all the information, sectors, topics, and stories about the companies you care about. 
The good thing about the Atom Finance news and updates section is that it will only provide the relevant information. For instance, if you choose 3 companies to follow, you can see news and updates about those specific companies. You won't be bogged down with other news that is not relevant to you. 
Unlike Robinhood, AF works on research, and it even provides you opening, midday, and market closing reports. It works as a great supplement to brokerage accounts that have minimal research tools, such as Robinhood. 
Track All Your Accounts In One Place
Using Plaid, you can link all your financial accounts to track them in one place. 
Sync and track all your linked investment accounts to monitor stats, real-time profit & loss statements, and much more. 
This is a feature that you won't find on many other free platforms. For investors with accounts on Robinhood, Webull, Vanguard, and multiple other brokerage platforms, aggregating all of them in one place can be an effective way to quickly evaluate your entire portfolio.
After adding your various brokerage accounts, Atom will also provide you with detailed analysis on performance, risk exposure, and provide comparisons to a benchmark. With this information, you'll be able to better understand how your various portfolios interact with each other.


Stock And Portfolio Alerts
This app helps you to keep track of your stocks with multiple watch lists. It also creates price alerts to notify you if the stock is seeing significant movement. 
The Atom Finance app has a simple UI, where you can easily track stocks, bonds, currencies and commodities. It is easy to set alerts for any stocks/assets you invest in or are keeping an eye on. 
You just have to set-up the watch list, and then you will be able to get live quotes and other useful data. With atom finance, you can have fast access to the breaking information in no time. 
Analyze And Research Companies
You can easily analyze and research companies after logging-in to your Atom Finance account. Search any company in the search box using its name or a ticker. Atom Finance will provide you with all the necessary information in no time. 
You can check out the 3 briefs for the day: morning brief, afternoon brief and evening briefs. You can analyze complete stock reports of top movers and trending ones.
Atom Finance offers you 5 research products on windows, android, and on iOS platform.
Here is the list of these 5 products:
Sandbox:

This product gives you instant financial modeling with consensus projections. It will automatically recalculate and update over time.

Portfolio:

You can track portfolios and your linked investment accounts to monitor real-time profit and loss, diversification and other stats.

X-ray:

Atom Finance x-ray is a financial research search engine for SEC filing, analysis, news, updates and events. 

Collaborate:

Group chats, conference calls and discussion boards to share insights with fellow investors. 

Compare:

You can generate a comparable company table within Atom Finance. It is best for

comparing companies and different sectors.
Create Financial Models
The financial model is simply used to forecast business performance in the future. That typically depends on the companies historical performance and future assumptions.
It utilizes income statements, cash flow and other data points.
In the past, you had to use spreadsheets to create these models. Now, you can easily create your financial models without using spreadsheets.  
The sandbox feature will allow users to create financial models directly on the platform. This will save the user time and prevent them from manually refreshing inputs to their models.
Stock Screener
A stock screener is a valuable tool for investors and traders alike because it allows them to filter thousands of investment options down to the few that meet their criteria in a matter of seconds.
With Atom's stock screener, you can quickly view investments that meet your return criteria, market cap, industry, and dozens of other metrics. You can also set up a hub that will save your screening criteria and constantly monitor them for new investment opportunities.
This can allow you to passively stay on top of up-and-coming investments and jump on them before they are on the radar of other traders. All of this data comes in real-time so you don't have to worry about missing the next trend.
Analyst Estimates And Market Commentary
With Atom Finance, you can get access to the detailed consensus estimates that are aggregated from professional analysts. 
The analyst estimates include market commentary, real-time quotes, SEC filing and history of financial transactions. Atom Finance is a game-changer for getting ahold of key data and analyzing it.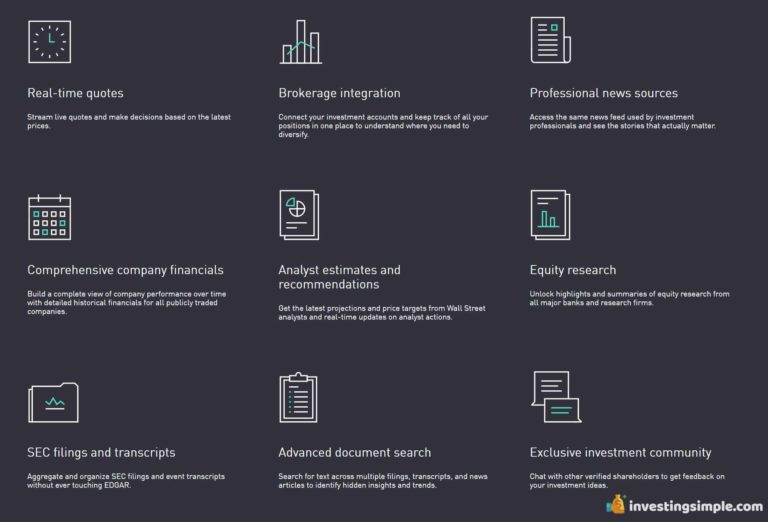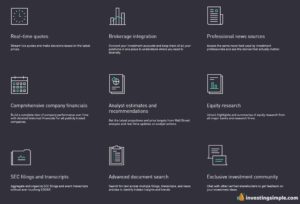 Exclusive Investment Community
In addition to having access to the opinions of professional analysts, you can also chat with other individual investors on the platform about your positions.
Through hundreds of different channels, you can post messages and get opinions from other Atom Finance users on your investment strategies or positions you are considering getting into. These channels are organized around specific stocks, sectors, or newsworthy topics and anyone can participate.
Atom Finance Fees
The best part is, Atom Finance is completely free. It is $0 and the goal here is to make it free for investors to make informed decisions on what to buy. 
However, there will be a subscription fee for large financial institutions looking to use this service.
According to Shoykhet (CEO of Atom Finance), they aim for pricing that is a fraction of other institutional platforms that often charge $6,000 to $12,000 per year.
Atom+
Atom Finance has announced the upcoming launch of a paid service called Atom+ that will provide investors with more in-depth coverage of stocks and markets beyond their current offering.
With Atom+ you'll gain access to real-time commentary on the underlying cause of significant price swings. This will allow investors and traders to react immediately to price changes and quickly understand the rationale behind the stock price.
Additionally, you'll receive concise pre- and post-earnings notes from conference calls so you'll be immediately prepared for the trading day to start and to take advantage of the most pressing news before it hits the mainstream.
The Atom+ service is not currently available. However, there is a waitlist that investors can join if they are interested.
Atom Finance Review Summary
If you want to invest in a well-researched manner, Yahoo Finance and your brokerage account are simply not enough.
Bloomberg Terminal costs you $24,000 a year. You need a free tool to manage all your investment accounts and conduct research. Atom Finance offers many of these exclusive features and comes without a fee. 
Atom Finance offers a no-cost solution to help you make informed stock trading decisions. While other companies charge you thousands of dollars per year for these features, Atom is determined to make access to high-quality investment information available to the everyday investor.
The total funding of Atom Finance is now 12.6 million dollars. The latest financing round helped the company in expanding its engineering team. Their team is working on growth, operational functions and product marketing.
Atom's public beta has more than 100,000 sign-ups now and the popularity is growing quickly. 
Commission-free trading apps like Robinhood have made it free to place trades. Now, Atom Finance aims to make it free to have access to institutional investment data.
The combination of these two tools has created a much more democratized arena for investors and has continued to pressure the massive firms in the industry to reevaluate their practices and adapt to the new era.
Keep Reading: