Finding great stocks to invest in can be highly challenging. With companies constantly changing, it can be difficult to find information that is relevant and actionable. Investors are often stuck sifting through hundreds of data sources to find helpful info.
In fact, there are thousands and thousands of research tools to help investors make this process easier, but unfortunately, many of these resources are fairly limited. Oftentimes, research tools have 3-5 years of history only. So, it can be hard to understand the full history of a company. Other times, these platforms may have limited information.
It is common for investors to open multiple research tools at once in order to make the best decisions. But this can be highly meticulous.
In this article, we are going to be highlighting some of our favorite stock research platforms. Here are the best stock research apps that our team has come across. So, before you start opening hundreds of tabs in your internet browser, this article may help!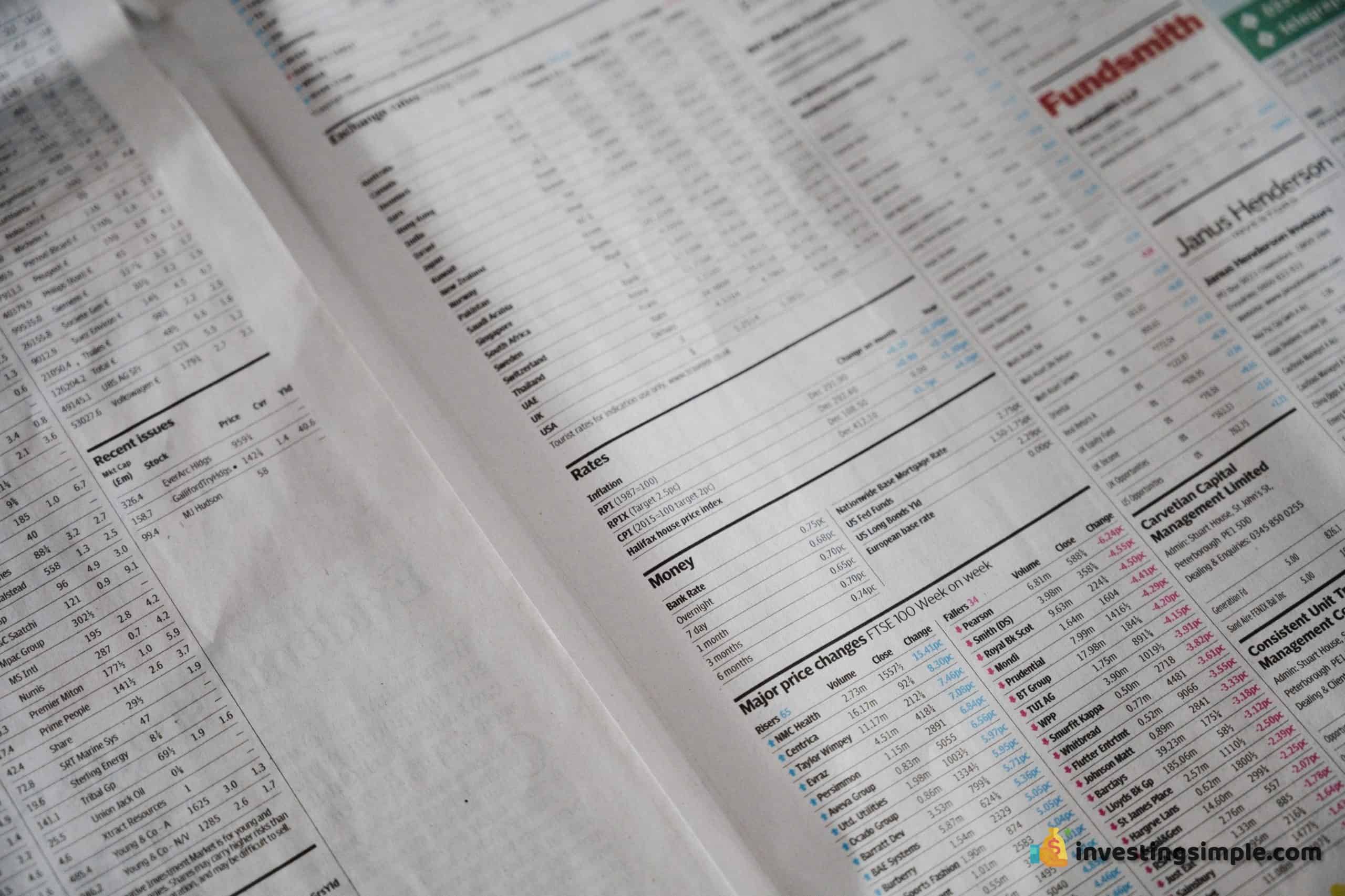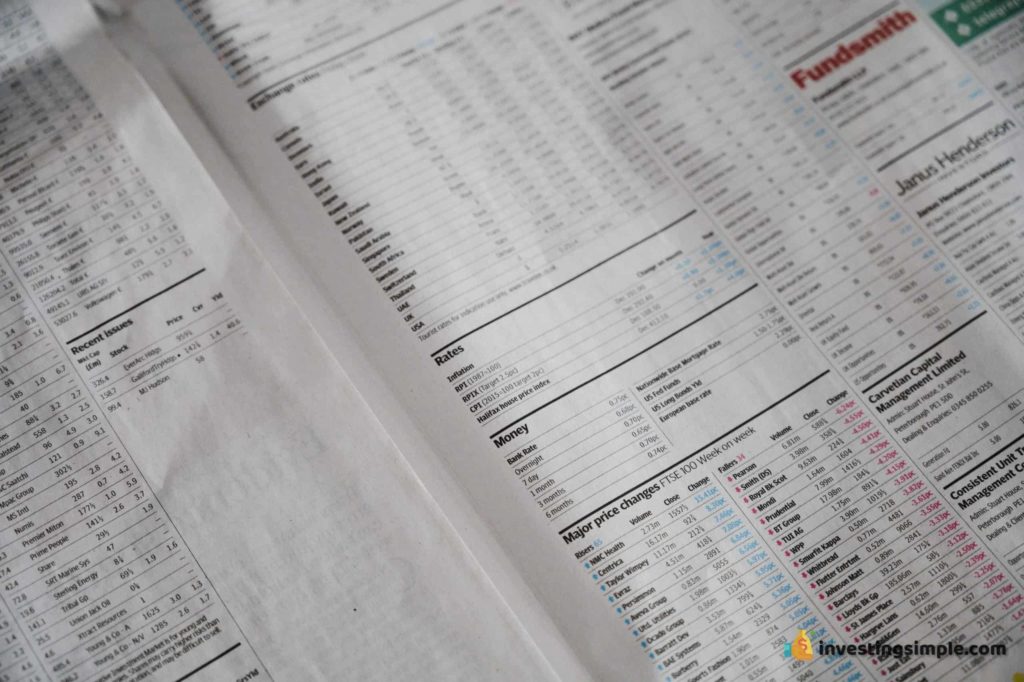 Best Stock Research Apps
There are many platforms, both brokerage accounts and pure research tools, that offer investors research tools and analysis. This list is certainly not comprehensive, but does highlight our top picks. This list will continue to be edited as we come across other top stock research apps.
#1 Pick for a Free Research App: TIKR
TIKR is a complete solution for stock research. The platform is completely free to use and houses everything investors will need for fundamental analysis. This includes 15 years of company information and financial statements, analyst estimates and valuations, and advanced company news.
#1 Pick for Fundamental Analysis: Stock Rover
Stock Rover aims to bridge the gap between the research provided to the big players in the game and average everyday investors. Stock Rover has a goal to offer the highest quality research and insights to its clients. Both Forbes and Barron's have deemed Stock Rover a top option for stock research. This platform does come with a subscription fee to access all of their features. 
#1 Pick for Technical Analysis: MOOMOO
MOOMOO is a trading platform with an impressive suite of research tools and analysis. Among those are free access to real time quotes and Level 2 market data. This information is key for technical analysis and day traders.
1. TIKR
TIKR is a top choice as it is completely free! This platform was created with the hopes of being a one stop shop for stock research.
Within the platform, you will find access to 15 years of data for over 100,000 stocks. These stocks are also not only limited to US securities but also stocks from other markets.
Signing up is extremely quick and easy. Want to learn more about TIKR? Check out our full TIKR review.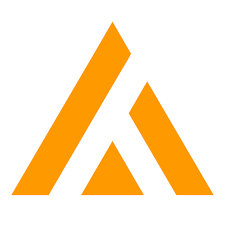 TIKR Features
TIKR offers investors a wide array of research tools and capabilities. Let's review a few:
Track Guru Investor: With this feature, investors will be able to see the holdings of large investment companies like Berkshire Hathaway and JP Morgan. Understanding what large institutions are holding may give you some investing ideas.
Stock Screener: TIKR offers investors a powerful stock screener with over 300 metrics to filter results. This is a great way to find stocks that meet your criteria.
Fundamental analysis: TIKR really focuses on fundamental analysis. The platform has incorporated estimates, valuations, ratios, and detailed financial statements. One thing investors love about this platform is the ability to also download call transcripts and other public filings.
Custom Watchlists
In addition to the mentioned features above, investors will also be able to find information such as insider trading, ownership details, and all relevant news.
TIKR Pros
This platform is incredibly simple to navigate. Many stock research tools can be confusing with all their options and customization. With TIKR, there is a simple menu to keep you organized.
Other pros include the ability to change the language to 1 of 5 options (EN, ES, JA, ZH, and KO), quick comparison tools, and highly customizable charting tools.
TIKR Cons
One downside to this platform is that it is still in beta testing, which means that the pricing as well as other factors could change. However, while access to their tools is still free, be sure to sign up today!
Like others in this list, TIKR is not a brokerage, meaning that you will need to execute trades elsewhere. For example, you could conduct your research with TIKR and then go to your brokerage account to submit a buy order.
Lastly, this platform may not be the best for you if you are looking for a tool for technical analysis. Day traders and active investors may like a platform like moomoo or Webull better.
2. MOOMOO
MOOMOO is a trading platform designed for active and intermediate to advanced investors. Unlike TIKR, MOOMOO is not just a research tool. It offers users complete ability to trade stocks and other securities. 
This platform is well equipped for both Fundamental and Technical analysis. MOOMOO creators wanted to create an investing tool that could double as a research tool. 
Creating an account with MOOMOO does require personal information like your address, SSN, etc because it is more than just a research tool. This platform offers commission free trades with a full host of other features. Let's take a look at some of them.
Check out our full MOOMOO review for more.
MOOMOO Features
Free Level 2 market data: This grants investors access to see real time quotes and moves made by a market maker. This is mostly used by active traders but is considered a must have for day trading.
Advanced charting: MOOMOO offers users access to highly advanced and customizable charts. The platform comes with over 60 technical indicators and 22 drawing tools.
Stock Screener: While MOOMOO's screener may not be as advanced as others on this list, it still has capability to quickly filter to stocks based on a set of your criteria.
Company News
Financial Statements
Free Educational Courses
MOOMOO Pros
MOOMOO has a lot going for it. In addition to being a full brokerage, the platform comes with a host of tools and capabilities. Investors love the simple app that features easy navigation, but when they want to dive in deeper, there is also a desktop version.
Other benefits include access to markets outside the US, IPO investing, extended trading hours, and instant trades. They also have promotions running almost constantly offering new members free stocks when they sign up. For those looking for a platform that is more than just a research tool, MOOMOO may be the app for you!
MOOMOO Cons
One of the real downsides of MOOMOO as a research tool, is the complexity and learning curve some investors experience. Because it has so much detail, it can be overwhelming to some. But because the platform is free to sign up, it is definitely worth a look! MOOMOO does have free educational courses to mitigate this learning curve.
MOOMOO's customer service is only available by email, which can be difficult to work with for many.
3. Front.org
Front is a stock research app with a few unique features. The platform focuses on convenience for investors. Many research platforms can be overwhelming with the sheer amount of information they hold. Investors can also become lost in the definitions of various metrics, ratios, etc.
Front has created a platform that is highly simple and easy to navigate. It's meant to be a place to manage all of your investments as you can connect your brokerage account(s) in the platform and watch all of your investments in one location. Additionally, instead of combing through hundreds of data points and trying to determine a stock's strength, Front does the analysis for you.
Front's app is incredibly simple. When you search a stock, you will see a simple chart with 5 years of data, company news, basic statistics, and a company overview. You will also see Front's proprietary score for a stock.
Want to learn more about Front.org? Check out our full Front review.
Front Features
Ability to link your brokerage accounts to see investments in one place
Access to Front's FISCO Score: This score analyzes company financials, news, social governance, and more. The score deems a stock one of five categories - Risky, Moderate, Good, Very Good, and Excellent.
Social Networking: Upon opening the app, users will see a feed of comments and posts from other investors.
Front Pros
Analyzing a stock can be difficult. Unlike some of the other research tools in this list, Front does the work for you. In fact, the app won't even show you detailed metrics, financials, and other information. Instead, the platform uses a unique model to present investors with a simple score. This is great for those that do not want to dive deep into financial details of a company.
Another pro for Front is the simplicity of the app. It's highly easy to navigate and understand.
While Front is not a brokerage with trading capabilities, it is nice to be able to link your brokerages and see all your accounts in one place.
Front Cons
Front may not be the research tool for you if you want to do your own research. The app only comes with a simple stock chart without any indicators or customization. You also won't be able to find any detailed financial data. Instead, you will only see the score Front's model outputs. This is either a good thing or a bad thing, depending on how much work you want to do.
Another con for Front is the fact that there is no desktop version. Their website is essentially just a funnel to download the app.
4. Webull
Webull, like MOOMOO, is a commission free trading app. It is not just a research platform, but rather a total trading platform. Just a few years ago, there were not many options for investors outside of a traditional broker. But with Robinhood really changing the game, many new platforms came into existence.
Webull was created to give investors access to a platform that could execute trades commission free while also providing a wide array of research tools and capabilities.
This platform, while the focus is on trade execution, comes equipped with tools active and day traders appreciate, though there are tools for fundamental analysts as well.
Read our full Webull review for more.
Webull Features
Access to real time data for free (Basic quotes are free. Advanced quotes are available for a subscription.)
Trading simulator that allows you to invest 'fake money' and test strategies. This is a great feature for investors who are just beginning so that they can learn how to execute trades.
Access to company overview, financials, press releases, company news, and more
Advanced charting tools: investors can see a vast array of different chart types such as line, area, base line, hollow candle, candle, bar, colored bar, and heiken ashi. The charts also have the ability to add a large number of technical indicators.
Comments: Webull has a community of investors that are highly active in the platform's chat. Here you can learn about what other investors are doing and why they are doing it.
Analysis: Webull does a great job in gathering analyst ratings and price targets, which are all available in the app.
Webull Pros
Webull is a solid choice for anyone looking to conduct advanced stock research. With access to real time quotes, company overview and news, and advanced charting, you will be well-equipped to learn great detail about a company.
Like mentioned before, Webull is more than a research tool. Investors will be able to execute trades, open a number of different account types, and have access to other assets like cryptocurrency.
Investors also really like Webull's desktop version to see greater detail on a larger screen.
Lastly, Webull has customer service available both by phone and chat.
Webull Cons
With all that Webull offers, it may be overwhelming to beginners. One way other platforms mitigate this is by offering educational tools. Webull does not have the same level of educational support as other platforms.
5. Atom Finance
Atom Finance is a modern research tool with a number of impressive features. However, this is one that requires a monthly subscription to unlock all features. The company offers both a basic (free) account and a premium account for $9.99 per month.
Atom is not a brokerage, but you can link your other accounts in order to view your investments in one place. This platform was designed to be a complete research solution.
Learn more about Atom with our full Atom Finance review.
Atom offers investors a vast number of features that will help in stock research. Let's look at a few.

Atom Features
The platform is available to investors both in mobile and desktop versions. The free account comes with a number of impressive features, but to unlock the entire capability of the platform, you will need to subscribe to their premium plan.
One of the key features that investors love is their news and document search. Investors are able to select a stock and do a keyword search. This search will then pull up any public filing, news report, earnings transcript, etc that has that keyword. This is essentially performing a control + F on thousands of documents at once.
The stock charts that are available are also advanced with the ability to zoom into a price movement down to the minute.
Atom Pros
Investors love the ability to connect their other accounts and see their investments in one place. The vast number of features is also a major plus for Atom. Their compare tool, news and document search, and excel export are among their top features.
Atom also has a chat feature that allows you to talk with other investors in real time.
Atom Cons
The biggest con to Atom's platform is that investors must pay $9.99 per month to unlock all of the features. The company does offer a 1 month free trial of their full platform for those that want to explore all of the capabilities.
This platform also lacks in its offerings for technical analysis, though the platform does show price movement on the minutes in addition to real time quotes.
6. Stock Rover
Stock Rover is a top option for investing research. The company is not a brokerage that allows you to execute trades, but their platform was designed to be a top solution for stock research.
Their research platform has been deemed as one of the top research tools by both Forbes and Barron's.
Stock Rover does require a subscription to access their full suite of features. Some of these plans can be quite expensive.
Check out our full Stock Rover review to learn more.
Stock Rover Features
This platform comes with a huge number of features, however access to all functionality is limited depending on your subscription plan.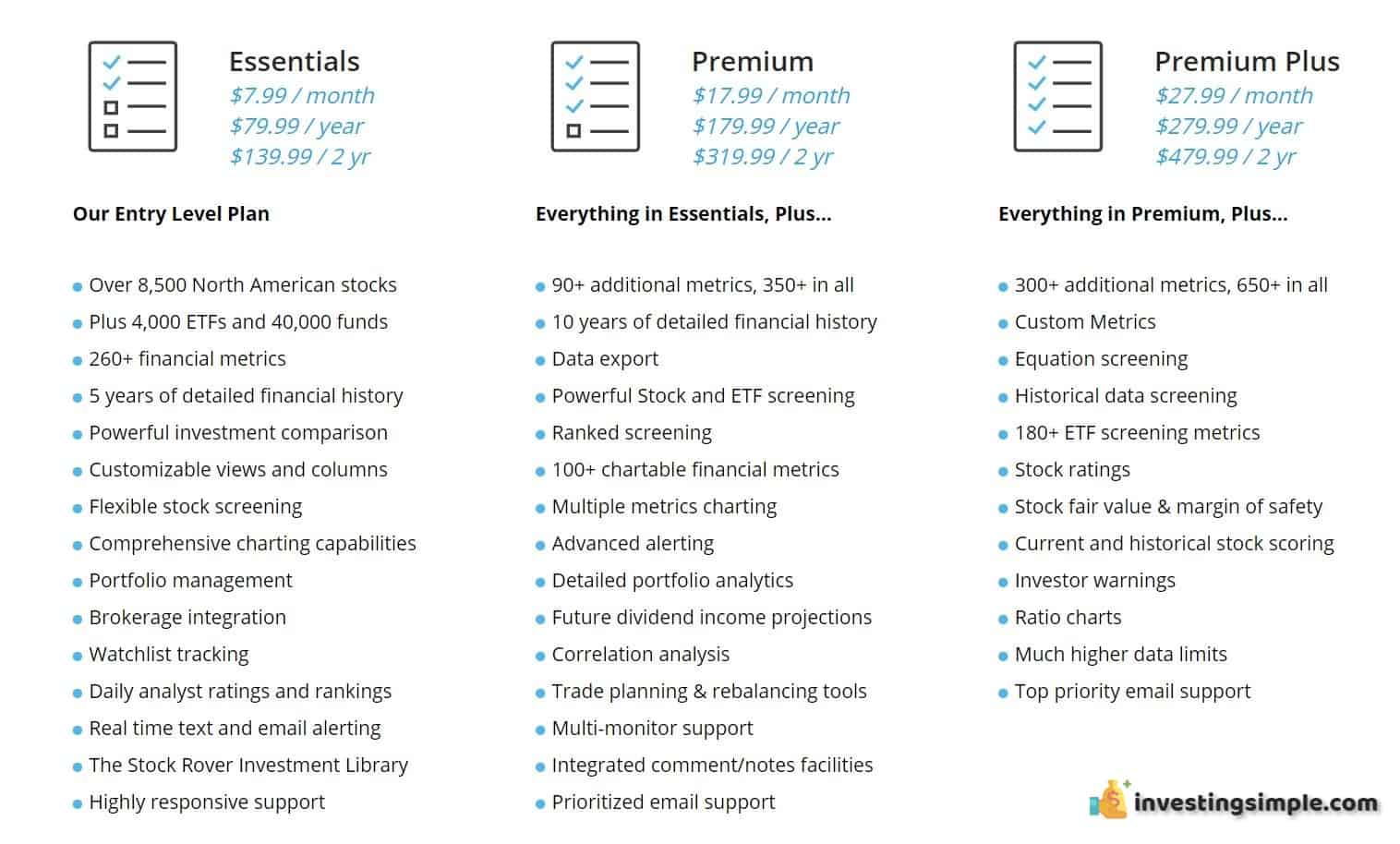 Stock Rover's features are vast and extensive. Let's review a few:
Stock Screeners: Stock Rover offers a powerful stock screener with hundreds of metrics available to filter.
Investor Warnings:

When looking for companies to invest in, it is often as difficult to examine upcoming negative news. Stock Rover offers a stock warning feature that points out potential catalysts for downward price movement.

Compare Financial Statements: This feature allows clients to make side-by-side comparisons of financial statements and compare important metrics important for determining investment opportunities. 
Education: It is easy for individuals to get lost in all the information available. Stock Rover offers investors free education to help them understand metrics, features, and more.

Stock Rover Pros
Like other platforms in this list, Stock Rover also allows investors to link their brokerage accounts for greater visibility.
Stock Rover also has a few unique offerings such as custom formulas that investors can create. Their comparison tool is also an investor favorite.
The main advantage with Stock Rover is the huge breadth of tools, capabilities and research opportunities. Investors looking for a complete solution will be satisfied with Stock Rover.
Stock Rover Cons
The main downside to Stock Rover is the expensive subscriptions to unlock all features. While the free account does offer quite a few impressive features, many of the features are limited to paying members. Not only do paying members gain extra features, but also gain more stock and ETF coverage. With a free account, you will not have access to all stocks nor a large history of stocks.
Another downside to using Stock Rover is the fact that they do not offer an app.
7. Pilot Trading
Pilot Trading is another stock research app that does the work for you. Pilot uses AI and proprietary algorithms to determine a stock's strength, specifically whether or not a stock is currently a buy.
Pilot uses 4 unique algorithms to create their overall score. These algorithms measure perception, commitment, and sentiment regarding a stock.
This platform does require a monthly subscription for $19.95, but this membership certainly comes with a number of key benefits. The app is fairly simple to navigate, though understanding their scoring system can take some time.

Pilot Trading Features
Alerts in real-time, to multiple trading opportunities, across multiple asset classes with in-app notifications
Connects to one of their supported brokerages with your existing brokerage account within minutes in 3 easy steps
Execute trades with speed and ease, with Pilot's innovative Click-to-Trade feature
Paper trading available via our Demo and Simulation trading modes
AI driven Real Time Sentiment designed for efficient order execution
Mobile first design and intuitive user experience
Trade Foreign Currency (FX), Stocks (Equities and ETFs), Futures (Indices, Currency Futures, Commodities, and Crypto Currencies)
Pilot Pros
The main advantage with Pilot Trading is the ability to be more passive in your investments. Investors using Pilot will not need to perform the analysis on their own. Instead, they can use the tools provided in the app to make informed decisions.
Unlike other scores that are highly simple, Pilot provides a fairly detailed scoring system. Rather than a simple numerical system or simple category ratings such as "Moderate" and "Excellent," Pilot provides 3 tools that indicate the strength of a given stock. These tools are Signal Strength, Opportunity Gage, and Sentiment Gage. To learn more about Pilot's unique system, be sure to read our full review!
Like other platforms in this view, investors are able to connect and link their other brokerages here. However, unique to Pilot is the ability to actually execute a trade. Investors will not be executing a trade with Pilot, rather Pilot communicates to the brokerage account and executes a trade in real time.
Pilot Cons
Pilot does not release extensive detail about these algorithms or how they were created. Using Pilot Trading to help you make trades will certainly require trust in their algorithms. Because they do not share much information about them, Pilot instead offers a 14 day free trial to help you understand how they work.
Another con is that there is no free version. The platform does cost $19.95 per month.
Other Stock Research Mentions
Researching stocks is no easy task. Understanding metrics, ratios, etc can certainly be challenging. But finding a platform you like that aids with this research can make all the difference.
Even apps like Robinhood have research options, though they may be highly limited. In addition to the apps mentioned in this article, there are a few other platforms that are worth noting:
Yahoo Finance
Morningstar
MarketWatch
Investopedia (More for general investing knowledge)
Best Stock Research Apps: Final Thoughts
Finding top stocks really depends on your research. With so much data available in today's modern era, it can be difficult to find actionable and relevant information. With the platforms reviewed in this article, you will be one step closer to finding stocks that align with your goals.
Not all platforms are created equally. While some of these platforms are both trading and research platforms, others are solely focused on research. Depending on your goals, some of these apps may not be best suited for you.
We recommend conducting your research and exploring each of the options presented in this article to find the one that works best for you!
Best Free Stock Promotion