Betterment is a robo-advisor that offers automated and goal-inspired investments for everyday people. This platform has gained an enormous following since its founding in 2008 during the world financial crisis.
Betterment manages over $22B! That's a lot of cash invested.
Betterment creates passive ETF portfolios for investors based on a variety of factors. These portfolios typically consist of a mix of stock index funds and fixed income depending on the individual's situation. Additionally, investors can open tax-advantaged investing accounts including traditional and Roth IRAs.
The platform is primarily for hands-off investors that do not want to trade and rebalance their portfolio themselves. Betterment takes care of the maintenance of your investments so you can focus on other things and know your portfolio is on track.
However, if you are curious what goes on under the hood, here are the funds Betterment uses within their portfolios.
Betterment Funds
Before investing, Betterment will provide users with a questionnaire where they can outline their investing goals and timeline.
Betterment will then create a portfolio of stocks and/or bonds for the user that will help them reach their pre-defined objectives. With this type of set up, users are free to let Betterment do all the work that would normally require hours of research on the part of the user.
These funds below are what make up the nuts and bolts of the Betterment portfolios inspired by Nobel-Prize winning strategy.
While all of these Betterment funds are tied to original ETFs, Betterment sometimes uses secondary ETFs to take advantage of Tax Loss Harvesting.
Stock Portfolios
Here are the funds Betterment uses for stocks within your portfolio.
U.S. Total Stock Market
Investors seeking a broad exposure to the U.S. stock market may find this fund from Betterment matches their preference. This specific holding allows investors to gain full advantage of the ingenuity of Americans and American business.
This collection of stocks is much larger than the acclaimed benchmarks of the Dow Jones or the S&P 500. Whereas the previous titles focus on a specific grouping of companies, the total stock market encompasses small, medium, and large cap stocks.
The ETF associated with this fund is VTI with ITOT (for taxable accounts) and SCHB (for IRAs).
U.S. Value Stocks
Value stocks are those that trade at a lower price relative to their dividends, earnings and/or sales than the average stock. Value stocks are broken into 3 classes depending on the size of the market caps in each portfolio (Large, Mid, and Small).
Large Cap
Large Cap is a common term in the investment community. It identifies a certain subset of companies with a market cap of more than $8B. While stocks of good value and appropriate size exist in other geographic markets, Betterment focuses specifically on the U.S. due to the low cost of holding U.S. stocks.
This fund is most closely matching the S&P 500 which is often considered a prime investment target for most young investors. U.S. Large Cap stocks make up 70% of the total value of stocks in the U.S. market. Better said, when you invest in this portfolio you have exposure to companies that hold 70% of the total value of the U.S. stock market.
VTV is the primary ETF with secondary ETFs for Large Cap as SCHV (taxable) and SPYV (IRA).
Mid Cap
U.S. Mid Cap stocks are typically defined as those companies typically between $1 billion and $8 billion in market capitalization in the United States.
VOE is the primary ETF with secondary ETFs as IWS (taxable) and IJJ (IRA).
VOE is Betterment's priority recommendation due to its low expense ratio.
Small Cap
Typically speaking, Small Cap companies are fast-growing, but often riskier assets.
VBR is the primary ETF with secondary ETFs, IWN (taxable) and SLYV (IRA). VBR is the primary recommendation since it has the lowest expense ratio a small difference between the bid price and the ask price (bid-ask spread).
International Developed Market Stocks
This set of equities gives exposure to non-U.S. stocks in developed countries. These markets are countries like the U.K., Japan, Germany, and others. In general, these stocks will reflect a similar risk and return profile as the total U.S. stock market discussed earlier.
VEA is the primary ETF with secondary ETFs, SCHF (IRA) and IEFA (taxable) as great alternatives. VEA is the primary recommendation since it has the lowest expense ratio and a small difference between the bid price and the ask price (bid-ask spread).
International Emerging Market Stocks
Although riskier than the International Developed Market, these stocks have the potential for more upside.
Countries like China, Taiwan, India, Brazil, Russia, Thailand, and South Africa are fast-growing and have a lot of potential. Stocks in these countries are generally not tied closely with U.S. stocks which makes them an important part of a diversified portfolio.
VWO is the primary ETF with IEMG (taxable) and SPEM (IRA) as the secondary ETFs.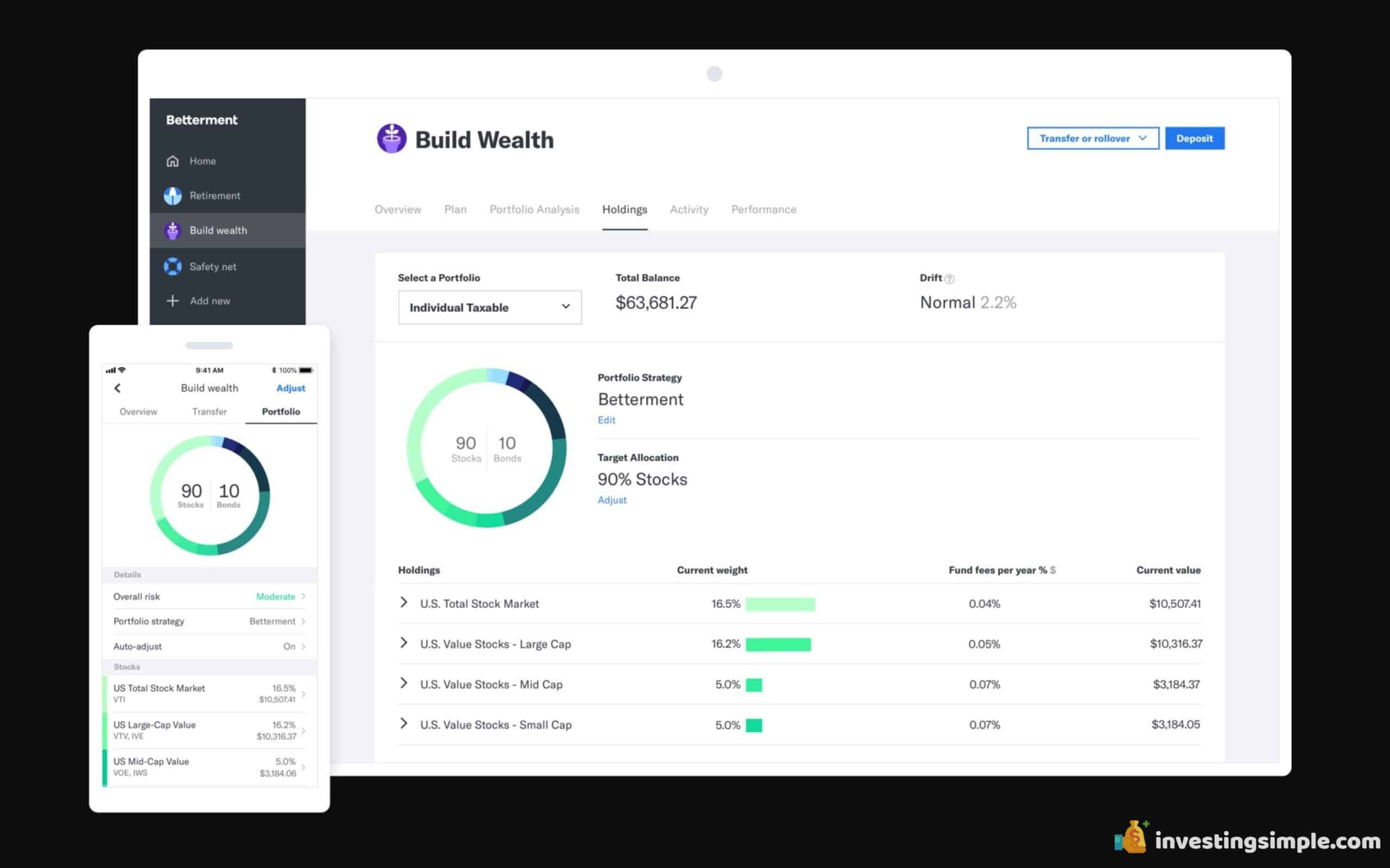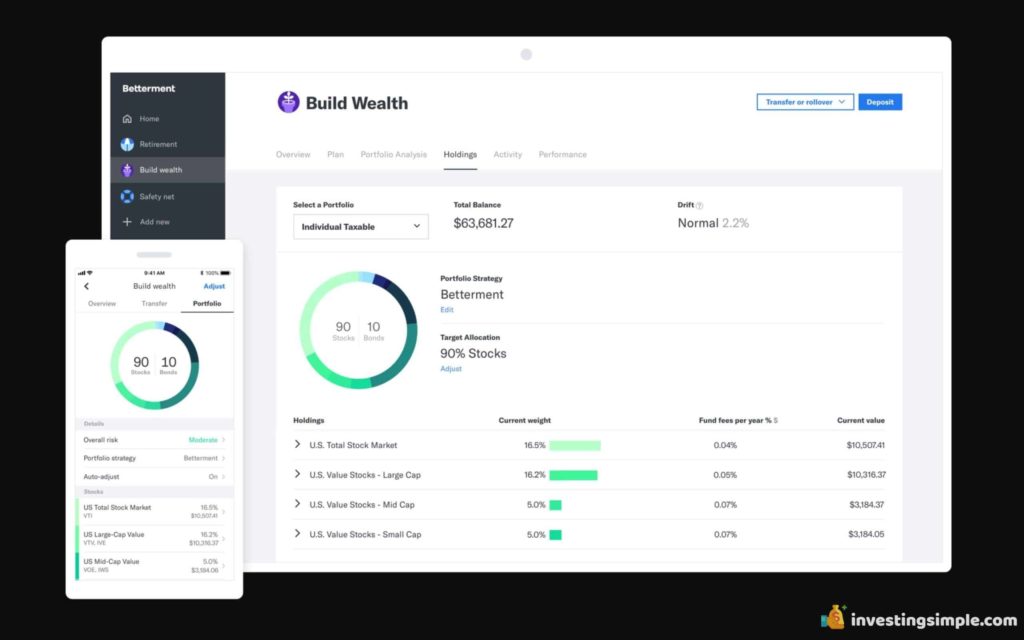 Bond Portfolios
Here's the bond funds that Betterment uses!
U.S. High Quality Bonds
These bonds are offered by the U.S. government and high-quality U.S. corporations. These organizations have been ranked as investment-grade bonds (rated Baa3/BBB- or better) by Standard and Poor's, Fitch, or Moody's.
These ratings and rankings are meant to convey the confidence these credit rating firms have in the underlying organization's ability to repay debt.
AGG is the primary ETF with BND as the alternative.
U.S. Municipal Bonds
Often times state and regional governments will issue bonds to finance infrastructure or similar capital-intensive projects. When this happens, interest earned is generally federally tax-exempt. This means that investment in municipal bonds is only available in taxable accounts. These bonds are generally seen as very good options for risk-averse individuals.
MUB is the primary ETF with TFI as the secondary. TFI, is similar to MUB but has a slightly higher bid-ask spread.
U.S. Inflation-Protected Bonds
Inflation protected bonds are issued by the U.S. Treasury. The principal of these bonds is indexed to inflation. This asset is an important one because it guards against the damage done by inflation to assets that are not appreciating at the same rate. These bonds are usually thought to be a safe haven during times of uncertain economic times.
VTIP is the primary ETF with no secondary.
U.S. High-Yield Corporate Bonds
High-Yield Corporate Bonds, otherwise known as Junk Bonds, consist of companies who have received poor credit ratings. Because of this, these companies often have higher-than-average interest rates and therefore return higher interest rates to investors.
HYLB is the primary ETF with secondaries as JNK and HYG.
U.S. Short-Term Treasury Bonds
Bonds in this set of holdings are issued by the U.S. Treasury have have maturity terms between one month and one year. Because of the short turnaround, these offer very little risk and therefore, very little reward. These bonds are often seen as a cash alternative. A partial allocation of funds to this portfolio help decrease the risk of an overall portfolio.
The ETF for U.S. Short-Term Treasury Bonds is SHV due to its low expense ratio.
U.S. Short-Term Investment-Grade Bonds
These securities have time frames of fewer than three years and consist of high credit bonds from corporations and governments. These are generally low risk but tend to have higher yields than U.S. Treasury Bills.
The primary ETF is JPST due to low expense ratios and trading costs.
International Developed Market Bonds
International Bonds are high credit bonds issued by corporations and governments outside of the U.S. These are often issued to finance large projects like infrastructure changes. Having this in your portfolio is a great way to mitigate the risk of investing in all U.S. assets.
The ETF for International Developed Market Bonds is BNDX due to its competitive expense ratio.
International Emerging Market Bonds
Similar to the above, this set of holdings consists of bonds from corporations and governments in international emerging markets. These economies are growing rapidly and therefore the returns are higher with this set of bonds. These will therefore also have a potential for higher risk.
EMB is the primary ETF with VWOB and PCY as secondary.
Conclusion
This article gives a look into the different funds that Betterment focuses on when investing its users money. In general, it is always best to have a diversified portfolio and with Betterment's funds, this is possible.
Betterment puts user's minds at ease by creating diversified portfolios for each investor patterned after a Nobel Prize winning strategy. This strategy drives the algorithms that determine user's allocations and will give investors the best chance of success!
One drawback to investing with Betterment is the inability to invest in individual stocks.
This is due to Betterment's belief that all should focus on building a globally diversified portfolio. However, users that prefer to take the majority of the decision making out of the scenario will find that they really enjoy Betterment's robo-advisor platform.
Give Betterment a try today!
Best Free Stock Promotions