Betterment Premium Review
Investing Simple is affiliated with Betterment. This relationship does not influence our opinion of this platform.
Betterment is a revolutionary investing platform that leverages technology and algorithms to manage money for clients. As a result, this platform has been extremely disruptive to the financial advisory industry, but in the most recent blow they are now offering Betterment Premium users unlimited access to a team of CFP® professionals. They charge an annual management fee of 0.25% for the basic or Digital plan and 0.40% for the Premium plan mentioned above. While Betterment has no minimum account balance requirement, you do need to have a minimum of $100,000 invested with Betterment in order to be eligible for the Betterment Premium plan.
You can read our full review of Betterment here.
If you invest $100,000 with Betterment and opt in to the Premium plan, you would be paying just $400 a year for management of your money and unlimited access to CFP® professionals. For high net worth investors, it gets even better. The annual fee for Betterment Premium is 0.40% per year on the first $2 million. Any funds above $2 million have a 0.30% annual fee. Betterment has ballooned in popularity by offering some seriously inexpensive financial advisement. So, is it time to fire your financial advisor?
Betterment Premium Overview
As a Betterment Premium user, you will be able to take advantage of all of the features offered to Betterment Digital users. On top of that, you will have unlimited access to a team of CFP® professionals. These are financial advisors who have experience and education in the fields of investments, taxes, retirement planning, estate planning, and insurance. Each CFP® professional has a fiduciary duty to legally act in the clients best interest at all times.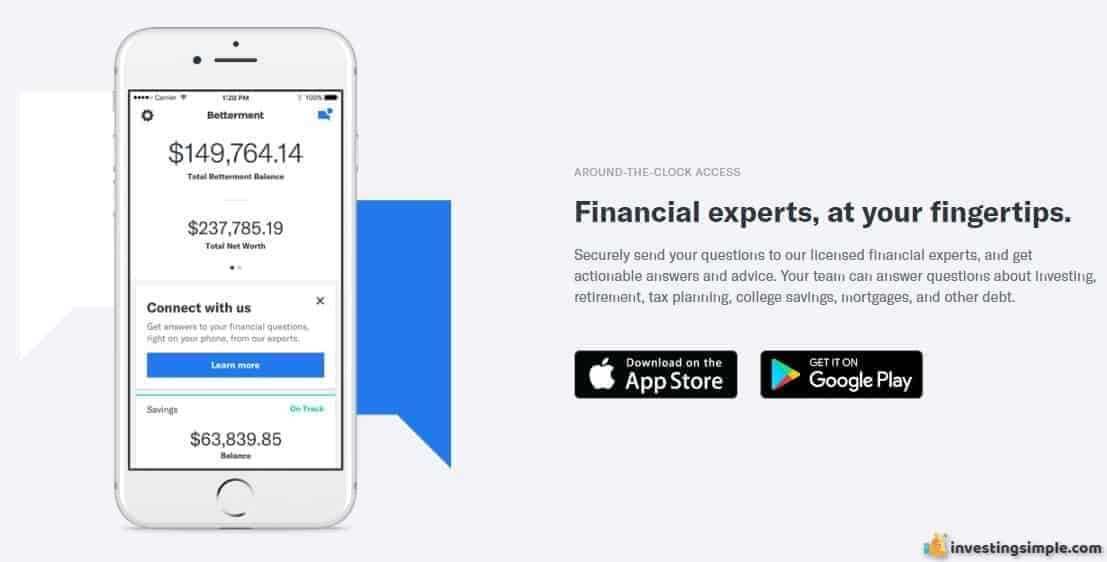 To explain this simply, these financial professionals are not earning any kind of commission from your investments or their recommendations to you. A fiduciary offers unbiased advice. Not all financial advisors carry this fiduciary duty as it is not always required. Typically, a traditional financial advisor is earning a commission off the financial products they are recommending to you. The question being, are they acting in your best interest or theirs?
Investors using the Betterment Premium plan can also get in depth advice about any investments held outside of Betterment. You may have other investment accounts or retirement accounts with your employer for example. Betterment advisors will guide you through any questions you have on these outside investments. This is a helpful feature for users looking to get holistic advice from professionals that encompasses your entire financial landscape.
Click here to invest with Betterment!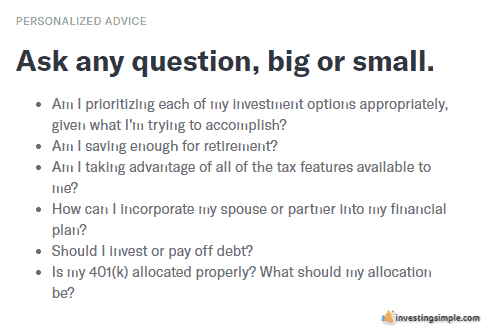 Betterment Premium Fees & Features
[table id=8 /] [table id=9 /]
Click here to invest with Betterment!
What is the difference Between Betterment Premium and a Traditional Financial Advisor?
Most investors thinking about using the Betterment Premium plan will naturally compare the level of service against a traditional investment advisor or financial planner. There are a few key differences and similarities between what Betterment has to offer and the service you receive with most traditional financial advisors. Let's discuss some of those differences and similarities now.
1. Minimum account balance.
The Betterment Premium plan has a minimum account balance of $100,000 to invest. For some investors, this may seem like a large amount of money. The truth is for many financial advisors out there this may not be enough money to do business with them.
There are financial advisors that will only work with clients with assets of $500,000 to $1 million or even tens of millions of dollars. This may seem excessive, but to get "top quality" personalized investment advice and financial planning it will often cost thousands of dollars. Keep in mind, most advisors won't even begin discussions until they know you have a large chunk of change to invest. For this reason, Betterment's $100,000 minimum is actually very reasonable compared to traditional minimums for financial advisors.
For example, the Vanguard Fund company gives you access to CFP® professionals once your account balance hits $500,000.

We encourage you to compare Betterment Premium with a traditional financial advisor. Compare the asset management fee to what Betterment charges, assuming they will take you on as a client. Keep in mind, unless this financial advisor has a fiduciary responsibility they are likely earning a commission on what they are having you invest in. If you are looking for truly unbiased financial advice, look for a fee only financial advisor.
2. Portfolios and investment strategy.
Similar to most traditional investment advisors, Betterment builds and offers model portfolios for its users. This means they prebuild portfolios of stock and bond ETFs, then they match these prebuilt portfolios with a user based on time horizon, risk tolerance, and investment objective. By doing this, they avoid having to create completely new portfolios for each new client they get. They can build templates of portfolios and match them with a client based on the above factors. This is one of the primary reasons why Betterment fees are among the lowest in the industry.
Click here to invest with Betterment!
Betterment's investment style is mostly passive and long term oriented. They do offer options such as the Goldman Sachs Smart Beta portfolio where the goal is to beat the market over the long term. But for the most part, Betterment has a buy and hold thesis for most of the portfolios. This is where a traditional investment advisor may have a completely different approach.
There are many different types of advisors and investment styles out there. If you are looking for active management with the goal of beating the market, there are many traditional investment advisors that offer this type of service.
It is important to remember that an active investing approach, like a mutual fund or hedge fund, will result in higher fees and commission costs. Each time a trade is made, commission is typically paid. It is also significantly more expensive to pay for professional stock pickers. Keep in mind, most of these professional stock pickers fail to beat the market. In a recent report from Standard & Poor's, they found that roughly 1 in 20 actively managed domestic funds beat index funds.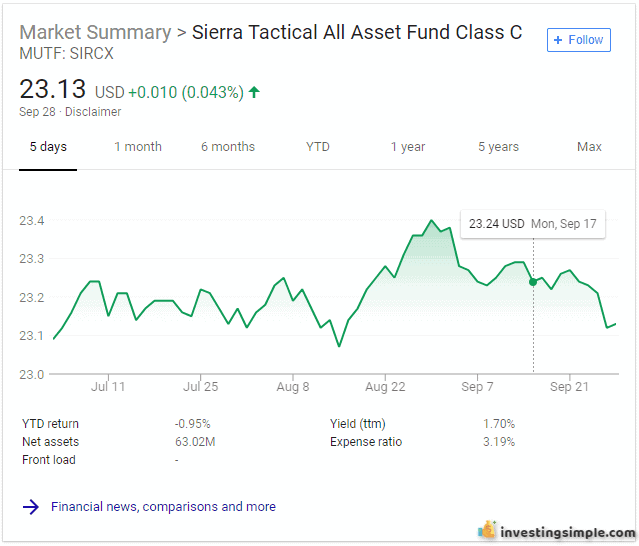 3. Investment fees.
Betterment has very low fees compared to the industry average. As mentioned above, Betterment Digital has an annual asset management fee of 0.25%. Betterment Premium has an annual asset management fee of 0.40% and this fee drops down to 0.30% after $2 million invested. Let's see how these fees compare to traditional investment options.
The industry average for most investment advisors is 1%. All investment advisors can charge different fees and offer different types of service for the fees they charge. There are a wide variety of services offered by investment advisors. Based on the industry average, Betterment charges less than half as an annual asset management fee.
[table id=10 /]
4. Investment account types.
Betterment offers a variety of different account types. For more advanced investors, you may want specific or additional account types outside of what is offered by Betterment. You may need to work with an investment advisor to invest using other types of funds for example the SEP IRA, Simple IRA, or college savings plans. Here are the different account types offered by Betterment:
Taxable and Joint Accounts
Traditional IRA
Roth IRA
Trust Accounts
Inherited IRA
5. Financial planning versus investment advisement.
One key aspect to consider when comparing a traditional advisor to the Betterment Premium service is the type of service offered by the advisor. The term financial advisor has many different meanings and encompasses a wide variety of services. A financial advisor may be a CFP® professional who does much more than provide investment advice. They may do your taxes or help you plan for your estate or help you analyze your insurance needs as well. There are also financial advisors who strictly manage your investments and will not advise you on any other financial decisions.

The Betterment Premium plan gives you unlimited access to CFP® professionals who will help you make decisions involving your financial landscape. Pair this with investment management and Betterment has a very powerful and competitive service. This may be a higher level of service than a traditional investment advisor who strictly manages your investments may offer.
It is important to know the services offered when you are looking at working with a financial advisor. Do they offer tax preparation or planning? Will they help you plan for your retirement? This is where the key difference between investment management and wealth management comes into play. Wealth management involves holistic financial planning taking every variable of your financial landscape into account rather than just your investment portfolio.
The Case For Betterment Premium
In most cases, Betterment will work best for fee sensitive investors. Betterment Premium is available for a 0.40% annual asset management fee. The industry average fee is 1%. This allows you to keep more of your money invested. While these fees do not sound like a lot, the compounded fee is often staggering. Over time the savings on fees could add up over many years. Their service also comes with the advantage of saving on taxes due to Betterment's tax loss harvesting feature.
Betterment is designed for investors looking for a moderate level of advice from CFP® professionals, but not a very detailed and personalized financial plan. This service is for people who have questions here and there regarding their finances.
The Case For A Traditional Financial Advisor
In most cases, a traditional financial advisor will work best for someone looking for more comprehensive services and a customized financial plan. Traditional financial advisors may also offer a variety of investment strategies such as active portfolio management or alternative investments. Betterment offers passive portfolio management using a long term investment approach.
Click here to invest with Betterment!