Betterment Review
Investing Simple is affiliated with Betterment. This relationship does not influence our opinion of this platform.
As the internet grows and evolves, new industries emerge and challenge the traditional status quo. Not many industries have been as impacted by technology as the brokerage industry. A perfect example of this disruption is the new innovative service being offered by Betterment and other robo advisors. Betterment is a new investment platform that offers many unique advantages to investors that we will be discussing in this review.
What Is Betterment?
Betterment is an online robo advisor geared towards everyday investors who want automation of their investments paired with personalized financial advice. Through the use of technology, Betterment is able to offer management fees that are extremely competitive. Refined investing strategies such as tax loss harvesting and smart rebalancing are some of the many features offered by Betterment.

Betterment also offers ongoing financial guidance. Depending on the plan, investors can have unlimited access to professional financial advice from CFP® professionals. Since Betterment and its professionals are fiduciary advisors, they must act in the clients best interest at all times. Betterment advisors have no incentive to sell products or funds hoping to make a commission off your purchase. A fiduciary duty is the legal obligation to act in the clients best interest at all times and is the highest level of customer care in the investment advisor community.
Click here to invest with Betterment!
What Is A Robo Advisor?
A robo advisor is a new technology based financial advisor that advises clients and manages accounts with minimal human interaction. This is capable through the use of algorithms and technology. Financial advice is provided based on mathematical rules and programs. This results in a lower management fee and a significant cost savings for the investor.
How Does Betterment Work?
Each Betterment account is tailored to the needs of the individual investor. When you open an account with Betterment, you will be guided through a questionnaire where Betterment will learn more about your goals and objectives.
Here is the process for every new investor using Betterment:
Learn about the investor. Using a series of questions, Betterment determines your current financial landscape. By understanding your goals, time horizon, and personality Betterment gets an overall picture of where you currently stand and what you are trying to accomplish financially.

Make recommendations. Once Betterment has an understanding of your overall financial picture, they will guide you through a path customized to your specific situation. Betterment will suggest portfolios geared towards your risk tolerance, time horizon, and investment objectives.

Invest using cutting edge technology. Using personalized portfolios of stock and bond ETFs, investing is streamlined so you don't need to worry about the management of your investments. Betterment's portfolios are focused around minimization of both investment fees and taxes.

What Are The Betterment Investments?
Betterment uses exchange traded funds (ETFs) to build the portfolios. ETFs are investment vehicles similar to mutual funds, but they trade on a major exchange like a stock. These investments have grown tremendously in popularity over the last 20 years in the investment community due to the low fees and high liquidity. ETFs provide diverse positions where one fund could be trading at $50 per share yet it can have hundreds of underlying holdings. They allow you to invest in many different asset classes such as stocks, bonds, real estate, and commodities. By using ETFs, Betterment can construct cost effective and diversified portfolios with ease.
Betterment's portfolio strategy is to use ETFs to construct portfolios based on modern portfolio theory and global asset allocation. Modern portfolio theory is a hypothesis that investors can construct diversified portfolios along an "efficient frontier" that maximize their return for a given level of risk. Created in the 1950's, modern portfolio theory is generally accepted throughout the investing community today. Betterment also uses Nobel Prize winning research by Fama and French as the basis for their investing strategy and asset allocation. In their research, Fama and French found that equity returns are heavily correlated to the market, value, and size of the company. Betterment uses their own modeling to determine the tilt of their portfolios which is specifically towards value companies and small cap stocks aiming for higher expected returns.

Vanguard Funds
Most of the ETFs in Betterment's professionally built portfolios are from the Vanguard fund company. Vanguard is one of the most well known mutual fund and ETF companies. Known for very low fees and the invention of the index fund, Vanguard has dominated the fund industry with over $5 trillion in assets throughout its funds. Betterment uses Vanguard funds mostly because of their low expense ratios and excellent reputation.
Here are some of the Vanguard funds included throughout Betterment's portfolios:
VTI – US Total Stock Market
VTV – US Large Cap Value
VOE – US Mid Cap Value
VBR – US Small Cap Value
VEA – Developed International
VWO – Emerging Market Stocks
Betterment also includes a number of bond funds offered by Vanguard. Each Betterment portfolio will consist of a collection of stocks and bonds.
Click here to invest with Betterment!
Betterment Custom Portfolios
Betterment offers custom portfolios constructed by Goldman Sachs. The Goldman Sachs Smart Beta portfolio aims to provide a diversified portfolio strategy using a balance of actively and passively managed investments. Active portfolio management typically has the goal of beating the market, often associated with hedge funds and mutual funds. Passive management has the goal of generating market returns over the long term. Index investing and buy and hold strategies are types of passive management.
Goldman's smart beta uses a variety of factors to determine investment allocations across it's portfolio. Some of these factors include equities consisting of good value, high quality, strong momentum, and low volatility characteristics. Contrary to traditional portfolio allocations that are based on market cap weighted indices, smart beta uses a variety of rules based factors that determine allocations across the portfolio. The smart beta portfolio using a rules based methodology, has a goal of beating the market over the long term.

BlackRock Target Income Portfolio
Betterment also offers a professionally built portfolio created by BlackRock. The BlackRock Target Income portfolio is a 100% bond portfolio with the goal of capital preservation. This may be an ideal portfolio for someone who is looking for an income producing investment strategy vs a growth oriented strategy. This portfolio has no exposure to the stock market, but can fluctuate in value as interest rates change. Blackrock strategically looks to provide higher yields by investing in long term bonds as well as higher risk bonds in this portfolio.

What Are The Betterment Fees?
Betterment has a strong focus on minimizing fees and expenses to investors. They specifically chooses ETFs that have some of the lowest expense ratios. Betterment has no trading fees and no mark ups on prices. The only fees Betterment charges is a management fee of 0.25% to 0.40% depending on the investment plan. This fee structure is extremely low when you compare it to traditional advisors and stock brokers.
| | Betterment Premium | Betterment Digital |
| --- | --- | --- |
| Management Fee | 0.40% | 0.25% |
| Minimim Balance | $100,000 | $0 |
| Automated Rebalancing | Yes | Yes |
| Tax Loss Harvesting | Yes | Yes |
| Unlimited Access CFP Professionals | Yes | No |
| Account Types | Taxable, Traditional IRA, Roth IRA, Trust | Taxable, Traditional IRA, Roth IRA, Trust |
Betterment has recently made changes to its pricing structure. All account balances greater than $2M will receive a 0.10% marginal discount for the portion of their balance above $2M. Previously accounts with balances over $2 million had their fee cap out at $2 million , so any assets above that amount would not be charged a fee.
Betterment will continue to honor the $2 million fee cap for all existing Betterment customers, even if their current balance is less than $2 million.For Betterment Digital, customers will pay 0.15% for the portion of the balance above $2,000,000.For Betterment Premium, customers will pay 0.30% for the portion of the balance above $2,000,000.Here's a visual breakdown of Betterment's new pricing structure:
| Pricing as of 9/18/2018 | Balances up to $2,000,000 | Balances over $2,000,000 |
| --- | --- | --- |
| Digital | 0.25% | 0.15% |
| Premium | 0.40% | 0.30% |
Click here to invest with Betterment!
What Are The Features Of Betterment?
Financial Planning: Betterment Premium offers unlimited access to financial professionals. These professionals will assist you by making recommendations on how much to invest and provide guidance on asset allocation within your portfolio. The premium plan also includes detailed advice on investments held outside of Betterment. Betterment Digital offers algorithm based financial planning with no human involvement. All Betterment plans offer some level of portfolio guidance.

Smart Rebalancing: Betterment offers smart rebalancing of your portfolio. This is available to both premium and digital investors. Rebalancing of a portfolio should happen when your target weights of assets gets skewed. For example, if you have a portfolio of 60% stocks and 40% bonds and the stocks increase in value. Now, you may be weighted at 70% stocks and 30% bonds. To tone down risk and return to your target allocation, you should rebalance and sell stocks and buy bonds to return to your 60/40 stock bond allocation. Betterment's version of smart rebalancing makes sure your positions are in their right allocation at all times.
Tax Loss Harvesting: Betterment offers a feature called tax loss harvesting which aims to minimize your taxes on capital gains. Betterment does this by selling securities that have underperformed in your portfolio and realizing a capital loss. You can use this loss to offset capital gains or ordinary income up to $3,000 per year. Once the loss is realized, Betterment then purchases a similar security to replace the one you just sold in your portfolio. This way you avoid any wash sales which occur when you realize a loss on a security and purchase it back within 30 days. The government identifies wash sales in order to prevent tax loss harvesting. This tax loss harvesting is something that separates these automated platforms like Betterment from the traditional investment options.
Betterment also has the functionality of implementing tax loss harvesting across your accounts as well as your spouses accounts. Spousal tax loss harvesting will allow you to optimize your tax minimization strategies on one tax return.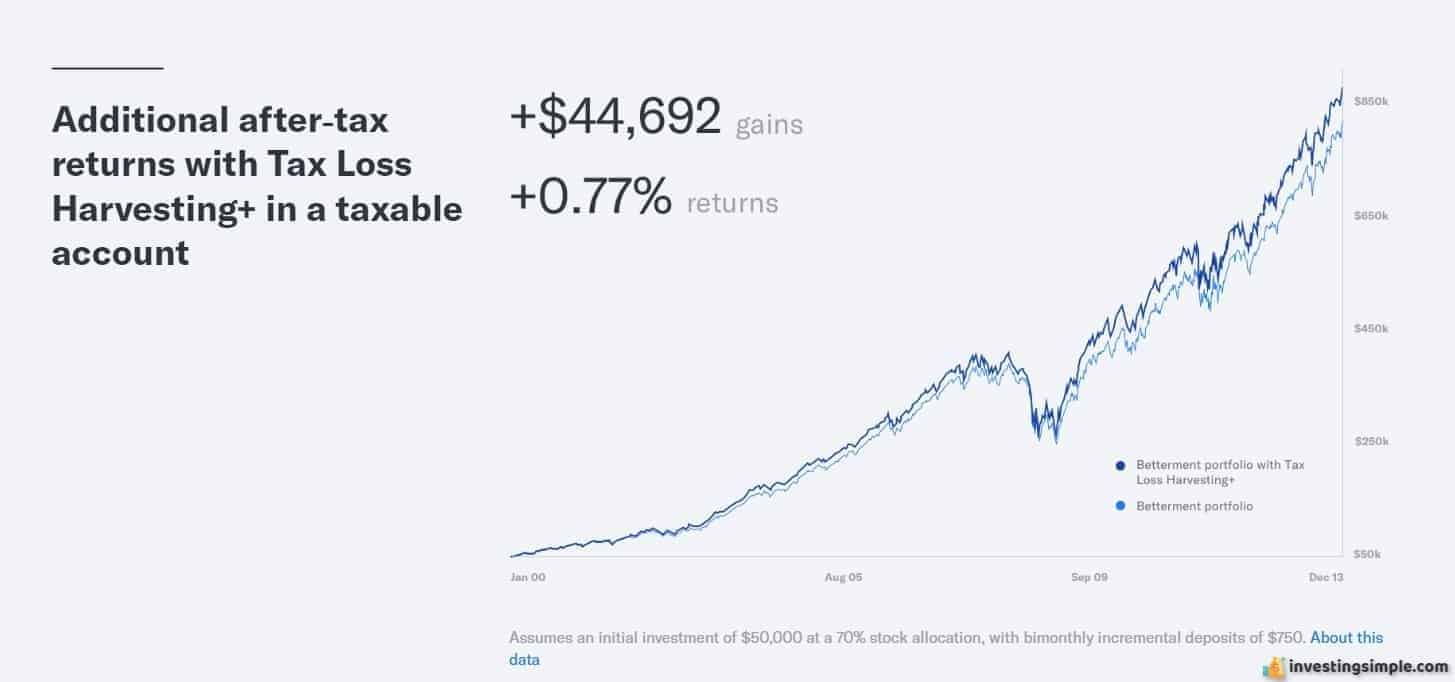 Betterment Features Continued
Tax Coordinated Portfolio: Betterment uses a method of asset location to construct tax coordinated portfolios. This is accomplished by putting your highest taxed assets in your IRA first (where you have a tax shelter) then putting your lower taxed assets in your taxable brokerage account. Betterment claims this strategy could boost your return by 0.48% each year. You can set up a tax coordinated portfolio at any time on Betterment for no additional fee outside of the asset management fee.
Smart Saver: As interest rates remain extremely low in the current economic environment, interest rates on savings accounts are virtually non existent. Betterment offers a solution to this issue by offering an alternative to a savings account. The Betterment smart saver account yields 2.19% annually. This is significantly higher than most savings accounts. Betterment offers this feature while still providing liquidity. According to Betterment, you will have access to your funds in 4 to 5 business days.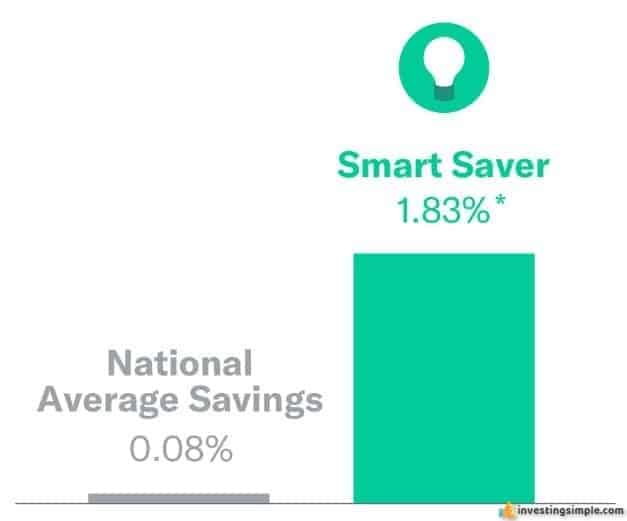 Smart Deposit: Betterment offers a feature called smart deposit that will allow you to set a minimum amount of cash you would like in your bank account. Once your minimum is set, any amount above your minimum will be sent to Betterment and invested. Say you set your bank account minimum at $5,000. Once your bank account balance is over $5,000 smart deposit will transfer any funds over this threshold to Betterment. Smart deposit in Betterment will allow you to maximize your invested capital while retaining a safety net in your bank account.
Retire Guide: This is a retirement planning tool offered by Betterment. You will input your current savings, projected budget, and retirement date to get a picture of where you stand in reaching your retirement goal. Retire Guide will show you how to save, what accounts to utilize, and recommend any changes you need to make to reach your goal. This allows you to have an understanding of your projected financial position and budget when you retire.
Fractional Investing: Betterment also offers a unique feature called fractional investing. Fractional investing allows an investor to buy fractional shares of an ETF. For example, if you want to buy VTI which is trading at $150 per share and you only have $100 you could buy .67% of a share using Betterment's fractional share investing. The advantage of using fractional shares allows an investor to be fully invested at all times. Fractional shares also provide for greater diversification as you will have more precise allocations across your portfolio at all times.
Is Betterment Safe?
Betterment is a member of the Securities Investor Protection Corporation (SIPC). SIPC insures all Betterment accounts up to $500,000 in securities or $250,000 in cash (per account) in the case of a catastrophic financial failure. This is different insurance compared to FDIC insurance on bank accounts.
Traditional banks will take the majority of your bank account balance and lend out your money in order to make a profit. This is much more risky than holding securities. In the case of Betterment, all your assets remain in the account at all times. Betterment is not lending out your account balance. For SIPC insurance to be triggered your securities must have to go unaccounted for during a broker dealer going out of business. Betterment does not hold custody of your assets along with broker dealer assets, which limits the chance that your assets go unaccounted for in the case they go out of business.
What Are The Pros Of Betterment?
Passive investing. Betterment is a set it and forget it investing platform. You do not need to worry about account maintenance. Betterment takes care of everything.
Automation. You can automate the entire investing process. You can automate contributions to your account that will automatically rebalance your portfolio upon contribution. Your investments are on autopilot!
See the big picture. Betterment allows you to link up all of your investment accounts and get an idea of what all of your investments are doing in one place.
Fiduciary responsibility. Betterment advisors are held under the fiduciary duty standard. This is the highest standard in the investment advisor community. This means there is a legal requirement for the advisor to act in the client's best interest at all times. Remember, this in person advisement is only available through Betterment Premium.
Low fees. Betterment focuses on minimizing fees for investors. They do this by selecting low cost ETFs that have low expense ratios and leveraging technology.
No minimum. You can open a Betterment Digital account with any amount of money. Betterment Premium requires a balance of $100,000 or more.
What Are The Cons Of Betterment?
No direct indexing. Some other investment accounts offer direct indexing or stock level tax loss harvesting. This is typically only for accounts with $500,000 or more. This allows direct ownership of individual stocks, not funds, which allows for more tax loss harvesting opportunities. Betterment does not offer this feature.
Too passive for some. If you are interested in being active in your selection of stocks or ETFs, Betterment is not for you. Betterment is for passive investors.
Limited to stocks and bonds. You can only invest in stocks and bonds. You cannot invest in other assets like real estate or commodities through Betterment. It is important to note however that Betterment has stated that these assets added no value to portfolios that they tested.
The Verdict
Betterment has revolutionized the brokerage industry through the use of technology. This has significantly lowered the barriers to entry to receiving high quality financial advisement. Traditionally, you would need thousands if not tens of thousands of dollars to invest with an in person financial advisor. Now, you can invest with a robo advisor like Betterment with any amount that you have. Betterment is a long term investing platform for passive investors. If your interest is in short term trading, individual stock ownership or DIY investing Betterment is not for you.