Betterment vs Wealthfront vs Acorns
Many investors get to a point where they feel more comfortable hiring someone to manage their investments.
Unfortunately, this usually comes with high management fees and high minimum account balances in the thousands of dollars.
This is because active money management is often time consuming and expensive for a full service financial advisor.
Robo-advisors and online investment advice, in particular, are becoming more and more popular.
They appeal to both the hands-off investors as well as people wanting to take a more proactive approach.
One of the key advantages of these automated approaches is the lower fees.
Since the portfolios are controlled by algorithms and not people, the savings are passed along to the individual investor.
They also have significantly lower minimum account balances in most cases.
In this article, we are going to compare 3 popular robo-advisors; Betterment, Wealthfront, and Acorns.
They are some of the most popular platforms out there and we're going to try to compare and contrast them in the best way possible.
Summary
Betterment and Wealthfront support tax-loss harvesting while Acorns does not. 
Betterment has a $0 minimum to get started.
Acorns has a $5 minimum to get started and Wealthfront is $500.

All three support automatic rebalancing.

Acorns uses spare change to invest without having to make deposits.
Betterment has access to real financial advisors if you use the Betterment Premium service. 
Acorns charges $1-$3 per month while the other two are percentage-based fees based on assets under management.

None of these three offer individual stocks, just portfolios containing ETFs. 

Wealthfront offers the option to borrow against your investment account.

Wealthfront offers 529 college savings plans management.

Betterment and Wealthfront are better for financial planning while Acorns is best for forgetful or lazy investors. 

Both Betterment and Wealthfront have an asset management fee of 0.25%. 
Both Betterment and Wealthfront offer high yield savings accounts.
What Is Betterment?
Out of our three comparison options, today Betterment is the largest with over $14 billion dollars in assets under management.
Betterment has been building on the idea of being a truly automated system with a variety of different features in order to support many types of investors. This platform puts a strong emphasis on saving you money and offering features that make managing your finances easier.
Betterment also has a very beginner-friendly atmosphere offering goal-oriented investing and milestones you can set to keep yourself on track with your predetermined savings goals.

You can read our full review of Betterment here!
Betterment Features
Access To Human Advisors
With the Betterment Premium option, you get access to a human advisor who will give you individual financial advice. To access Betterment Premium you must have a minimum account balance of $100,000. 
If you do not have $100,000 in your account, you can purchase an individualized financial advice package from Betterment. 
There are multiple different packages running at low as $199 dollars for the getting started package. There are also financial planning packages for college savings, retirement, marriage planning and more.
Want to find the best robo-advisor for you?
We put together a free comparison table that analyzes all of the top robo-advisors available today. This guide will help you compare the features and benefits of each side by side.
Get The Guide
Bank Account Management
Betterment does offer a savings account with a higher APY than traditional banks called Betterment Cash Reserve. You do not have to have a minimum balance with them in order to take advantage of this feature. 
There are two features that act as automated account managers as well.
Smart Deposit
The first is Smart Deposit. You link a bank account with Betterment and their automated system will monitor it for you. You'll give them a set amount of money that you want to keep in your checking account and anything in excess of this amount is transferred to Betterment.
You can designate where you want this money to go to your Betterment account as well.
Two-Way Sweep
Two-Way Sweep is just like Smart Deposit in that it monitors your checking account in the same way and looks for money that is over the threshold that you have put into it.
When it sees the money that isn't allocated for anything else, it transfers that money over to your Betterment savings account. This will ensure most of your money is sitting in your higher yield account. 
It also works the other way too, hence the name. If your checking account goes below the amount that you wish to have in it, it will transfer money back from the savings account.
Betterment Fees
There are two levels of the Betterment platform.
Digital: There is no minimum balance and will charge a fee of 0.25% of your assets to manage.
Premium: You must have an account minimum of $100,000 and it will cost you 0.40% of your total assets that they manage.
Betterment Premium gives you access to a human financial advisor who can answer a variety of your financial questions. 
What Is Acorns?
Acorns offers a few unique tools on its investment platform. Their platform features full automation to invest your spare change through transactions, making it appealing to a less involved investor.
Their system has been aiming at young adults to invest some money that they aren't going to miss on a tight budget. 
Acorns is a cross between a robo advisor and a savings tool, the combination of these two services is what make Acorns such a popular platform, with over $15 billion dollars in assets under management.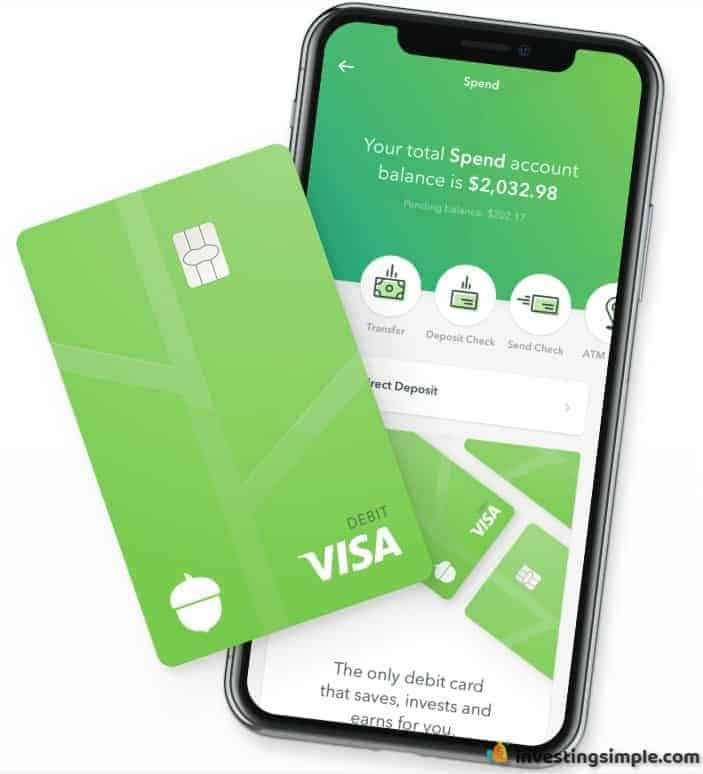 You can read our full review of Acorns here!
Acorn Features
Round-Ups
The Acorns Round-Up feature makes the process of depositing money to your investment account a bit of an afterthought.
The way it works is you start by linking an account with Acorns. It could be a bank account, debit card, credit card it can even be all three, really whatever you want.
Then you just go about your life as you normally would. Making purchases with the account you linked and Acorns will round up the money you spend to the next dollar and invest the excess.
To make it a little easier let's use an example:
You spent $19.30 on gas with your linked credit card.
Acorns rounds that up to $20.00, therefore, sending $0.70 to your Acorns account to be invested.
Acorns is best known as a micro-savings app that helps the beginner to intermediate investors save over time. It is best for those on a tight budget or for investors who are just starting out. 
Found Money
Another great feature Acorns offers is Found Money. When you shop with one of their over 350 partner companies extra money is put into your Investment account. Similar to credit card rewards for shopping at certain retailers.
It is a free extension for you to use to take advantage of the expenditures you were already expecting.
The amount that goes into your account can vary depending on the partner and how much you spend so it's hard to pin down an exact number on this one. You'll have to look in the extension to see the details of how much you'll actually receive.
Acorns Fees
Acorns has three different tiers of their system. This ranges from $1 to $3 per month. 
For $1 a month you get access to the basic Acorns system.
For $2 per month, you will also get Acorns Later, which gives you the opportunity to open a retirement account.
The final tier is $3 per month, this gives you the other two tiers and Acorns Spend.
Spend gives you a checking account that works alongside your investment accounts.
What Is Wealthfront?
The system used at Wealthfront offers a lot of benefits in a wide variety of different areas. Their ideology is more focused on appealing to a broad type of investors instead of aiming for a more specialized approach.
They also have some really big names in the investing industry under their belt too. Namely, Burton Malkiel who is there CIO and author of "A Random Walk Down Wall Street."
With such a wide approach and investing royalty behind them, it's no surprise that Wealthfront has reached over $11 billion dollars in total assets under management.
Wealthfront Features
Portfolio Line of Credit
Wealthfront offers the ability to borrow money against your account with the portfolio line of credit.
This is not a unique feature to Wealthfront as other platforms do offer similar features. But out of the three we are covering today, Wealthfront is the only platform that offers borrowing against your investment account. 
Once you reach $25,000 in your brokerage account, you will have the opportunity to take out a loan of up to 30% of your total amount. The interest rate varies based on the federal funds rate. 
They say that the interest rate changes based on the Federal Funds Rate but you can read more about their tiered interest system here as it is a bit beyond the scope of this comparison.
Passive Plus
This is Wealthfront's tax-optimization system. In addition to the tax-loss harvesting, you will find with other robo advisors out there you also get access to stock level tax-loss harvesting.
This feature used to be known as Direct Indexing.
You must have between $100,000 and $500,000 dollars in your account to make use of this but it offers a bit more bang for your buck when it comes to reducing your taxes.
Wealthfront claims tax-optimization can add 2.03% to your investment performance.
Wealthfront Fees
There is a fee of 0.25% of your managed assets to use the Wealthfront platform.
They do not charge a trade commission or any fees for withdrawing, minimums or transfers.
Sign up with Wealthfront + Get $5,000 Managed for Free!
The Verdict: Betterment vs Wealthfront vs Acorns
Choosing between these three platforms is a lot easier if you know the reason you are trying to invest in the first place.
Acorns is hands down the best approach if you don't have a lot of starting capital and do not want to think about the investing process. They offer many features to make it completely hands off for you to add money to your investments over time.
But Acorns does not have nearly as robust of a system as Betterment and Wealthfront. Both Betterment and Wealthfront are best for more intermediate to advanced investors who have more questions about their finances or have more to invest. 
Choosing between Betterment and Wealthfront is a lot harder and is going to depend on what you want your investing experience to look like. They are both top-notch robo advisor services and carry similar features.
Wealthfront should be your choice if you want to be able to leverage your investment account to borrow money. They are the only option of the three to offer it.
They also really stand out when it comes to tax optimization with Passive Plus and if you have an account with more than $100,000 in it this might be the way to go. That in conjunction with their 529 college savings plan could swing some investors in their direction.
If you want something that has more guidance and planning, Betterment is a good option. They are the only one of these platforms to offer human financial planners to give you personalized financial advice.
Betterment also seems to have the best platform for actually planning out your financial future with a heavy emphasis on goal-based investing. And their automation is superb with the addition of Two Way Sweep and Smart Deposit making it great for hands-off investors.
Best Free Stock Promotions
Keep Reading: