Over recent years, the rise of the robo-advisor has taken the money management industry by storm. In the past, it was common to pay a financial advisor 1% or more per year to manage your money. Now, these low-cost alternatives are truly disrupting the industry.
By offering many of the same services you previously had to work with a financial advisor to access at less than half the price, many investors are considering making the shift to a robo-advisor.
Three of the most popular platforms are Betterment, Personal Capital, and Wealthfront.
All of these robo-advisors offer a similar service, but with slightly different features and design. In this review, we will help you decide which platform may be a good fit for you!
Best Platform for Beginners: Betterment
Betterment is the clear top pick for beginning investors. It offers an intuitive design and platform that is not intimidating to first-time users or rookie investors and accounts can be opened with no initial minimum deposit. Betterment also automates the process of building an account by monitoring your spending and only investing what you can afford to have in the market.
Best Platform for High Net Worth Individuals: Personal Capital
Of the platforms described in this post, Personal Capital is the clear choice for higher net worth investors. Personal Capital offers its investors with more than $200,000 a pair of dedicated financial advisors who will help them navigate the ups and downs of the markets. For investors seeking consistent, risk-adjusted returns without the stress of picking individual stocks and constantly managing trades, Personal Capital stands out.
Betterment Review
Betterment has developed what it touts as the premier robo-advisor service for beginners looking to invest in the stock markets with minimal hassle or effort.
There are no account minimums and fees start at just 0.25% for the basic Betterment plan.
Betterment also offers a strong suite of financial tools that allow you to see a birds-eye view of your assets. For higher net-worth investors, Betterment offers more personalized investment services with an account minimum of $100,000.
The platform is centered around helping you move towards your various financial goals through long-term investing strategies. After creating an account, you'll be prompted to answer a series of questions about your situation and your goals. From there, Betterment will create a portfolio that matches your needs and goals.
You can then further segment your account into your separate goals so that you can save for each one individually and track your progress to stay motivated.
Here's our full review of Betterment.

Betterment Investment Strategy
Betterment invests in ETFs that track 12 different asset classes.
Investors have the freedom to manage how much of their money is invested in each ETF and can also set their investments based on their own risk tolerance and investment goals. This allows for significantly more flexibility when compared to other robo-advisors currently available.
Betterment also offers Socially Responsible Investment classes for investors who want to ensure their investing supports the causes that matter to them.
The service also automatically rebalances investors' portfolios to account for inflows and outflows due to dividends, withdrawals, and deposits.
Betterment Top Features
Betterment has added many exciting features under the hood in addition to its investment services that make it a standout platform for investors of all ages. A list of the top features is broken down below:
 Human Financial Planners: If you are in the Betterment Premium tier you will have access to a team of dedicated financial planners who will assist you with any of your financial planning questions. This is invaluable especially for investors who want to maximize their wealth for the long-term.
Cash Reserve Savings: Betterment allows investors to park excess savings in a Betterment Cash Reserve savings account that earns interest at rates above most banks and carries zero minimums or fees. Click here to check out Betterment Cash Reserve Savings latest yield.
Cash Back Checking: In addition to savings, Betterment also offers a fee-free checking account with no overdraft fees, monthly fees, or foreign transaction fees. By spending on the corresponding debit card, you can also earn up to 5% cash back on your shopping with thousands of partner merchants!

 

Two-Way Sweep: Investors who link their checking accounts to their Betterment account can opt into the Two-Way Sweep program. Betterment will monitor the users checking and savings accounts and move money back and forth to the market based on its cash analysis of spending patterns.
RetireGuide: Betterment allows users to link all of their accounts, including 401(k)s and Roth IRAs. The platform then offers guidance for retirement planning.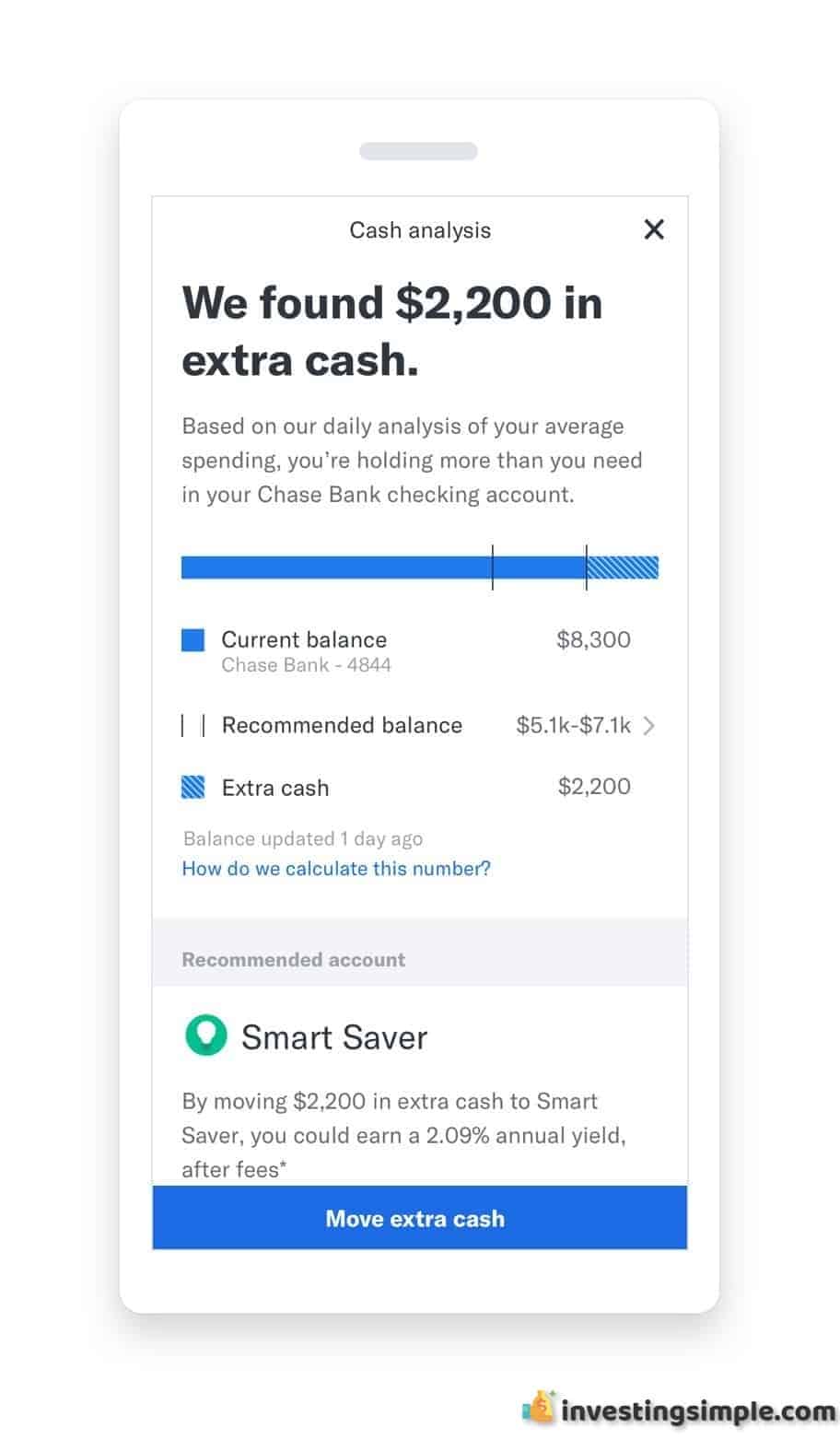 Betterment Fees
Betterment charges a 0.25% management fee for its basic Betterment Digital accounts and a 0.40% fee for its Betterment Premium service.
Digital: 0.25% annual management fee, access to digital financial planning tools, and investment management. 
Premium: 0.40% annual management fee, access to a team of human financial advisors who will assist you with any of your questions. It also includes investment management and more customization of your portfolio. The minimum for this tier is a $100,000 account balance. 
Betterment Pros
Betterment is a set-it-and-forget-it investing platform that allows users to take a very hands-off approach to money management.
It offers a mix of asset classes, automatic rebalancing, tax-loss harvesting, all with minimal fees and no account minimums. For young investors just entering the market, this is a huge pro.
The fees are also some of the lowest in the industry, making the platform much more accessible than working with a financial planner.
Betterment Cons
There are very few negatives when it comes to using Betterment, however, accessing and withdrawing capital in a pinch is difficult. This is something to keep in mind when beginning an initial investment with the company.  When you need cash out of Betterment Cash Reserve it can take a few days to make the transfer. 
Additionally, you do need to meet the $100,000 minimum if you want to work 1-on-1 with a CERTIFIED FINANCIAL PLANNER from Betterment.
Personal Capital Review
Personal Capital is not for the average investor, requiring a minimum of $100,000 as an initial deposit.
For investors with that much capital to put to work, the service offers personalized investment management. Personal Capital is geared towards wealthier clients who wish to grow their net worth with a hands-off approach.

Personal Capital Investment Strategy
For individuals with $100,000 to $200,000, Personal Capital invests in a portfolio of ETFs.
At the $200,000 to $1,000,000 level, the ability to invest in individual stocks is added, while the ability to invest in individual bonds is unlocked for accounts over $1 million.  Invest more than $200,000 and you'll also receive a dedicated financial advisor.
In general, you'll want to have at least $200,000 to invest on the Personal Capital platform before you start seriously considering the service.
Personal Capital Top Features
Personal Capital focuses on the ability of high net-worth investors to receive a personalized investment strategy, growing their wealth without taking outsized risks or obsessing over day-to-day management of their portfolios. 
The fees are much lower than what a professional advisor would charge. For those without $100,000 to invest, Personal Capital does offer a host of tools to monitor cash flow and plan for the future.
Human Financial Planners
Tax Loss Harvesting
Free Financial Planning Tools
Personal Capital Cash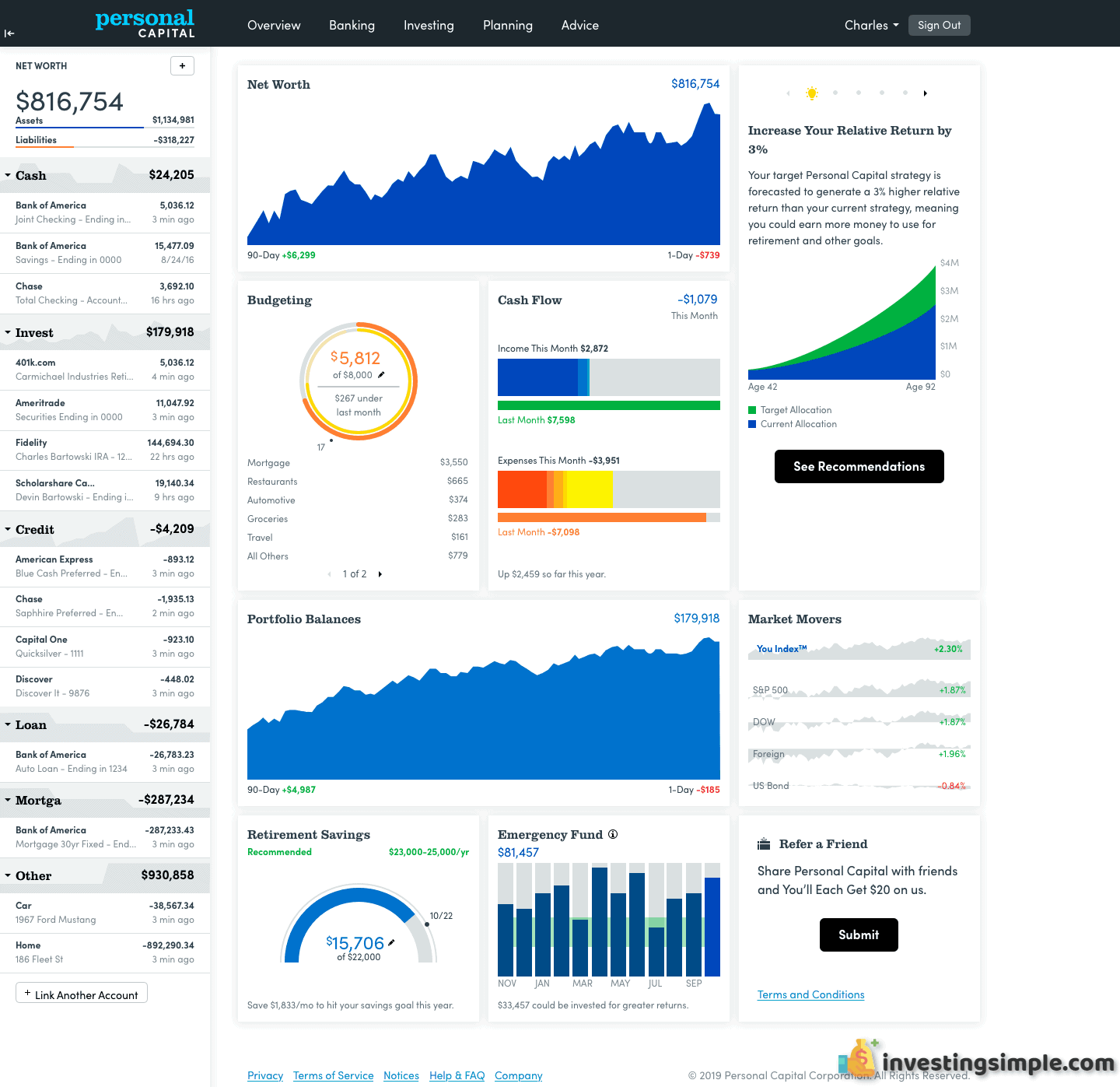 Personal Capital Fees
The fees are based on the total value of an investment account:
The traditional financial advisor will charge roughly 1% or more, so Personal Capital comes in at a more affordable price point.
Personal Capital Pros
Personal Capital offers wealthier investors the best of both worlds when it comes to robo-advisors – minimal hassle without giving up the human touch. Most robo-advisors do not include human advisors as a part of their service. Offering personal financial advisors is an area where Personal Capital shines.
Additionally, the platform comes equipt with a host of tools and calculators to help you get a better picture of your financial situation and plan for the future. Some of these tools can also be used by non-clients for free!
Personal Capital Cons
The fees charged by Personal Capital are significantly lower than an individual advisor would charge, but are also much higher than the other robo-advisors. Many other robo-advisors like Betterment start off at 0.25% which is less than 1/3 of what Personal Capital charges.
The platform is clearly tailored towards higher net worth investors who are looking for a more high-touch investing solution.
Investors who fall below the $200,000 threshold can find similar access to personal advisors on Betterment with lower fees.
Wealthfront Review
Wealthfront attempts to appeal to investors of all kinds, offering a little bit of everything with an automated investment strategy backed up by plenty of extra services like college savings accounts and financial planning.
To get the most out of Wealthfront's offerings, investors will have to maintain a higher balance. Led by heavy hitters in the investing industry like Burton Malkiel, Wealthfront is a serious investment vehicle with none of the hassle and stress.
The minimum investment is $500, while Betterment has a minimum investment of $0.

Wealthfront Investment Strategy
Wealthfront invests in ETFs that cover 11 different asset classes, with a portfolio typically invested in six to eight of those classes. Assets are allocated to different ETFs based on a preliminary questionnaire that determines the risk tolerance of each investor.
The platform offers a standout feature for larger accounts, allowing their funds to be allocated to individual stocks that make up each ETF. This approach offers strategies that can take advantage of tax savings for investors.
Wealthfront Top Features
Wealthfront offers a more robust suite of tools that help it stand out as a top choice for more sophisticated investors. The investments can be very sophisticated for investors with higher balances. However, until you reach those thresholds, you'll be limited in the investment strategies you'll be able to follow.
You also have the ability to transfer existing assets and investments which will then be incorporated into the Wealthfront holdings. The platform also offers college savings plans and the ability for investors with more than $25,000 under management to draw on their holdings for a line of credit that will not impact their credit.
Wealthfront Fees
A flat 0.25% annual management fee applies to all accounts, with a minimum balance of $500 required.
The platform does not charge any account-opening fees, account-closing fees, or trading commissions.
Wealthfront Pros
Wealthfront provides value for higher net worth investors because it allows for the purchase of individual stocks, maximizing tax-loss harvesting.
The investment offerings of the company are slightly more sophisticated, giving investors more flexibility in making investment and tax planning decisions.
The company also allows users to sign up for its Path service and try out financial planning without funding an investment account.
Wealthfront Cons
Wealthfront does require a minimum investment of $500.
Additionally, Wealthfront does not purchase fractional shares of ETFs, which means an investor's entire deposit cannot be invested. The service also holds a minimum cash balance equal to the predicted annual fees an investor is likely to owe over the course of a full year.
For an investor with a small account, this may add up to a significant portion of the initial deposit and could reduce returns through an increased cash drag.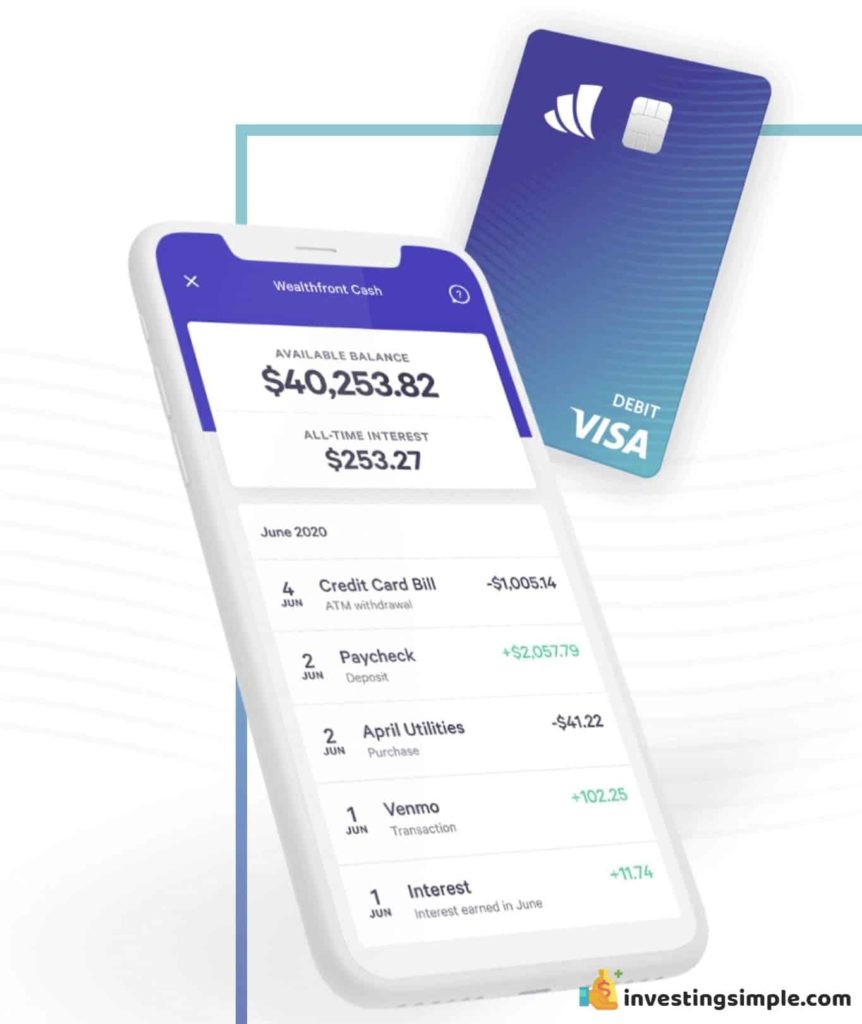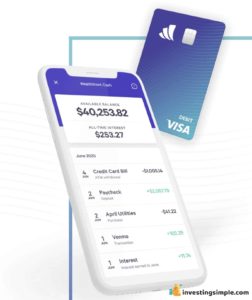 Final Verdict: Betterment vs Wealthfront vs Personal Capital 
All three robo-advisors discussed above offer similar services – steady returns on capital investment with minimal input required from the user. Set-it-and-forget-it is a fair description of what it feels like to invest using Betterment, Wealthfront, or Personal Capital.
Betterment offers the best bang for the buck for beginning investors, with limited fees and no account minimums. You're able to get invested in a matter of minutes, and the automation features offered create a streamlined experience for investors.
Wealthfront does require a minimum $500 investment, but has fees in line with Betterment and offers more robust investment options. For the most part, you'll need to have a 6 figure account balance before you're able to access most of these advanced investing strategies.
For investors with more capital and a desire to work closely with an advisor, Personal Capital may be worth the higher fees. You'll need to have some serious money invested to get the full value from Personal Capital, but it has the potential to serve as an effective alternative to working with a traditional financial advisor for some investors.
In the end, the decision between these three platforms comes down to your goals and how much cash you are able to invest.
Best Free Stock Promotions