Preparing for retirement is best done early. The sooner preparation begins, the earlier one can theoretically retire. For many, preparing for retirement is achieved through a 401k, Roth or Traditional IRA, and/or an HSA account. Some have even achieved early retirement through a process called FIRE.
Each of the methods listed above requires investments into the stock market. For example, a Roth IRA is typically a well diversified investment that utilizes an index fund. However, some investors like to actively manage their retirement portfolio and choose their own investments.
Some investors also want to add cryptocurrencies to their retirement account(s) to provide further diversification across assets and participate in the new and growing segment.
So, is there a way to have a retirement account dedicated to crypto? In this article, we provide a Bitcoin IRA review. How does the platform work? And what are the pros and cons?
Bitcoin IRA
Simplicity

Fees

Funding & Transferring Ability

Cryptocurrencies Available

Customer Support

Security
Bitcoin IRA Review Summary
Bitcoin IRA is a top choice for cryptocurrency IRAs. New members will find the platform is highly simple to use and easy to get started.
New members can fund an account with a number of various retirement accounts or by linking a bank account.
One key downside of the platform is the high fees. With both setup fees and trading fees, new users should be aware of the costs associated with an account before signing up.
Pros
Simplicity
Customer Support
Cold Offline Storage
Insured Assets
Cons
High Fees
Low Number of Cryptocurrencies on Platform
Bitcoin IRA Review: Highlights
New members can transfer from an existing retirement account or fund the Bitcoin IRA from a bank account
High initial setup fees (Depends on multiple factors listed below)
Access to 9 cryptocurrencies and real gold
Minimum investment of $3,000
Access to earn up to 6% interest on holdings with IRA Earn
Saver IRA available for $100 a month
Specific customer service phone numbers for new accounts and existing  accounts
What is Bitcoin IRA?
Bitcoin IRA is the leading cryptocurrency IRA platform that exists today. Since launch in 2016, over 100,000 individuals have signed up for an account with Bitcoin IRA.
A whopping 80% of cryptocurrency IRAs are actually held with Bitcoin IRA. This is because the platform is incredibly easy to use. Members of Bitcoin IRA are also able to transfer funds from a Roth or Traditional IRA, SEP IRA, 401k, and 403b. This is more flexible than many other crypto IRA accounts offered in the market.
Bitcoin IRA provides members access to a self-directed IRA, which is simply a traditional or Roth IRA. The key point of differentiation for a self-directed IRA is the assets that can be held in the account. For regular IRAs, some assets are prohibited. Because Bitcoin IRA uses a self-directed IRA, cryptocurrencies can be added to the portfolio.
What is an IRA?
An IRA is an individual retirement account that allows an individual to take advantage of compound interest over a number of years.
One of the key reasons investors love IRAs is due to the tax advantages they offer. With a Roth IRA, individuals enjoy tax-free growth, and with a traditional IRA, account holders experience tax deferred benefits.
Because an IRA is a retirement account, account holders will not be able to withdraw funds penalty free until they reach the age of retirement, typically 59 and a half. This incentives long term growth.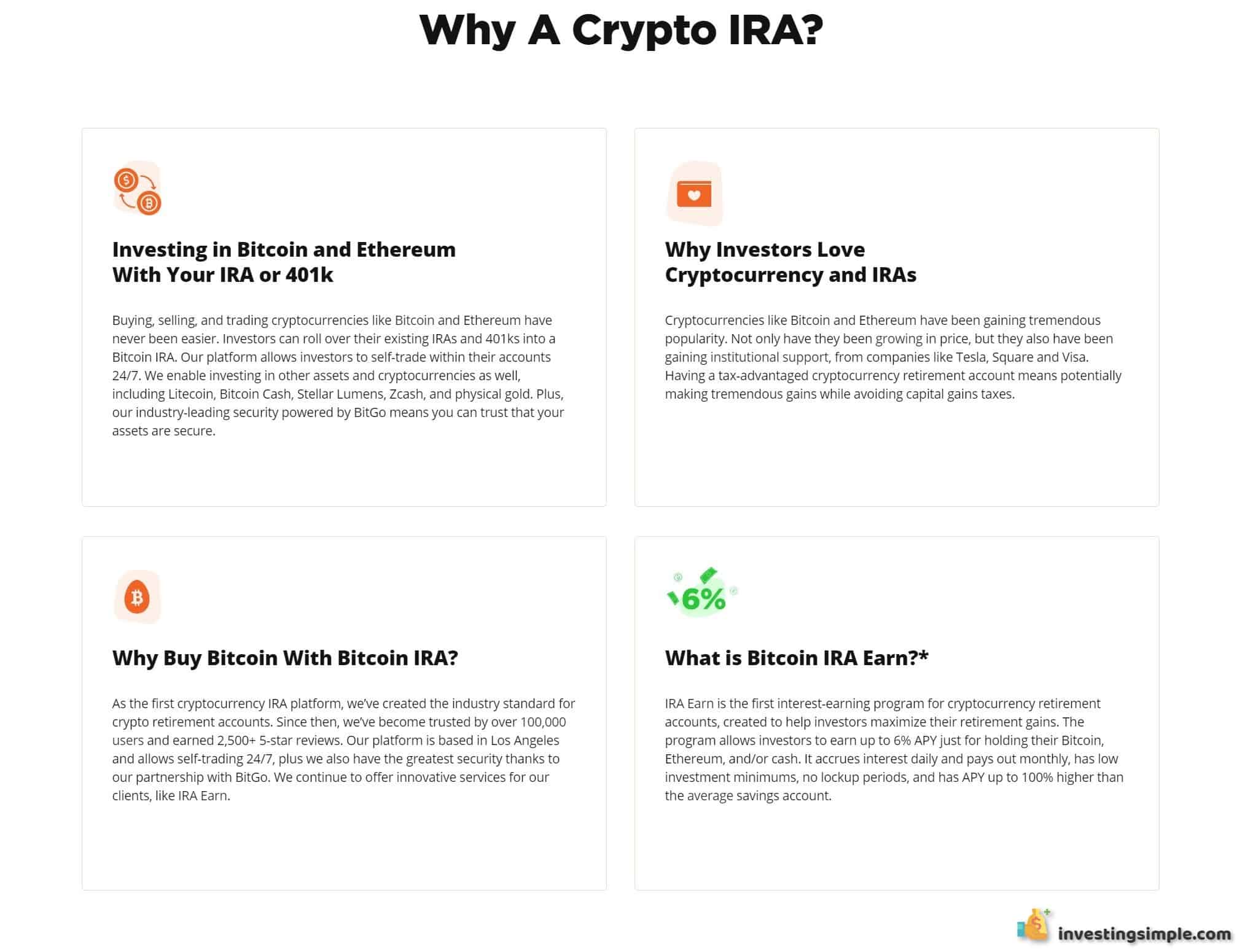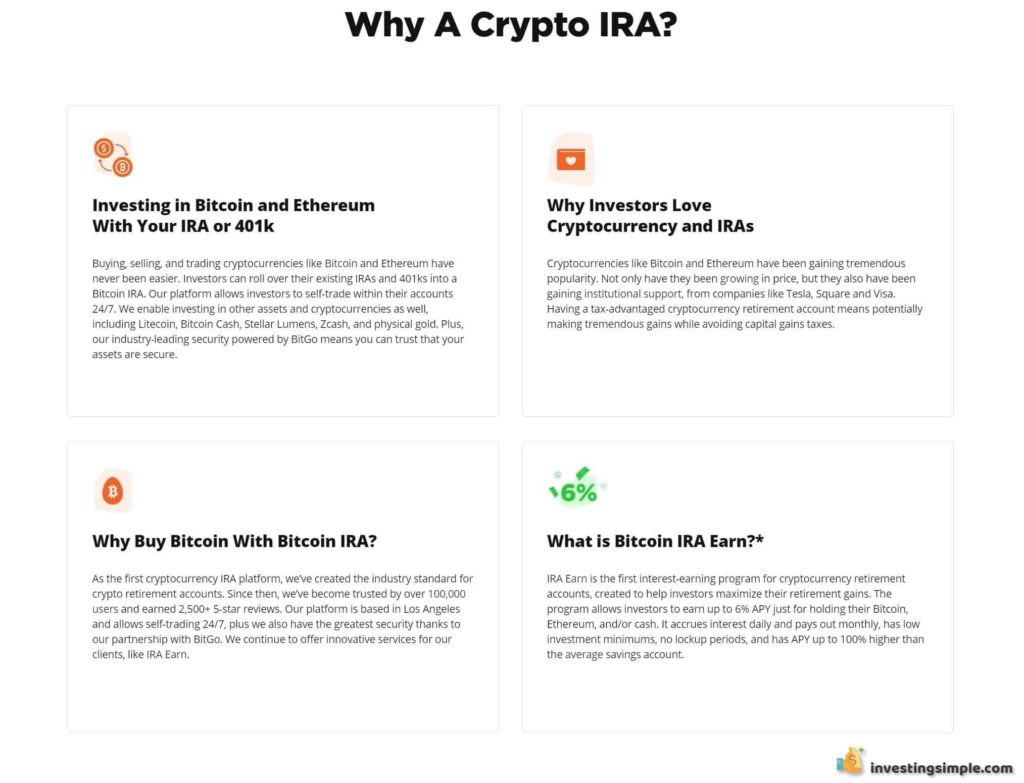 What is Cryptocurrency?
Cryptocurrency, also known as crypto, is a digital currency made possible through blockchain technology. Like other currencies such as the US Dollar or British Pound, crypto can be used for various transactions. 
Rather than being issued and secured by a central authority, cryptocurrency is secured by cryptography and is managed on a decentralized network. This appeals to many as this technology makes crypto nearly impossible to counterfeit. Unlike fiat currencies, which are managed by a central authority such as a government, crypto is managed across a host of computers. 
Every transaction is recorded on an online ledger. Since this ledger is managed on a decentralized network, it would be nearly impossible to change a record for criminal purposes.
Cryptocurrency does not inherently have value, nor is it like a company that produces a good or service. Crypto's value is purely speculative and rises or falls based on individual perceptions. This is often referred to as the Greater Fool's Theory, which states that a person can make money off of an overvalued object because there is almost always someone else willing to pay more for the same item.
Cryptocurrency is a speculative investment that is highly volatile. Investors interested in cryptocurrency should understand the risk involved before making an investment.
How Does Bitcoin IRA Work?
To open an account with Bitcoin IRA, new users will need to supply personal information such as name, email, SSN, and a driver's license.
During the sign-up process, new users will need to determine how they will fund the account, which can be done through linking a bank account or transferring from an existing retirement account.
The minimum to open an account is $3,000. Members cannot use Bitcoin IRA to purchase cryptocurrencies for another IRA held by another institution.
Like other retirement accounts, spending or withdrawing funds your Bitcoin IRA account before  the retirement age of 59 ½ will result in early withdrawal tax penalties. Members can sell various investments within the platform as long as the funds are maintained within Bitcoin IRA's platform and used for another investment in the platform.
New members will also learn that they cannot transfer existing cryptocurrency holdings to fund the account. Funding a new account can only be done with dollars. 
Cryptocurrencies Available
Bitcoin IRA currently offers 9 cryptocurrencies and real gold. The cryptocurrencies are listed below:
Bitcoin (BTC)
Ethereum (ETH)
Ripple (XRP)
Litecoin (LTC)
Stellar Lumens (XLM)
Zcash (ZEC)
Bitcoin Cash (BCH)
Ethereum Classic (ETC)
Digital Gold (DG)
In addition to the cryptos listed above, members can also purchase real gold. When you purchase gold, you receive ownership rights to investment-grade physical gold bars. The gold is approved and regulated by the New York State Department of Financial Services and is fully-backed by allocated gold.
The value of the gold follows the market value. The gold bars are held in Brink's bullion vault facilities and is also insured.
Bitcoin IRA Earn
During the signup process, new account holders will also be asked if they want to sign up for Bitcoin IRA Earn.
This is not a separate account. It is held within your total Bitcoin IRA account. However, to get started with IRA Earn, members will need to deposit a minimum of $10,000.
With Bitcoin IRA Earn, members can earn up to 6% APY. Interest accrues daily and pays out monthly to the account. There are no lockup periods with this program.
The amount that you can earn varies by asset; they currently offer IRA Earn for USD, BTC, and ETH. 
USD earns 6.0%
BTC earns 2.0%
ETH earns 2.7%
Getting started with Bitcoin IRA Earn does cost $100. Moreover, quitting the program costs an additional $100.


Bitcoin Saver IRA
For those looking to get started but don't have an existing IRA to transfer funds or don't want to start with the $3,000 minimum, another option is available. The Saver IRA program offers new members an option to get started by creating a recurring investment of $100 per month.
While this does eliminate the account minimum, it does not remove fees associated with opening and maintaining an account.
Does Bitcoin IRA Have Fees?
One of the key downsides of investing with Bitcoin IRA is the number of fees that have, which can be complex.
First, Bitcoin IRA has administration fees. Horizon Trust is the custodian that actually opens the account with Bitcoin IRA on your behalf, and they charge $240 a year. Bitcoin IRA also charges a fee for their digital wallet. The fee for the wallet is charged monthly and is 5 basis points. (A basis point is is equal to 1/100th of 1%, or 0.01%, or 0.0001.) For example, for an account with $10,000 in the wallet, the monthly charge would be $5.
Second, Bitcoin IRA charges fees for buying and selling. For selling, there is a 1% liquidation fee. For buying, there is a 5% fee.
For example, if you swap cryptocurrencies, you will incur a 1% fee to liquidate. You will then incur a 5% fee for the new purchase.
Third, Bitcoin IRA charges a one-time fee for the first trade made on the account. This is typically around 12.5%, but it depends on the amount of the first trade.
All in all, Bitcoin IRA does have hefty fees. Because of these fees, it is not recommended to swap cryptos frequently. (Typically, retirement account are intended to be held for the long term. If you are looking to get involved with cryptocurrency and want to make frequent trades, this is not the platform for you.)
Is Bitcoin IRA Safe To Use?
Bitcoin IRA takes security very seriously. In addition to 256-bit encrypted SSL trading, assets are held offline in separate cold storage accounts.
Also stated on their website, assets are insured for $100 million with BitGo Trust and their insurance provider Lloyd's of London.
The platform has achieved over 2,500 five start reviews. This is due to a strong track record of security and transparency with clients.
Bitcoin IRA Review: Final Thoughts
Bitcoin IRA is the leading platform for cryptocurrency IRAs. This is largely due to the fact that they have the longest track record and a highly simple platform to use. The flexibility to transfer funds from an existing IRA is also a key feature.
Investors interested in getting started with Bitcoin IRA should understand the risks associated with cryptocurrencies, which are a highly volatile and speculative investment.
Additionally, individuals thinking about investing with Bitcoin IRA should be aware of the fees that are associated with opening and maintaining an account. New users can actually call the customer support phone number found on Bitcoin IRA's FAQ page to better understand the fees and ask any questions about an account. Because of the fees, it is not recommended to make frequent trades with this platform.
The customer support offered by Bitcoin IRA is actually very good. Individuals can call in with any questions or concerns about an existing account or creating a new one. They are also happy to walk you through account setup and help you create your first trade.
Bitcoin IRA may be the platform for you if you are seeking a retirement account dedicated to cryptocurrencies. With strong reviews, Bitcoin IRA has proven themselves to be a leader in this segment.
Best Crypto Promotions