One of the main concerns people have about electric vehicles is the ability to find a charging station. Most electric vehicles can travel about 250-350 miles before requiring a charge. No matter where you go, you can almost always find a gas station. But what about an electric vehicle (EV) charging station?
Blink Charging Co., BLNK, has a single mission in mind: to build an EV charging infrastructure worldwide. With over 23,000 EV charging stations worldwide and over 180,000 members, Blink Charging is quickly becoming one of the most popular EV vehicle charging station companies.
Blink Charging Co. not only makes money through the sale of electric charge to EV drivers, but also through their strategic partnerships. Businesses can partner with Blink to host a Blink owned EV charging station, purchase the equipment and host themselves, or partner to enter into a hybrid model with shared revenues.
In addition to building charging stations all over the world, they also have created a free membership with an electric charging station map to help EV owners locate stations near them. In fact, EV drivers can quickly see whether the station is available or currently in use by another EV rider.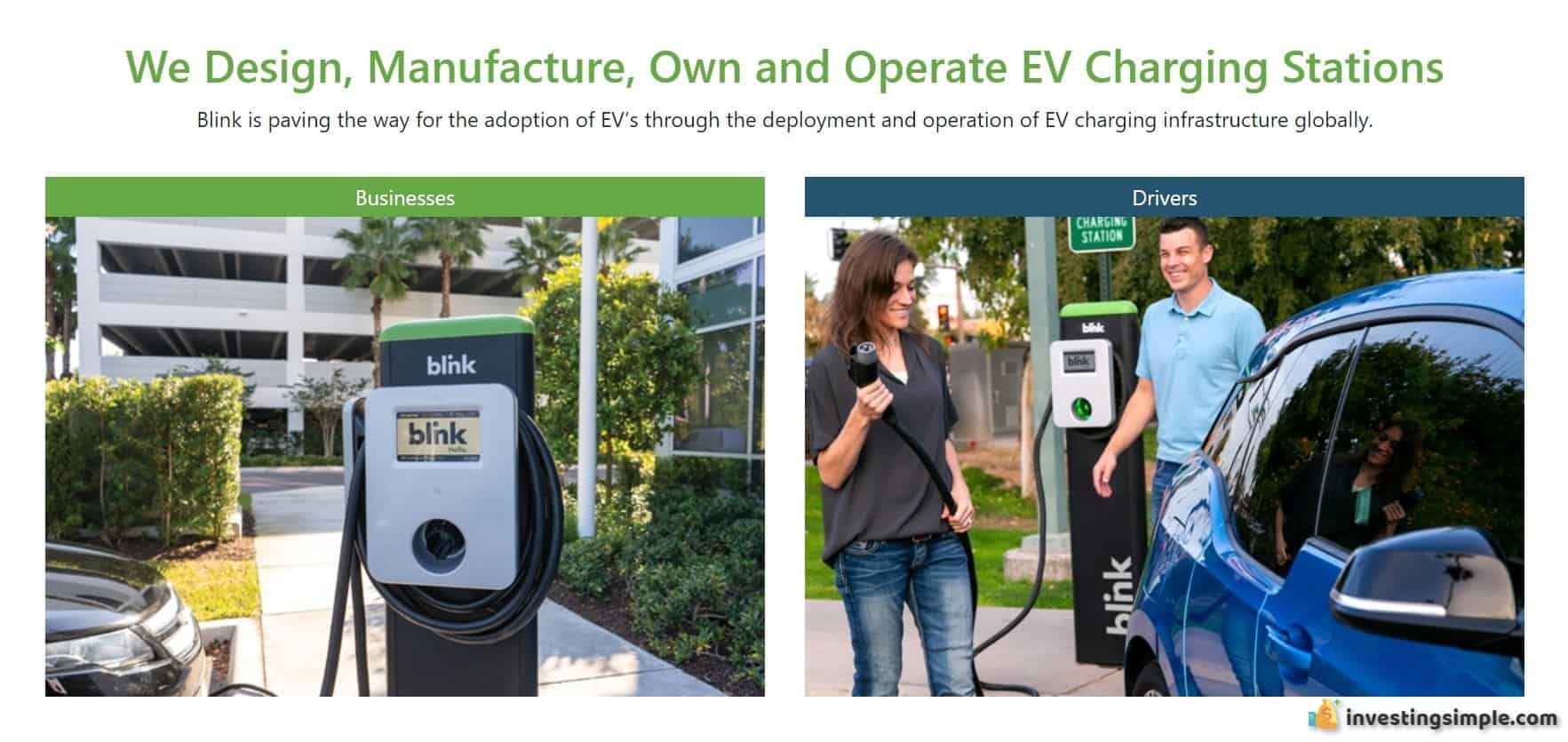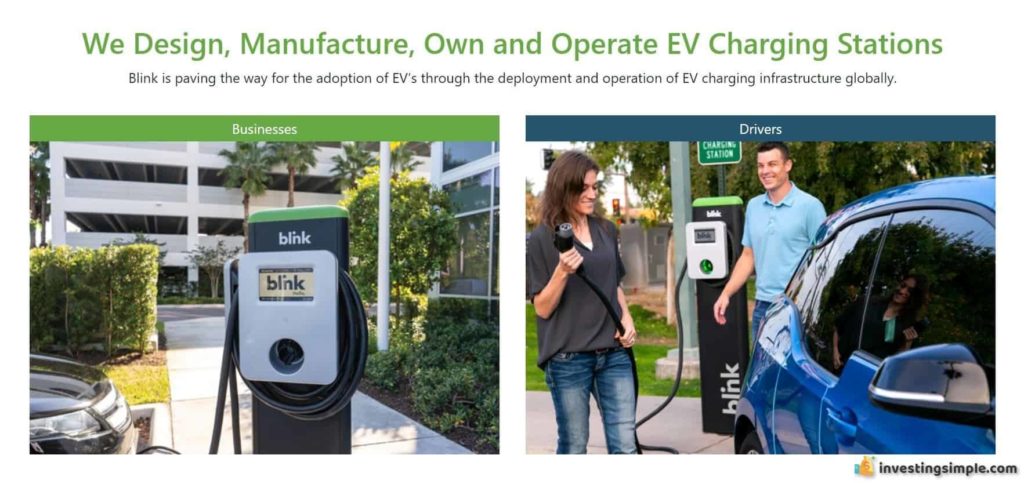 Why is BLNK Stock Moving Now?
In the latest year, BLNK stock is up over 1700%; however, in the latest month, BLNK has fallen 17%.
The main driver of the stock price recently has been the widening losses reported. Though Blink revenues continue to grow, the company still fails to turn a profit.
Blink Charging Co. recently reported a much larger 4th quarter loss than expected. Though 4th quarter revenue increased to $2.5 million from $701,000 in the 4th quarter a year ago, Blink reported a 4th quarter loss of $7.9 million vs $2.9 million a year ago.
Investors expected a loss of 12 cents per share, but the company reported a 24 cent loss per share. The disappointing results have caused some investors to look to other competitors in the sector.
What are Blink Charging's Strengths and Opportunities?
According to the International Energy Agency, the number of electric vehicles on the road worldwide will reach 125 million by 2030. Thus the demand for charging stations will only increase as well. Blink Charging Co. is right on trend and will be for the foreseeable future.
Blink's business model allows business owners flexibility as they can choose to host a charging station themselves or participate in a revenue sharing model where Blink pays for the equipment and installation. This ability may allow Blink to rise in popularity as the equipment for a station can represent a large investment.
Blink currently has a number of notable businesses that they have worked with such as Walmart, Marriott, Starbucks, Ikea, and Whole Foods.
The vast majority of Blink's stations are located on the east and west coast. The biggest opportunity for Blink will be to continue establishing new partnerships and building new stations worldwide.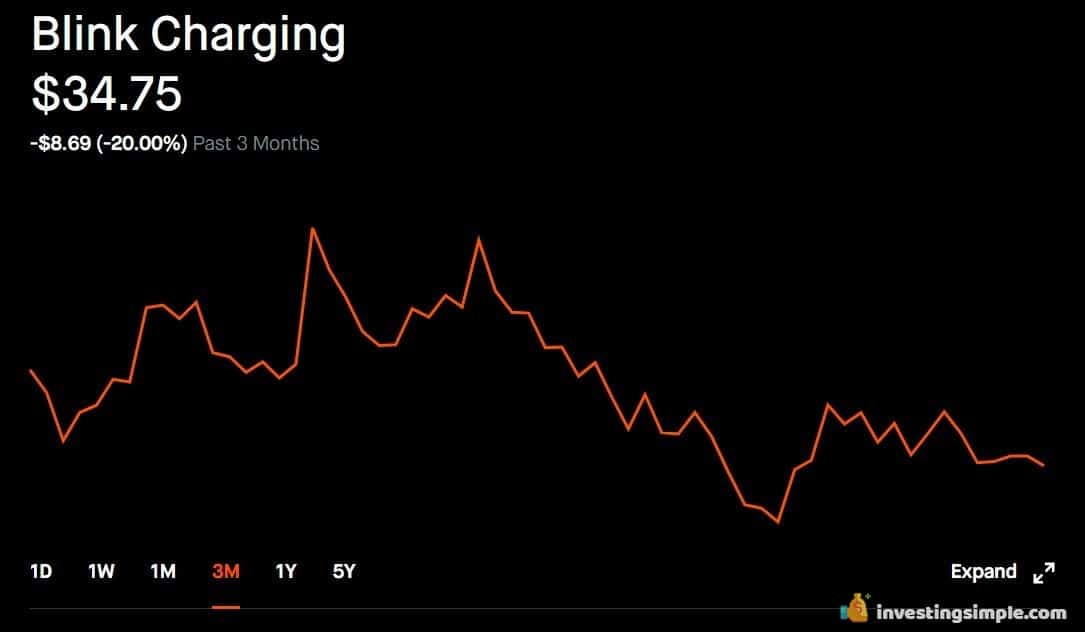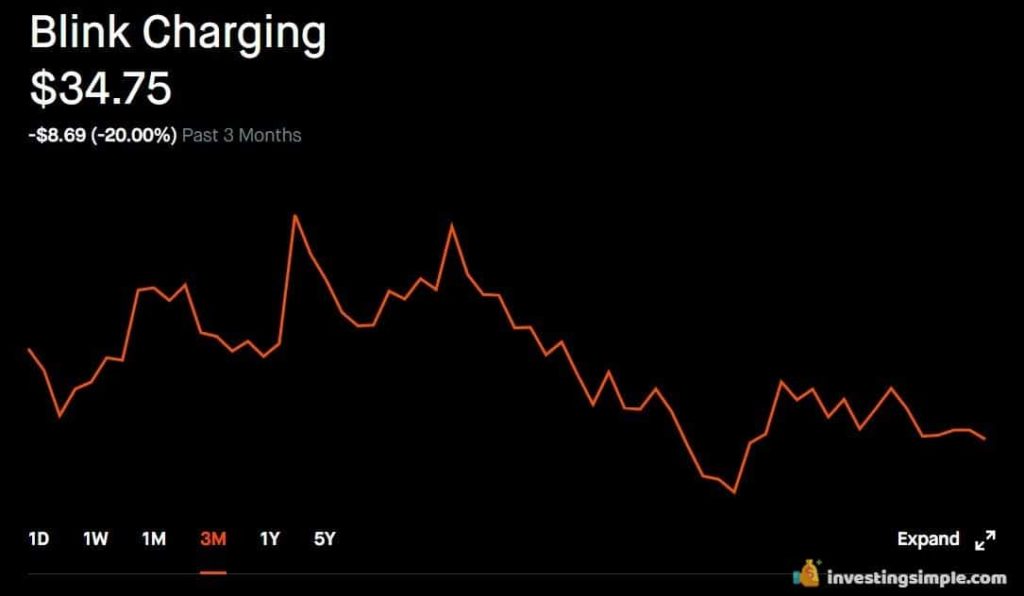 What Challenges is BLNK Stock Facing?
As EVs gain popularity and market share, the demand for charging stations will continue to rise. Due to this ever increasing demand, many companies with a similar mission have been founded.
One of the top competitors, ChargePoint, earned the first mover advantage and currently has around 73% market share. There is also a growing number of other companies that have recently been founded such as EVgo and EVBox.
Additionally, large oil companies such as BP and Shell are also seeking to enter the sector. While oil and gas lose popularity to the more sustainable electric vehicle, oil companies are entering the space to hedge future losses and remain relevant.
Blink Charging Co.: Final Thoughts
As Blink Charging Co. continues to build a larger infrastructure of EV stations, they will certainly gain popularity. It will also be important for them to leverage the businesses they have already worked with. A full scale partnership with Walmart for example could grant access to over 4500 stores across the US.
Powerful competition will not simply go away, in fact it will continue to be more fierce as the demand for EVs grow.
Investors interested in BLNK stock should remain close to company news and future earning reports. As the company finds efficiencies and begins turning a profit, they could return to the recent growth they have experienced.
Start Investing Today
Investing has never been more accessible than it is today. You can quickly open a brokerage account and start investing all within 10 minutes from your personal phone! The question is, which investing app is best?
With so many to choose from, people often delay getting started, but with any investment, time is often one of the most important factors!
If you are looking to get started but are unsure how, then be sure to read How to Invest in Stocks For Beginners or check out the 10 Best Investing Books Beginners Need To Read In 2021.