Real estate investments are a great opportunity for you to diversify your portfolio. Investing in real estate has long been known as an opportunity for investors to generate passive income, and over the past 40 years, commercial real estate has proven to be an attractive hedge against inflation. With a low correlation to the stock market, an investment in real estate could potentially continue to perform well even during a market downturn. 
An investment in real estate however is not as passive as an investment in the stock market. The buying process can take months with negotiations back and forth. Investors can expect maintenance on the property, which can be difficult to predict. And of course, finding high quality tenants can be a challenge. So, is there a better way to invest in real estate?  
Cadre just may be the solution! The company invites like-minded investors to invest alongside Cadre in institutional quality deals, which are vetted with tech driven and top industry expertise. Cadre is dedicated to prioritizing returns for investors while advancing financial inclusion, lowering barriers to entry, and uplifting the communities you invest in.
So, is Cadre for you? Could it be a great investment? In this article, we provide a full Cadre review and answer those questions and more. 
This article is sponsored by Cadre.
Transparency

Fees

Minimum Investment

Investing Options

Simplicity
Summary
Cadre is a platform dedicated to commercial real estate. Since it's launch, this platform has attracted many investors for its approach to real estate.
The company has a team of real estate experts with years of experience. They partner this experience with data science to find the best deals possible.
Cadre's offerings are limited to accredited investors and come with a $25,000 minimum investment.
Pros
Access to both their individual deals and fund
Secondary Market to liquidate early
Skin-in-the-game on every deal
Cons
Large Minimum Investment
Low deal flow
Limited to accredited investors
Cadre Review: Highlights
Platform is for Accredited Investors

Premiere Access to Cadre's Direct Access Fund 

Investors can also choose to review and select individuals deals through Cadre's Deal-by-Deal

$25,000 minimum investment

Deals are typically carried out over 6-8 Years

Investors have an opportunity to sell early in 'Secondary Markets'

Cadre charges an annual management fee (1.5%), an administration fee (~0.25%), and a one time commitment fee based on check sizes

Cadre pairs traditional fundamental real estate analysis with data science programs that predict price forecasts in their Top 15 markets (i.e Cadre 15)


What is Cadre?
Cadre is a real estate investment platform. The company was founded in 2014 and has since amassed $3 billion in owned transaction value . The company has a strong track record with 18.2% historical returns, and their investments have returned more than $168M to investors. 
The term cadre is defined as "a small group of people specially trained for a particular purpose or profession." This is exactly the case with the Cadre Investment Committee. Each member of their team has an average of 25 years of investing experience.  
CEO and co-founder Ryan Williams, for example, worked at The Blackstone Group, where he was involved in over $3 billion in transactions across multiple asset types. And before Blackstone, Ryan worked at Goldman Sachs in its technology media group where he worked on transactions totaling more than $5 billion.
"We want to usher in a new era of institutional real estate investing for individuals, where they can invest alongside an experienced team such as ours, and alongside institutional investors, in a way they've never been able to do before" - Ryan Williams CEO & Co-Founder
Before joining Cadre, Allen Smith, President of Cadre, was the CEO of Four Seasons and Prudential Real Estate Investors. 
When investing with Cadre, you can be sure you are backed by a team of experts. 
Cadre spends significant resources to find the very best deals. In fact, Cadre invests alongside all other investors in each deal they bring to the platform. This demonstrates a belief in every deal they offer to you. 
Cadre is reserved for accredited investors and requires a $25,000 minimum investment.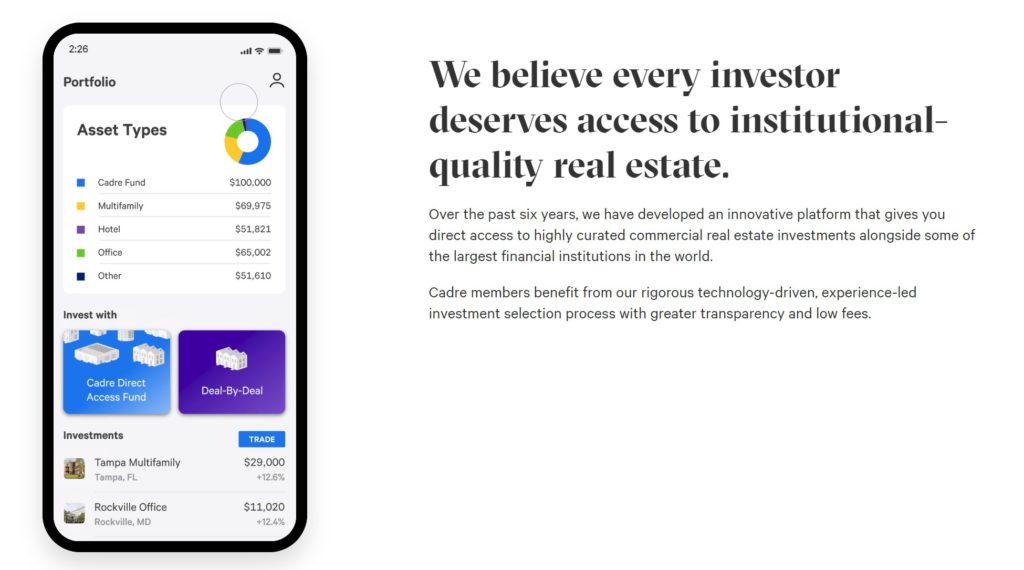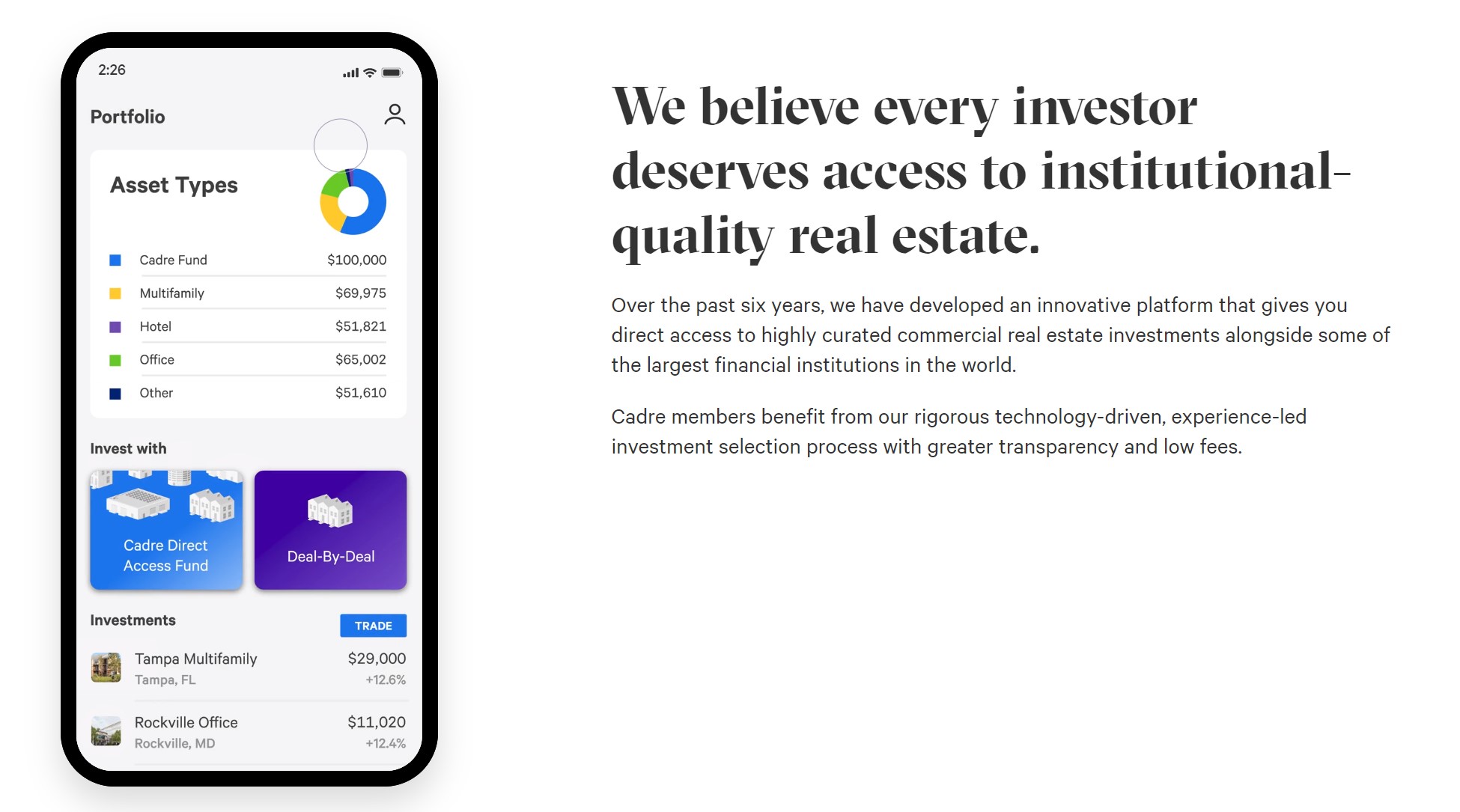 Is Cadre A Crowdfunding Platform?
Cadre is actually not a crowdfunding platform. A crowdfunding platform is one that offers a group of investors an ability to invest in a deal together. 
Cadre, however, commits to the funding for each deal that is offered on their platform versus many crowdfunding sites which just list deals on a best efforts basis. They also maintain a commitment to each deal throughout its lifecycle by maintaining co-investments in every deal they offer or manage. 
Cadre's investment team has experience investing tens of billions of dollars of capital across real estate cycles, asset classes, and risk profiles. Their Investment Committee members average over 25 years of experience, and previously led or worked at firms such as Vornado, Goldman Sachs, and Blackstone among others.
Their investor base is a mix of high net worth individuals (HNW) and Institutions. By investing with Cadre, individual customers have the ability to invest alongside Institutions.
With the combination of the access they provide, their funding commitments, and the experience of their team, they are so much more than a traditional crowdfunding platform. 
What is an Accredited Investor?
An "Accredited investor" is defined by the Securities and Exchange Commission (SEC). To be considered an accredited investor, you need one of the following:
Had an income of $200,000 over the last two years (or $300,000 jointly with a spouse or spousal equivalent) and reasonably expect to satisfy the same criteria in the current year

Have a net worth of over $1,000,000, either alone or together with a spouse or spousal equivalent (excluding the person's primary residence)

Holds a Series 7, Series 82, or Series 65 financial services license and is in good standing
How Does Cadre Work?
Cadre offers investors two ways to invest: Direct Access Fund and Deal by Deal
Either method features the same $25,000 minimum investment and the same fee structure. The difference comes from the deals you invest in.
Deal-by-Deal is a way for investors to review and select the deals they think are best on their own. While the Direct Access Fund is just that, a fund. Cadre states on their site that the Direct Access Fund seeks to invest 50% of the fund in multi-family assets and the other 50% in office, hotel, and industrial opportunities. Investors interested in the fund can invest their money and take a hands off approach. With the Deal-by-Deal option, investors can be much more involved in the investing decisions. 
In order to get started with Cadre, you will need to create an account, which takes two minutes. After your account is created, you will need to browse the various deals available and make a minimum $25,000 investment. 
After your investment is made, you can track the deal's performance and receive quarterly distributions. 
One of the features that makes Cadre so unique is that they offer investors a way to sell an investment in 'Secondary Market.'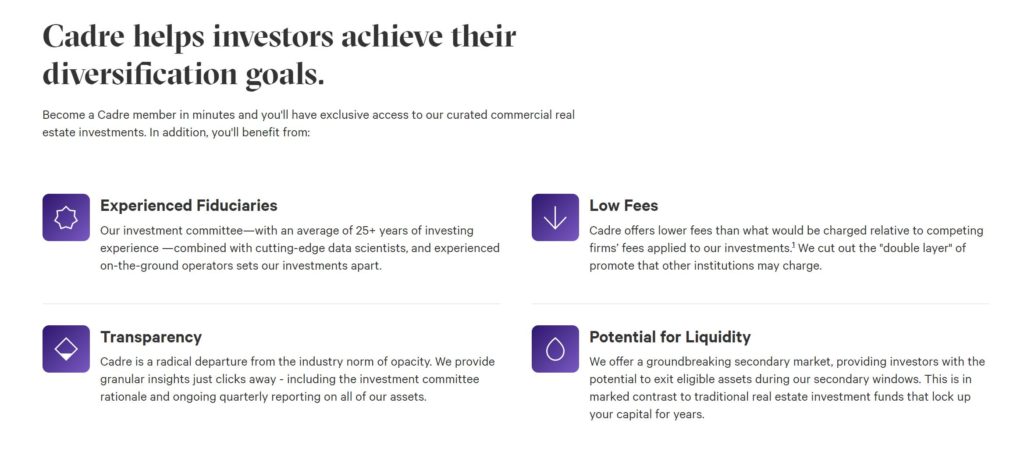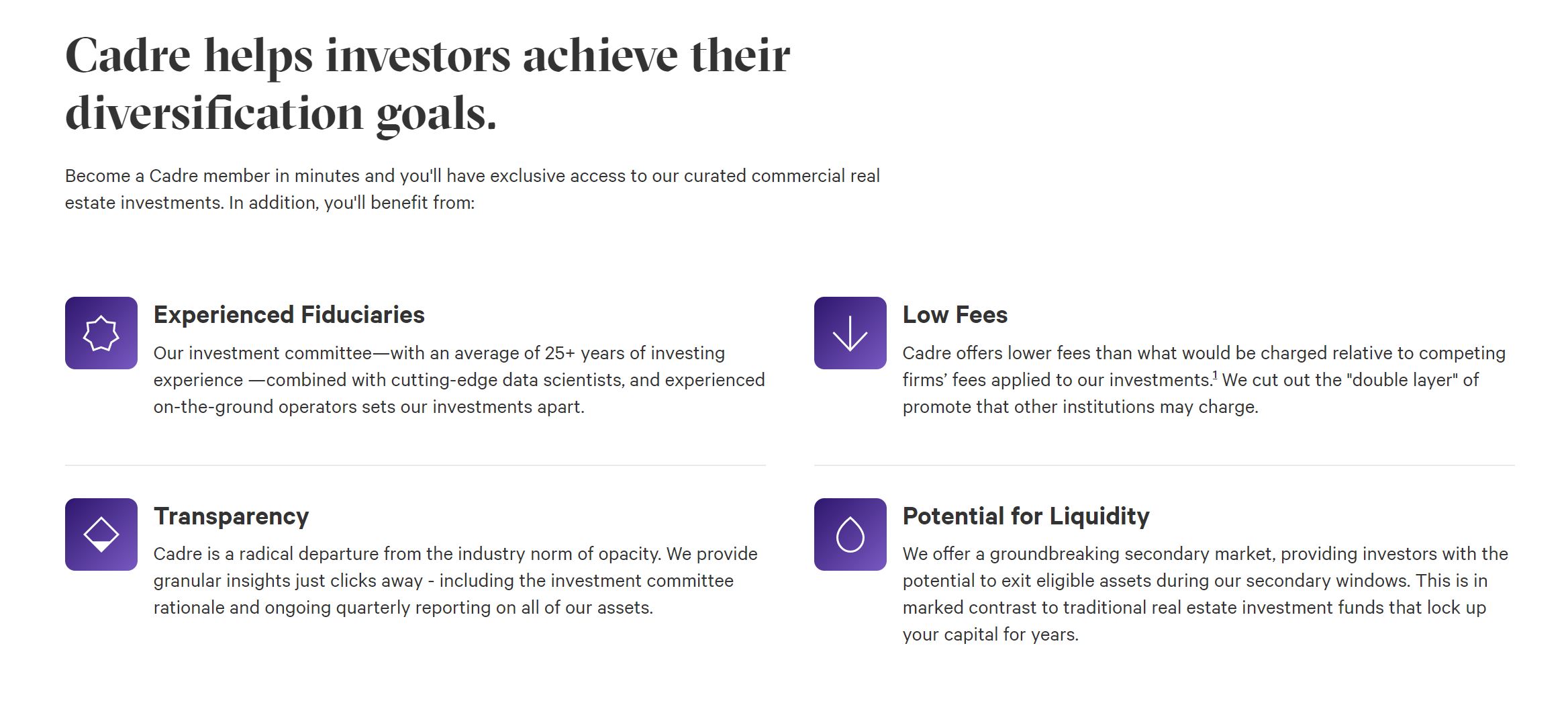 What is Cadre's Secondary Market?
Typically, an investment made with a crowdfunding real estate platform features a lock-up period, or a minimum time investment. Oftentimes, this time period can be 5 or more years. With Cadre, they target holding an investment for 6-8 years. 
But this doesn't mean that you have to hold the investment for that long. Each quarter, Cadre will hold specific 2 week windows where investors can sell their entire investment or a partial amount ($25,000 minimum). 
With a new deal, Cadre expects to first open the ability to sell after 6 months. 
When selling, an investor can sell their asset at a specified discount to the market value. This value is assessed by Cadre quarterly. 
This is an awesome feature as large commercial deals like this would typically require a lock-up period. An investment with Cadre is more liquid than other commercial real estate deals, and therefore provides you with discretion, flexibility, and choice not found on other platforms. There is a caveat however: if there are no buyers interested, then you will not be able to sell the asset. You will also pay a 1.5% transaction fee at the time of sale. 
How are Distributions Made?
An investment with Cadre often features a quarterly distribution. Investors can expect this distribution to be made roughly 6 weeks after the end of a quarter. 
The first distribution can be expected around 3-5 months after the start of the investment. When distributions are made, they will be deposited directly into the investor's account. 
What are the Fees?
The fees associated with an investment in Cadre depends on the size of your investment. Typically an investment with Cadre will include a commitment fee, an administration fee, and an annual management fee. 
 A commitment fee (usually 1.0% of the investor's pro rata share of deal capitalization); this is included in the investor's funding amount for each transaction 

 An annual asset management fee (1.5% on investor equity value once an investment is funded); this is deducted from distributable cash flow.

An administration fee (0.50% - 0.25% on investor equity value once an investment is funded); this is deducted from distributable cash flow.
There is also a transaction fee for investors that sell their asset in a secondary market. This is a 1.5% transaction fee that is paid to Cadre at the time of the sale. 


Get Started With Cadre Today 
Investing with Cadre provides investors a unique opportunity to invest alongside a team of experts and large institutions. Deals of this caliber are typically not available for the individual investor. 
Opening an account with Cadre is quick and easy. By visiting cadre.com and clicking on "Get Started", you will be directed to a few short survey-style questions about your contact information, whether you're an accredited investor, and the details of your investment objective. Once you are finished, you will be granted full access to the platform. You will also receive an email from a member of their Investor Relations team to schedule an introductory call if desired.
Cadre Review: Final Thoughts
With a strong track record since launch in 2014, Cadre has demonstrated an ability to find and execute high quality deals. Through the use of Cadre, investors will be able to participate in deals that they normally could not invest in on their own. Furthermore, backed by a team of experts at Cadre, each deal is carefully reviewed before being offered on the platform. 
For accredited investors, this could be a great way to diversify your portfolio and get started in real estate. Or for those that already invest in real estate, this could be an opportunity to get started in larger commercial deals. 
The ability to participate in the Secondary Market is also a great feature for those who do not want to be completely locked in for the duration of the investment. With an ability to sell during a  specified window each quarter, investors may feel more comfortable investing with Cadre. 
If you are interested in investing with Cadre, then create an account today and receive access to review their deals and offerings. Creating an account is easy and can be done in just a few minutes!