In the line-up of stock trading platforms, Charles Schwab is a heavy hitter.
It has an astounding $3.3 trillion in client assets and is the third largest asset manager in the world. It was named the #1 broker overall in the 2019 Investor's Business Daily Best of the Online Brokers survey. Schwab also ranked #1 in the Customer Service, Low-Cost/Free ETF Trading, and Trade Reliability categories.
That's a lot to take in, so let's break it down. Here's our full review of the one and only Charles Schwab.
Pricing

Assets

Research Tools

Robo-advisor

User Friendly
Summary
Overall, Charles Schwab is a behemoth in the brokerage space that you should feel comfortable relying on. They are one of the largest asset managers in the world for good reason. Since switching to a commission free model, this brokerage has become cost effective for many small traders and investors to use. One problem you might have is taking it all in, as Schwab has so much to offer. However, they have an extensive FAQ and learning center where you can learn the ins and outs. In summary, you really can't go wrong with this brokerage.
Pros
100% commission free stock and ETF trading online
Great for retirement investing
Extensive tools and research
Cons
$5,000 minimum for the robo-advisor
What Is Schwab?
It's more than likely you've heard of the company, that is based in San Francisco, and suffice it to say it has earned its reputation. Most significantly, it is well-known for its discount brokerage services, electronic trading platforms, and for helping people expand their financial know-how.
You can literally log onto their impressive, incredibly detailed site without any knowledge about investing and find your way around. They explain every term and acronym other platforms assume you know. They give background supporting research to give you a great foundation on which to build your investing career.
And they offer all the bells and whistles you're looking for: launching an investment account with no minimum and without commissions for online stock and ETF trades.
You can fast track your foray into investing in by opening an account in just a few minutes. Before you do that, take some time to comb through the site and become a better broker for yourself.
Recently, Schwab shocked the world by announcing a 100% commission free brokerage platform after decades of charging trading commissions. This was due to heavy competition from other investing apps.
Best Free Stock Promotions
Investing In Stocks
Before we dive into Schwab, here is a brief introduction on the stock market.
A stock is a share in the ownership of a company, including a claim on the company's earnings and assets. This makes stockholders partial owners of the company. When the value of the business rises or dips, so does the value of the stock.
Stocks are generally a good choice for your portfolio because of their potential for growth and higher returns versus other investment products. But always keep in mind that the price of a stock can drop as easily as it can rise. When you invest in stocks, even those you've been tracking that have historically fared well, there is absolutely no guarantee that you will make a profit. In fact, many investors lose money instead.
Investors buy and sell stocks for a number of reasons including the potential to grow the value of their investment over time, to possibly profit from shorter-term stock price moves, or even to earn an income by investing in stocks that pay out dividends.
If you want to learn more about investing, check out our beginners guide to the stock market.
Charles Schwab Features
Schwab Stock Slices
Schwab offers fractional investing which is a fantastic way for newbies to test the waters. They call these fractional shares Schwab Stock Slices, which let you buy a single slice or up to 10 slices for as little as $5 per slice.
For example, let's say you want to invest in a company, but its stock price is out of your reach. Or it may be higher than what you want to pay. Instead of buying a whole share of stock, you can buy a fractional share, which is a "slice" of stock or a partial share, for as little as $5.
If a company's stock is selling at $1,000 a share and you were buying $200 worth of it, you would own 20% of a share.
This is an excellent avenue to follow a company and see how the stock fares. Plus, you will likely be able to sleep at night rather than staying up with investment anxiety!
ETFs
ETFs or "exchange-traded funds" are exactly as the name implies: funds that trade on exchanges, generally tracking a specific index. When you invest in an ETF, you get a bundle of assets you can buy and sell during market hours—potentially lowering your risk and exposure, while helping to diversify your portfolio.
Schwab offers you a wide selection of ETFs at some of the lowest costs around. You can choose from among more than 2,000 ETFs across a range of asset classes and fund companies.
All ETFs traded on U.S. exchange are $0 per trade online with Schwab. 
Your approach to adding ETFs to your portfolio rests entirely on your philosophy as an investor and the level of risk you're comfortable taking on.
A good way to figure out which ones are right for your portfolio is to look at common ETF types, the investment strategies associated with them, and their benefits, risks, and costs.
Some ETFs allow companies of all styles and sizes, while others limit their holdings based on the particular characteristics of a company. Because there are so many variables, the number of stocks held by an ETF can range from less than 25 to over 7,000.
Mutual Funds
A mutual fund is an investment that features a pool of funds from many investors that buy stocks, bonds and other securities.
When you buy into a mutual fund, you get exposure to all the investments in that fund. Mutual funds make it easy to build a diversified portfolio and get professional management, so you don't have to research, buy, and track every security in the fund.
Schwab gives you info to make the smartest choices when going through your mutual fund options. They offer comprehensive research, including fund performance and holdings. You can screen and compare funds, review experts' top mutual funds picks for each quarter, and find portfolio solutions that seem right for you.
All Schwab mutual funds are 100% commission free to trade.
Below are some ways Schwab can help you organize your Mutual Fund research:
A mutual fund screener lists funds by category, fees, ratings and more
Compare up to five mutual funds at once
View lists from experts to locate funds that have been scrupulously screened
Browse all mutual funds managed by Schwab
Get research and insights from Schwab as well as other key third-party sources
Research Tools
You're in the driver's seat when it comes to how to manage your new account.
For self-directed investors, Schwab offers a variety of tools, guidance and support designed specifically for self-directed investors.
If you're looking for input and advice on creating a diversified ETF portfolio, Schwab has a personalized portfolio builder tool that simplifies the process.
On the other hand, you can opt for a managed portfolio with automated investing services backed by live support.
Whether you're a beginner or an experienced trader, you will have access to seasoned professionals whose goal is to help you succeed. Get the support you want from Schwab specialists who can help you:
Find online tools that fit the way you trade
Review your trading strategy
Get real-time trade analysis and decision support
As a Schwab Trading Services client, you can get in touch with the support team via phone, live chat, or in-branch at one of over 300 locations.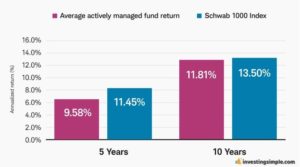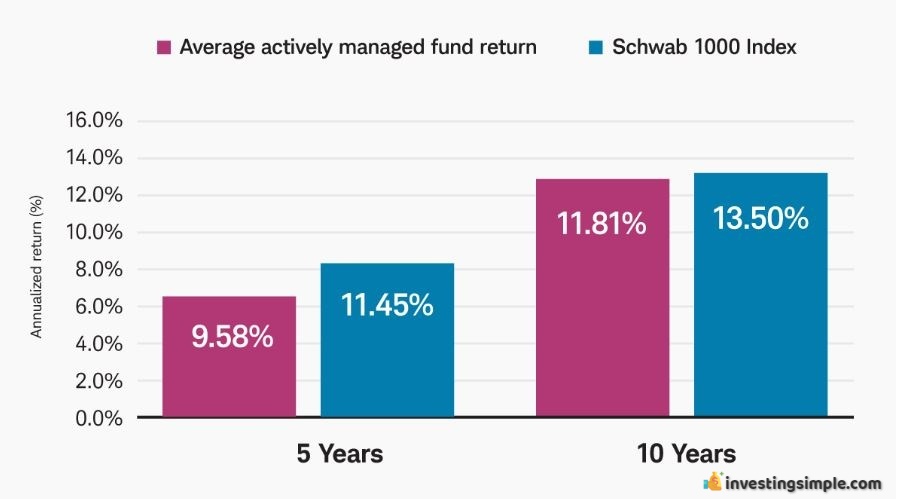 Investment Options
You have three options for how to oversee your investing account.
Self Directed
$0 online stock and ETF trade commissions
Powerful trading platforms to help you navigate the market
Research, tools, education, and expert insights to help make wise investment decisions
Robo-advisor
The Schwab robo-advisor can build you a diversified portfolio of ETFs and stocks that are handpicked by a team of pros
They will monitor your portfolio daily and automatically rebalance to stay on track
This feature, known as Schwab Intelligent Portfolios, comes with no fees
A $5,000 minimum is required, however
Personal Advisor
Dedicated relationship with a Financial Consultant who will get to know you and your short- and longer-term goals.
Personalized financial plan to help you meet those goals
Minimum net worth/balance requirement and fees associated with this plan
Fees
It is important to understand that there are some fees with plans that pave the way for you to connect with the pros for advice on your investments.
The company's policy is to charge a fee for some, but not all, advisory services, including asset-based fees and fixed one-time and recurring fees.
There are other fees that will apply to your account, such as mutual fund and ETF operating expenses. These include management fees paid to Schwab for funds they manage, costs for trades executed at a firm other than Schwab, and account services fees.
However, stocks and ETFs are 100% commission free if you place trades online. In addition, Charles Schwab mutual fund products trade commission free too.
Trading Fees
There are some fees for trading, depending on how you make the transactions. If you're a DIY and make your trades online for yourself, you won't pay a penny.
If you use an automated phone system for trading, you will pay a service fee of up to $5.00.
Ask for help from a broker, and you will be charged up to $25 per trade. Note that you can call a broker/financial consultant for help with a trade without a charge, as long as you, not the broker, actually places the trade.
Weigh your options out! If you're confident and have good knowledge of what's going on in the market, why not do it yourself? But you may want to talk to a pro and pay the nominal fee, especially when you are starting out.
Regardless of which plan you choose, Schwab investment professionals can be reached 24/7. There's even a live chat options, which is notable since many platforms refer you to the FAQ on their website to sift through answers.
Research & Tools
Let's face it, this company has been around the block.
They can lean on their extensive history in the financial field and have amassed a stellar level of knowledge that they want to share with all of us.
Schwab pledges to provide award-winning research including insights from the experts and third-party sources, plus screeners and tools to help you make the most informed investing decisions.
They have specialized web, software, and mobile platforms designed for trading.
For example, there is the Gain/Loss Analyzer. This powerful tool - exclusive to Schwab, helps you quickly thumb through your own trade performance with:
Helpful metrics that explain what you're doing well and what you could improve on
A chart that lets you easily identify trends in your trading history
Deep dives provide specific details about each of your trades from start to finish
StreetSmart Edge
This is Schwab's premier trading platform. It is basically a customizable and intuitive workflow that syncs with your trading style. Whether your strategy is simple or complex, the StreetSmart platforms put advanced tools at your fingertips and make charting easy to use.
You can access this feature on your desktop using downloadable software or log in over the web for a cloud-based experience. Both versions include free streaming, real-time data, ability to create and save multiple layouts, customize tools, expand the platform to multiple monitors, and more.
StreetSmart Edge was created to adapt to your style and be flexible enough to grow with you as your strategies advance. Integrated tools make identifying—and acting on—potential opportunities logical and efficient. Risk management features help you more easily monitor and take action on open orders and positions.
Advanced Design
The unique design of StreetSmart Edgeadapts to your individual approach to investing and is flexible enough to grow with you as your strategies advance
Integrated tools make finding and carrying out potential moves logical and efficient
Risk management features help you more easily monitor and take action on open orders and positions.
There are advanced StreetSmart trading platforms accessible via web and mobile app.
Advanced Features of StreetSmart Edge
An All-in-One Trade Ticket lets you trade futures and futures options, stocks, and options—all in the one platform
Streaming, real-time charts, quotes, and news, plus calculators, research, and analysis
Customizable features to help you plan and execute your futures strategies, from simple to complex
Access to a comprehensive Futures Research Center
Schwab Guarantee
One of the best things about Schwab is their guarantee to make things right. If you do pay a commission or fee for some type of service, and are not satisfied, they will refund it and do their best to make things right.
Schwab pledges to refund your eligible fee and continue to work with you to resolve the problem you've run up against.
However, it is important to mention that the guarantee does not apply to operating expenses charged by mutual funds and ETFs, or interest paid on margin loans. Nor does it apply to any losses you incur in your investments!
Retirement Planning
One area where Charles Schwab shines in particular is with retirement planning.
An Individual Retirement Account (IRA) is an account that allows you to save for your retirement while taking advantage of tax benefits.
Having an IRA can be a great way to supplement any employer-sponsored retirement plan you may already have, giving you access to a potentially wider range of investment options. There are different types of IRAs, and each has different requirements and consequences, depending on your personal life circumstances and retirement goals.
With a Schwab IRA, you have a wide range of investment options to choose from, including stocks, bonds, CDs, ETFs, and mutual funds. Build your own portfolio, or contact a Schwab investment pro to help you determine your investment plan.
How To Open A Retirement Account
Step One: Apply
There are many different types of IRAs, each with different benefits and requirements, depending on your personal situation and financial goals. Schwab pros can help you understand the options and select the IRA account type that's right for you.
Step Two: Fund The Account
Your money can come from various sources, such as rolling an old employer plan into the account, transferring an existing IRA to Schwab, or making a direct contribution.
Step Three: Choose Investments
Schwab offers a range of investment options, including stocks, bonds, CDs, ETFs, mutual funds, and more. You can follow the DIY approach or take advantage of the robo-advisor known as Schwab Intelligent Portfolios.
Is Schwab Safe?
This is a massive brokerage with deep pockets, so rest assured knowing that they are using cutting edge technology to keep your account safe and secure.
You can rely on Schwab's multi-layered technology with the most up-to-date encryption and risk-based security technology. These controls, combined with automated alerts, an identity verification process and rigorous monitoring, help defend you against unauthorized account access.
When you call, visit a branch or go online, your identity will be verified before any sensitive information is discussed. Also, you'll receive an alert when money is moved, or your personal information is changed.
Learning Center
Schwab offers a learning center that's way more than just a canned list of FAQs. There are online seminars, live broadcasts and even local workshops in a live classroom setting
Topics in the Learning Center start with the very basics, including:
Why, when and how to invest
Learn how to move from saving to investing
Creating an emergency cushion
Getting out from under debt such as student loans and credit cards
Master the fundamentals for your own investing success
Learn how to invest money, stay on track, and reach your long-term goals
Calculating your insurance needs top to bottom
Weathering volatile markets
Not only does Schwab have extensive resources on the ins and outs of their platform, they also have resources related to investing.
Schwab Pros
Zero commission stock and ETF trades online
No minimum account balance
Schwab mutual funds are commission free
Customer support team you can actually reach by phone or live chat 24/7
Long history of success
Dynamic, flexible and detailed platform brimming with investing info
Excellent for retirement planning
Schwab Cons
They may earn money from third parties or affiliates on certain products, including cash, mutual funds, and ETFs held in your accounts
The robo-advisor has a $5,000 minimum to use it
Options trade with a fee of $0.65 per contract, not 100% free
Summary
Overall, Charles Schwab is a behemoth in the brokerage space that you should feel comfortable relying on. They are one of the largest asset managers in the world for good reason.
Since switching to a commission free model, this brokerage has become cost effective for many small traders and investors to use.
One problem you might have is taking it all in, as Schwab has so much to offer. However, they have an extensive FAQ and learning center where you can learn the ins and outs.
In summary, you really can't go wrong with this brokerage.
Don't forget to grab your free stock worth up to $200 from Robinhood today!