Charlie App Review
Here's a question... would you be interested in a free service that saves users $80 a week on average?
If so, keep reading! (And don't mind the penguin, we will get to that later!)
Charlie is a text-based AI assistant with a "penguin prodigy" as its representative.
The first thing that's cool about Charlie is that it's not an app; it's far more interactive text-based system in which you post questions, and the penguin answers. No, it won't answer if you ask for a weather forecast or what the winning lottery numbers will be, but it does have a handle on your financial picture.
So, here is our Charlie review.
A cartoon penguin just told me I am spending waaaaay too much on Amazon purchases every month... let's get into the nitty gritty.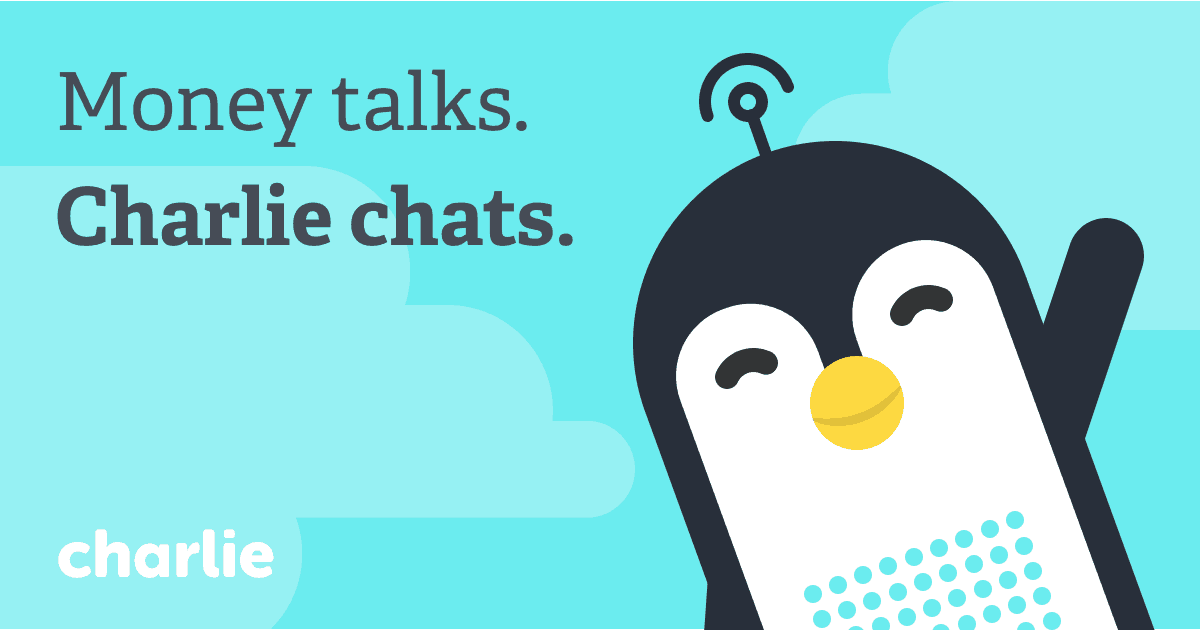 The best way to use Charlie is by having a simple conversation with the AI chatbot.
Sounds complicated, but it isn't! You know those financial questions you ask yourself on a daily basis, then you go find the answer yourself?
Here's a few examples of questions Charlie can answer for you:
"Did I remember to pay my Verizon bill this month?"
"What's my account balance?"
"How much did I spend last month on gas?"
"What's the best rate for my cable service?"
"What was my income tax return last year?"
"Did I cancel that free magazine trial, or am I being billed?"
The second remarkable factor is that it's free to use Charlie, and that's important, because the technological genius is going to save you money in more ways than one. You might be wondering what is in it for the friendly penguin.
Charlie Review Summary
This AI-based chatbot serves as your 24/7 financial assistant.
Charlie does things like monitoring your accounts for fees and remind you of how much you spend at certain stores.
It is 100% free to use, however Charlie does make money by recommending cheaper services to you.
You can ask Charlie questions like "what is my account balance?" or "did I pay my credit card bill?"
Your data is never sold to other companies.
While Charlie does link to your bank, they have no access to your money.
For that reason, they cannot open new accounts for you.
Charlie uses bank grade 256-bit SSL encryption.
They participate with over 14,000 financial institutions and the average user saves $80 a week.
What Is Charlie?
We already covered that this is a free financial assistant.
Oh, and you can ask Charlie questions.
More importantly, how is this chatbot saving users on average $80 a week?
There are three primary aims with this service:
Understanding your spending habits.
Finding expenses you can cut back on.
Looking for other ways for you to save money.
Think of Charlie as a free financial assistant, looking out for you 24/7.
One of the first ways they are able to save you money is looking out for fees. If you link an account with Charlie, it will be monitored around the clock for fees. By allowing you to check your balances with a text message, you can avoid overdraft fees.
They will also give you gentle reminders, such as "You spent $73 at Starbucks this week."
These nudges are proven to help people save money. They also aim to help you cut down on unnecessary expenses, as well as finding you better deals on services you already use.
How Much Does It Cost?
Charlie is 100% free to use.
There are no subscriptions, up-sells or hidden costs.
Now, I know what you are thinking. There is "no such thing as a free lunch."
Here's the deal, Charlie is making money from users but in a rather unconventional way. Rather than charging a monthly subscription or a fee for their service, they make money by recommending products. For example, if they notice that your interest rate is sky high on a credit card, they might recommend a different credit card.
On their site, Charlie says that they only make recommendations the staff would use themselves or recommend to their friends.
So, in a nutshell, if you are paying too much for something Charlie may recommend something else and earn a referral fee in the process. The important thing is that you pay zero, nada, not a cent!
How To Get Started With Charlie
First, sign up for Charlie here.
For this review, I decided to demo Charlie myself. At Investing Simple, we also have a similar philosophy to to the staff at Charlie.
We do not recommend things we have not tested ourselves.
According to company instructions, it takes anywhere from two to twenty minutes to sync Charlie with your bank accounts and/or credit cards.
My connection took about five minutes.
By signing up, you're giving your consent to receive automated text messages from Charlie Finance Co. at the number you entered. These texts provide overviews of your current finances and spending, financial management help, insights, recommendations, and offers.
There will be an average of one message a day, but you can pose any questions you need help with during any given day.
You can text HELP if you're confused, and STOP to cancel.
A caveat from Charlie states "Consent to these terms is not a condition of purchasing any property, goods or services." And that's a really good thing, because it means the company has only your best interests in mind.
Another big concern people have is whether or not Charlie will be selling your data to other companies. It is so annoying when you sign up for something, only to get bombarded with calls and emails for weeks to follow!
Charlie only uses your data to help you. They do not sell your data to other companies. This is all outlined in the privacy policy.
Linking Your Bank Account
Linking your bank account could not be simpler.
Charlie partners with Chase, American Express, Citi, Wells Fargo, and over 14,000 other banks, from the heavy hitters to the small up-and-comers.
If you don't see your bank or credit union on the list of logos, just select "other" and key it in on the search bar at the top of the page. However – and this is important to know – Charlie isn't affiliated with any particular bank or financial institution.
To start, Charlie will send you a link to a secure webpage that connects directly to the most popular and recognized banks.
Click on that link, enter your login name and password, and voila: you're all done.
You can connect any credit card or bank account. It works best if you add all of your accounts; particularly if you're trying to stay within a budget or manage more than one card.
As soon as you link your accounts, Charlie goes to work and starts analyzing. They are looking for fees, ways to save you money and they are learning your spending habits.
Is Charlie Safe?
It is a reasonable question to ask if something you are linking to your bank and credit cards is safe.
For the techno-phobic, a common concern is that their bank info, which includes your password, will be compromised. Rest assured.
The system uses the same 256-bit SSL encryption that banks use, with encryption for all connections to its website. This means that all data transfers on the site are protected from unauthorized access using the most advanced cryptographic algorithms available.
Charlie does not store login information in any form, and pledges not to ever sell any of your information.
If you ever delete your account, Charlie has no access to your accounts unless you choose to share your credentials again. In fact, deleting your account could not be simpler. All you have to do is send them a text that says "DELETE" in all caps.
You Ask, Charlie Answers
It's actually quite a bit of fun interacting with Charlie. Since it's text-based, you can ask a plethora of questions about your financial picture and get concise answers in real time.
Some of my initial questions included:
What's my checking account balance? Actually, my balance was a tad higher than I had anticipated due to a refund from a return to a retail store.
How much did I spend on groceries last month? This can be done via a search of your most common grocery stores, but it may not account for the half gallon of milk you got at Stewart's along with your gas fill-up.
How many Amazon transactions did I have last month? This is where I ran into trouble….I had 16 purchases in four weeks. Yikes. Fortunately, Charlie isn't in the business of scolding and/or laughing at us.
How much did I spend at Starbucks last month? Forcing me to ask myself, were those blueberry muffins and chai teas really worth $11 a week?"
Charlie does all the research and number crunching, eliminating the need to scan through your purchases online. You will have calculations at hand like you've never had before. Just prepare yourself to ask some cold, hard questions like I did, including: did I really need those new Nikes? That rice steamer? A five-pound bag of treats for my two small dogs?
After I dealt with the horror of my spending habits, I turned to Charlie for a succinct history of my income and deposits. I asked questions including:
What was my income?
And... what about last year?
What deposits did I get this month?
Hmm... what about this year?
How Charlie Saves You Money
There are a number of different ways Charlie saves you money:
They find cheaper options for services you are already paying for, like internet!
Charlie makes you aware of fees, then you can call and negotiate them.
They give you reminders about how much you spend at certain stores, which could curtail that habit.
Charlies allows you to set up savings goals, but they do not touch your money or open new accounts.
For example, it compared my monthly charges for internet with national averages and found mine to be high. Then, it showed me other available options, many of them introductory rates I didn't know were out there. When that rate draws to a close, Charlie will let me know by text that it is time to reassess.
So, one of the biggest ways they save you money is by looking at services you are already paying for and finding cheaper options.
Recurring Subscriptions
Charlie also uncovers recurring charges, like magazine subscriptions I meant to cancel but never got around to doing. My eyes were also opened on the high cost of Hulu TV, which I rarely watch. It also suggested a cell phone contract that could save me money.
Worried about those pesky surcharges? You can set up your account for alerts, such as when you've been hit with a charge for using an ATM, or if you're in danger of having an overdraft on your account.
Having trouble staying on a budget? You can ask Charlie how much you need to set aside each week to save up for major purchases, like a security deposit for a new apartment, or down payment for a car.
You can ask for your spending habits to be grouped by category, such as restaurant expenses, or broken down to specific establishments, like TGI Fridays or Olive Garden.
Receiving Text Messages
You can opt into receiving alerts that will keep you posted on spending in certain categories.
For me, that's entertainment-related expenses like eating out or going to the movies. You can ask for your balance before making any large purchases, whether or not you're staying in your set budget, and if there's a better deal you should be considering.
Charlie is always keeping an eye on your account, so you can get alerts if there is something worth paying attention to, such as an unanticipated fee.
You can ask anything you like that's related to your finances.
To start, try one of these questions:
What are my five most recent transactions?
Has my paycheck been automatically deposited?
Have I had any ATM charged fees?
How much have I saved towards my budgeted goal for a down payment on a starter home?
How can I cut my expenses on entertainment?
Not sure how to start your convo? Try this: "What can you do?"
Charlie: The Verdict
Yes, there are times when you can stump Charlie.
Sometimes it will pause for a while or issue a response that essentially means "umm."
But overall, for a completely free app I was impressed. Charlie helped me to identify where I was spending too much money and helped me to realize I am paying way too much for internet. Despite the somewhat dismal news Charlie delivered, I am a fan of the AI system.
It nudges me to stay accountable and stick to my budget. Now, if I can only break my Amazon addiction, I'd be doing great!
Being able to text this service rather than logging into my online banking (what's my password?) is handy too. It helped me cut down on a few impulse purchases. I was also pleased with the fact that I didn't need to download yet another app on my already crowded phone.
Ready to see what Charlie finds for you? Sign up here!