Charlie App
Pricing

Bill Negotiation

User Friendly

Security
Summary
This app was useful for me, because once I took a hard look at my expenses versus my income, I knew it was time for a change. It's a great one-stop shop for other financial guidance including how much to spend on a car, and how to plan dinner meals on a tight budget. All in all, I feel more likely to whittle down my expenses and find ways to save money while using Charlie. And every small step takes me closer to meeting my resolution in the second half of 2020.
Pros
Charlie is 100% free
Average user saves $80 a week
Bill negotiation is available
256-bit SSL encryption for added security
Cons
No budgeting tools
No savings or investment accounts
We are at the beginning of 2021 and one thing has been nagging at me lately; my New Year's resolution to save money.
How's it been going, you may ask?
Not too great is my answer.
Many people set the bar too high when making resolutions. For instance, they may say they plan to give up sugar completely. It would be far better to make a goal that's actually attainable, like cutting back on sugar by 50 percent.
That's the kind of problem I ran into. My goal was too open-ended. It was simply to save money. I had no idea how to get there!
But there's a very helpful tool called Charlie that's designed to help people meet – or even exceed – their financial goals.
It's incredibly easy to use, tackles the small details you may be overlooking, and even has a cute penguin as its spokesperson (yes… his name is Charlie).
What Is Charlie?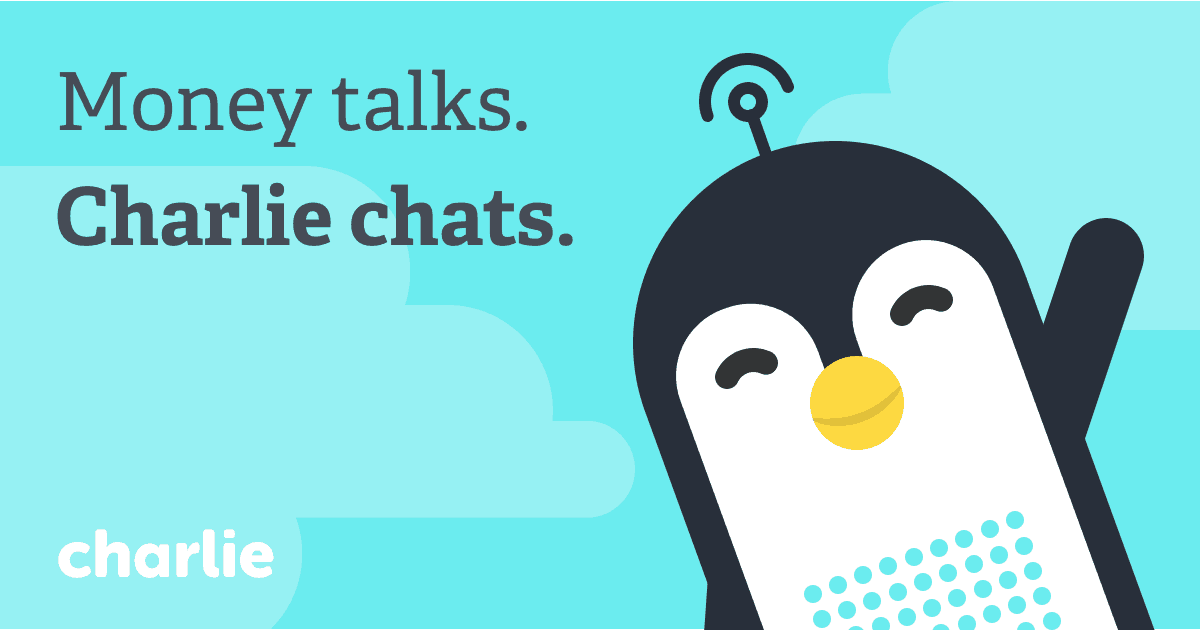 By way of introduction, Charlie is an artificial intelligence financial resource designed to help you tackle both the common challenges, such as setting a budget, to the more challenging, such as ferreting out ways to cut monthly expenses.
Charlie is designed to help us understand our spending habits, find expenses we can cut back on, and look for additional ways to save us money.
It is also extremely interactive. You know those nagging questions that keep you awake in the middle of the night? Like a wise older aunt, Charlie can serve as your financial advisor, and he is at your service around the clock.
Here's a few examples of questions I had for Charlie:
"Is my rent check in danger of bouncing?"
"What's the balance on my Nike store credit card?"
"How much did I spend on my daily morning coffee last week?"
"When is my Sprint bill due, and how much is it?"
"How can I save money on my cable bill?"
Charlie is always keeping an eye on accounts and will alert you if there is something worth paying attention to, such as a potential overdraft fee.
What Can This App Do?
Here's a quick overview to give you a sense of what it can do for you:
Check your balances and recent transactions and send you that info with just a text message.
Crunch numbers for you, such as how much you spend on things like groceries, gas or even individual places like Chipotle.
Helping you save for specific goals, or just for a slush fund.
Cutting your expenses, especially ones that aren't substantially improving your life.
Finding you deals on the services you already use.
 One of the first ways Charlie can save you money is finding fees you could easily overlook. Once you link an account with Charlie, it will keep tabs on fees like ATM charges.
I could not believe I had spent nearly $12 on ATM fees for using machines at convenience stores because I was too lazy to go directly to the bank. Sure, it seems like small change, but it adds up fast.
Side note: check out Betterment Checking if you are tired of paying these pesky ATM fees!
How Much Does The App Cost?
Financial advice can be, and usually is, very pricey.
But Charlie is 100% free to use.
There are no subscriptions, up-sells or hidden costs.
Here's the deal, Charlie is making money from users but in a rather unconventional way.
Rather than charging a monthly subscription or a fee for their service, they make money by recommending products. For example, if they notice that your interest rate is sky high on a credit card, they might recommend a different credit card.
By doing this, they may earn a referral fee from the competing credit card for getting you to make the switch. But it doesn't cost you a penny in the process!
Is It Safe?
So yes, when you use it, you are linking your bank account and credit cards to Charlie.
One of my most pressing questions was, is it safe? The answer is a resounding "yes."
The system uses the same 256-bit SSL encryption that banks use, with encryption for all connections to its website. This means that all data transfers on the site are protected from unauthorized access using the most advanced cryptographic algorithms available.
Charlie does not store login information in any form, and makes a promise to never, ever sell any of your info. It has happened to me too many times that I sign up for something online, then get overwhelmed with calls and emails for weeks to follow that had nothing to do with what I signed up for.
Charlie only uses your data to help you. They do not sell your data to other companies. This is all outlined in the privacy policy.
There's also an easy way out. If you ever decide to delete your account, Charlie has no access to your accounts unless you choose to share your info again. In fact, deleting your account could not be simpler.
All you have to do is send them a text that says "DELETE" in all caps.
How To Get Started
First, sign up for Charlie here.
According to company instructions, it takes anywhere from two to twenty minutes to sync Charlie with your bank accounts and/or credit cards.
My connection took about five minutes.
By signing up, you're allowing Charlie to send automated texts to the cell number you registered.
What kinds of messages will you get? Really helpful ones like a snapshot of your daily finances, what you're spending, how to better manage your money, and tons more. There will be an average of one message a day, but you can pose any questions you need help with during any given day.
You can text HELP if you're confused, and STOP to cancel.
Linking Your Bank Account
Linking your bank account could not be simpler.
Charlie partners with Chase, American Express, Citi, Wells Fargo, and over 14,000 other banks, from the heavy hitters to the small up-and-comers.
If you don't see your bank or credit union on the list of logos, just select "other" and key it in on the search bar at the top of the page. However – and this is important to know – Charlie isn't affiliated with any particular bank or financial institution.
To start, Charlie will send you a link to a secure webpage that connects directly to the most popular and recognized banks
I clicked on that link, entered my login name and password, and easy-peasy, I was ready to roll.
You can connect any credit card or bank account. It works best if you add all of your accounts; particularly if you're trying to stay within a budget or manage more than one card.
As soon as you link your accounts, Charlie goes to work and starts analyzing, looking for fees, ways to save you money and learning your spending habits.
Something I found to be quite entertaining after registering was the ability to pose questions about my finances.
I Asked, Charlie Answered
Some of my initial questions included:
How much am I spending on my gym membership (that I rarely use…)?
What was my grocery total last month?
How much did I spend to fill my gas tank?
And my personal downfall: How much did I spend on Amazon? (the answer was triple what I had anticipated, forcing me to look long and hard at my midnight shopping sprees).
Charlie does all the research and number crunching, eliminating the need to scan all your purchases online. You will have calculations at hand like you've never had before.
I immediately found ways to make my New Year's resolution start becoming reality. For one, I definitely did not need the subscription food and toy delivery for my dogs. They are fine with pet store food and prefer to play with socks. Ditto the monthly delivery of cosmetic samples.
And finally, I was paying way too much for cable tv, because all I ever watch is Netflix.
How Charlie Saves You Money
There are loads of ways Charlie can save me money. First and foremost, it gave me a snapshot of my spending habits.
Aside from the Amazon addiction, I found out I spent far too much at the drugstore on small splurges like nail polish and the newest shampoo. Once I came face to face with my monthly average, I set a budget to spend no more than $25 per week. That alone shaved more than $100 off my monthly expenses.
Then, it compared my monthly charges for internet with national averages and found mine to be high. So, it showed me other available options, many of them introductory rates I didn't know were out there. When that rate draws to a close, Charlie will let me know by text that it is time to reassess.
With Charlie, one of the biggest ways they save you money is by looking at services you are already paying for and finding cheaper options.
Recurring Subscriptions
Charlie also uncovers recurring charges, like magazine subscriptions I meant to cancel but never got around to doing. My eyes were also opened on the high cost of Hulu TV, which I rarely watch. It also suggested a cell phone contract that could save me money.
Worried about those pesky surcharges? You can set up your account for alerts, such as when you've been hit with a charge for using an ATM, or if you're in danger of having an overdraft on your account.
Having trouble staying on a budget? You can ask Charlie how much you need to set aside each week to save up for major purchases, like a security deposit for a new apartment, or down payment for a car.
You can ask for your spending habits to be grouped by category, such as restaurant expenses, or broken down to specific establishments, like Buffalo Wild Wings or Cheesecake Factory.
Receiving Text Messages
You can opt into getting alerts that will keep you posted on spending in certain categories.
For me, that's entertainment-related expenses like eating out or going to the movies. You can ask for your balance before making any large purchases, whether or not you're staying in your set budget, and if there's a better deal you should be looking into.
Charlie is always keeping an eye on your account, so you can get alerts if there is something worth paying attention to, such as an unanticipated fee.
You can ask anything you like that's related to your finances.
I also put Charlie to the test with some more general financial queries:
Was my paycheck auto deposited last week?
How can I start saving for a down payment on a starter home?
What's the average rental expense in my area?
How can I cut my expenses on entertainment?
Just like asking Alexa, there are times when Charlie can't come up with an answer. Sometimes it will pause for a while or issue a response asking you to rephrase your question.
Final Thoughts On The Charlie App
The Charlie site itself is a veritable treasure trove of helpful info. For example, there is a section about making more money with side gigs and freelance work. There are articles about how to become your own boss, online focus groups that pay for your opinions, even how to hold a profitable yard sale!
This was useful for me, because once I took a hard look at my expenses vs. my income, I knew it was time for a side hustle.
The site also has a section on Wellness & Money, with articles on top banks with no ATM user fees, how to pay off $10,000 in credit card debt quickly, and even 7 affordable family vacations.
It's a great one-stop shop for other financial guidance including how much to spend on a car, and how to plan dinner meals on a tight budget.
All in all, I feel more likely to whittle down my expenses and find ways to save money while using Charlie. And every small step takes me closer to meeting my resolution.
Will Charlie help you stay more financially grounded? Try it and see. It is 100% free and you have nothing to lose by giving it a shot.
Best Free Stock Promotions
Keep Reading: