Every now and again, life throws small emergencies our way. Perhaps a car breaks down or you get a leak in your roof. Whatever the case may be, these emergencies are often impossible to predict.
Unfortunately, the average American does not have enough saved up to cover these emergencies.
Companies like Check Into Cash, have come up with a solution. Perhaps you just need a bit of money now but can pay it back on Friday when payday hits. Check Into Cash understands this situation and is willing to help out. With a variety of loan offerings and other money services, Check Into Cash could be able to help you out.
So, what is Check Into Cash and how does it work? In this complete Check Into Cash review, we will answer those questions and more.


Check Into Cash Review: Highlights
Founded in 1993 in Tennessee
Free to apply
A+ BBB Rating
Loan offerings vary by state which includes the APR, minimum qualifications, and more
Approval often takes just 30 seconds
Applicants must be employed
Multiple Loans Offerings including payday advance, credit line, installment loans, and Title Loans
Loans amount vary by state but range from $50 to $5,000
High APRs ranging around 50% to 500+%
Check Into Cash Summary
Check Into Cash Summary
Check Into Cash has established themselves as a leader in short term personal loans. Since 1993, they have helped many individuals out of tough situations.
With a number of loan offerings and a simple application, Check Into Cash makes the entire process easy. In fact, most clients will know if they qualify in 30 seconds or less.
As is common with personal loans, clients can expect high interest rates and quick repayment terms.
Pros
Simple Application
A Variety of Loan Offerings
Cons
Must Be Employed
High Interest Rates
What is Check Into Cash?
Check Into Cash is a company dedicated to short term credit solutions. The company was founded in 1993 in Cleveland, Tennessee and has been a leader in the sector ever since.
With a variety of loan services, Check Into Cash is a reputable company that helps people receive cash quickly for all of life's small emergencies.
Today, there are over 650 physical locations around the United States. And for those that are not near a physical location, they can fill out the online application and receive money as early as the next business day.
Check Into Cash does more than short term personal loans though. They also provide Payday Advances, Cash Advances, Title Loans, Title Pawns, Check Cashing, Western Union, Bill Pay Services, and reloadable U.S. Money Cards in their centers, as well as online loan products like Payday Loans and Installment Loans.
How Does Check Into Cash Work?
Receiving money from Check Into Cash may be easier than you think. Depending on your location, you may actually go into one of their locations or apply online. Either way, the process is fairly simple and quick. With their stores, you could walk out with cash in hand the very same day. And online, you could receive cash the very next business day.
After filling out the application (details provided below), you will find out if you have been pre-approved within 30 seconds. After receiving approval, you will receive a call from a representative detailing the offers available.
The rates and terms they offer vary depending on your location. This is due to local laws and regulations regarding loans. To check the rates specific to your location, you can go to Check Into Cash's Rates and Terms page where they have broken out their loan offerings by state.
With short term loans, you can expect the interest rate to be high. Take a look at these examples from California or Michigan. It is common for the APR to be around 200% to 500%. While this is certainly high, the payment terms are often between 14 and 30 days. Suppose you requested a loan for $250 dollars. With a payback term of 14 days and a 400% APR, you would have to pay back the principal of $250 plus $38.36 in interest. Obviously an interest rate in the triple digits is high, but with quick payback terms, it is often not as much as you'd think.
If the payback terms are longer, say 30 days instead of 14 days, the APR will decrease. Other factors such as your employment history, credit score, income level, and location will determine what rates you can receive.
They currently have 4 loan types:

How Do I Qualify for a Loan?
The application for a loan is actually fairly simple. In this review, we will cover the application process online. In order to qualify for a loan you will need to provide the following basic information:
First Name and last name
Email address
Phone number
Driver's license number
License state
Address
City and state
Zip code
Whether you rent or own your home
After providing basic information, you will also be asked for employment and income information such as the following:
Source of income
How you get paid
Gross paycheck amount
How often you get paid
Bank account type
Account number
Routing number
Social security number
Date of birth
You will need a checking account to qualify for a loan with Check Into Cash. 
How Is the Money Paid Out?
After receiving an offer and reviewing all the terms, an individual may choose to accept a loan. If a loan is accepted, then the client can expect to receive the money directly into their bank account through direct deposit as early as the next business day if applying online. If in store, a client can receive the money in hand the very same day.
Is Check Into Cash Safe?
Check Into Cash has demonstrated a strong track record over the years. With an A+ BBB rating, customers can trust Check Into Cash will follow regulations and local laws.
They also work tirelessly to keep your information and application secure.
In addition to securing your information, they also try to inform customers about possible scams and fraud. They provide details about common scam techniques over the phone and email and how to avoid them.
While filling out an application or having a short term loan does not hurt your credit, there are other implications that you should be aware of. In order to get approved for a loan, Check Into Cash will run your credit, which will impact your score. Additionally, failing to make your payments on time will have a negative impact as well.
Why Do They Need My Social Security Number?
Like any loan or credit line with a bank or brokerage, Check Into Cash needs your SSN to verify your eligibility for a loan and determine the rates available.
Additionally, if you fail to pay the loan back, the Check Into Cash may report the delinquency to a credit bureau.
Check Into Cash Customer Support
Check Into Cash understands the difficulty and sensitivity of your situation. Likewise, they provide a host of customer support options to ensure you are comfortable and receive all the answers you need.
In addition to their many locations, they also have a chat feature on their website, a customer support phone number available on Mondays through Fridays from 8am - 7pm EST, and an email support line.
If you have any questions about how it works or more specific questions related to your situation, be sure to give them a call or make an inquiry. They also have a detailed FAQs page that could answer your questions.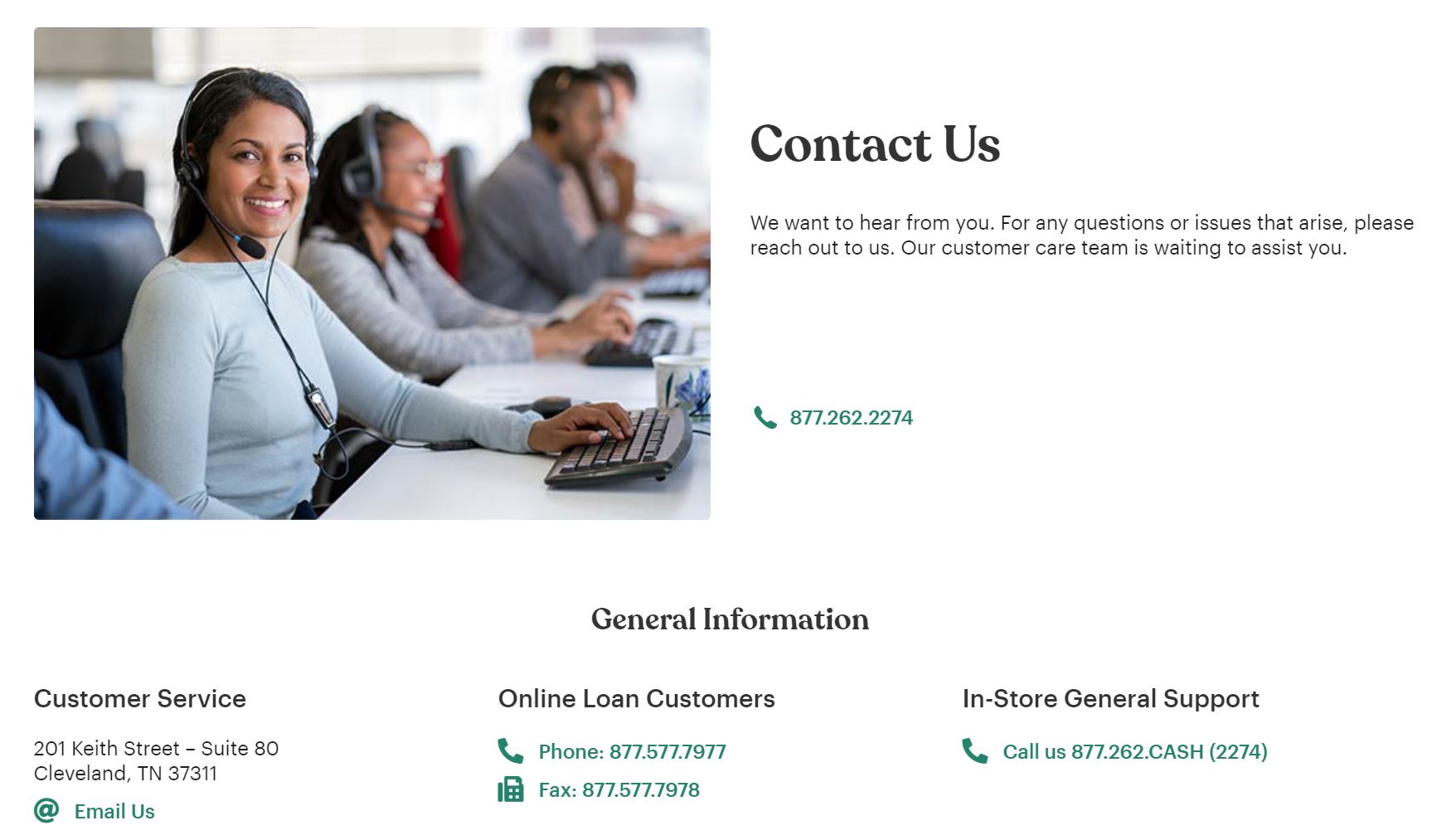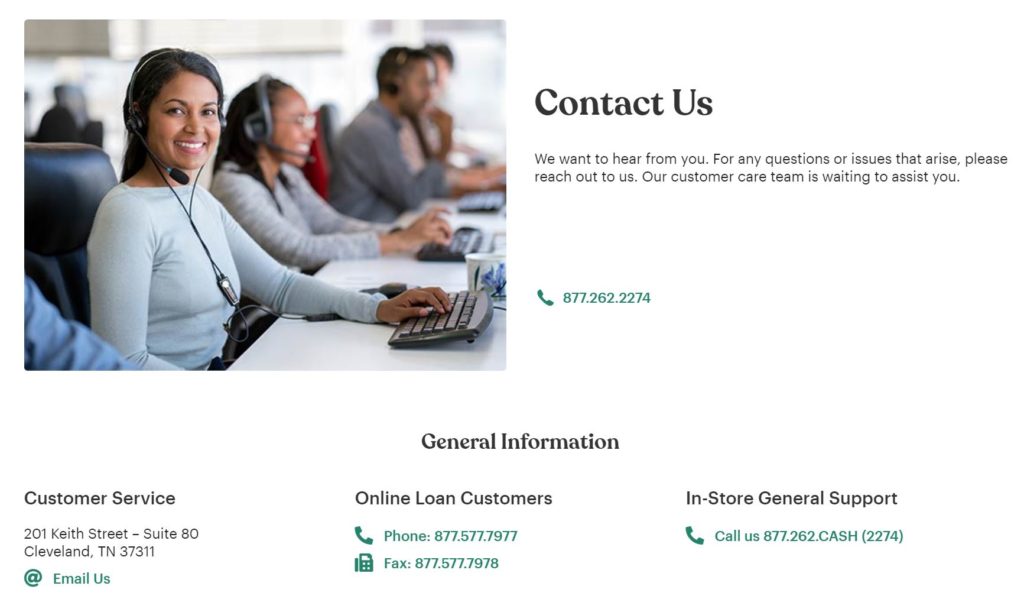 Are There Any Short Term Loan Alternatives?
While short term loans can be beneficial in a bind, they also typically feature short payback terms and high interest. With this in mind, there may be a few other alternatives to consider:
Credit Building Credit Cards: While many credit cards are not available for someone with poor credit, there are also many credit cards designed for low credit scores. These starter credit cards often feature small lines of credit, but can grow over time as you prove an ability to pay it off on time. Some of these credit cards are called Secured Credit Cards as they require a down payment as collateral in case you fail on your payments.
Peer to Peer Lending: There are a number of peer to peer lending platforms that offer personal loans to individuals that may not be able to qualify for a loan elsewhere. Some top peer to peer lending platforms include LendingClub and Upstart.
Paycheck Advance Apps: You may have seen a commercial for an app that offers a service like this. A common one is Earnin. A paycheck advance app typically allows an individual to receive a part of or their entire paycheck early. They still feature an interest rate, but could be another alternative to a short term loan.
Check Into Cash Review: Final Thoughts
It is simply impossible to plan for every emergency life will throw at us. Creating an emergency fund now is a great way to hedge future risk. But for emergencies today, Check Into Cash may be the solution for you.
With a simple application and the ability to receive money within 24 hours, Check Into Cash is a company dedicated to helping clients receive short term credit solutions.
It is important to remember that with short term loans, the payback terms and interest rates are generally fairly aggressive. Applying for a loan with Check Into Cash is completely free. And if you don't like the terms of the loan you receive, you do not have to accept it.
If Check Into Cash sounds like a good option for you, be sure to check out their website and give them a call with any questions you may have.
Best Free Stock Promotions