Choosing the right bank may not seem all that important, but with various fees, interest rates, and other benefits, a great bank can make a difference for your personal finances.
While most banks typically have the same offerings (checking and savings account, CDs, etc), the differences are in the details. Each bank has different fees structures and rates offered to clients. These differences can certainly add up.
So, is CIT bank a good choice? In this article, we provide a complete CIT bank review. We will cover relevant fees and interest rates and the pros and cons of using their services.
CIT Bank Review: Highlights
Up to 0.25% APY on eChecking Account
Up to 0.50% APY on Savings Account
0.45% APY for Money Market Accounts
Many CD options to choose from
No Credit Cards
No checkbooks for eChecking Account
No physical locations
No ATM Network
No IRAs
FDIC Insured
CIT Bank Review
Fees

Simplicity

Competitive APYs

Low Minimum Deposits

ATM Network
CIT Bank Review Summary
CIT Bank is an online banking service that allows members to access their banking information 24/7.
With competitive APYs and low fees, this could be the bank for you. All of their fees are transparent and clearly explained. Individuals can open an account with a small deposit and get started in no time.
However, if you withdraw from an ATM frequently, then this bank may not be for you. While they do not own their own ATM network, CIT Bank does allow users to access other non-owned ATMs. Fees will apply, through CIT Bank reimburses up to $30 each month.
Pros
Competitive APYs
Low to No Fees
Low Minimum Deposits
Cons
No Credit Card
No Owned ATM Network
No Physical Location
What is CIT Bank?
CIT Bank is an online bank that was founded in 2000 and is headquartered in California. With a clear focus on transparency and simplicity, account holders can access their banking information from anywhere in the world all from their phone.
One of the key benefits of CIT Bank is the low minimum deposits and virtually zero fees. While there are a few fees, such as overdraft fees or debit card replacement fees, account holders do not have to worry about monthly maintenance fees.
CIT Bank does not own their own network of ATMs. They do allow users access to non-owned ATMs, and they realize fees will occur. With this in mind, they offer account holders up to $30 a month in reimbursements for ATM fees.
New account holders should also be aware that they do not offer credit cards, checkbooks, or auto loans.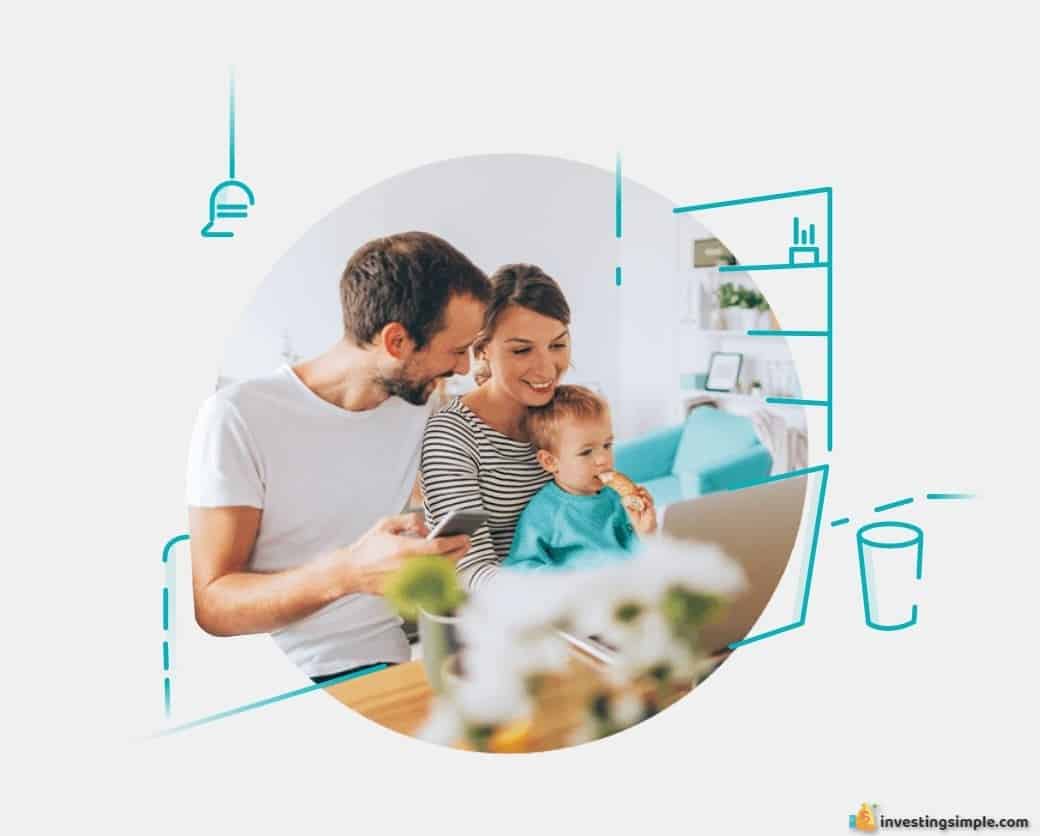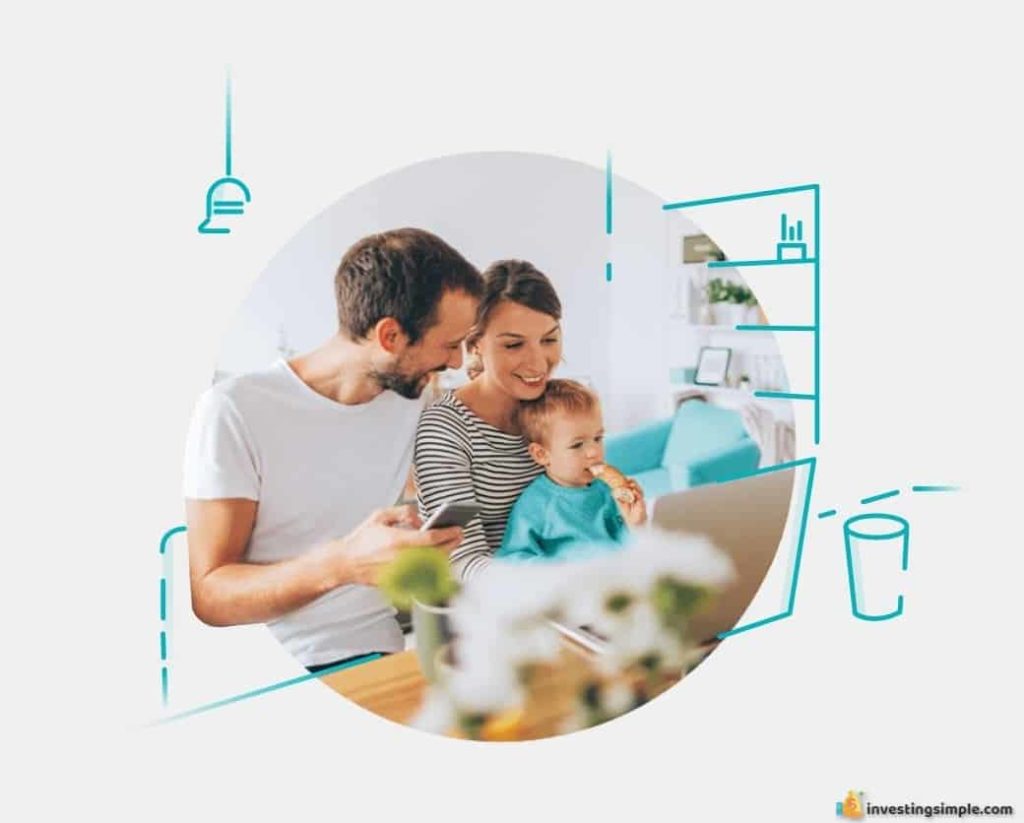 Checking Account
CIT Bank's eChecking account offers account holders the ability to earn interest, which is not typical of a checking account.
For balances under $25,000, members earn 0.10% APY, and for balances over $25,000, the interest rate increases to 0.25% APY.
There are no monthly fees to hold this account. They even offer up to $30 in reimbursements each month for any ATM fees. This is because they do not have their own ATM network. The company recognizes that other ATMs will charge fees, so they offer members reimbursements up to $30 each month. As long as individuals don't withdraw consistently throughout a month, CIT Bank's eChecking account could truly be free.
While there are not any monthly fees, they do charge $30 for overdraft fees and $10 for a debit card replacement.
A $100 deposit is required to open an account.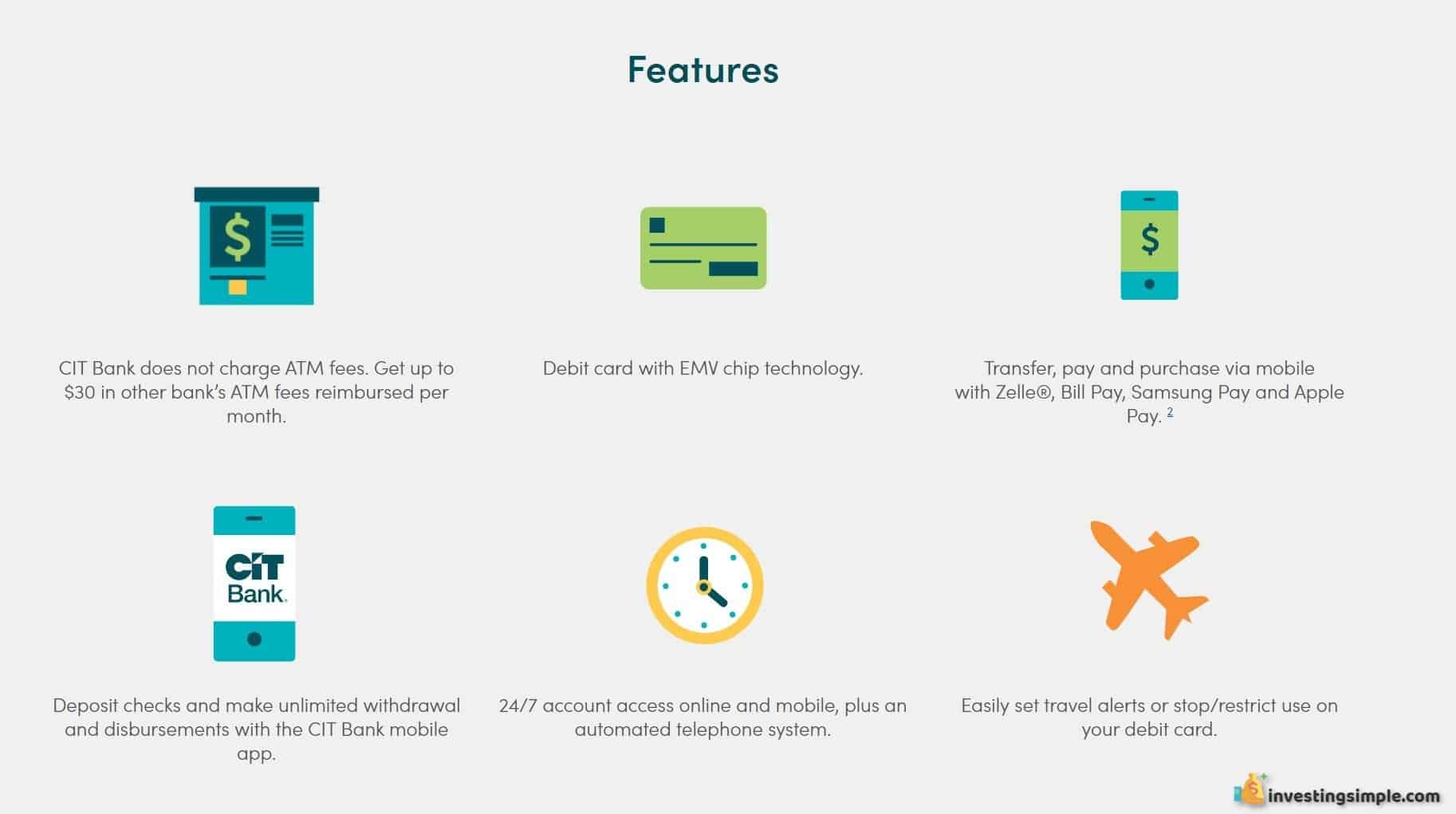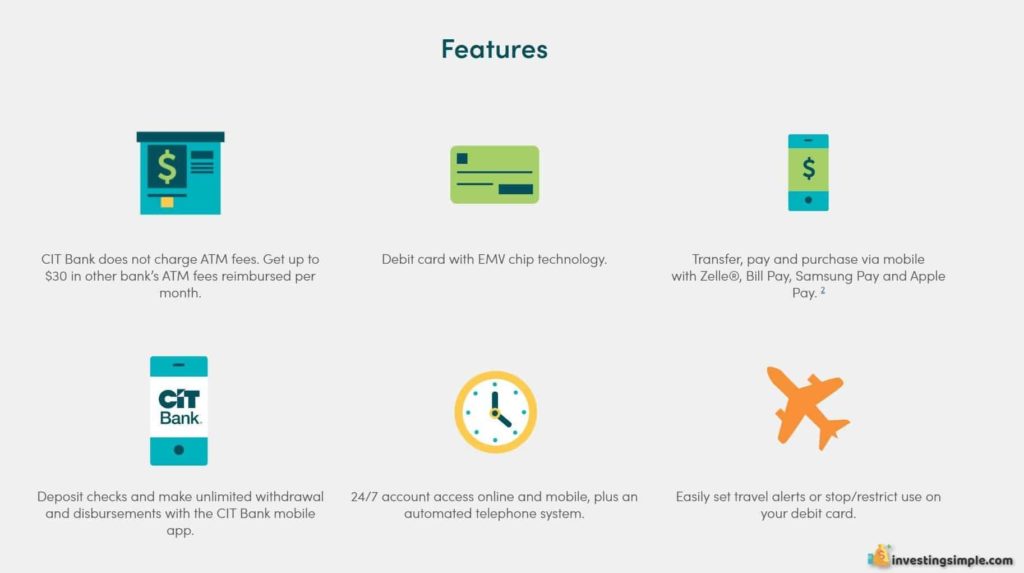 Savings Account
CIT bank's savings account features no fees to open an account nor any maintenance fees. Account holders can also earn 0.50% APY. It does have a minimum first deposit of $100.
The Savings Connect account must be opened concurrently with an eChecking account. When a deposit of $200 or more is made into the eChecking account, the Savings Connect account will earn 0.50% APY. Without the $200 deposit, the savings account will earn 0.42% APY.
The interest rate that a client can earn with CIT bank is significantly more than many other banks, though it is right on par with other online banks.
In order to keep earning 0.50% APY, members will need to ensure a monthly deposit of at least $200 into their eChecking account.
They also have another savings account option they call the Savings Builder account. Like the Savings Connect account, there is a minimum of $100 to open the account. Additionally, there are no fees to open an account or monthly maintenance fees.
With the Builder account, account holders do not need to also have an eChecking account. They can own a savings account only. With this account, members earn 0.28% APY. However, with an account balance of at least $25,000 OR a monthly deposit of $100, account holders earn 0.40% APY.
Certificate of Deposits (CDs)
CIT Bank has a number of options regarding Certificate of Deposits (CDs). Before diving into the CIT Bank's offerings, let's answer what a CD even is.
What is a Certificate of Deposit? (CD)
A CD is a type of savings investment that is offered by banks and credit unions. An individual agrees to deposit a certain amount of money for a specified period of time. In return, they receive an interest rate premium. Many people utilize CDs to lock in an interest rate.
When the term expires, the individual would receive their deposit back with the agreed upon interest earned.
Let's look at an example. Suppose a bank offers a 12 month CD with a $1,000 minimum. The CD has a 0.30% APY. At the end of the 12 months, the individual will receive $1,003 (This is the deposit of $1,000 plus the $3 of interest earned). If the individual were to withdraw the funds early, they would incur a penalty as specified by the banking institution.
Why would someone choose a CD instead of stocks? A CD comes with a guaranteed rate of return. Investing in the stock market can be volatile. With a CD, there is no guessing what will happen.


Term CDs
Each of the term CDs CIT Bank offers requires a minimum of $1,000 to open. The APY that you can earn depends on the length of the term. For example, a 6 month term earns 0.30% APY while a 4 year term earns 0.50% APY.
Penalties are incurred if funds are withdrawn before the term expires.
Learn more about CIT Bank's CD offerings.
No Penalty CD
It can be difficult to predict what the future holds. CIT Bank also offers a no-penalty CD. They have a term of 11 months and earn 0.30% APY. They also require a $1,000 minimum deposit.
If you need the funds before the term expires, you can do so without any penalty.
Jumbo CDs
Members can earn more with a Jumbo CD. This option starts at 0.40% APY with a $100,000 minimum deposit for a 2 or 3 year term. Members can earn up to 0.50% with a 4 or 5 year term.
Money Market Account (MMA)
CIT Bank also offers members a Money Market account, which earns 0.45% APY. Unlike the other accounts, there are no balance requirements to achieve a higher rate with this account. It does however have a $100 minimum opening deposit, and like the other accounts, there are no fees to open an account nor any maintenance fees.
Members should be aware that the Money Market account is limited to six transactions per statement cycle. Any transaction after the first six will be subject to a $10 fee.


What is a Money Market Account? (MMA)
A Money Market Account is a savings tool offered by most banks and credit unions. They typically feature higher interest rates than other savings accounts as they come with more restrictions. An MMA also sometimes comes with a debit card or checkbook (CIT Bank MMAs do not. With CIT Bank, members can perform account transfers or access their money through Zelle or Apple pay).
The Federal Reserve limits the number of transfers and transactions to six per month with an MMA. An MMA could be a good option for you if you are comfortable with six or less transactions per month. It is important to shop around for the best MMA as interest rates can vary significantly among banks.
CIT Bank Security
Funds held with CIT Bank are FDIC insured up to $250,000, so account holders can be sure their money is safe. Users can also access their bank online 24/7 from anywhere in the world to monitor activity.
CIT Bank also offers account holders fraud text alerts for suspicious activity.
CIT Bank Review: Final Thoughts
CIT Bank is an online bank that offers users a simple way to bank. By eliminating physical locations and an extensive ATM network, they are able to cut most fees individuals would likely experience at other banks.
This is a great banking option for those looking for a way to earn competitive APYs. In fact, they even offer 0.10% APY with a checking account!
For those that withdraw frequently from an ATM, this may not be best suited for your needs as they do not have physical locations or their own ATM network. While they do offer $30 reimbursement each month for ATM fees, people who find themselves withdrawing frequently might quickly exceed $30 in fees.
Best Bank Promotions