Robo Advisor Myths
Robo-advisors are the new wave of financial planners that give people financial advice or investment management online, with scant human intervention. Some investors may prefer to sit down with a financial planner and map out an investment strategy.
However, this has proven to be very costly. Most financial advisors out there charge an asset management fee of 1% per year. Robo-advisors like Betterment, on the other hand, charge just 0.25% per year.
By cutting out the human interaction and operating as efficiently as possible, these robot's pass the savings along to the investors. That being said, there is still a lot of confusion about how they actually work. Here are 7 of the most common myths we hear about.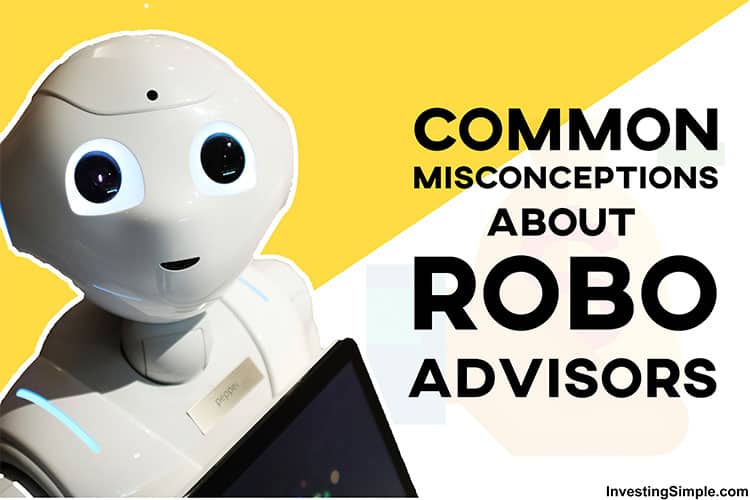 1. They aren't reliable for financial advisement.
This could not be farther from the truth! Robo-advisors use mathematical rules or algorithms to come up with portfolios. For example, Betterment builds portfolios based on something called Modern Portfolio Theory.
This is the generally accepted standard for asset allocation, a.k.a. What they are doing with your money. Rather than having a human, financial advisor determining these allocations, they simply leverage technology!
2. They offer only one-size-fits-all financial strategies.
Again, far from true. These platforms tailor portfolios around your long and short-term goals. Whether you're saving for a down payment on a house or college tuition for your two-year-old, your portfolio will reflect your specific needs and keep your goals in the forefront.
Betterment is all about goal-based investing. When you create an account with them, they guide you through a questionnaire where they learn about you and your specific investing goals. After they get a grasp on where you are at financially, they build you a custom portfolio. This is the opposite of a one-size-fits-all approach!
3. You need to pay huge amounts of money to "buy into" these robo-advisor platforms.
If you walk into the office of a financial advisor with a few hundred dollars to invest, they will likely laugh you out the door. The reason being is because it is just not worth it for them to take you on as a client. As we mentioned earlier, most financial advisors collect a 1% asset management fee. That means they get $1 per $100 you invest with them.
It is simply not worth it for them in most cases to work with small accounts. If you had $500 to invest, for example, they would be earning $5 per year on that balance. By the time they do the paperwork and set up your portfolio, it has cost them significantly more.
Robo-advisors do not have this problem. Since algorithms and technology handle everything, human involvement is as low as possible. As a result, you can open accounts with very little money. For example, the minimum to invest with Betterment is… $0! That's right; they have no minimum.
4. They charge commissions.
Most brokerages will charge you commissions on the trades you are placing, or the trades they place on your behalf. We can't speak for all of the robo-advisors out there, but most of them do not charge commissions for executing trades. In most cases, you do pay an asset management fee, and fees are paid to the ETF company. However, commissions are often one fee you don't have to pay.
5. There is some sneaky way they make money off of investors.
Myth! They are transparent when it comes to how they operate.
Betterment has two different tiers for their clients. The first is called Betterment Digital. They collect an annual asset management fee of 0.25% for this account. For those looking for that human interaction, they also offer a plan called Betterment Premium.
This account is reserved for investors with $100,000 or more and carries an asset management fee of 0.40%. With Betterment Premium, you have unlimited access to a team of CFP professionals that you can call or reach out to any time.
They also offer advice packages for those who do not have the Betterment Premium account. You can set up a one time call with a CFP professional. Pricing for this starts at $199.
Robo-advisors are not "pulling the wool" and making money in some backdoor way without your knowledge. They are very straightforward and honest about how they are making money. For most, it is simply collecting a small annual asset management fee.
6. It takes valuable time to set up an account.
It's startlingly simple to open an account right on your smartphone (or online). Just plug in a few answers, like your contact info and how you'll fund your account. In most cases, opening an account takes about 5 minutes, and approval takes a day or two. You can be up and running in no time at all!
This system is a lot more efficient than the old method, which is calling a financial advisor, setting up a meeting with them, driving to the office, and opening an account. Some people do value this in-person human interaction, but for those looking to save time and money, robo-advisors have streamlined this process.
7. There isn't any way to plan for retirement.
False! Many robo-advisor platforms offer taxable, IRAs, Roth IRAs, and SEP accounts.
A lot of the free investing apps out there do not offer retirement accounts. This is because these accounts are more expensive and complicated to operate. Since robo-advisors are collecting a small asset management fee, they can afford to offer these accounts to users.
All in all, we recommend you toss out any misconceptions you have about robo-advisors, do the research and find the platform that works best for you. You can further read our beginners guide to betterment robo advisor to get more enhanced insight.
Happy Investing!