Many of life's important choices require a credit score. Buying a new home, renting an apartment, and applying for a personal loan are just a few examples of actions that generally require a credit score. Typically, the better the score, the better rates you receive.
Your credit score is simply a numerical value that lenders use to predict your ability to pay your bills. The number is created by looking at your credit usage in the past. Unfortunately, minor mistakes that we make regarding credit can remain in our history for years.
To make matters worse, credit in general can be a confusing topic. Understanding themes like credit repair, refinancing a loan, and credit terms can be difficult to grasp. Luckily, there are a few resources out there to help.
One of the resources is Credit Karma, which is an online platform dedicated to helping people learn about credit and make better decisions in the future. So, can they help you? Is it worth it? Keep reading for our full Credit Karma review.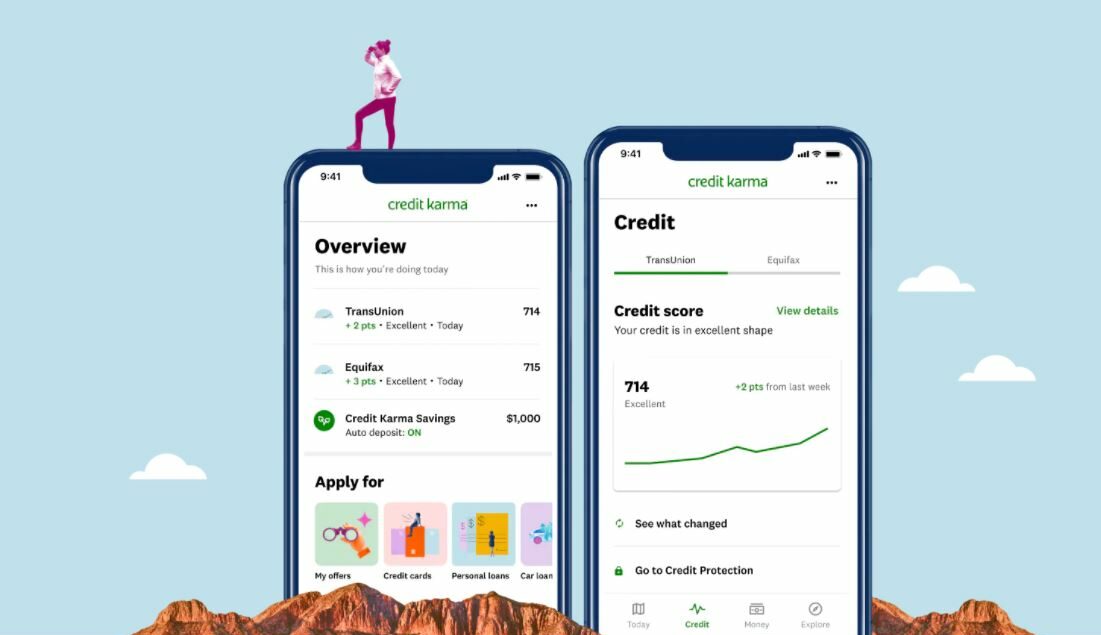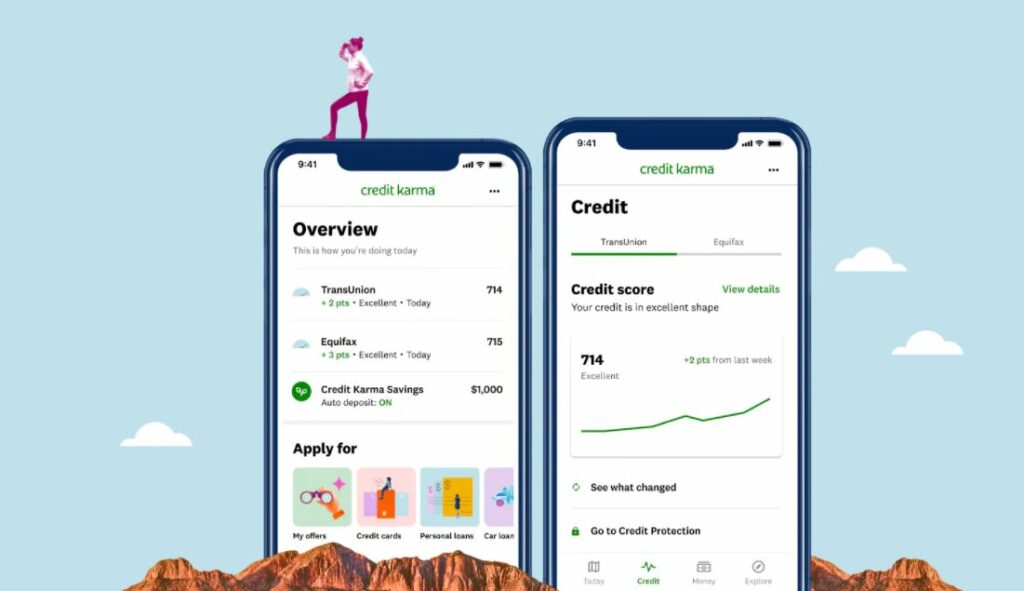 Credit Karma Review: Highlights
Established credit reporting and monitoring solution since its launch in 2007
Credit scores from both TransUnion and Equifax
Platform is completely free to use
Many credit help features such as credit reports, tips, and strategies
Access to network of lenders for credit cards, auto loans, mortgages, and personal loans
Access to Credit Karma Money Spend and Save account with zero fees and no account minimums
Tax preparation services offered for free
Plethora of other features such as financial tools and calculators, identity theft monitoring, and more
Credit Karma Summary
Credit Karma Review
Credit Karma is an online platform that offers clients a guide through credit and other aspects of personal finance. Since its launch in 2007, the company has gained over 100 million subscribers. This speaks volumes about the quality of service you can expect.
The platform is most well-known for the access to credit scores and reports. However, they also provide banking services through partner banks, loans through a network of lenders, and hundreds of credit card reviews. Additionally, they have created a number of calculators to help clients with personal finance situations.
Credit Karma has seen massive success largely due to the fact that it is completely free to use. There is no catch, it is simply free. Read our full review to learn more.
Pros
Free to use
Competitive banking services
Free notifications and alerts regarding your credit and identity
Strong educational resources
Cons
Extensive product recommendations
What is Credit Karma?
Credit Karma is an online platform focused on helping individuals make better financial choices. They are well-known as a resource to check credit scores, but they offer so much more. From credit monitoring to savings accounts to refinancing a loan, Credit Karma strives to be a complete credit solution.
The company was founded in 2007 and has since amassed over 100 million subscribers. This is no small feat in a highly competitive field and speaks volumes about the quality of their service.
In addition to hundreds of blog articles with helpful information, Credit Karma provides credit monitoring, financing recommendations, and a number of other tools to help individuals in their own personal world of finance.
One aspect that really makes the platform shine is that it is completely free. None of the services come with any kind of fee. Check out their website today to get started!
Credit Karma is available both on desktop and app, which can be downloaded for iOS and Android.
How Does Credit Karma Work?
If the platform is completely free, then how does Credit Karma continue to offer new tools and resources? The company starts by helping you understand your credit score. Then they recommend products that can help improve your score. Credit Karma also makes recommendations regarding auto loans, mortgages, personal loans, and credit cards.
If one of these offerings is useful to you, and you move forward with the recommendation, then Credit Karma receives payment from the partner. For example, Credit Karma may make a credit card recommendation to you. The credit card they offer may be best suited to your financial needs based upon the information you entered into your account. When you sign up for this credit card, you will be taken to the website of that credit card provider. This is when Credit Karma makes money. The credit card provider pays Credit Karma for the referral.
Clients of Credit Karma will never make a payment on the website. It is completely free to use.
Many of the tools do however require an account. Creating an account with Credit Karma is very simple. You will simply enter in your personal information such as name, email, and SSN. After signup, you will see your very own personal dashboard. We will dive deeper into this dashboard later on.
They require a social security number in order to provide you with your credit score as well as loan offerings should you be looking for a loan of some kind. While they do use your SSN to check your credit, this does not impact your score negatively as it is not a hard check.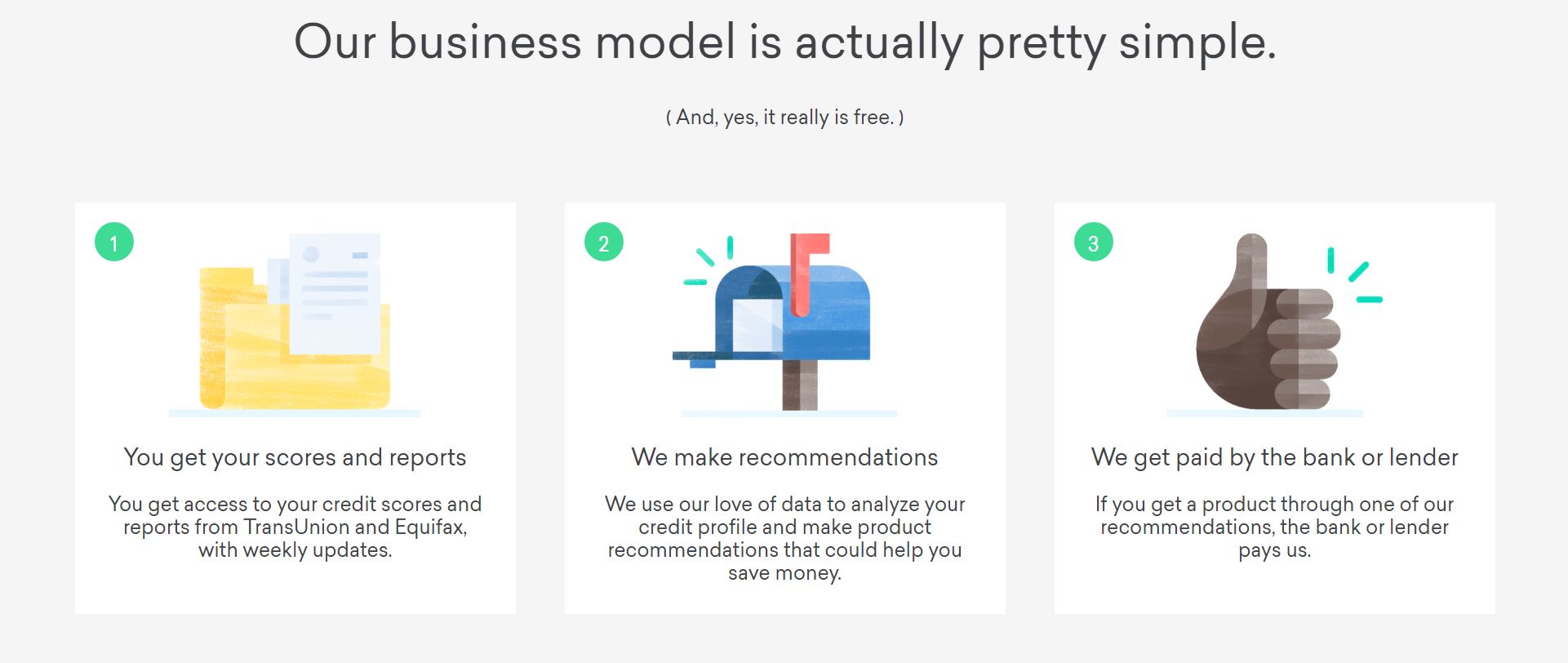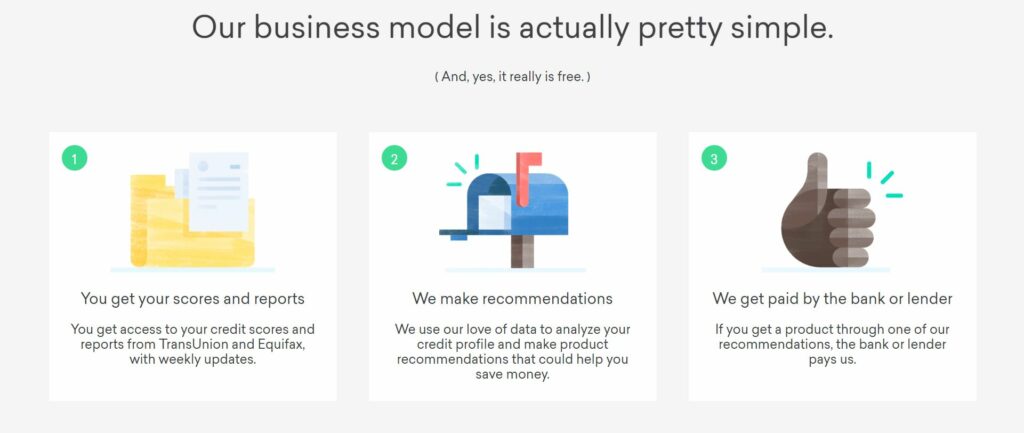 Credit Karma Features
While Credit Karma has a very simple website with a clean user interface, it can be overwhelming with the vast number of tools and resources they offer to you. Here, we are going to dive into the features they offer to you completely free.
Credit Scores and Monitoring
When you create an account with Credit Karma, you will receive access to your credit scores, credit reports, and credit monitoring.
Within your personal dashboard, you will see two credit scores. There are three main credit bureaus: TransUnion, Equifax, and Experian. With Credit Karma however, you will be able to see your score as reported by TransUnion and Equifax. These two scores may differ slightly as each credit bureau has a different process in calculating a credit score.
In addition to seeing your scores, you will also have access to your credit reports, which highlights items such as credit inquiries, credit accounts, and public records.
Understanding your score and what impacts it the most is the only real way to start improving your score. With Credit Karma, you will have access to their free tips and strategies for improving your score. Additionally, you will receive notifications each time an important change occurs with your score.
What is Credit?
As defined by Experian (One of the main three credit Bureaus. The other two are TransUnion and Equifax), credit is the ability to borrow money or access goods or services with the understanding that you'll pay later.
A credit score is simply a numerical value that provides an assessment of your credit history. Lenders use this information to assess the likelihood or the confidence they have in your ability to pay off debts.
Scores range from 300 to 850. Most people typically fall somewhere between 600 and 750. A score above 700 is generally considered a good score.
Want to learn more about credit and how to build it?
Credit Score Factors
A credit score is made up of a number of factors. Each one has a different weight and therefore impacts your credit differently.
There are five main factors to consider with credit:
Number of Accounts: The number of accounts you hold is important to credits. They want to know that you can manage multiple lines of credit.
Length of Credit: A key factor in your credit score is the length of your credit. Having multiple lines of credit is good, but if it is all new credit, then that can hurt you. Credits want to see established credit history that demonstrates you have paid your debts over a long period of time.
Inquiries: Lenders will perform an inquiry of your credit each time you apply for a new line of credit. This indicates your credit seeking activity. Too many inquiries is a bad thing.
Revolving Utilization: The general rule of thumb here is to use a maximum of 30% of your credit. For example, if you have a credit line up to $1,000, you typically will not want to hold a balance of more than $300. Increasing your line of credit can also help your revolving credit utilization.
Missed Payments: Consistently paying on time is the best way to build credit. Your credit score will hold any missed payments on your history for 7 years.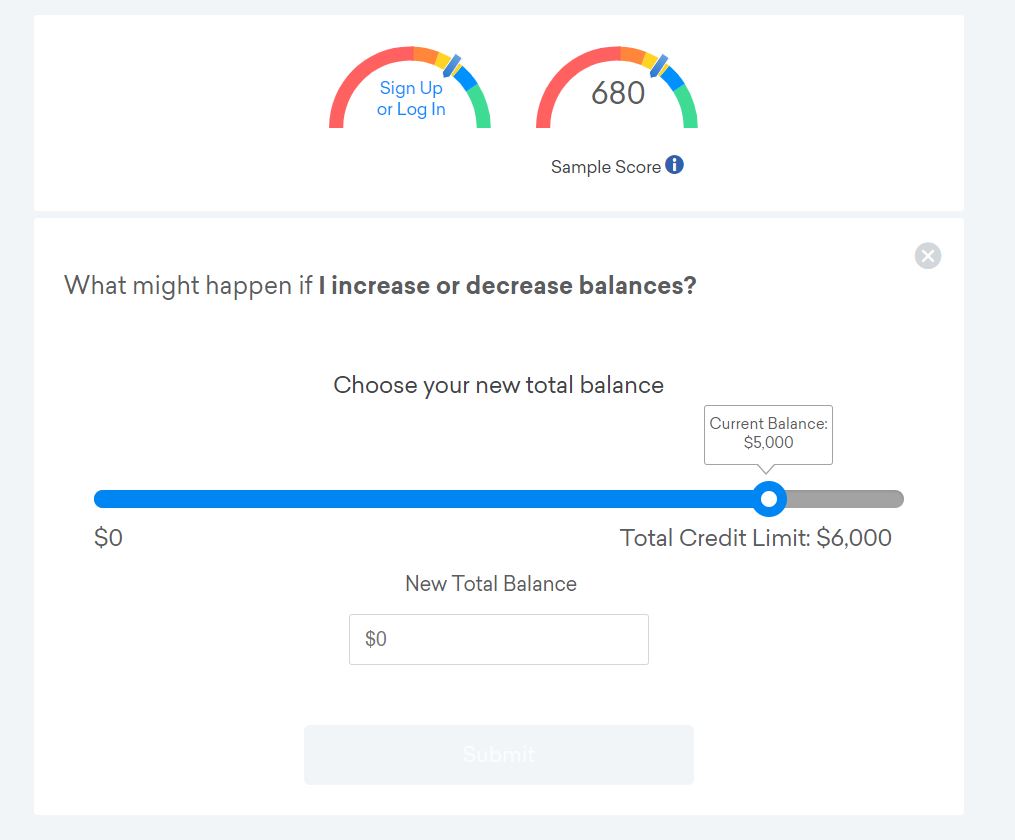 Credit Cards
While Credit Karma does not offer you a credit card themselves, they do offer extensive reviews on hundreds of cards. Choosing a credit card can entail a bit more than you might think. Every credit card comes with different requirements and benefits. Some offer cash back or other rewards such as miles. Many credit cards have yearly fees, while some are free to use. Picking a card that is best suited to you depends on your unique situation.
On their website, they provide a number of reviews such as credit cards for bad credit, businesses, cash back rewards, and more. With each card listed on the site, you will find a detailed review and what the card is best for.
Loans & Insurance
Credit Karma has created an extensive network of partners who provide a number of loan options and insurance packages. Within the platform, members can take advantage of this network and search for personal, auto, and home loans. This also includes refinancing a loan.
On the website, you will start by entering in your information such as the desired purchase price, down payment, credit score range, etc. From there, Credit Karma will show you a range of loan offers. If one of them catches your eye, you can click into it and learn more about the offer.
For those searching for insurance, they currently provide members a network of auto and home insurance providers.
Credit Karma Money Accounts
Credit Karma does offer banking services directly, rather they partner with MVB bank to provide their Spend account and utilize a network of over 800 banks to provide the Save account. Let's take a look at each of these accounts in more detail.
Credit Karma Money Save
The Save account is completely free with no account minimums. And as long as your account balance is $0.01 or greater, you can start earning interest.
The interest you can earn with Credit Karma's Save account is double the national average at 0.30% APY.
You can also make a deposit into your Save account monthly for a chance to win up to $20,000 in your account.
Security is also of the utmost importance to the company. Likewise, the Save account is FDIC insured up to $5,000,000.
To open the Save account, you just need to be a Credit Karma member. You can open a Save account either through the web or app version.
Credit Karma Money Spend
The Credit Karma Money Spend account is completely free to open and features no account minimum. There are no fees whatsoever, and you'll have access to a network of over 55,000 ATMs.
This account is completely managed from the app. You can even lock your debit card by simply opening the app and selecting lock! The account comes with a number of benefits such as getting paid up to 2 days early, no fees, and Instant Karma. Whenever you use your debit card, you will be entered into a change to win a reimbursement of your spending.
Like the Save account, the Spend account is FDIC insured up to $250,000.
To open a Spend account, you need the following:
Be a Credit Karma member with an open Credit Karma Money™ Save account
Link your Save account with an external account
Successfully make at least one deposit from the external account into your Save account
Tax Preparation
Credit Karma Tax is a tax preparation service that is completely free to use. It comes with a max refund guarantee and free audit defense should you need it.
With over 1 million reviews, Credit Karma boasts 4.8/5 stars. Clients enjoy the service due to its ease of use. It comes with a feature called Smart File, which shows you a list of sections you need to file based on your unique situation. What's more, if you have to file an amended return, Credit Karma will reimburse you up to $100.
With a simple import process, you can also switch from TurboTax, H&R block, or TaxAct quickly.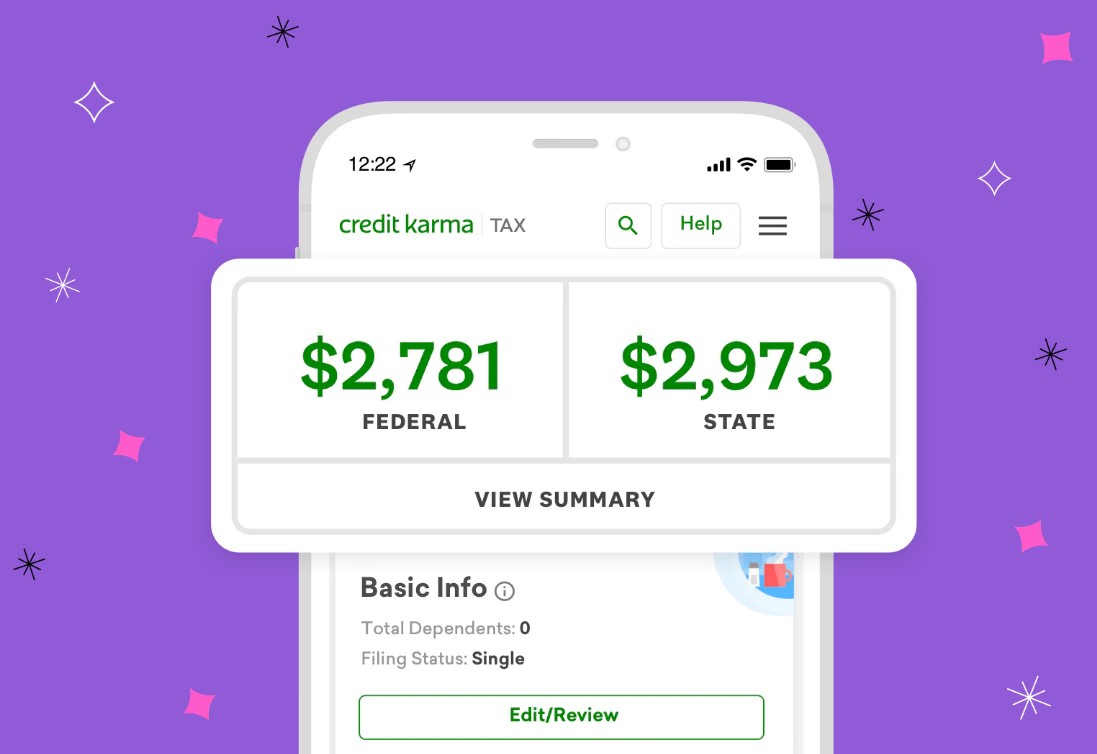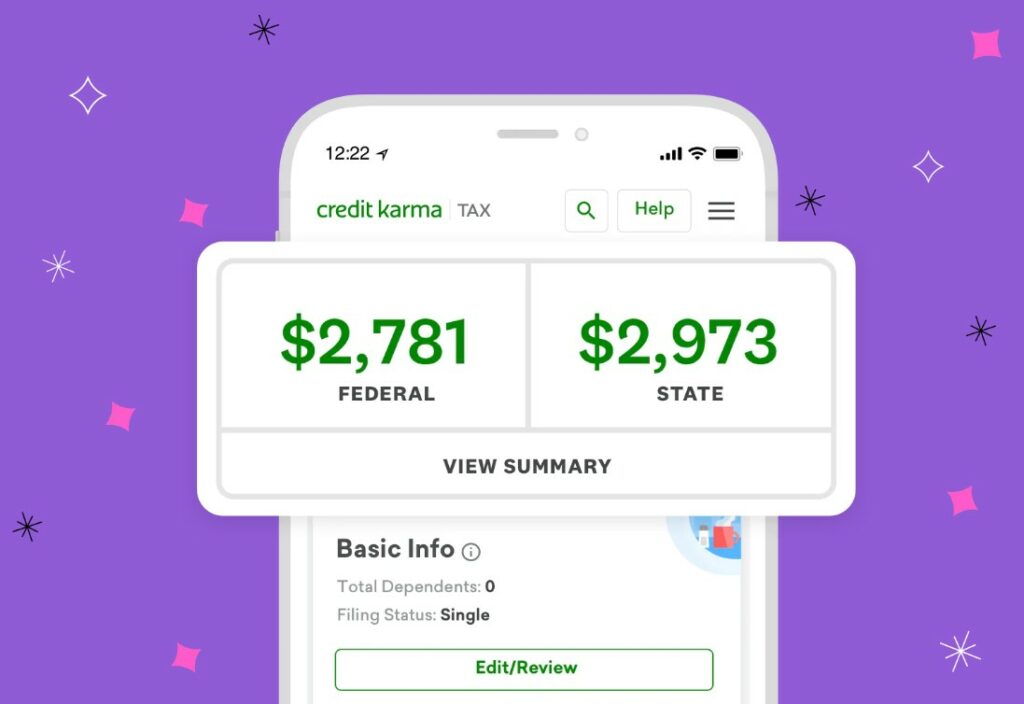 Other Features
In addition to all the other offerings on the site, they also offer members access to a number of other features.
Is Credit Karma Secure?
Credit Karma takes security seriously and takes extra measures to ensure your data is safe. They use 128-bit encryption software and also offer notifications when your information is being used.
They also promise to not sell your information to other lenders.
Credit Karma Review: Final Thoughts
When it comes to credit, many are confused. Credit Karma is striving to change that. With a vast number of tools, articles, and reviews, the platform seeks to educate its members about credit and strategies to improve it. They also offer free credit monitoring and reports.
One of the distinguishing factors about Credit Karma is that the platform is completely free. The company makes money through their recommendations. Based on your unique situation, they make recommendations about credit cards or loans that may be best suited for your needs. While there is no obligation for you to actually move forward with one of the recommendations, the company makes money through the referrals. For some, the product recommendations can be overwhelming. Especially for clients just seeking to learn about their score.
Because it is completely free, it is certainly worth a look. The information they provide is top-notch and can provide excellent education about credit. If Credit Karma seems like a useful resource to you, check it out today!
Best Free Stock Promotions