A strong credit score is a must in today's environment. When buying a car or a house, you can expect to have your credit history checked. In fact, even landlords often check your credit when you apply to rent a property. A low score translates into higher interest rates or a rejection overall.
For many, repairing a low credit score is too complex. From the number of recent inquiries to revolving credit usage, it can be confusing to understand the various factors that impact your credit score.
For others, their low credit score could quickly be repaired by removing inaccuracies. This is something you could certainly work on by yourself. However, there are companies that specialize in this exact thing.
Credit Saint is a credit repair solution that has consistently been recognized as a leader in the sector. Using a company like Credit Saint could save you time and money. So, is Credit Saint the right solution for you? In this article, we will provide a complete Credit Saint review as well as cover credit and its basic components.
Credit Saint Review: Highlights
Free Consultation with complete credit evaluation
90 day money back guarantee
Ranked #1 Credit Repair solution by Money and Consumer Affairs
3 Monthly Subscriptions Packages starting at $79.99
$99 initial fee for setup
Personalized dashboard to monitor progress
Credit Saint Review
Customer Support

Features

Price

Education
Credit Saint Summary
Credit Saint is a complete credit repair solution. The company is consistently rated as a top solution in the industry.
With amazing customer support and a free 90 day money back guarantee, clients can feel confident in the service they will receive.
Understanding your credit score can be confusing. Besides helping you repair your score, Credit Saint also strives to help you understand your score and what is impacting it most.
Pros
90 Day Money Back Guarantee
Customer Support
Monitoring Dashboard with Progress Tracker
Credit Education
Cons
Can Be Pricey
No Guarantees of Score Changes
What is Credit Saint?
Credit Saint is a total credit repair solution. The company is based in New Jersey and was founded in 2004. Since 2007, the company has maintained an A+ rating with the Better Business Bureau (BBB).
Credit Saint helps clients attack their credit damage by challenging inaccurate, untimely, misleading, biased, incomplete, or unverifiable negative items from their credit reports. They also work tirelessly to inform customers about credit and how it works.
Credit Saint is certainly popular in the industry. Among numerous credit repair reviews, Credit Saint consistently ranks highest among other credit repair companies. They have achieved such high marks for their first-class customer support and their 90 day money back guarantee.
The company reports that most clients typically see their credit score start to improve within 45 days, but if a client is not satisfied, they can cancel their subscription and receive their money back within 90 days. This is a unique feature in the industry that helps Credit Saint shine.
Credit Saint Plans
Credit Saint has 3 unique packages: Credit Polish, Credit Remodel, and Clean Slate.
Each of the 3 plans require a one time setup fee. This fee includes the work to create your new monitoring dashboard as well as any initial work to create your account. After the setup fee, you will also have a monthly subscription fee. Remember, if you aren't satisfied, you can request a complete refund within 90 days.
The main difference between the 3 packages is the number of challenges included. To know which plan is best for you, it may be worthwhile to understand how many inaccurate items are on your credit history. For example, if you have 2 items that you feel are inaccurate, then the Credit Polish package is probably all you need. On the other hand, if you have many inaccuracies, the Clean Slate package may be better suited for your needs.
A great feature of Credit Saint is that they offer free consultations to review your unique situation. In that consultation, you will have the opportunity to review your credit history. Meaning, you will be able to understand what is hurting your score and which package is best suited for you.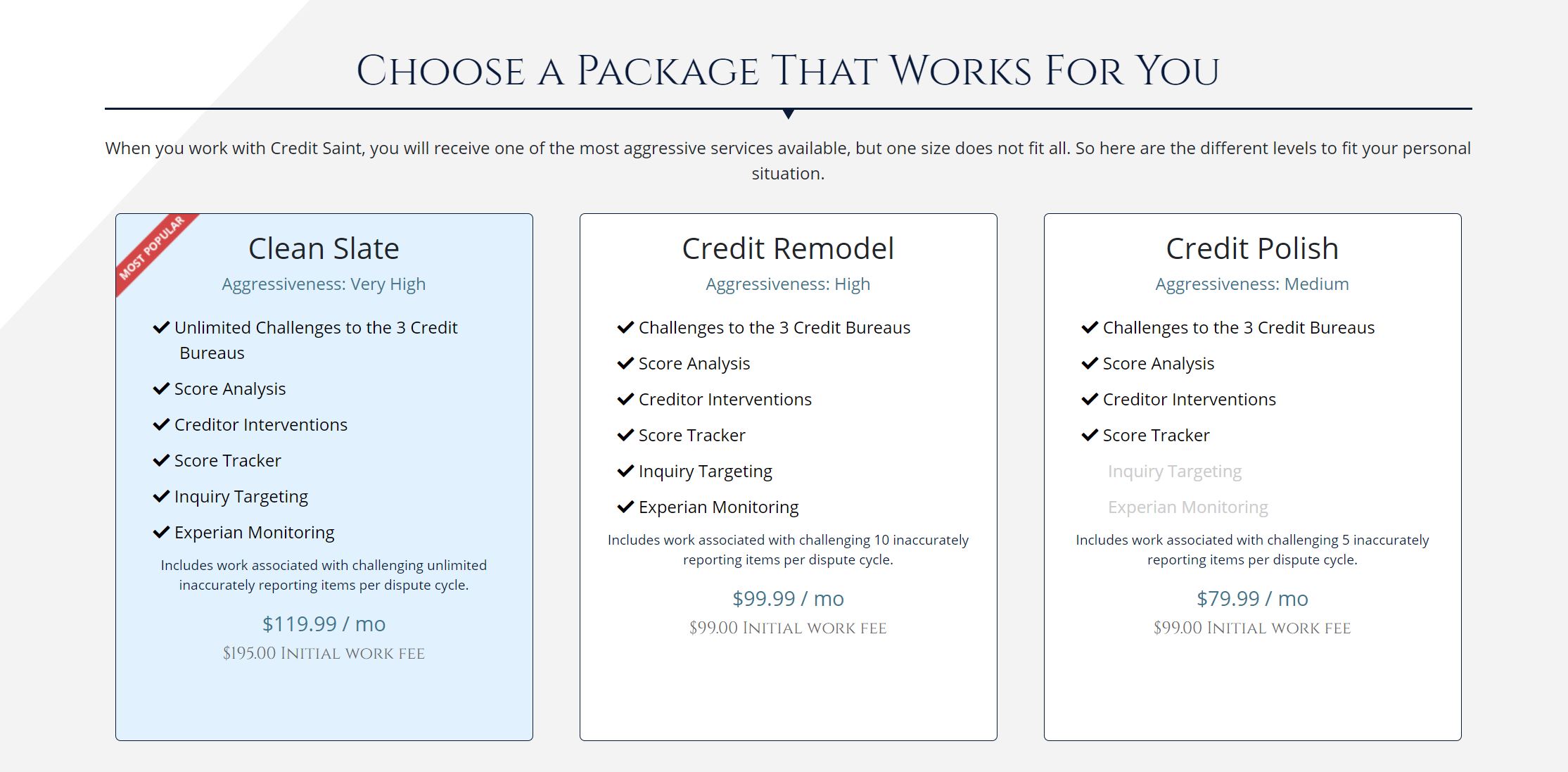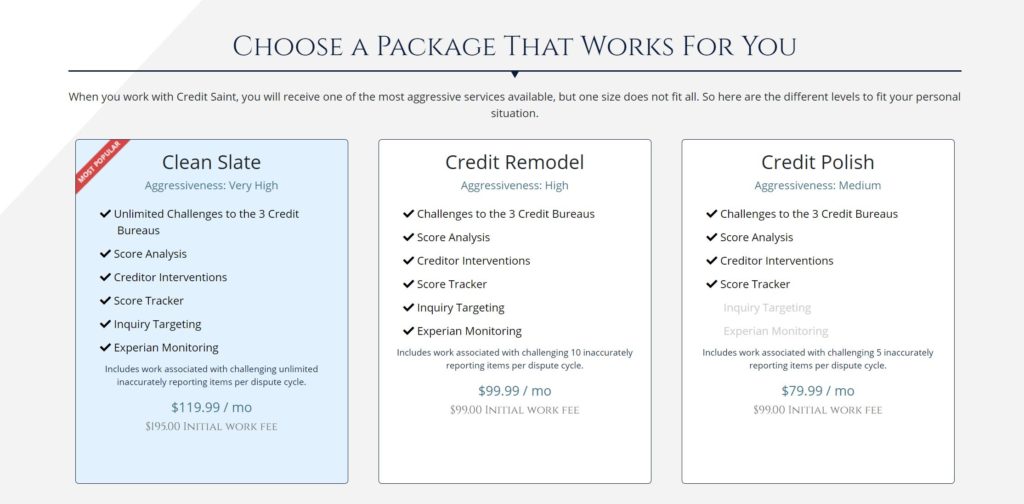 How Does Credit Saint Help My Score?
Everything Credit Saint does is actually something that you can do on your own. However, using a company like Credit Saint can save you time and money as professionals who deal with credit and credit laws everyday will be on your team.
The first thing Credit Saint offers clients is information:
"Part of our mission at Credit Saint is to educate as many people as we can about credit. When it comes to credit, what you don't know CAN hurt you, so learn as much as you can. If your questions are not answered on this page, call one of our specialists. They will be happy to handle any questions you might have."
For many, the hardest part of improving credit is navigating through a confusing report. Credit Saint will first help you understand everything in your credit history, what is hurting you, and what is helping you. They will also help you understand all the components of credit and what to do in the future.
In order to actually help you improve your credit score, Credit Saint enables and helps customers fight their credit damage by challenging inaccurate, untimely, misleading, biased, incomplete, or unverifiable negative items from their credit reports.
Apart from educating clients about credit and disputing inaccuracies, Credit Saint also offers a number of other features:
90 Day Money Back Guarantee: Most clients start seeing results within 45 days, but if you aren't happy, you can request a full refund.
Free Consultation: This is an opportunity for you to better understand your credit history and what is hurting you.
Monitoring Dashboard: The dashboard includes an expected timeline feature, score tracker, and progress report.
Excellent Customer Support: With any questions, you can reach Credit Saint's customer support at 1-877-637-2673. One of the reasons Credit Saint has received such strong reviews is for their excellent customer support.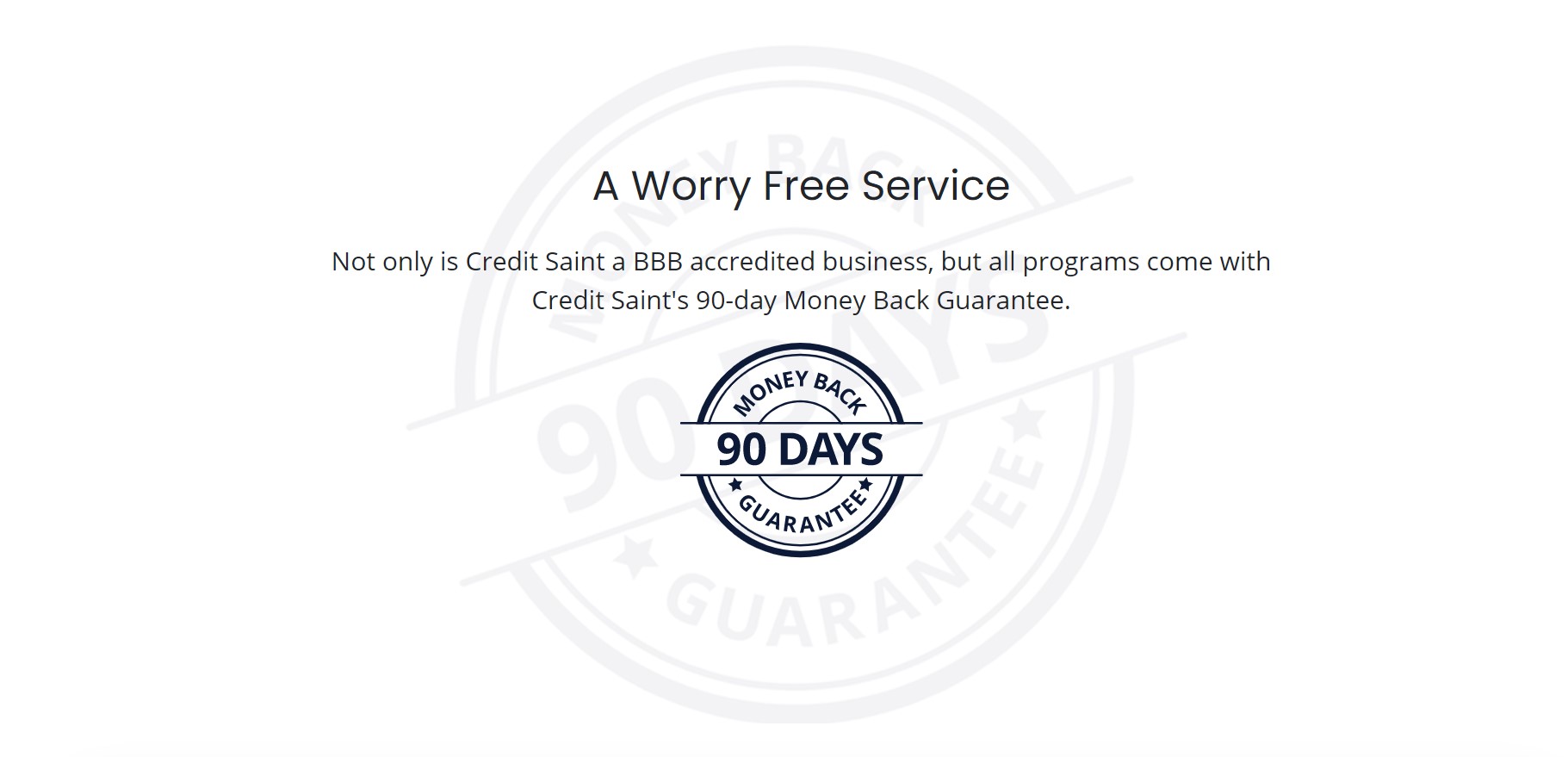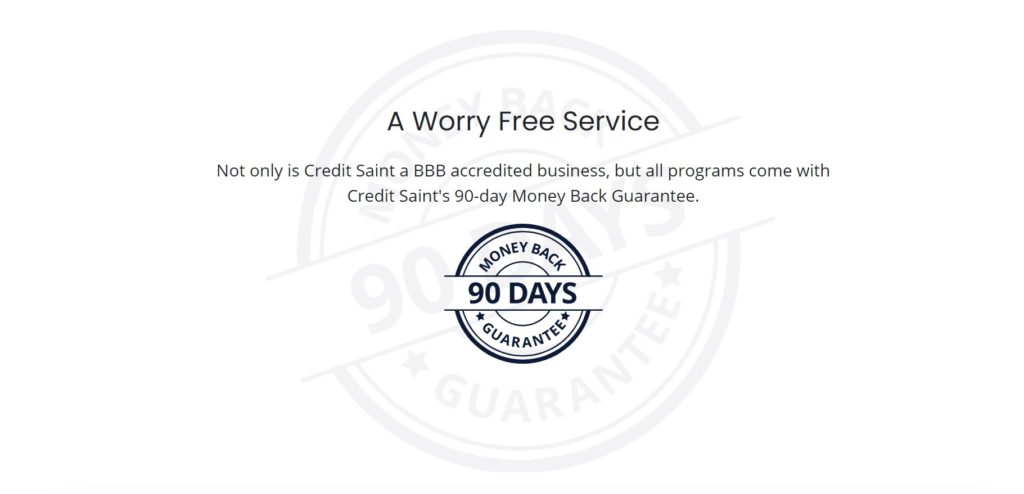 What is Credit?
As defined by Experian (One of the main three credit Bureaus. The other two are TransUnion and Equifax), credit is the ability to borrow money or access goods or services with the understanding that you'll pay later.
A credit score is simply a numerical value that provides an assessment of your credit history. Lenders use this information to assess the likelihood or the confidence they have in your ability to pay off debts.
Scores range from 300 to 850. Most people typically fall somewhere between 600 and 750. A score above 700 is generally considered a good score.
Want to learn more about credit and how to build it?
Credit Score Factors
A credit score is made up of a number of factors. Each one has a different weight and therefore impacts your credit differently.
There are five main factors to consider with credit:
Number of Accounts: The number of accounts you hold is important to credits. They want to know that you can manage multiple lines of credit.
Length of Credit: A key factor in your credit score is the length of your credit. Having multiple lines of credit is good, but if it is all new credit, then that can hurt you. Credits want to see established credit history that demonstrates you have paid your debts over a long period of time.
Inquiries: Lenders will perform an inquiry of your credit each time you apply for a new line of credit. This indicates your credit seeking activity. Too many inquiries is a bad thing.
Revolving Utilization: The general rule of thumb here is to use a maximum of 30% of your credit. For example, if you have a credit line up to $1,000, you typically will not want to hold a balance of more than $300. Increasing your line of credit can also help your revolving credit utilization.
Missed Payments: Consistently paying on time is the best way to build credit. Your credit score will hold any missed payments on your history for 7 years.
Credit Saint Review: Final Thoughts
Credit Saint is a top rated credit repair company. With an impressive track record and strong reviews from numerous sources, Credit Saint could be the best solution for you.
With a 90 day money back guarantee and a free consultation, clients can feel assured they will receive the best service possible. If they aren't happy, they can receive a full refund.
The monitoring dashboard is also a great feature that clients love. Customers have the ability to not only monitor progress, but also see an expected timeline. They also get to see a complete credit analysis highlighting each line item and how it is impacting their score.
Credit can be a confusing topic. With a number of factors impacting your score and multiple bureaus with unique reporting processes, many individuals are lost when it comes to credit. A company like Credit Saint not only helps you repair your credit, but also equips you with the information needed to understand your credit.
If this sounds like an option for you, be sure to check out Credit Saint's FAQs page for more information. You can also call their customer support phone number to review your situation and best next steps.
Best Free Stock Promotions