We have all been there. We find a bill buried in a pile of junk mail. Or, one we could swear we paid last month.
So, what happens when we are a couple of days late on a credit card payment? Typically, we get slammed with a penalty.
Or maybe your bank promises to reimburse you for ATM fees, but you find several when you look online at your statement. Sure, they may only be $2.75 each, but they will add up, and that's your hard-earned money!
Maybe your GAP credit card payment was two days late, and they slapped you with a $50 late fee. Now that's aggravating.
Perhaps you have the time and energy to call the bank, be put on hold for what seems like forever, and dispute the charge. But chances are, you won't, and financial institutions are counting on that.
One thing is for sure, you are not alone! Believe it or not, Americans working hard for their paychecks hand over more than $200 billion in bank and credit card fees annually.
It's downright painful.
Cushion Review: Platform Highlights
Cushion uses AI technology to automatically monitor your bank accounts for fees.
When it notices a fee on your account, they ask your permission to negotiate it on your behalf.
The platform uses a combination of email, live chat, and snail-mail to negotiate refunds of your fees.
When Cushion scores you a refund, you keep 100% of it.
Cushion supports all 15,000 banks and credit unions in the United States.
Using Cushion does not impact your credit score.
There are 3 plans to choose from ranging from $3 per month to $8 per month.
Cushion AI
Functionality

User Friendly

Pricing

Bill Negotiation
Summary
Cushion is a service that could very easily pay for itself. They go to bat for you and fight the banks and credit card companies when it comes to charging excessive fees. You simply pay them anywhere from $3 to $8 per month based on the subscription you choose. To date, they have gotten over $2,000,000 refunded to their customers. One fee refund could easily cover your subscription cost for an entire year. To date, their biggest refund yet has been $2,500.
Pros
You keep 100% of the refunds they get you
Easy to use, no app download required
Cushion monitors your account for fees 24/7
Works with over 15,000 financial institutions
Cons
Costs $3 to $8 per month
No free plan
What Is Cushion?

To the rescue is Cushion, a web application designed to put that wasted money back in your pocket. This app is designed to negotiate with banks and credit card companies for you. Their goal is to get you refunded back some of those fees that never should have been there in the first place.
Some of the most common fees are late charges, which can be steep, overdraft fees by your bank, charges for using ATM machines, and even credit card interest.
Cushion is a web-based application that's designed to go to bat for you with banks and credit card issuers to negotiate fees and interest charges.
How successful is Cushion when it comes to getting back fees?  It has put more than $5,000,000 back into the hands (and wallets) of its customers.
Here's some more great news! New users typically get their first refund within hours of signing up. That's because Cushion looks back at your history to find fees from the past that they can get to work on right away and get money back into your pocket.
Cushion's service can get a wide array of penalties waived, including:
Overdraft Fees - Banks typically charge $35 minimum for this.
Monthly Service Charges - If you don't meet the balance requirement, banks usually charge around $5 per month.
Wire Fees - If you send or receive wire transfers, get ready to pony up $20 or more per transfer in most cases.
Late Fees - If your payment is late to your credit card company, the average credit card late fee is around $36.
Interest Charges - Credit card companies are also known for excessive interest charges on things like missed payments or late fees.
These are the annoying fees you'll notice on your statement from time to time.
Best Offers For Making Money Online
How The Company Was Launched
Cushion was developed when in 2016 one of the founders was trying to help his parents dispute a balance transfer fee, and discovered this was a problem for many people, including himself.
He knew that most people did not have the resources to fight this battle themselves, and unfortunately the banks were getting away with charging excessive fees to customers.
Artificial Intelligence
The goal of Cushion is to save you money and make your life easier. In order to do this, they leverage artificial intelligence in a couple of key ways in order to provide an incredibly valuable service at a reasonable cost.
First, cushion uses artificial intelligence to monitor your accounts for any charges or fees that have the potential to be reversed. Now while this doesn't seem all that impressive, the algorithms designed by the Cushion team are extremely thorough and able to pick up on any charges that have any chance of being disputed.
But where things start to get interesting is the use of artificial intelligence to determine the best way to approach the charge. Once Cushion detects a charge that could potentially be reversed, they're also able to use their technology to determine the most effective way to dispute the charge on your behalf that will have the greatest potential of getting the charge reversed.
By taking advantage of significant automation and artificial intelligence, the company is able to keep expenses low and pass those savings along to users.
Cushion's Strategy
With over 100,000 negotiations to date, the team at Cushion knows a lot about what works and what doesn't when it comes to negotiating on different fees with different banks. This expertise could potentially be one of the most valuable offerings of the service.
Through all of these negotiations, they have learned exactly how hard they can push on certain transactions, and when they need to back off on others. Even if you decided to dispute these fees on your own, you could still be leaving money on the table because you didn't know just how far you could push your bank.
By continuing to refine their strategy and adding more data points to the mix, you can rest assured knowing that Cushion has an immense amount of information at their fingertips about how to best deal with financial institutions.
NEW! Annual Subscription
One of the newest and most noteworthy updates from Cushion is that they have moved to an annual subscription allowing customers to keep the entire refund. Previously, Cushion negotiating services were based on commission. That rate was 25% of successful refunds.
Subscription prices are very inexpensive, and if they are negotiating on your behalf, it should actually be paying for itself.
The Basic Plan is $3 a month and includes up to 1 negotiation per month and weekly scanning.
People's Choice Plan is $4 per month and features up to 3 negotiations per month, daily scanning, and negotiation updates.
The Works Plan is $8 a month and includes unlimited negotiations, daily scanning, negotiation updates, priority support, and early access to new features.
When the company was launched, there was a limited number of financial institutions on their list for negotiations. Today, however, they support more than 15,000 banks and credit unions in the U.S.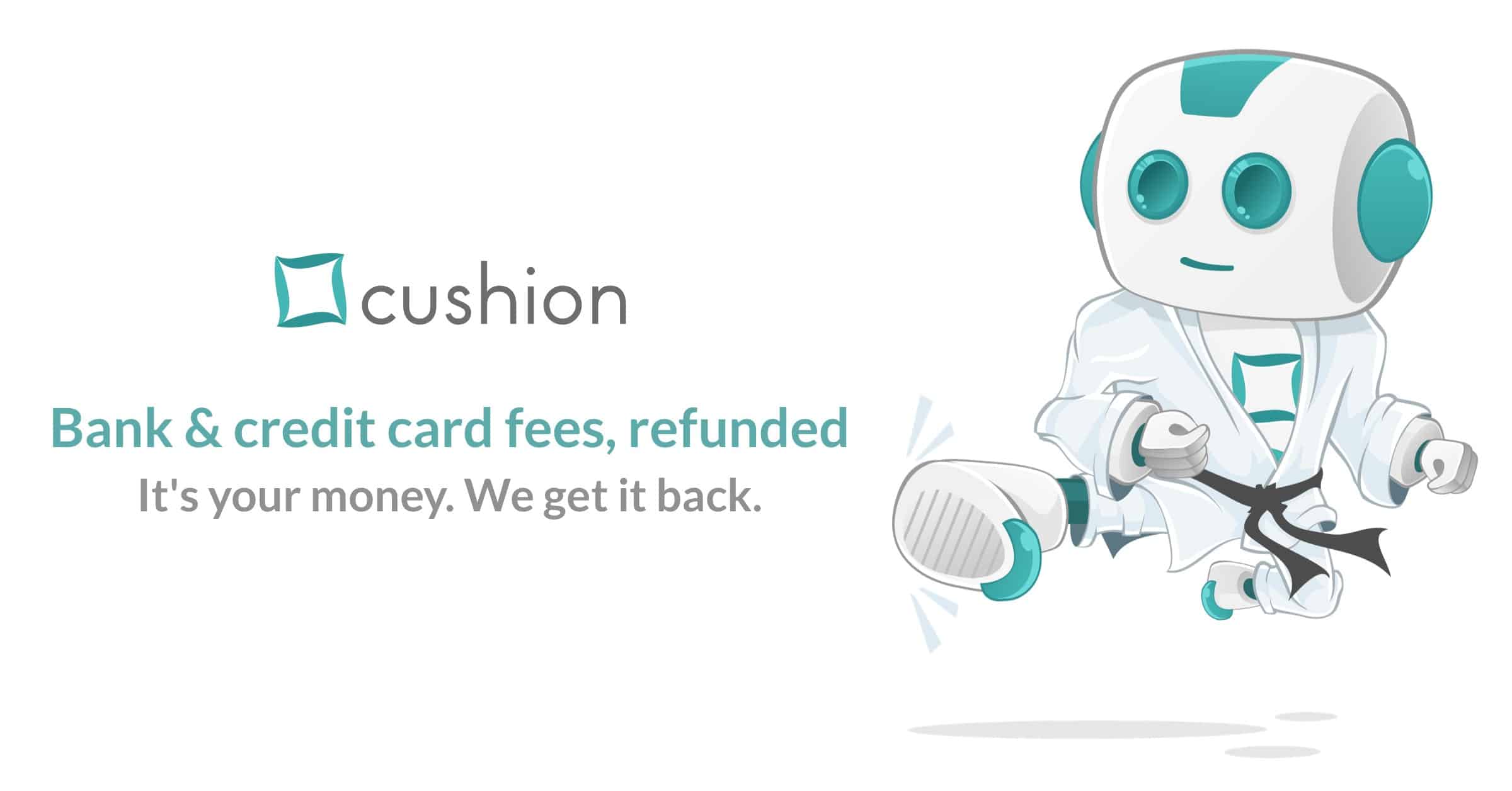 Hidden Bank Transaction Fees
Many or most fee structures are listed in the fine print of your statement or start-up paperwork, or even worse, buried in text online. It is literally small print that could take a magnifying glass to decipher!
Some of these charges went unnoticed unless people were combing through their bank statements on a daily basis. Sure, there were likely explanations of these fees in the fine print of the paperwork when you opened your account, but who has time to read about all the small details?
Bank fees are small amounts tapped on for account set-up and maintenance for both personal and business customers. These too can be overlooked, but they will only be overlooked until they become extensive.
Along with ATM charges at banks, other examples of fees are for cashier's checks, money orders, and wire transfers. Because they tend to be for small amounts, they tend to pass by unnoticed. These fees can be one-time-only, ongoing, or related to penalties.
But the heavy hits come from charges for bounced checks, putting a stop on checks, overdrafts, and overdraft protection.
Why do banks charge these hefty fees? The answer is simple; because it is a profitable activity, and it is unlikely to cost them the loss of customers because most of us don't notice or compare the fee structure with other banks or credit unions.
This is, in part, why banks are so profitable and so many investors buy bank stocks.
Banks know that they can charge you fees because you probably won't do anything about it.
Credit Card Interest And Debt
If you have credit card debt, you're in good company, especially if you're in the 18 to 24 age bracket. Credit card debt and other types of debt run rampant with this age group.
Student loans top the list of debt incurred by young adults. Nearly 30% of people in this age group have student loan debt.
What's more, the percentage of American families with revolving credit card debt carried from month to month is on the rise. In 2018, almost 40% of families were shouldering the burden of credit card debt.
According to Value Penguin, the average credit card debt in each household in America is $5,700!
Unfortunately, people living in the U.S. will pay nearly $140 billion on credit card interest in an average year. And more than 11% of families say their debt is so high, they doubt they will ever get it down to zero balances. This can quickly become overwhelming.
It would be a smart move to cut up those cards, close the accounts, and use cash for necessary purchases within a controlled budget. But if you're not quite ready for that drastic step, there are new ways to recoup some of these charges. One of those ways is Cushion.
How To Start Using Cushion
First, click here to sign up for Cushion.
This is a web application, so there is no app download in the app store on your phone.
Once you enter your phone number and get your account set up, you'll be able to link to your bank accounts and credit card accounts so that the Cushion team can start the process of sifting through and identifying fees that may be refundable.
The app will automatically search and review your accounts, looking for any fees you may have paid in the past.
If Cushion turns up any fees, the app will request your permission to go to work fighting to have those fees returned on your behalf.
One caveat: You have to be 18 years of age or older to use Cushion.
Cushion will negotiate with your bank via chat or email. After analyzing your history with the bank, they will tell you what fees they believe they can get reversed.
When they locate these refund opportunities, the service contacts the Institution on your behalf to attempt to either (a) obtain a refund or (b) negotiate a better deal for you.
You won't be sitting around waiting. The process of getting your money back can take up to a few weeks, but once Cushion has confirmed a refund they will notify you in the app and through email.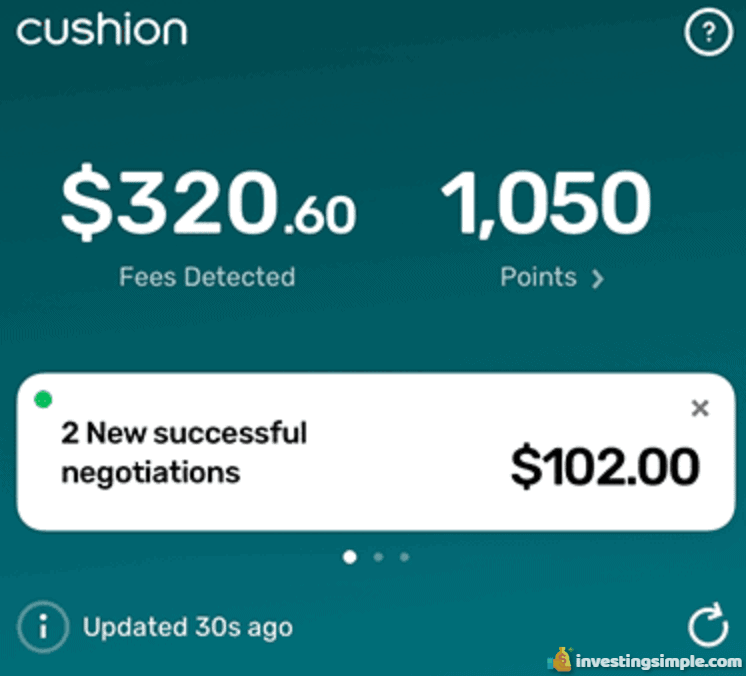 Is Cushion Safe And Secure?
A lot of people are concerned about sharing bank and credit card login info. Cushion does everything they can to safeguard your information. Their servers won't ever divulge sensitive data, such as user names and passwords.
When you set up a Cushion account, you will provide specific contact info including your email address, but no worries, they aren't going to sell your contact info. The agreement stipulates you will only receive updates about Cushion to your address. Third parties won't have access to your info for promotional or marketing use.
However, Cushion will share your financial profile out of necessity with the banks you register for the service. However, it is important to note that there is no affiliation between Cushion and the institutions they communicate with. They operate completely independently.
You'll link your bank accounts to Cushion using Plaid, the industry-standard option for financial institutions. This will provide them with read-only access to monitor your account for fees.
Cushion will be keeping a close eye on your transaction with the banks you've registered in order to find the potential refunds. They note that financial institutions' privacy and operational policies may vary widely. And finally, they make no guarantees as to whether a specific institution will provide a refund to you or renegotiate the terms of a specific transaction.
Data Encryption Technology
Cushion pledges to always keep your personal info safe and secure, so you don't have to worry about your financial information being out there. They use a 256-bit SSL encryption, and the Cushion team has partnered with various security companies and experts to build and operate a secure infrastructure.
Cushion's host server is Amazon Web Services (AWS), an online data storage and hosting service used by many Fortune 500 companies and government agencies.
As far as security goes, Cushion is clearly taking the necessary precautions to prevent any bad actors from accessing any user data.
The Verdict: Cushion
Let's face it, none of us has the time or energy to micro-manage our bank accounts. Fees will slip by unnoticed.
So the question becomes: Is having Cushion looking for fees and negotiating them on your behalf worth a few dollars a month?
Absolutely. 100 percent.
It takes no time at all to set up an account and get Cushion to start working for you. All you have to do is simply sign up with the link below, which takes less than three minutes. Then, you give them access to monitor your bank and credit cards and allow them permission to find fees, and contact your bank to negotiate a refund on your behalf.
Cushion's success rate is extremely good. Over 85% of their customers have had fees reversed ranging all the way up to their highest fee reversed of $3,400! We all end up with these fees once in a while so instead of just letting them sit there and eat away at your hard-earned cash, Cushion allows you to take a stand for your bank account.
Let's face it, life is expensive. Small fees add up to large expenses. But consider this: Just one fee refunded will cover the cost of your Cushion subscription! And if you find that the service isn't worth it, you can cancel at any time.