Cushion App Review
Ah, the challenges of managing bank fees and credit card interest.
Don't you hate it when your bank charges you unnecessary fees? Then, you have to spend 20 minutes calling customer service on the phone to get those fees waived!
Wait... who actually does that?
The answer: no one. 
Banks and credit card companies know that they can charge unnecessary fees and customers will (likely) do nothing about it. As annoyed as you might be about that $2.50 ATM fee or that $7.10 foreign transaction fee, it is just not worth the effort to call them.
Think about it, do you really want to spend 20 minutes on the phone to negotiate a $2.50 fee?
There are so many other, far more enticing ways to spend your time.
The good news is, Cushion can help you spend more time doing the things you love and less time on the phone with your bank negotiating fees. That is because Cushion is a fee fighting AI robot that will work for you!
This is an app designed to negotiate with banks and credit card companies on your behalf. Their primary aim is to claw back some of those fees and return them to you. They also keep a small cut of what the are able to get refunded.
In this Cushion app review, we will be discussing the pros and cons of this service.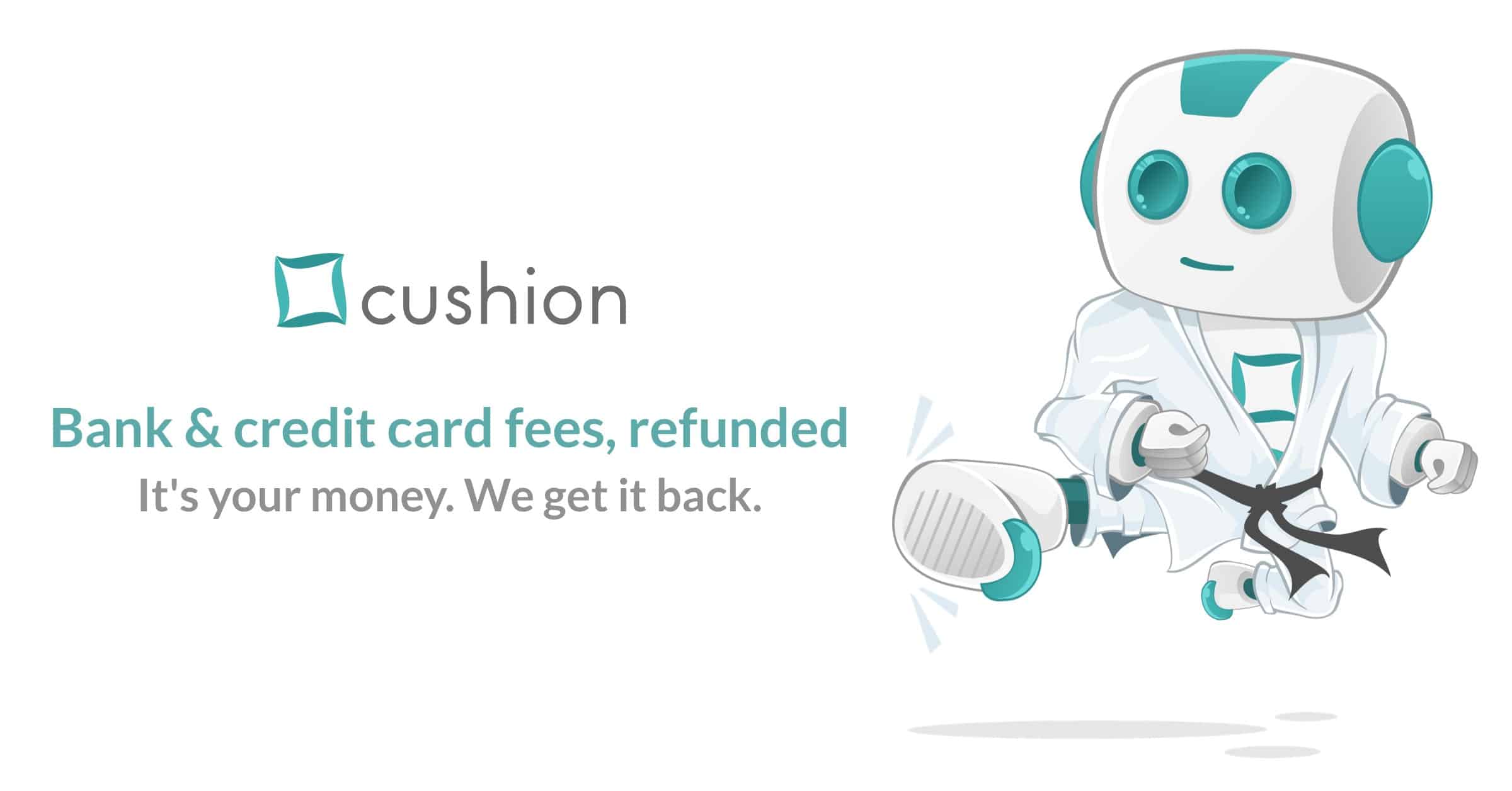 Summary: Cushion Review
Cushion is a Facebook Messenger based chat bot that helps you to fight bank and credit card fees.

This "fee fighting robot" negotiates fees and interest charges on your behalf.

Cushion is 100% free to use.

They keep 25% of the money they get back for you.

Your bank accounts are monitored 24/7 for fees and interest charges.

Cushion negotiates with these banks via live chat or email on your behalf.

Most banks would rather negotiate on fees rather than lose a customer.
First on the agenda, brush up on your stats! Here's a startling fact; Americans working hard for their paychecks hand over more than $6 billion in bank fees annually.
Bank Fees... The Silent Killer
Bank fees are nominal amounts added for a wide array of account set up and maintenance for personal and business customers.
Common examples are ATM charges at banks, cashier's checks, money orders and wire transfers. Even though they are small amounts, like everything else, they will add up over time. Fees can be one time only, ongoing or related to penalties.
Here's a personal example of this. Each month, one of the companies I am affiliated with sends me an inbound wire transfer. Each time that happens, I pay a $20 fee.
Over the course of 12 months, that is $240 in fees!
But the heavy hits come from charges for bounced checks, putting a stop on checks, overdrafts and overdraft protection.
If any of this comes as news to you, we're not surprised.
Details about fees come in the small print on banking websites or paperwork that no one would consider as recreational reading. Most of us don't even glance at them. But it's worth your time to know what you're signing up for!
There's a good reason why banks are so profitable and so many investors buy bank stocks.
Why do banks charge these hefty fees? The answer is simple; because they can. And, well, because it is a profitable activity for the bank.
Banks know that they can charge you fees because you probably won't do anything about it.
It simply is not worth the effort.
Credit Card Interest And Debt
Now, let's talk about credit card debt. If you have it, you're in good company, especially if you're in the 18 to 24 age brackets.
Student loans top the list of debt incurred by young adults, followed by credit card balances (which doesn't include you….right?)
Nearly 30 percent of people in this age group have student loan debt.
The percentage of American families with revolving credit card debt carried from month to month is on the rise. In 2018, almost 40 percent of families were shouldering the burden of credit card debt.
The average debt on plastic cards is about $6,000.
Cumulatively, Americans will pay nearly $140 billion on credit card interest in an average year. And more than 10 percent of families say their debt is so high, they doubt they will ever get it down to zero balances.
This doesn't even include these sobering stats; families with revolving credit card debt will pay an average of nearly $1,200 on interest in one year alone.
Cutting up those cards, closing the accounts and using cash for necessary purchases within a controlled budget is clearly a wise choice. But if you're not quite ready for that drastic step, there are new ways to recoup some of these charges.
Just like the banks, these credit card companies are often willing to negotiate on fees and interest charges.
There are hundreds of credit cards to choose from, and these credit card companies know that. Rather than losing a customer over an obnoxious late fee, they might be willing to negotiate instead.
Enter Cushion, The Hero!
To the rescue comes Cushion, a Facebook Messenger-based chatbot experience that's designed to go to bat for you with banks and credit card issuers to negotiate fees and interest charges.
Still in the beta phase, it currently only supports a handful of banks, but more are rapidly coming up to speed.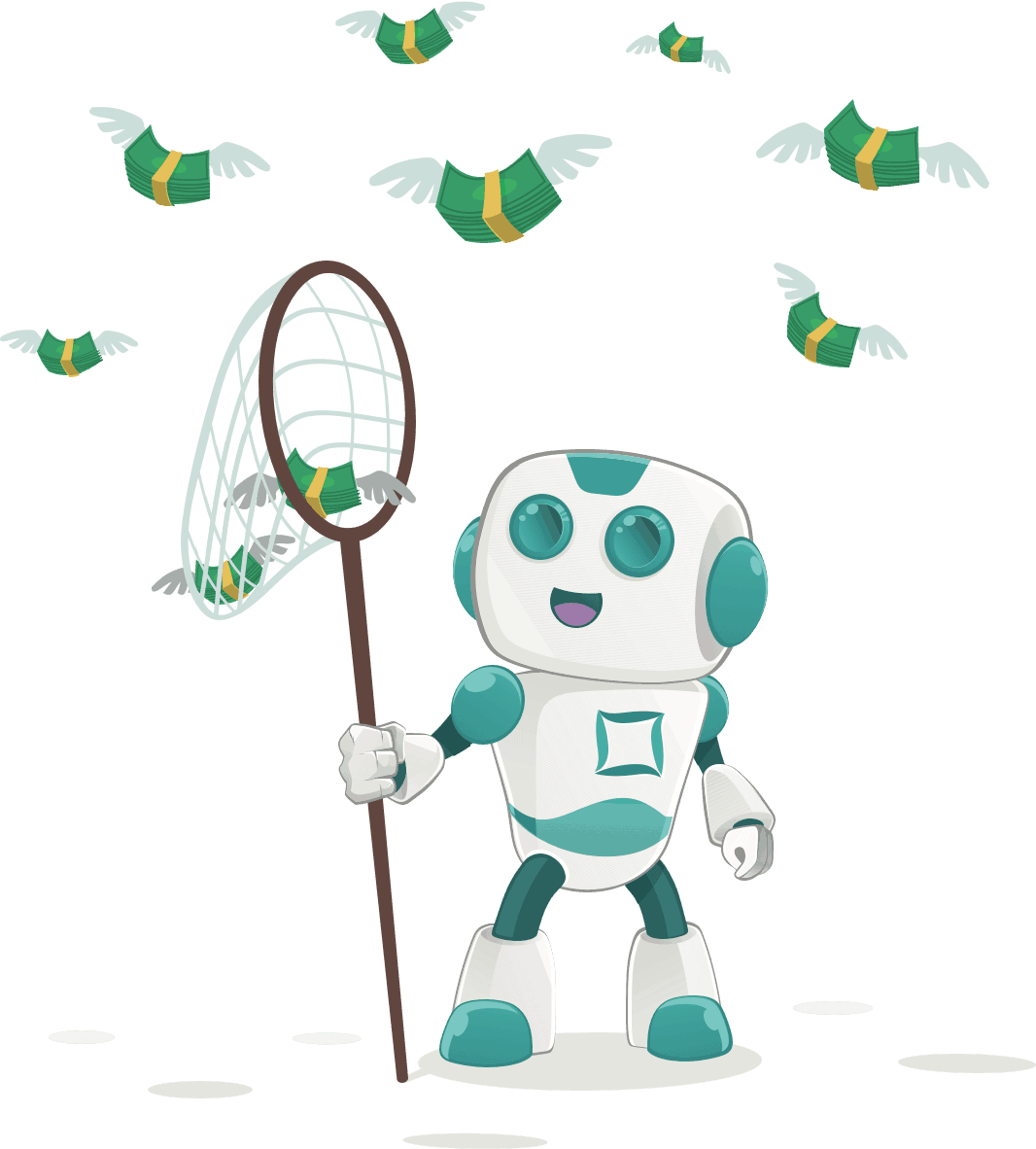 Cushion's creators, who call themselves "Defenders of your Money," conceived the idea two years ago and buzz has already spread as they ramp up.
After Paul helped his parents dispute a balance transfer fee, he unearthed a hidden world. Death by 1,000 cuts. He learned about the banking industry and the fees associated with it, and found that he had over $400 worth of fees and penalties in his own account.
This is where the idea for Cushion came from.
You can expect to see key players in the banking field to be on Cushion's list of places they will pursue, ranging from Discover to American Express to Chase and Capital One.
If your bank isn't on the list, you will get an email from Cushion within minutes to reassure you they're on the case to get your bank on their hit list. To go the extra distance, Cushion will pop you an email when you're the system starts to support your bank.
Cushion is so easy to use, a kid could do it, but you have to be 18 or older to put it to work for you (and let's face it, if you're under 18 and have credit card debt, you're already in rocky waters!)
How Does Cushion Work?
After you sign on, you're greeted by a friendly blue robot named "Fee Fighter."
Fee Fighter's job description is to review your finances, find ways to shave off fees or renegotiate terms, and initiate them for you.
And oh yeah, for this service, Cushion will pocket 25 percent.
But remember, this is found money you would never ordinarily be getting back! Unless you call your bank over every interest charge and fee.
In case you can't do the math, Cushion offers this very technical example:
Fee Fighter locates $100 in charges that can be waived.
You keep $75.
Cushion keeps $25.
And in case the process is confusing to you, Cushion outlines their service for you:
You connect to your banks
They look for fees
You let me fight them
You relax while they work
They share the results
Cushion will negotiate with your bank on your behalf via chat or email. After analyzing your history with the bank, they will tell you what fees they believe they can get reversed. Once you give them permission to go to bat for you, they reach out to the bank looking for a refund.
You will know within 24 hours if you are getting a refund.
Is Cushion Safe And Secure?
Cushion gives detailed assurances your financial info will be well guarded. Their servers won't ever divulge sensitive data, like user names and password.
From the get go, Cushion creators partnered with leading security vendors and brought security expertise in house.
They hired a security expert from Bill.com (where his code securely processed $100 million each day) to build out the core security infrastructure. This expert has more than 20 years of security experience at companies ranging from early stage startups to companies the size of IBM.
Among the initial investors are the heads of security at Symantec and LifeLock.
Cushion's host server is Amazon Web Services (AWS), an online data storage and hosting service used by many Fortune 500 companies and government agencies.
Since you access Cushion through Facebook Messenger, Cushion creators advise users to review Facebook's security guidelines and use their one click security diagnostic for practical advice on how to protect yourself.
And it goes without saying, but we'll say it anyway: always have a super strong password.
In a nutshell, Cushion was built from the ground up with safety and security online. Data is stored securely with AWS. One added layer of protection you should consider is adding 2 Factor Authentication to your Facebook account.
Everything Cushion does for you happens via Facebook messenger, so you want to keep your Facebook account locked down and secure.
Facebook Messenger Bot
From the start, Cushion creators strove not to clutter phones with more mobile apps, but instead to build a secure Facebook Messenger Bot that chats with you only when necessary.
You won't receive messages when it's checking your transactions, looking for ways to save money, or negotiating with banks over fees and credit card interest charges.
So, the hype is true. You actually can relax while the Bot does the work. Or, use that free time to develop a spending plan for your money so you don't let credit card debt get out of hand ever again!
New users can get their first refund as early as within hours of signing up.
What About My Data?
When you set up a Cushion account, you will provide specific contact info including your email address, but the agreement stipulates your you will only receive updates about Cushion offerings to your address.
You will give them your login credentials for banks/retailers/service providers that you'd like included in the roster for scanning. They may request additional info as Cushion's services grow.
Third parties won't have access to your info for promotional or marketing use.
However, Cushion will share your financial profile out of necessity with the banks you register for the service.
Cushion will be keeping a close eye on your transaction with the banks you've registered in order to find the refund opportunities. When they locate them, the service contacts the Institution on your behalf to attempt to either (a) obtain a refund or (b) negotiate a better deal for you.
The service with communicate with you via Facebook Messenger and email.
There is no affiliation between Cushion and the institutions they communicate with.
They note that financial institutions' privacy and operational policies may vary widely. And finally, they make no representations as to whether a specific institution will provide a refund to you or renegotiate the terms of a specific transaction.
Cushion: The Verdict
Is spending hours combing through bank and credit card statements, then calling these companies, worth it?
Absolutely not. 
For 99% of people, this is not a good use of their time.
Is having Cushion looking for fees and negotiating them on your behalf worth it?
We think so. 
There is really very little time investment involved. You simply connect with Cushion via Facebook messenger, give them access to your bank and credit cards and give them permission to find fees and negotiate on your behalf.
They will message you when they get you a refund, and they keep 25% and give you 75%.
Since our banks aren't currently on the list, we couldn't give it a whirl, but the terms seem fair and with no out of pocket expenses, we give it a "why not?" Try it out for a few weeks and see if they are able to save you money.
If they are, this is found money that you would have never ordinarily had access to! Take that money and stuff it into your investing account to really double down.
Let us know your Cushion experiences, and we will keep you posted of new additions to the service.